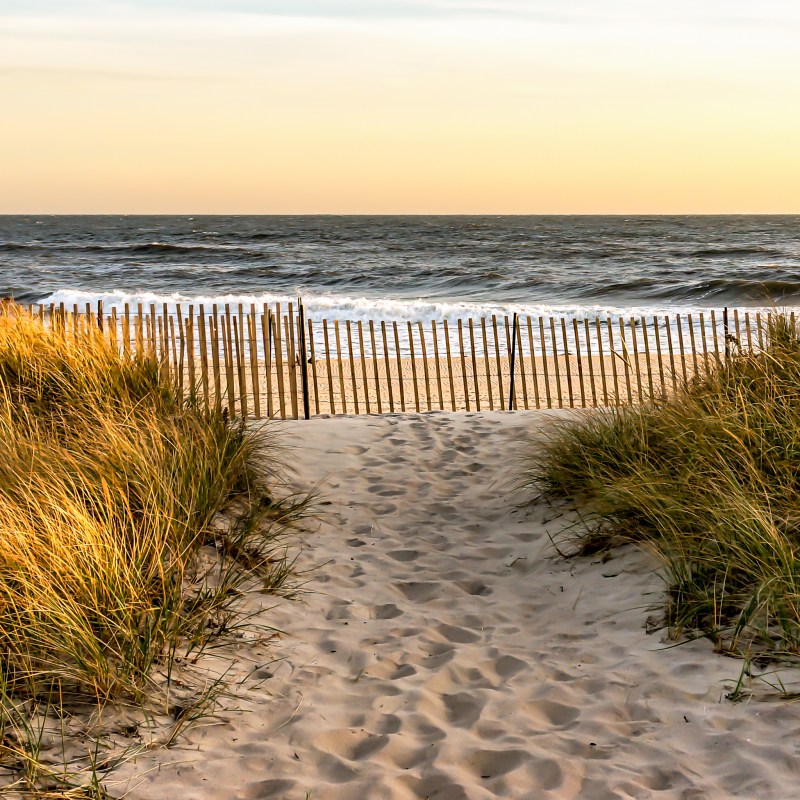 The fabled Hamptons on the eastern tip of Long Island, New York, are commonly described as the East Coast beach playground of glitz, glamour, fame, and fortune. The story is partially true, but there's much more to the Hamptons, with its beautiful beaches, quaint towns, old history dating back to the 1600s, and working farms and wineries.
Here's a list of all the Hampton towns, going from west to east, and their special features, each with its own identity and charm.
Westhampton Beach
The first of the Hamptons is Westhampton Beach, which also incorporates West Hampton Dunes and Village and is approximately 90 minutes from New York City by car, depending on traffic, or two hours from New York City by train on the Long Island Rail Road.
The newest addition of the Hamptons, Westhampton Beach was incorporated in 1928. Three historic buildings — the post office, Crowther House, and the Foster-Meeker House — are listed on the National Register of Historic Places.
Things To Do
Pike's Beach is a beautiful stretch of white sand and high waves from the Atlantic Ocean. Surprisingly, it doesn't get super crowded. It's also recommended for fishing.
Where To Eat
For over 30 years, the Beach Bakery and Grand Cafe has been the go-to place for its fresh-baked pies, cakes, and breads. In recent years, they have added a luncheonette that serves a pescatarian and vegetarian menu for lunch and dinner, plus an all-day breakfast menu.
Seafood doesn't get much fresher than what's served at Buoy One, a fish restaurant and market. Fire-roasted clams, baked oysters, shrimp scampi, bay scallops, and almond-crusted flounder are just a smattering of dishes from the extensive menu. Buoy One also prepares clambakes.
Where To Stay
The Grassmere Inn Bed and Breakfast has 25 rooms in a historic house that have recently been refurbished. It offers suites and rooms with private and shared bathrooms. Daily newspapers, maid service, continental breakfast, and daily activities are included.
Located in Quogue, the town next door to Westhampton, Hallock House is part of the Quogue Club, a members-only club. The five-star luxury hotel offers well-appointed rooms and two cottages decorated by the prestigious interior designer Alexa Hampton. Chef Matt Birnstill brings the best of Long Island's produce and ingredients to his inventive cuisine.
Hampton Bays
Out of all the Hamptons, Hampton Bays is the most laid-back and casual and is great for families. Established in the mid-1700s, Hampton Bays is in between two waterways, the Atlantic Ocean and the Great Peconic Bay, which has calmer waters, so you can enjoy a multitude of water sports including boating, waterskiing, kayaking, or stand-up paddleboarding (SUP).
Things To Do
Head to Ponquogue Beach on the Atlantic Ocean, which has 600 feet of soft, white sand leading to the water. For a beach experience on the bay side of Hampton Bays, Meschutt Beach County Park has picnic grounds, restrooms, showers, changing facilities, and a playground for the kids.
If you get bored at the beach or it's a rainy day, take a stroll on Main Street and visit two historic buildings: The Prosper King House, which dates back to 1790, and Lyzon Hat Shop, where milliner Walter Howard King designed fashionable hats for the upper-class and royalty in the late 1800s.
Where To Eat
Hampton Bays has mostly informal restaurants, cafes, and take-out food shops.
Facing the Shinnecock Bay, Cowfish has scenic views of boats docked on the water. The menu specialties are equal parts fish and meat and include jumbo diver scallops, Block Island swordfish, seared ahi tuna, and baby back ribs. Cowfish has dockside pickup, where they will deliver food to your boat.
Francesca's was voted the best pizza in all of the Hamptons by Dan's Papers, a local, weekly newspaper. They also serve a full Italian menu with pastas, seafood, and meat dishes, plus gluten-free pizza. Leave room for their homemade ice cream and Italian ices.
Where To Stay
Ocean View Terrace is a family-run motel overlooking Shinnecock Bay and offers a private bay beach with chairs and kayak and paddleboard rentals. Other amenities include an outdoor swimming pool, outdoor grills, picnic tables, and a kids' playground.
A warm and welcoming bed and breakfast, The Inn Spot on the Bay has a large main house with four suites and cute, freestanding cottages, some of which can accommodate families. The award-winning restaurant has an elegant dining room with a wraparound veranda.
Southampton (Village)
The most well-known of the Hamptons, Southampton was settled in 1640 by a group of English settlers from Lynn, Massachusetts. They were welcomed by the Shinnecock tribe, who gave the settlers part of their land and taught them how to plant crops and fish. The development of Southampton as a summer resort started in 1863 when a wealthy physician boasted about the natural beauty of the area, and soon, many of New York's wealthiest and finest families, including the Duponts, the Ford family, the Woolworths, and the Morgans, built their mansions here.
Today, Southampton still attracts celebrities and the rich, and on any given day you may see Brooke Shields, Michael J. Fox, Kelly Ripa, Calvin Klein, Rachel Ray, or Howard Stern strolling on Main Street.
Things To Do
Cooper's Beach is a pristine, immaculately kept beach and that has been voted among the top five beaches in the U.S.
Take a ride down two oceanfront roads, Gin Lane and Meadow Lane, nicknamed Billionaire Row, to glimpse the massive estates.
If you want to learn about the history of Southampton, visit The Rogers Mansion Museum Complex, which has 12 buildings devoted to the development of Southampton in the late 1800s, plus a comprehensive exhibition about the Titanic and its passengers.
Shopping is almost like an Olympic sport in Southampton, so go for the gold, silver, and bronze at One Kings Lane and Homenature for home decor and Tenet, Max Studio, and LF Stores for fashion. These shops are located on Main Street and Jobs Lane.
Where To Eat
Imported from Milan, Sant Ambroeus is an elegant Italian restaurant and espresso bar. Specialties include paninis and gelato.
An old-fashioned, family-run luncheonette, Sip 'n Soda has been a Southampton favorite for 60+ years. Enjoy a full breakfast menu, sandwiches, burgers, and salads for lunch, and homemade ice cream and treats including hot fudge sundaes, milkshakes, egg creams plus their famous Lime Rickey.
Where To Stay
Capri Southampton is a chic boutique hotel with rooms decorated in cheerful tones of white and yellow featuring L'Occitane bath products. The Bathing Club has a swimming pool and plush chaise lounges. Naia Restaurant features brunch every day, along with dinner.
Located on Main Street, The 1708 House is an authentic bed and breakfast in a colonial house from 1708. The 10 homey rooms and two cottages have private bathrooms, and some feature four-poster beds and wood beam ceilings.
Water Mill, Bridgehampton, Sagaponack
The next three villages traveling east are Water Mill, Bridgehampton, Sagaponack, and all are part of the town of Southampton.
In 1644, Ed Howell was given 40 acres of land to build a grain mill, and that's how Water Mill derived its name. The original water mill still stands today and is on the National Register of Historic Places.
Settlers in Southampton after 1640 started to move east towards Sagg Pond and established Bullhead, which was later renamed Bridgehampton after a bridge was built on it. Two major events in Bridgehampton attract an international crowd: the Hampton Classic horse show and a road racing circuit.
Sagaponack received its name, translated as land of the big ground nuts, from the Shinnecock tribe, and the first documented settler was Josiah Stanborough in 1656.
Things To Do
In the 1980s, a wine industry in the Hamptons developed, and today the area is a recognized and respected wine region. Duck Walk Vineyards in Water Mill was one of the early entrants in the market, and they produce over 5,000 cases of wine a year. Their tasting room offers samples of pinot grigio, riesling, cabernet sauvignon, malbec, and many other varieties.
Artist Dan Flavin designed the Dia Bridgehampton to house his iconic fluorescent light sculptures along with temporary exhibitions of local, contemporary artists.
For 40 years, artist and writer Robert Dash worked a two-acre garden on his property in Sagaponack. Today, it's the Madoo Conservancy, which is open to the public and inspired by Tudor, High Renaissance, early Greek, and Oriental garden styles. There are also a number of historical buildings on the property including a barn from 1740.
Where To Eat
Bobby Van's is a Bridgehampton institution, equal parts steakhouse and seafood restaurant.
Townline BBQ in Sagaponack serves some of the best barbecue in the Hamptons by smoking their dry-rubbed meats on the premises and making their own sauces.
Where To Stay
Combining the sensibilities of European and American styles of innkeeping, The Bridgehampton Inn is relaxing with warmly decorated rooms plus a superb restaurant.
White Fences Inn in Water Mill has piled up numerous awards for its luxurious bed and breakfast with five unique suites.
East Hampton
The first settlement in the state of New York, East Hampton was founded by Lion Gardiner when he purchased land which became known as Gardiner's Island from the Montaukett inhabitants.
East Hampton has been named America's most beautiful village by National Geographic, and it has rolling green lawns, historic homes and buildings from the 1700s and 1800s, a 300-year-old cemetery, ancient elm trees, and windmills.
Celebrities, political figures, and business magnates have lived on multi-acre estates and in homes in East Hampton over the years. Residents have included Jackie Kennedy, Steven Spielberg, Ina Garten, Lorne Michaels, Robert Downey Jr., and Beyonce. There was a thriving art colony in the 1950s and 1960s in the Springs area of East Hampton where Jackson Pollock, Lee Krasner, Willem de Kooning, and Mark Rothko lived and created their masterpieces in their art studios.
Things To Do
Witness the origins of Jackson Pollock's iconic drip paintings at his former home, the Pollock-Krasner House, where you can see the actual place where he laid out his canvases.
Opened in 1931, Guild Hall was one of the first cultural centers in the U.S. that promoted multidisciplinary arts. The space includes three art galleries and a 360-seat theater that presents lectures, concerts, and films.
Where To Eat
On any given night in East Hampton, you could wind up dining next to or near Alec Baldwin, Ina Garten, or Billy Joel at Nick and Toni's, the hotspot restaurant of East Hampton. Their Mediterranean-style food is the real crowd-pleaser.
Babette's has been a longtime favorite for casual dining with a versatile menu serving breakfast, lunch, and dinner. They offer a good selection of vegan dishes.
Hot and cold lobster rolls, fried seafood platters, fish tacos, and New England and Manhattan chowder are just a few of the delectable dishes at Bostwick's Chowder House. The food is served to go or on outdoor tables.
Where To Stay
Journey East Hampton has 24 rooms and cottages with a cool factor thanks to contemporary furniture. Amenities include a saltwater pool, complimentary breakfast, and a large lawn for picnicking.
Spacious, comfortable rooms at more affordable prices than most East Hampton hotels make staying at East Hampton House Resort most attractive. Rooms have kitchenettes, plus there's an outdoor pool and a tennis court. It's conveniently located just a five-minute walk from shopping and restaurants.
Amagansett
English and Dutch settlers founded Amagansett, named for the Montaukett phrase for place of good water from the Montaukett population, in the late 1600s.
Things To Do
On 36 acres of protected land, the Amagansett National Wildlife Refuge encompasses the Atlantic shore and the homes of rare bird species such as piping plovers, and seals. If you want to obtain a New York State saltwater fishing license (it's free) you can fish for striped bass, weakfish, summer flounder (fluke), blackfish, and bluefish.
The Stephen Talkhouse is a legendary music club. Billy Joel, Paul McCartney, Jimmy Buffett, Jon Bon Jovi, Paul Simon, and Sting have played in this tiny venue.
Where To Eat
Hands down the best place to get an authentic lobster roll is The Lobster Roll restaurant, which has been around since the 1950s.
Featuring Indian crepes known as dosas and pancakes called uttapam, the Hampton Chutney Company serves a long list of various stuffings and toppings in and on its featured menu items. They also serve sandwiches and salads flavored with chutney and Indian spices.
Where To Stay
Located on a private beach on the Atlantic Ocean, The Hermitage at Napeague is a luxury hotel with furnished apartments and full kitchens. A swimming pool and two tennis courts are available to guests.
On five acres of beautifully landscaped grounds next to Napeague Bay, Windward Shores has apartments with full kitchens, dining and living areas, and private patios. Two tennis courts and a swimming pool are on the property.
Pro Tips
A trip to the Hamptons, especially in the high season from Memorial Day to Labor Day, can be expensive, so budget accordingly. A hotel room or bed and breakfast will run at least $300 a night, and many places have a two-night minimum stay. A two- or three-course dinner at a restaurant will run $50 to $75 per person, but there are takeout places, some with seating, that have less expensive options.
If you go in the summer, make sure you reserve your accommodations way in advance and make your restaurant reservations a few weeks in advance.
The main highway of the Hamptons is route 27, a two-lane road that tends to get clogged up in the summer.
Besides hotels and bed and breakfasts, monthly and seasonal house rentals are widely available. Love to eat? Consider these 10 fabulous and affordable restaurants to try in the Hamptons.