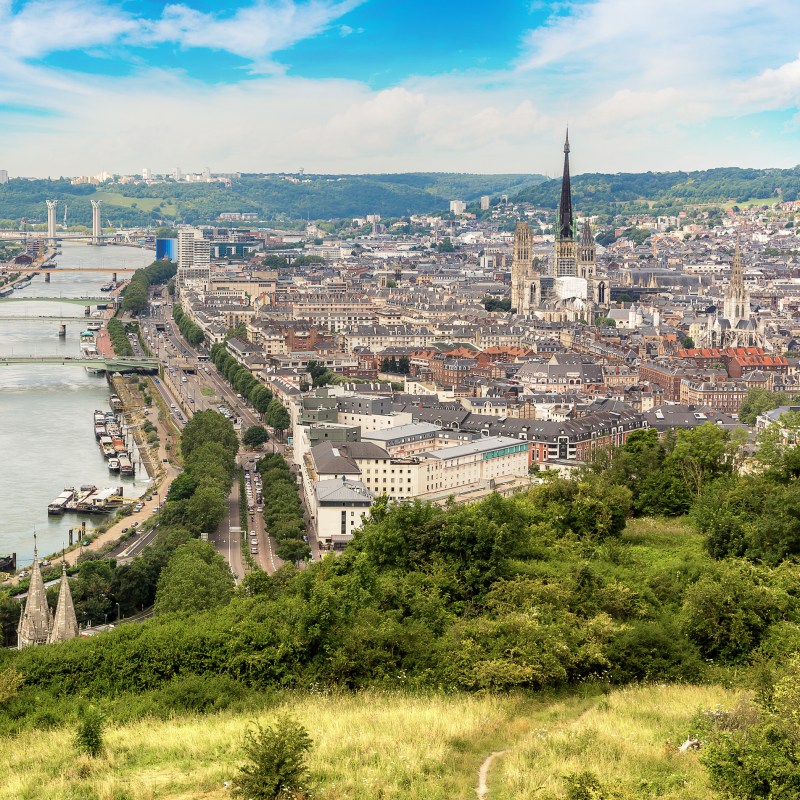 Rouen, the capital of Normandy, is a convenient and direct 1.5-hour train ride from Paris. Not only is it picturesque and easily explored on foot, but it also has a rich history featuring the Gauls and Romans, the Normans, the Hundred Years' War, and Saint Joan of Arc.
King Richard I of England, also known as Richard the Lionheart, quite literally left his heart in Rouen; his other organs were interred in different places, as was the tradition in those days when a king died. That might sound a bit unsavory, but there is something romantic about leaving your heart in Rouen, and once you have had a look around and enjoyed this old city on the Seine, I am sure you will leave a little of your heart there as well.
Rouen makes for an easy and very enjoyable day trip from Paris, and, being so different from Paris, it really feels like a proper vacation.
You can spend a day in Rouen, but a weekend is better, since it will give you a chance to traverse the cobbled streets at night, enjoying the many good restaurants and taking it easy without having to rush.
Things To Do In Rouen
Victor Hugo, who visited Rouen often, referred to it as "the city of a hundred spires," and it is true that you will find churches around nearly every corner. There is the magnificent cathedral, the somewhat dilapidated Saint-Ouen Abbey, and many others, and each is worth a visit.
Made up of many little individually interesting quarters, Rouen is small in size but a fascinating place that you could explore for hours. Be sure to stroll along the Seine, meander through the many parks, and get lost in the city's charming streets.
Visit The Cathedral
Built in the 12th century on a site that had been used for Christian worship since the fourth century, the Rouen Cathedral has, over the years, been added to, partially destroyed, and fully restored. It has been through a lot, but that is not surprising for a church whose consecration was attended by William the Conqueror. Once the tallest building in the world — and still the tallest church in France — the cathedral boasts a spire that reaches nearly 500 feet. The inside is as impressive as the outside and requires time to really enjoy.
Look out for the signs on the square outside, near the tourist information office. They show works by Monet, who painted the cathedral many times.
People-Watch On The Old Market Square
The old market square of Rouen is surrounded by half-timbered houses and contains the contemporary Church of Saint Joan of Arc, which marks the spot where the saint was burned at the stake in 1431. Whether you love the modern architecture or loathe it, it certainly makes for an interesting contrast with the surrounding structures.
There are countless restaurants and cafe terraces here, making the square a great place to sit and people-watch. This is best done over a coffee or aperitif, since the restaurants can be quite touristy, and you'll find better, more authentic ones away from the square.
Below the modern roof structure of the church, you will find small but lovely produce markets, with vegetables, flowers, cheeses, and other items for sale.
Marvel At The Great Clock
The Gros-Horloge, or Great Clock, is a gorgeous astronomical clock set in a Renaissance tower that arches across the pedestrianized shopping street of Rouen. Dating to 1389, it is one of the oldest clocks in France — as well as one of the prettiest. The clock reportedly ran accurately between the 14th century and 1928, totaling more than five million hours, without stopping once. No one knows what made it stop in 1928. You can go inside and learn more about this intricate clock while looking out across the crooked roofs of Rouen's medieval center.
Look For The Manneken Pis At The Church Of Saint-Maclou
This is a very pretty church set in a very pretty square; it's well worth visiting, but keep in mind that it is only open on Mondays, Saturdays, and Sundays, with a lunch break between noon and 2 p.m. But what makes this church a bit more fun is that it has its very own Manneken Pis, like the one that is so famous in Brussels. Near this church, you will find not only one but two of the urinating cherubs.
Escape From Tour Jeanne D'Arc
The Tour Jeanne D'Arc, dating to 1204, is located on the way from the train station to the old city center on an unassuming side street. Built on the ruins of a Roman amphitheater, the keep is all that remains of Rouen Castle, a large fortified castle built by Phillip II that once overlooked medieval Rouen. Despite the name, Saint Joan of Arc was never actually imprisoned here, but part of her trial took place inside the tower. Today, you'll find a small museum dedicated to Saint Joan of Arc and also an escape room that can be booked by small groups.
Check Out The Architecture
Rouen's medieval old town is filled with amazing half-timbered buildings. Most are very crooked, such as the pastry shop on Place Barthelemy; others come in various colors, like the ones on Rue Damiette. But you'll also find lovely art deco buildings, such as the Galeries Lafayette store, as well as a stunning art nouveau train station. The Palais de Justice is a marvelously ornate Renaissance Gothic structure, while opposite the cathedral is the oldest Renaissance building of Rouen, which now houses the tourist information office.
Wonder At The Musee Le Secq Des Tournelles
Rouen has several good museums featuring everything from fine art and ceramics to remnants of the city's multilayered history, but this one is really quirky. The Musee Le Secq des Tournelles is located in an old church and specializes in the history of wrought iron. Unusual and maybe a little specific, yes — but I think you'll find looking at the amazing display of wrought iron in this great setting to be quite a treat.
Best Restaurants In Rouen
For a small city, Rouen has an amazing variety of restaurants available, from fine dining to rather good kebab shops. Here are my personal favorites to help you narrow down your options.
L'Espiguette
Set in the charming Place Saint-Amand, this little restaurant is frequented by locals and came highly recommended by a friend. You'll love the simple, filling French food and fun atmosphere.
French Coffee Shop
There are plenty of cafes around Rouen, but for a delicious cup of coffee in a lovely setting, try the French Coffee Shop, located right next to the fancy Palais de Justice.
Tandem
Tandem is a fun mix of contemporary and traditional in both its setting and food. A bonus? It's located on my very favorite street in Rouen: the charming Rue Damiette.
Where To Stay In Rouen
In Rouen, you can stay anywhere from a luxurious palace to a more budget-friendly abode, but either way, a historic setting is assured.
Hotel De Bourgtheroulde
The Hotel de Bourgtheroulde is a superbly luxurious stone mansion dating to the 15th century. Entering through a lovely courtyard, you can enjoy the plush interior, a superb restaurant on-site, and a day spa, all for a reasonable price, considering the setting.
Best Western Gustave Flaubert Hotel Litteraire
The Best Western Gustave Flaubert Hotel Litteraire is one of a selection of literary-themed hotels by Best Western. This hotel is a must for book lovers, with plenty of information on the French writer throughout (you can even buy a souvenir copy of Madame Bovary), but it also provides a comfortable stay for those watching their budget.
Where To Shop In Rouen
While Rouen has a few name-brand shops, it is the small boutiques along the tiny cobbled streets that make shopping here fun. The main shopping drag is Rue du Gros Horloge with its many side streets, and then there is, once again, my favorite street, Rue Damiette, with its many antique stores to explore. And don't miss the handful of stores in the old market square.
Pro Tip: If you want to get out of the city, head for the Parc Naturel Regional des Boucles de la Seine. This is a large green space between Rouen and Le Havre that offers bicycle paths, hikes, and plenty of nature.