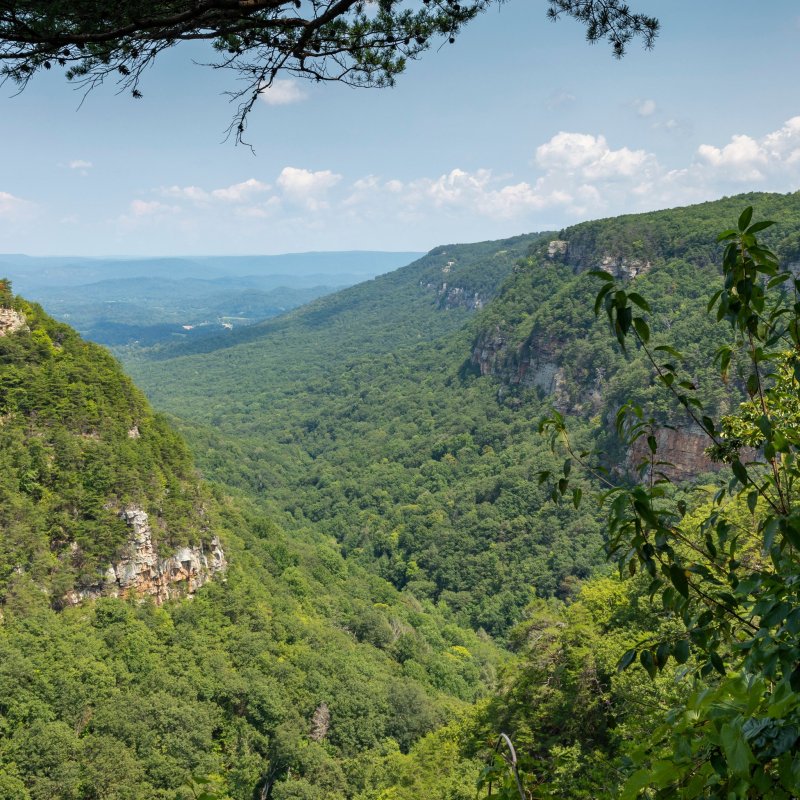 Cloudland Canyon's name sounds like a place in Lord of the Rings. A place with that name should offer rugged scenery, challenging hikes, cascading waterfalls, and an escape into another world. Fabled characters like Aragorn should come striding into view with hobbits trailing behind him.
In the real Cloudland Canyon, a state park in Rising Fawn, Georgia, waterfalls tumble over sandstone cliffs into a 1,000-foot-deep canyon. Sitton's Gulch Creek cuts a deep gash into the Cumberland Plateau and the park straddles the gorge. The park's hikes range from easy to strenuous. And, yes, visiting Cloudland Canyon is an escape into another world. And those sunrises and sunsets! However, Aragorn and the hobbits will only exist in your imagination.
Fall is our favorite season to visit. The hardwoods' leaves erupt with their farewell colors. The waterfalls are at their peak flows in the spring and wildflowers carpet the ground. During the steamy summer, standing below the waterfalls' cold water is at once shocking and exhilarating. In winter, enjoy natural ice sculptures. Every August, shop the World's Longest Yard Sale.
Admission is by park pass. Georgians may check out a park pass at their public library through the Library Loan Program.
Cloudland Canyon is half an hour southwest of Chattanooga and just over two hours northwest of must-do Georgia hikes list.
Pro Tip: The park is on Lookout Mountain's western edge. To enjoy more of the mountain, drive the exceptional Lookout Mountain Parkway from Chattanooga.
Things To Do In Cloudland Canyon State Park
Georgia's most scenic park has an extensive trails system, including 64 hiking miles, 30 biking miles, and 16 equestrian trail miles. Disc golf, fishing, geocaching, and tennis are also available. It offers numerous camping and picnicking opportunities. Watch for wildlife, including hawks, swallows, vultures, skunks, squirrels, and deer.
If you're the "been there, done that, got the T-shirt" type, join Georgia's Canyon Climbers Club. They'll send you a shirt. To earn their certificate, check off all four participating parks: Cloudland Canyon, Tallulah Gorge, Amicalola Falls, and Providence Canyon.
Pro Tip: Download a trail map (PDF). Fill your hydration backpack with water. Pack a golf towel to wipe away sweat and to dry yourself after you shower in the waterfalls. Consider using trekking poles. The park allows leashed dogs. Winter hikers will want crampons for safer footing.
Waterfalls Trail
The two-mile Waterfalls Trail is spectacular and strenuous. Not only are two waterfalls awaiting you, but the trail also features spectacular scenery on the way. But be prepared for 600 stairs. The trails do offer rest stops. Reaching Cherokee Falls takes 200 steps. Hemlock Falls is 400 steps further down. You'll love the view from behind Hemlock Falls, including a giant boulder.
Pro Tip: All those steps are hard on dogs. If you want to take your dog, please consider carrying your pet. Use extreme caution while walking on water-slickened rocks. Do not climb the waterfalls.
West Rim Trail
Explore the canyon's rims and depths on this five-mile moderately strenuous trail. Follow yellow blazes as the trail plunges into the canyon. The trail's route is lollipop-shaped. The first and last miles draw sides of the "stick." The "lollipop" is a three-mile loop. The loop offers plenty of scenic variety as the trail rises and falls. It wanders through forests and beside spectacular overlooks. The trail has numerous rocks and roots to challenge hikers.
Overlook Trail
For a park overview, hike the easy Overlook Trail. The mile-long loop traces the canyon's top. Benches along the way allow hikers the opportunity for rest and reflection. Make sure to visit the Main Overlook. At Overlook 2, retrace your steps. Trail markers are light blue blazes.
Meadowlands Trail
In late June and early July, reward yourself by picking and eating wild blackberries on this one-mile moderate trail. It runs from the disc golf course to the fishing pond area. Grassy paths invite meadow exploration.
Sitton's Gulch Trail
You will get a workout on the six-mile out-and-back Sitton's Gulch Trail. Take the Waterfalls Trail down into the canyon. After viewing Hemlock Falls, cross the bridge over Daniel Creek. Pick up some sticks for a game of Pooh Sticks. If your stick gets caught on the boulders below, your game is up. The trail wanders through a hemlock forest beside cascading falls. Seasonal wildflowers grow below the canyon's eastern wall. Then the trail heads up 900 feet to the trailhead. This trail's blazes are dark blue.
Five Points Recreation Area
The 11.2-mile trail in a former coal-mining area has moderate to strenuous sections for mountain bikers, plus technical sections with jumps. The best time to ride is from November to March. Hikers and horseback riders are also welcome on this trail.
Pro Tip: The park offers bike rentals by the day or half-day. Trail difficulty ratings are marked at each trailhead.
Cloudland Connector Trail
You and your horse will enjoy the 14-mile Cloudland Connector Trail. Hikers and bikers may also explore the trail. Bring your own horse. Park cars and horse trailers at the Ascalon or Nickajack Trailheads. Park cars at the Five Points Trailhead.
Two-Mile Backcountry Trail
On a gentle slope, the trail angles downward into an oak forest. After visiting a stream and hemlock groves, it rises 200 feet to the trailhead. This trail has red blazes.
Pro Tip: Several Georgia state parks are featured in our must-do Georgia hikes list.
Disc Golf
Throw your disc at baskets in fields and forests on the disc golf course. The Professional Disc Golf Association rates the 18-hole course as intermediate. It's south of the East Rim past the group lodge. Fifteen of its holes are shorter than 300 feet.
Fishing
Catch catfish at the fishing pond on the Meadowlands Trail. The catch-and-keep season runs from Labor Day to the end of November. No license is required. Borrow a pole at the Interpretive Center, which is open on Saturdays and Sundays.
Where To Stay In Cloudland Canyon State Park
The park offers a wide range of camping options. Choose between 16 cottages, 72 tent, trailer, and RV campsites, 30 walk-in campsites, 10 yurts, 13 backcountry campsites, a 175-slot group shelter, and a 40-bed group lodge. Reserve your spot more than a year in advance if possible.
Pro Tips: If you travel with your dog, request a dog-friendly cottage. Dog fees are $50 per stay. The West Rim Campground offers the best shade. For RV sites, check the site length, pull-through, and hook-up status.
Yurts
Cloudland Canyon's yurts are round-framed shelters that sleep six people. The yurts have bunk beds with an open floor plan. Unlike tents, they can be locked, and they offer electricity. The yurt village has a playground and bathroom facilities.
Walk-In Campsites
The walk-in campsites are in a forest between rock outcroppings. The rocks and vegetation offer some privacy, but you can still hear your neighbors. Each site features a level tent platform large enough for a medium-size tent. Campsites include a picnic table and a fire ring. The clean comfort station offers showers, restrooms, sinks, and changing stations.
Pro Tip: For the easiest setup, choose sites nearest the parking lot. For more space and privacy, and the best trail access, choose sites on the northern side.
Pioneer Sites
When pioneers arrived in their new homes, their first task was to set up a three-sided shelter to camp under. At Cloudland Canyon, these three-sided shelters can hold more than one tent and they have access to water. They don't offer power, though, and you must pack in all your gear.
Pack A Picnic
For terrific views, you can't beat picnics at Cloudland Canyon. Their main picnic area is on the Overlook Trail. The area includes Picnic Shelters 1-4. Shelters also are available in two other areas. Snacks are available at the park's store.
Pro Tips
Why hike when you can fly? Lookout Mountain Flight Park is near Cloudland Canyon's gate. Watching the hang gliders soar above Lookout Mountain will remain in your memories forever. But why watch? Join a hang glider pilot on a tandem flight. You'll ride beside an experienced flyer and soar with the birds.
In nearby Trenton, enjoy a Man of Smoke sandwich at Thatcher's Barbecue and Grill.
For another hiker's and waterfall lover's paradise, visit Fall Creek Falls State Park in Tennessee, less than two hours north of Cloudland Canyon. Fall Creek Falls was originally a national park until Tennessee pried it away from the federal government.