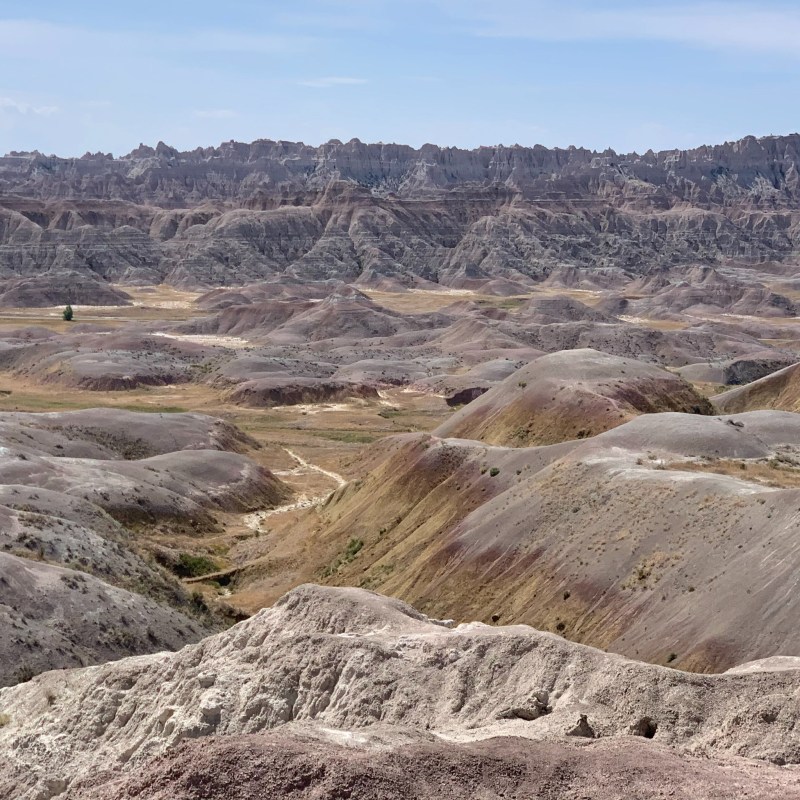 It feels odd to boast about a place with Badlands in the name, but there is a distinct beauty that comes from the rugged and rough area surrounded by beautiful grassland that makes up Badlands National Park in South Dakota.
The name Badlands actually comes from the Lakota, who called this place mako sica, or "Bad Lands." The terrain and harsh winters and summers made the area difficult to navigate for the Lakota and early visitors. While the summers are still hot and dry and the winters cold and windy, getting to and moving through the area is now much easier, and Badlands National Park is definitely worth adding to your vacation list.
Located just off Interstate 90 in southwest South Dakota, it's in the middle of the pack when it comes to the number of visitors to the individual U.S. national parks, which means you'll have room to explore and soak in its unique beauty.
It also means it's an easy park to drive through if you'd like, but I encourage you to savor a few of these eight experiences.
1. Rent A Cabin With A View
Any time I can stay within a national park, I love doing so. There's something about the quiet beauty of a park after all the day-trippers leave. We stayed in a cabin at Cedar Pass Lodge during our visit to Badlands National Park. It's located just a few miles from the northeast entrance and is within walking distance of the Ben Reifel Visitor Center. It's the only lodging within the park. The cabins were added in 2013 and resemble the original ones built on the site in 1928. I loved the pine interior and all the decor. The porches are where you'll want to spend most of your time. They're perfect for those memorable conversations with spouses, children, and grandchildren. If you have an RV or prefer to rough it in a tent, Cedar Pass Lodge has spots for you as well.
Pro Tip: All of the cabins have a front porch, but be sure to ask for one with a back deck as well. They have the best views as well as a picnic table where you can enjoy your meals. The cabins do have small fridges and microwaves.
2. Stargaze
There's a reason the visitor centers at many national parks sell constellation guides. There are stars, and then there are stars at our national parks. This is the perfect activity to wrap up a great day in the park. Between Memorial Day and Labor Day, join park rangers at the Cedar Pass Campground Amphitheater to view the night sky through telescopes as park rangers point out planets, constellations, and stars.
Pro Tip: Continue the stargazing from your camping area or cabin porch at Cedar Pass Lodge and use an app on your smartphone to enhance the experience. We use Night Sky and the kids know how it works better than me. They love it, and it's educational!
3. Drive The Badlands Loop Road
After a quick stop at the visitor center, this is the first thing I would recommend any visitor do when entering the park. The 31-mile stretch allows you to savor the diversity of the park. During our stay, we drove it about five times. The sunlight changes the colors of the pinnacles and buttes throughout the day. I tend to want to stop at every overlook and pull-out, and each has its own unique view, but you'll definitely want to stop at Panorama Point, Conata Basin Overlook, and Pinnacles Overlook.
Pro Tip: You'll get to a point on the loop road where you can either go north to Wall, South Dakota or keep going on a dirt road called Sage Creek Rim Road. If you don't care what your vehicle looks like when you're done, it hasn't rained recently, and you have the time, take the dirt road. We saw some of the best wildlife along this area of our drive.
4. Enjoy The Wildlife And The Prairie
Bison, bighorn sheep, prairie dogs, and black-footed ferrets roam the park, although spotting the latter probably won't happen since they're nocturnal. As I mentioned above, we saw most of our wildlife along Sage Creek Rim Road. That's where you'll find Roberts Prairie Dog Town, which by the numbers, could very likely classify as a city. We loved watching the prairie dogs eat and move about and listening to them call to one another. We also saw bison along the dirt road and in the area where the loop road heads north to Wall. However, keep a lookout at all times. Two bighorn sheep strolled by during one of our hikes. The park does ask that you stay at least 100 feet away from all wildlife.
Editor's Note: You can read up on our tips for safely viewing wildlife in national parks here.
5. Walk Fossil Exhibit Trail
There is one stop along Badlands Loop Road everyone should make, and it will help you appreciate the 75 million years of beauty you see in the park that much more. Fossil Exhibit Trail is a .25-mile boardwalk that takes you through the history of animals in the park. Each exhibit along the trail features a replica of a fossil, explains its history, and tells you if the animal died, adapted, or moved. There's also a sign explaining the different colors of the pinnacles and buttes in the park and when they were formed.
Pro Tip: Rattlesnakes like to escape the heat by sitting under the trail's boardwalk, so if you decide to step off, be sure to take a large step away so you don't scare a new friend.
6. Take A Hike
While there are only a few designated trails in the park, you are able to climb anywhere and everywhere you desire. As one lovely park ranger told me, the biggest obstacle at Badlands National Park is gravity! We tried out the short and strenuous Saddle Pass Trail. We made it, but it wasn't easy, and I wished I would have had shoes with better traction and a hiking stick. The trail is pretty steep and the gravel is slippery, which is what makes it difficult, but we did see climbers of every age attempting the trail, and we all made it up and back down.
We also did portions of Castle Trail and Medicine Root Loop Trail. They're marked as moderate difficulty, but that's mainly because of their length. There aren't any steep grades. Enjoy as much as you'd like and just turn around when you're ready.
Pro Tip: The days can heat up quickly, and there isn't really any shade, so be sure to bring a hat, sunscreen, and your weight in water. While that's an exaggeration, a 16-ounce bottle will not cut it. Also, you could find rattlesnakes along these trails as well, so keep an eye out.
7. Enjoy A Sioux Taco
There is a spot to grab a bite at Cedar Pass Lodge, and while they do have hamburgers, chicken fingers, and even a special each day, I really recommend trying the Sioux Taco or Indian Taco. I found they used both names. The bread is sweet and delicious, and my entire family kept going on about it between bites. The bread is topped with beans, ground beef, tomatoes, lettuce, and cheese. They can make a vegetarian version for you as well.
Pro Tip: They do run out, so if you want to try a Sioux Taco, don't wait until the end of the day to order.
8. Get Up For Sunrise; Stay Up For Sunset
My first question for any park ranger is identifying a hike where I won't keel over. The second is the best places to view sunrise and sunset. They'll tell you there isn't a bad place in the park, and they're right, but some spots are better than others. For sunrise, Big Badlands Overlook near the northeast entrance is the prime pick. You don't even have to leave your car. Just grab your tea or coffee and enjoy!
For sunset, you have a few options: Panorama Point, Conata Basin Overlook, and Pinnacles Overlook. Panorama Point is perfect if you don't want to get out of your vehicle, but there isn't much space to sit outside. Conata Basin Overlook doesn't require much walking and has a nice space if you want to bring a chair to sit and enjoy. Pinnacles Overlook is my pick if you're able to get up and down a long flight of stairs without a problem. There's plenty of space to spread out with a chair, a blanket, and a picnic and this spot has fantastic views. Not that the others don't, but this is my favorite. You can view the sunset from your car here as well, but not from every spot, so arrive in time if this is your plan.
Pro Tip: We saw quite a few animals going to and from our sunset outing, so give yourself time to enjoy the unexpected along the way.
Pro Tips
While the North Unit of the park receives the majority of visitors, the park is made up of three units. During our visit, the Stronghold and Palmer Creek Units were not accessible to visitors. They are located within the Pine Ridge Indian Reservation and are managed by the Oglala Lakota and National Park Service.
Depending on how you travel to Badlands National Park, there are two sites along Interstate 90 which are worth visiting. The first is Dignity, a beautiful stainless steel monument that honors Dakota and Lakota cultures. It's located at the rest area in Chamberlain, which is about two hours and 15 minutes east of the national park. The second is Minuteman Missile National Historic Site. There are three locations to visit if you're interested. The visitor center is at the same exit as the northeastern entrance for Badlands National Park. All three locations are just off I-90. You'll need a reservation if you want to tour the Launch Control Facility. Learn about other interesting stops with our recommendations for nine unique attractions off Interstate 90 in South Dakota.