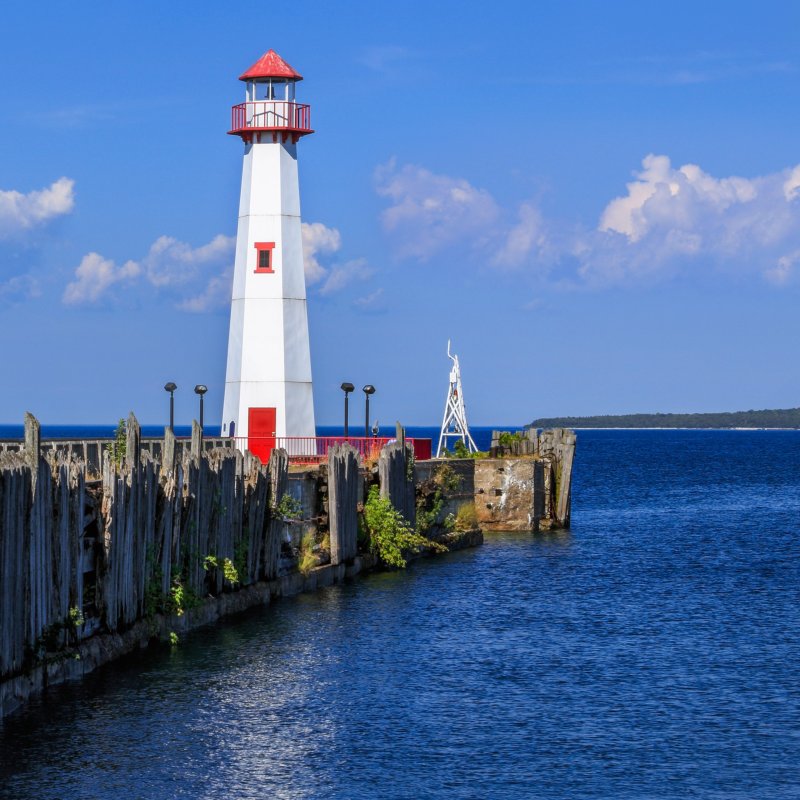 No matter where you are in Michigan, one of the Great Lakes is always within 85 miles. Michigan has 3,300 miles of Great Lakes shoreline, the longest freshwater coastline in the United States, and with that comes quaint Michigan beach towns. If you want to do more on vacation than sun yourself on the beach, these Michigan beach towns provide a combination of stunning beach views and plenty of other activities. Whether your interest is outdoor adventures, food, maritime history, or culture, you'll find it in these quaint Michigan beach towns.
1. St. Ignace
St. Ignace sits at the northern base of the Mackinac Bridge in Michigan's Upper Peninsula. The five-mile-long Mighty Mac is the largest suspension bridge in the Western Hemisphere, where it spans the Straits of Mackinac connecting Michigan's Upper and Lower Peninsulas.
During the summer, the Museum of Ojibwa Culture offers free 90-minute walking tours through St. Ignace. The tour isn't strenuous and includes several places to sit along the way.
Two seasonal restaurants with patios overlooking Lake Huron offer a relaxing atmosphere. Jose's Cantina offers award-winning Lake Superior whitefish tacos, while Gangplank Pub and Grub serves fresh, never frozen, burgers with hand-cut fries.
Breakers Resort is a beach-front property with views of Lake Huron.
Pro Tip: For a stunning view of the bridge, head six miles west on U.S. 2 from St. Ignace and stop at the Gros Cap Roadside Park. You'll have a picturesque photo opportunity of the Mackinac Bridge.
2. Charlevoix
Charlevoix is 60 miles down Michigan's west coast from St. Ignace. Located where the waters of Lake Michigan, Lake Charlevoix, Round Lake, and the Pine River Channel meet, Charlevoix has a fairy-tale feel with its castle and gnome-like mushroom houses.
Castle Farms, built in 1918, features gardens with an abundance of photo opportunities and the largest outdoor model train in the state of Michigan. If you're into history, visit the on-site World War I museum.
Architect Earl Young created homes often referred to as the mushroom houses. They feature flowing lines, stones, and cedar shake roofs. You can take a tour of all 28 of these unique houses and public buildings while in Charlevoix.
Pro Tip: If you'd like to take in some of Michigan's island life, Charlevoix is also the gateway to Michigan's Beaver Island, the largest island in Lake Michigan.
3. Petoskey
Petoskey sits on the shore of Lake Michigan's Little Traverse Bay. During summer, explore the Victorian charm of the downtown area on a complimentary old-fashioned trolley. Stop by McLean and Eakin Booksellers and pick up a quick beach read.
For breakfast or a sweet snack, Johan's Pastry Shop is the place to go, while City Park Grill offers a bit of history with your meal. Ernest Hemingway drafted stories at the bar. Visit Pennsylvania Park to see the statue of the young Hemingway.
Magnus Park, with its 1,000 feet of rocky shoreline, is the best place to find Michigan's sought-after state stone, the Petoskey stone. Bring a spray water bottle as the rocks are easier to spot when wet.
If you prefer camping over resorts, Petoskey State Park, located on the north end of the bay, offers two campgrounds. The park's beach is also a prime place to find the state stone.
Pro Tip: Michigan requires state park visitors to have a Recreation Passport; if needed, you can purchase one at the park for an additional fee.
4. Traverse City
Traverse City sits on Grand Traverse Bay, where watersport lovers, foodies, and wine enthusiasts will all enjoy their time.
For a boutique hotel experience right on the beach, try Cherry Tree Inn. If you wish to sneak in a round of golf before your day at the beach, the Grand Traverse Resort offers a top-rated, Jack Nicklaus-designed golf course, The Bear.
We explored Grand Traverse Bay on a two-hour tall ship cruise. The Tall Ship Manitou is a replica of an 1800 schooner. Getting closer to the water, kayaking, stand-up paddleboarding (SUP), and jet ski rentals will add to your watersport fun.
Farm-to-fork restaurants abound in Traverse City. Trattoria Stella, where the menu changes daily, is a favorite featuring Italian and Southern Mediterranean cuisine.
Traverse City, located on the 45th parallel, is in line with other great wine regions like Piedmont and Bordeaux. The area has about 40 wineries, so wine enthusiasts can enjoy local wine with dinner or a special wine-tasting tour.
Pro Tip: The first week in July brings 500,000 visitors to the National Cherry Festival, and it's a great time for everything cherry in Traverse City. During summer, farm stands overflow with fresh cherries, peaches, and corn. Be ready with cash as many stands don't take plastic.
5. Holland
Holland's Dutch heritage is evident throughout this Lake Michigan beach town. Forbes has called Holland one of the prettiest towns in America. You can enjoy a beach day with Big Red, Michigan's most photographed lighthouse, in the background.
In addition to the tulips, the town features many Dutch activities. Artisans carve wooden shoes and paint Delftware at the DeKlomp Wooden Shoe and Delft Factory year-round. Tour the DeZwaan windmill, the only authentic Dutch windmill grinding wheat into flour in the United States.
Whether you're looking for a traditional Dutch meal or a meal with a view of the lake, you're sure to find it in Holland. DeBoer Bakkerij Restaurant, a fourth-generation family restaurant, offers authentic Dutch cuisine. For a traditional Dutch lunch, try the pea soup paired with the pigs in a blanket.
Located on Lake Macatawa, Boatwerks Waterfront Restaurant has a waterfront patio where you can enjoy a Michigan sunset over dinner.
Pro Tip: The Tulip Festival is an annual event that takes place the first two weekends in May. At this time of year, you can revel in over six million blooming tulips.
6. Saugatuck
Nestled on the sands of Lake Michigan, Saugatuck is a town for nature enthusiasts, art lovers, and foodies.
Saugatuck Dune Rides offers a 40-minute ride over dunes, during which you'll learn about Singapore, a Michigan town lost to the sand.
Another fun ride is the narrated Star of Saugatuck Boat Cruise, which takes you down the Kalamazoo River on a paddlewheel boat to Lake Michigan.
Art enthusiasts will be busy in Saugatuck, with DIY experiences, visiting local artists' studios, and stopping at art galleries.
The Wickwood Inn, a bed and breakfast owned by Julee Rosso, author of The Silver Palate Cookbook, is the perfect place for a gourmet to stay or dine.
Pro Tip: The Star of Saugatuck Boat Cruises has a sunset cruise, during which you can enjoy a stunning sunset over Lake Michigan, and this evening cruise often goes out on the lake.
7. South Haven
South Haven, originally named Ni-Ko-Nong, meaning beautiful sunsets, has sugar-sand beaches and a walkable downtown.
Fishing is popular in South Haven, where you'll find many charter fishing captains just waiting to take you on an adventure. If you're not into fishing but enjoy the catch, Clementine's offers lake perch and walleye on their menu.
Hops, grapes, and blueberries are major crops in this area of the state, so go on a quest for your favorite craft brewery, winery, or blueberry dessert. We're sure you'll find one.
Pro Tip: The Michigan Maritime Museum offers a variety of on-water opportunities in boats replicated from bygone eras. Take a ride in an 1810 topsail sloop, an electric-powered replica river launch, or a USCG Motor Lifeboat 36460 that starred in the Disney film The Finest Hours.
8. Alpena
Alpena is 103 miles south of St. Ignace on Michigan's east coast. It's located on the shores of Lake Huron, and the crowds haven't discovered Alpena yet.
Amateur archaeologists will enjoy digging in the abandoned limestone quarry at Rockport State Recreation Area, where you're allowed to take home whatever fossils you might find during your dig.
If digging in the quarry makes you hungry, The Fresh Palate serves organic, hand-made pizza, and burgers.
Thunder Bay National Marine Sanctuary is one of the most dangerous sections on the Great Lakes. This 4,300-square-mile area referred to as Shipwreck Alley, has claimed about 200 ships in the Thunder Bay area. Unpredictable weather coupled with a rocky shoreline resulted in many shipwrecks.
Pro Tip: The Great Lakes are more like an ocean than an inland lake. Before venturing out on the water, be aware of these Great Lakes water safety tips.
9. East Tawas
Located on the shore of Lake Huron, East Tawas is home to Tawas Point State Park, a perfect place to enjoy a beach day. The beach in this state park is popular because the water tends to be shallower and warmer than it is in other parts of the state.
Due to its protected waters and winds, Tawas Bay is an excellent sailing area. The bay's limestone reef makes this area a favored destination among fishers.
There are 129 lighthouses to explore on Michigan's coastline — the most in the United States. Don't miss Tawas Point Lighthouse in Tawas State Park, the only Victorian-era style lighthouse on the Great Lakes.
After a day at the beach, try Mangos Mexican Cuisine in downtown East Tawas.
Pro Tip: You can experience the history and live the life of a lighthouse keeper by participating in a two-week program at the Tawas Point Lighthouse.
Editor's Note: The figures mentioned in the first paragraph of this article come from this Michigan Department of Natural Resources webpage.