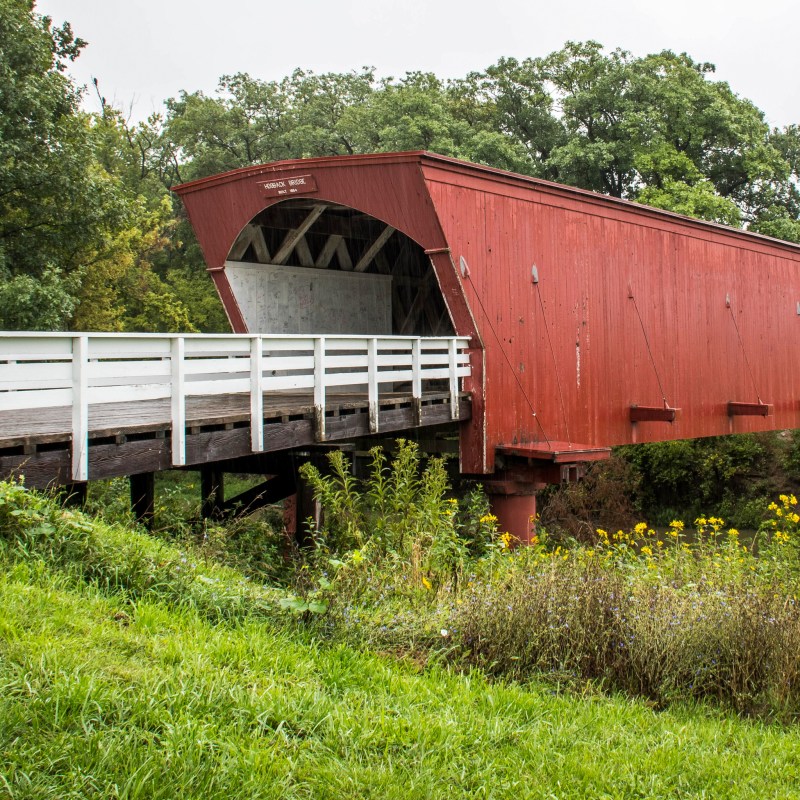 Iowa is home to several scenic highways and byways that are easy to fall in love with. Many people assume that Iowa's scenic roads are all flat, when in fact, they are not. Each of these scenic highways and byways has something unique for everyone who drives these scenic routes. These are some of my favorite drives, and I hope you will hop in your car and explore one or more of these scenic Iowa routes. Each of these scenic highways and byways has excellent signage along the route, which makes them even easier to drive.
1. The Great River Road
The Great River Road is the scenic drive that most people are familiar with, as it straddles the Mississippi River in the eastern portion of Iowa. The town of Lansing has won my heart over along this scenic byway in northeast Iowa. This little town is home to a fun department store, Horsfall's. Mount Hosmer Park offers views that go out more than 50 miles from the top of a 450-foot-tall bluff in the city park. As you travel south on this Iowa route, you will also be near Effigy Mounds, which offers a history lesson and hiking experience all in one (and made my list of lesser-known national parks and monuments you should visit).
Dubuque lies along this scenic byway, which offers more outstanding bluff views that overlook the Mississippi River. As you travel further south into Iowa, you will come across the Quad Cities. This area is home to riverboat rides, fishing experiences, and state parks with unique Iowa experiences. You will find that during the peak of summer, the wildflowers in the prairies are some of the most colorful you will ever see.
Summer is an ideal time to drive this route. Autumn comes in a close second with outstanding fall foliage. There are several bed and breakfasts along this route, which make for the perfect way to round out your scenic drive.
2. Covered Bridges Scenic Byway
The Covered Bridges Scenic Byway is located near the town of Winterset, southwest of Des Moines. The route is a mixture of gravel and paved roads. The roadway is extremely hilly in places, which makes for outstanding photo opportunities as well as a fun road trip. You can easily spend one full day driving this scenic route as you explore the covered bridges and the beautiful countryside.
Plan to stop in the town of Winterset to explore the John Wayne Birthplace and Museum and explore Town Square while in Winterset. If you visit during the summer months, you will find the Town Square all decked out in colorful hanging baskets of flowers. You will easily find yourself spending a few hours exploring the fun shops that make up this charming Midwestern town. Dine at one of the family-owned establishments in town or pack a picnic lunch to be enjoyed near one of the scenic covered bridges.
3. Loess Hills National Scenic Byway
Driving the Loess Hills Scenic Byway is one of the most epic experiences in Iowa. It encompasses more than 1,080 square miles along the Missouri River in western Iowa and is more than 220 miles long. This route is also home to one of my favorite things, an Iowa lavender farm.
Several unique attractions line the route, such as the Union Pacific Railroad Museum in Council Bluffs. Bodega Victoriana, outside of Glenwood, is home to the largest vineyard in western Iowa. It is located on a beautiful century-old Victorian farm. This family-owned business is unique in that its wines are made from grapes grown in the Loess Hills.
Several state parks are along the route, and if time allows, I would suggest that you indulge in a picnic lunch in one of them. This route brings rural Iowa together with the big city. Numerous experiences along the rolling hills and beautiful river views are sure to make this a favorite scenic Iowa drive. The beautiful river bluff views in the Sioux City area are outstanding, so don't be afraid to hop on a walking or hiking trail for the view of a lifetime.
4. Historic Hills Scenic Byway
The Historic Hills Scenic Byway is located in southeast Iowa. The most fascinating thing about this scenic byway is the fact that there are more than 100 Amish and Mennonite businesses in this area of Iowa. It's not uncommon to share the road with a few horses and buggies as you drive this route. I recently drove this route and came upon numerous Amish and Mennonite folks who were out doing business, traveling to and from town.
Keep your eyes on the barns as there are numerous barn quilts along this historic route. You can also visit Iowa's oldest courthouse and other historical sites along the route. History is alive and well in this area of the state.
There are no fast-food restaurants along this route, so plan accordingly. Pack your picnic lunch and find a picnic table to enjoy a meal with a view. Hiking, hunting, camping, fishing, and paddling are all popular outdoor sports along this route, as well.
5. Western Skies Scenic Byway
The Western Skies Scenic Byway was one of the first scenic byways dedicated in the state. This 142-mile route weaves through four rural farming counties in Southwest Iowa and offers unexpected opportunities for cultural, historical, and outdoor activities. Make sure to set aside time for the glorious sunsets and sunrises for which this byway is best known.
Plan to spend some time in the community of Elk Horn, which is home to one of the largest concentrations of Danish immigrant descendants in the United States. Here you can experience the Museum of Danish America and the only authentic, working Danish windmill in America. The windmill itself is recognizable to folks all around the world. Swing into the little towns that dot this route, as you will find something unique in each community. The mom-and-pop diners of the world are ready to roll out the red carpet and welcome you into their little slices of paradise.
6. White Pole Road Scenic Byway
The White Pole Road Scenic Byway runs parallel to I-80 between mile markers 76 and 100. This byway is not very long, but it's truly unique and one of a kind. It wasn't until a couple of months ago that I stumbled upon this scenic byway and wondered why I had not driven it before.
This byway connects the communities of Adair, Casey, Menlo, Stuart, and Dexter, Iowa. With more than 700 painted white poles, it's truly a one-of-a-kind drive. If you are traveling Iowa on the busy interstate highway and want a reason to slow your pace for a few miles, this scenic byway is for you. The scenic byway is all about the white poles and Americana. Once you hop on the route, place yourself back in a quieter place in time, and you will understand why the white poles are in existence. You can imagine yourself transporting products across America with white poles as your guide.
Iowa is fortunate to have numerous scenic byways that each offer something unique. Iowa's landscape is diverse, and it truly offers something for everyone. When you hop on these scenic highways and byways, allow yourself to experience all that they have to offer. Lace up your hiking boots, take out your binoculars, and see the beauty of Iowa in a whole new light.
Pro Tip: Many of these scenic drives are on a mixture of gravel and pavement. The signage on all of these byways will guide you as you explore the beauty of Iowa. If you do choose to drive these routes in winter or spring, keep in mind that some of these roads may be impassable due to mud and snow. Summer and fall are often the best seasons to drive these routes for colorful scenery and your safety.