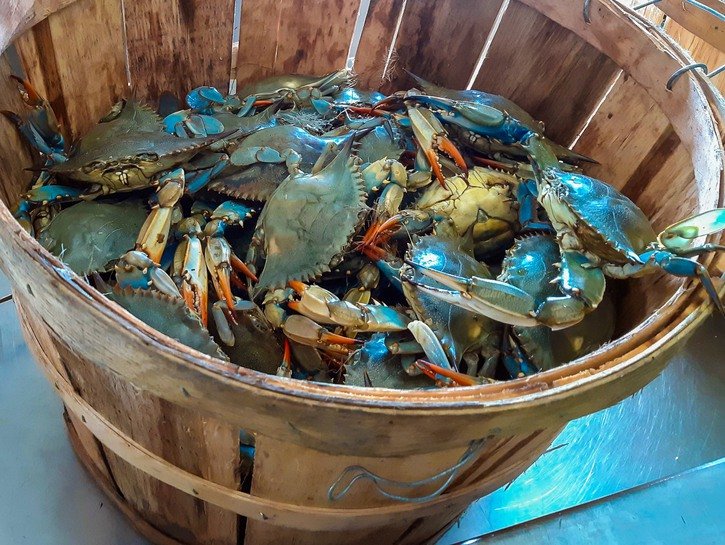 Virginia's foods are as varied as the state's landscapes. Each region of the state — from the Chesapeake Bay and the Coastal Plain to the Blue Ridge Mountains and the Appalachian Plateau — produces its own delicious specialties. Seafood is at the top of the list, of course — oysters and crab are abundant in the Chesapeake Bay — but Virginia is known for beef production, too. You'll also find lots of local produce, including peanuts, artichokes, and blackberries, plus Southern favorites like pimento cheese and fried chicken.
On your next trip to Virginia, be sure to indulge in some of the foods the state does best.
1. Chesapeake Bay Blue Crab
You may have heard of Maryland crab, but you probably didn't know that most Maryland crabs are born in Virginia. Crab mating occurs in the Maryland portion of the Chesapeake Bay, but the female blue crab travels to the saltier Virginia waters, sperm packet in tow, to release and fertilize the eggs.
The soft-shell crab is eaten during its molting stage — soft-shell crab season extends from late spring to early fall. Once it sheds its shell, the blue crab experiences a growth season, providing a feast of hard-shell crab from April through November. Both varieties are available frozen at any time of year, but fresh blue crab is a treat you shouldn't miss.
Where To Find It
In Prince William County, head to the waterfront, where Tim's Rivershore Restaurant & Crabhouse sits at one of the widest points of the Potomac River and offers panoramic views of the river and beach. Eating blue crab is an exercise in patience, since it's messy and sometimes hard on the fingers, but crab lovers swear that it's worth the effort.
The owner, Tim Bauckman, told TravelAwaits that during peak season, some diners will spend the day shelling crab and enjoying the delicacy.
"It's a long process to eat them, but it becomes an event and a way for people to connect over a meal," said Bauckman.
Visit Hampton, Virginia, and you'll find a family-run crabbing business that's been around since 1942: Graham & Rollins. Nichole Leighton, Graham & Rollins's marketing specialist, told TravelAwaits that the city of Hampton was once nicknamed "Crabtown U.S.A." because of the large number of crab processors that could be found on its waterfront. Graham & Rollins is the only one that still exists.
Stop by the Graham & Rollins Seafood Market to purchase fresh-caught seafood, or head next door to the family's restaurant for some soft-shell crab and she-crab soup.
"The soft-shell crabs are considered a delicacy in Virginia. They are only available for about five months a year fresh. Usually, they start arriving with the first full moon of May. Once a crab molts, it must be removed from the water within a few hours, or the shell will begin to harden again. Gathering peeler crabs — crabs that are starting to molt — and maintaining them until they become soft-shells is considered one of the oldest forms of aquaculture in the U.S. During processing, the soft-shell is cleaned and fried. Each person usually has their own version of a coating — most use cornmeal and/or flour and seasonings. End-of-season soft-shell crabs can be frozen for up to one year," said Leighton.
2. Beef
Cattle first arrived in Virginia in the late 1500s — they were brought over by the earliest immigrants to the region. Now cattle can be found in every county in Virginia, and there are an estimated 675,000 cattle in the state. A whopping 97 percent of Virginia beef operations are family owned, and the average herd size is only 30. Virginia beef includes conventional beef, 100 percent Certified Angus beef, certified organic beef, grass-finished beef, and more.
Where To Find It
In downtown Hampton, you'll find Brown Chicken Brown Cow, a chic restaurant that specializes in hamburgers and barbecue. Although the restaurant is known for its grass-fed burgers, its brisket — which is smoked for 10 hours with a simple rub of salt, pepper, and garlic — is also flavorful and tender.
While you're there, be sure to try one of the ice cream floats made with locally sourced, antibiotic-free and hormone-free milk. Choose from wholesome options like strawberry milk and coffee, or go bold with one of the boozy floats.
Beef is also on the menu at Kybecca in Fredericksburg, Virginia.
Wade Troung, executive chef at Kybecca, told TravelAwaits, "One of the things that makes Kybecca unique is that we are not tied to one type of cuisine. Our food and beverage offerings change seasonally, and we basically serve whatever we think is tasty, fun, and unique. We utilize traditional as well as modern cooking techniques, which allows us to make the best of prime ingredients as well as change the texture and taste of lesser-known ingredients."
The 36-hour chuck eye is one such ingredient, and it's one of the restaurant's bestselling dishes.
"We've taken a cut that was traditionally only used for braising, and through sous-vide cooking we've made it into a prime tender cut. You get deep, beefy flavor and a tender steak texture. We rub the meat with a house blend of spices, pair it with local asparagus that is simply seasoned and grilled, and top that off with porcini-mushroom-infused demi-glace," said Troung.
3. Peanuts
Peanuts have a long history in Virginia, with the first commercial peanut crops being grown in the state in the 1840s. A much-loved Virginia specialty is peanut soup.
Where To Find Them
The King's Arms Tavern in Colonial Williamsburg, Virginia, serves traditional peanut soup. A Southern favorite and a King's Arms specialty, the soup is garnished with peanuts and served with sippets, or small pieces of toast.
"Today's menu items are 18th-century recipes adapted for 21st-century tastes and methods. Some of the more unusual items come straight from colonial cookery books," said Keith Nickerson, the director of the culinary historic area of Williamsburg.
4. Oysters
Virginia's seafood industry is one of the oldest and largest in the U.S., and the state is the top oyster producer on the East Coast. It's no wonder that Virginia oysters are legendary!
Where To Find Them
To explore the oyster region, try the Virginia Oyster Trail.
In Richmond, Virginia, the Rappahannock Restaurant serves a variety of seafood dishes, but you can't leave without trying the Olde Salt oysters.
5. Southern Fried Chicken
The classic Southern fried chicken recipe involves a buttermilk bath and spices. The result? Fried chicken that is crunchy on the outside and juicy and flavorful on the inside.
Where To Find It
In Ashland, Virginia, the Iron Horse Restaurant serves premium chicken and waffles at Sunday brunch. The sweet and savory flavors make a delightful meal. Be sure to try the artichoke soup, too!
At the King's Arms Tavern, the Mrs. Vobe's Tavern Dinner features Southern fried chicken. Three large pieces of chicken crowd the plate, leaving just enough space for mashed potatoes and a vegetable of your choice.
6. Pimento Cheese
The South's favorite cheese spread, pimento cheese, can be found at many Virginia restaurants. The simple blend of Cheddar cheese, mayonnaise, and sweet peppers is delicious with ham (another Virginia specialty), melted on toast, or as a succulent sopper for a savory dish.
Where To Find It
In Ashland, the Ashland Meat Company at Cross Brothers Grocery sells a barbecue ham sandwich that oozes with Southern flavor. It consists of pimento cheese, local chopped ham, and barbecue sauce on a bun.
For a more sophisticated taste of pimento cheese, visit Foode in Fredericksburg, a farm-to-table restaurant in an old bank building, and order one (or more) of the pimento cheese toasts.
7. Shrimp
You can't leave Virginia without trying another seafood specialty: shrimp. It's especially delectable when it's served in the traditional Southern style with grits.
Where To Find It
Shrimp and grits alone are delicious, but Foode adds onions, bell peppers, celery, grilled bread, and house-made sausage to the dish for a salty, savory spin on the old favorite.
8. Fruit
According to the Virginia Department of Agriculture and Consumer Services, farms make up 32 percent of Virginia's total land area and are spread over more than 8.1 million acres. Virginia's agricultural production is one of the most diverse in the nation, and the state ranks in the top 10 for many fruits, including apples, grapes, and fresh-market tomatoes.
Where To Find It
Mom's Apple Pie Company in Prince William County serves up pie in every flavor imaginable. "Mom" — Avis Renshaw, the founder — started the business back in 1981, and it now employs four generations. The family is dedicated to using natural, preservative-free ingredients. They aim to grow as much of their own fruit as possible, and they use their own strawberries, rhubarb, raspberries, blackberries, and pumpkins in their pies. They want the fruit to be the focus, so they use sugar sparingly. Plus, they make a flaky crust that enhances the natural flavor of the fruit.