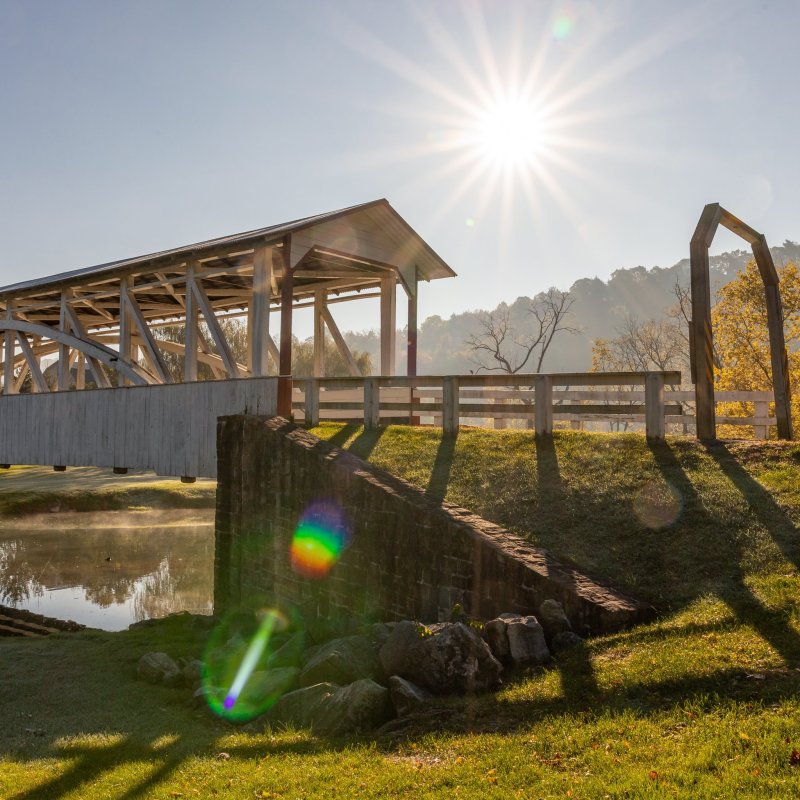 Bedford County, Pennsylvania, is blessed with a rich history, a beautiful rural setting, and a multitude of covered bridges. Pennsylvania is the state with the most covered bridges in the nation with a total of 213, and there are 14 covered bridges around Bedford County alone.
I recently had the opportunity to take a driving tour of ten of the beautiful bridges.
Built approximately 150 years ago, craftsmen created the bridges almost entirely by hand. For the most part, they have stood the test of time, weather, and hard use from the horse and buggy days to the modern cars of the traveling public.
The bridges in historic Bedford County vary in length from the small 56-foot Palo Alto bridge located near Hyndman (this was not part of my driving tour) to the long 136-foot Herline Bridge close to Manns Choice.
Twelve of the 14 bridges are Burr Truss bridges. The designer, Theodore Burr, planned a set of trusses that interact with the arch spanning the length of the bridge. This created added strength to hold the bridges in place.
I followed the tour recommended by the Bedford County Visitors Bureau, which guides you to nine of the 14 bridges. You can find the tour here (PDF).
I also visited one other bridge in the county that was not part of the tour.
While the itinerary suggests you allow 90 minutes for the tour, it took us over four hours to complete the journey, plus an additional hour to visit another bridge. We did the tour in the order they suggested. We stopped at each bridge, got out, and looked around, took some pictures, and enjoyed the view. Then we moved on to the next bridge. I would plan at least four hours for the tour, and if you plan to stop for lunch, allow five hours. There are not many places to eat lunch since you are on country roads. We ate at the end of the tour.
The other bridges are a bit out of the way but worth the drive to see those that are public. Two are private, and you cannot view them close up, but you can still catch a glimpse of them.
The best time to take the Bedford County Covered Bridge tour is in the summer or fall. I would not even consider it in the winter due to ice and snowy conditions.
The driving tour starts at the Old Bedford Village in Bedford. As you enter the village, you will see your first covered bridge.
1. Claycomb Covered Bridge
This bridge, owned by the county, was built in 1880 in Reynoldsdale. In 1975, it was moved to its current location. During the move, the Burr Truss design was reinforced with steel to support the heavier traffic of visitors to Old Bedford Village. The bridge is unpainted and cedar shakes cover the roof. Sitting on a poured concrete abutment, the bridge deck consists of cross-board planks, and it is totally enclosed.
You can drive across the bridge into the Old Bedford Village parking lot. There you'll find a gift shop, and there is a tour if you have extra time.
2. Bowser/Osterburg Covered Bridge
Also a Burr Truss bridge, the Bowser/Osterburg bridge has horizontal bracing at the truss top level. Near Osterburg, it spans Bob's Creek. Built in 1890, this bridge is not in use. A steel and concrete bridge replaced it in 1973. The bridge is owned by the county and preserved for viewing. There is a cable across the entrance to prohibit unsafe entry. This bridge sits on stone and mortar abutments and has vertical boards on the lower third.
3. Snooks Covered Bridge
Named after Jacob Snooks, this bridge is located near what used to be Snooks's home. Another Burr Truss design built in 1882, it spans Dunning Creek. This bridge is located near Fishertown and is owned by the county.
The Snooks Bridge is open to vehicular traffic. As you follow the tour, you drive through the covered bridge.
4. Dr. Knisely Covered Bridge
The Dr. Knisely Covered Bridge crosses Dunning Creek along the main road near Pleasantville between Bedford and Johnstown. Vertical boards cover approximately a third of the sides, and it has horizontal boards inside. The 80-foot-long bridge sits on a stone and mortar abutment and has a metal roof. This bridge is no longer traversable and is privately owned.
5. Ryot Covered Bridge
A 2002 fire destroyed the original Ryot covered bridge. The structure was rebuilt and reopened to traffic in 2004. Named after a nearby town, the Ryot bridge is another Burr Truss design, and it also crosses Dunning Creek. Owned by the county, this 83.5-foot-long bridge sits on a stone and mortar abutment and is still drivable.
6. Cuppett's Covered Bridge
Cuppett's Covered Bridge is located near the town of New Paris. It is another Burr Truss design initially built on land owned by William and Phillip Cuppett.
This bridge is unique in that it has extremely low arches and open sides.
It is unpainted and has weathered naturally. Spanning Dunning Creek, this 60-foot-long bridge is not traversable, and it is privately owned.
I have to say this was my favorite bridge, I think because it wasn't painted and just had natural beauty.
Bonus: Gravity Hill
Gravity Hill isn't a covered bridge but a strange phenomenon that you might want to experience as you are doing the tour and way out in the country.
There is a spot marked on the road that tells you where to start. You put your car in neutral, and your car will start going uphill on its own. I didn't believe it till it happened. And then I thought it was because of the direction I was driving, so I turned around and tried it in the opposite direction, and it still happened.
It is a real thrill when it takes you uphill backward and you are trying to steer to stay on the road, so pay attention.
If you drive a mile or so down the road, there is another place where the same thing happens. Go to the pole along the road with the number 69 on it, put your car in neutral, and your vehicle will go uphill on its own!
If in an RV or hauling a trailer, you may wish to skip the little experience because you won't have room to turn around.
Now after your little diversion, back to the tour …
7. Colvin Covered Bridge
The Colvin Covered Bridge, built in 1866, was refurbished in 1997. The multiple king-post bridge rests on a concrete abutment. The bridge crosses Shawnee Creek near Schellsburg. This 66-foot-long bridge is county-owned, and you can travel across it.
8. Turner's Covered Bridge
This bridge is old and could use some work. The road to it is gravel, and there are a few ruts to deal with. You may think you are in someone's driveway, but you are on the correct route.
Turner's Covered Bridge is another Burr Truss bridge that is 89 feet long and has open sides with low side panels. Resting on stone abutments that have been reinforced with concrete, this bridge is drivable. Spanning the Raystown branch of the Juniata River near Manns Choice, it's believed that this bridge was constructed around 1892.
Once you cross the bridge, it is a dead end. There is a place to turn around. Again, I'm not sure I would attempt this if in an RV or pulling a trailer. Space for turning is limited.
9. Herline Covered Bridge
The Herline Covered Bridge is the longest of all of the covered bridges in Bedford County. The 136-foot-long bridge crosses the Raystown branch of the Juniata River north of Manns Choice. It is another Burr Truss design.
Originally built in 1902 and refurbished in 1996, it is owned by the state and is in excellent condition and is traversable.
This ends the tour the Bedford Visitor's Center has mapped out. But there are other bridges in Bedford County you may want to view.
10. Hall's Mill Covered Bridge
I visited this bridge, and it is in a very scenic setting. The original bridge was built in 1860, and the current bridge was built in 1884 and refurbished some years ago. Hall's Mill Covered Bridge is 97 feet in length and has a Burr Truss design.
Just off of Route 26, several miles north of Everett, the bridge crosses Yellow Creek and is drivable and in excellent condition. The County owns it, and it is one of the prettiest bridges available to view.
Other Bridges In Bedford County
These Bedford County bridges are also worth visiting.
11. Jackson's Mill Covered Bridge
Near Breezewood, this is a very picturesque bridge that is traversable.
12. Hewitt Covered Bridge
South of Chaneysville, this bridge is traversable.
13. Felten's Mills Covered Bridge
In the Breezewood area, this bridge is privately owned and not accessible. You can only view it from a distance.
14. Palo Alto Covered Bridge
South of Hyndman, this bridge is privately owned.
I enjoyed the Bedford County Covered Bridge Tour. If you like country roads and covered bridges, you will enjoy spending half a day on this self-guided driving tour.
If you want to print a copy of the mapped Bedford County Covered Bridge Driving Tour, you can find it here (PDF).
Pro Tips
Plan to take some snacks with you. As you go from bridge to bridge, you are on country roads that do not have convenience stores or fast food options.
If you are planning to get out and take pictures, et cetera, wear sturdy shoes. There are places where it isn't flat, and there is gravel.
If going through the bridges on foot or bike, be aware there are mud wasp nests in some of them. They didn't bother us, but just be aware they are there.
Be aware that two of the bridges listed on the tour are on private property. So they are either drive-by or what you can view from the main road pull-off.
I would not attempt this tour on a rainy day.
I would not attempt parts of this tour if in an RV or pulling a trailer. Turnaround space is limited for a few bridges, and one of the roads is in fair (not good or great) condition.
Read up on how to spend an amazing weekend in historic Bedford, PA, for additional inspiration.
Want more covered bridges? Take a look at these 25 perfect stops on Madison County's Covered Bridges Scenic Byway.