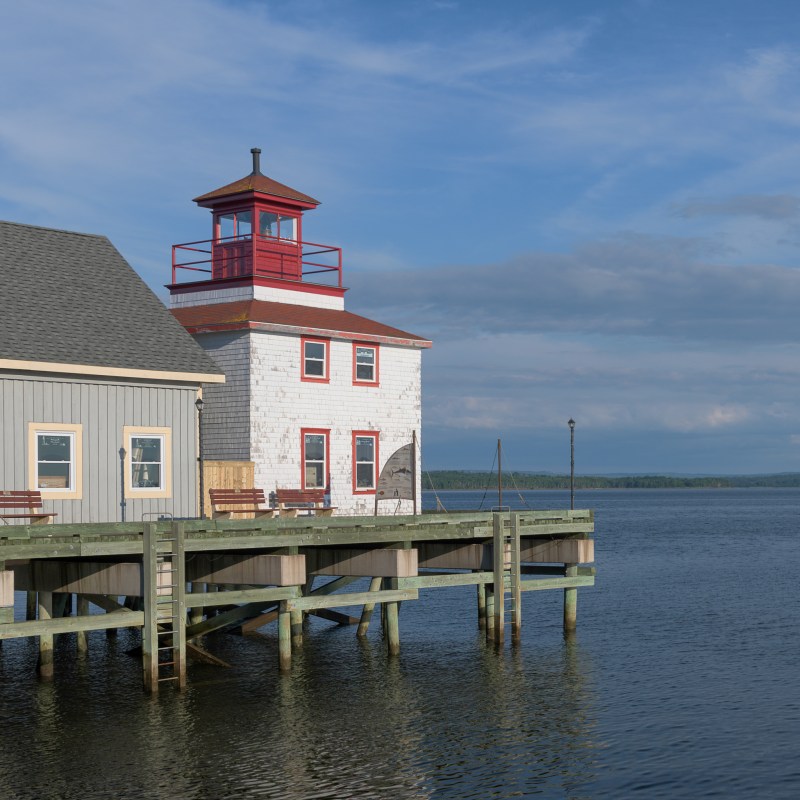 The Canadian province of Nova Scotia is well known for its natural beauty and scenic drives, but few visitors know about Nova Scotia's spectacular North Shore roads. This special driving route overlooks the Northumberland Strait and — on a really clear day — the southern shores of Prince Edward Island. And it's a gorgeous alternative for anyone looking to drive from New Brunswick to central Nova Scotia.
From the town of Amherst, which is the first port of call for travelers entering Nova Scotia from New Brunswick, head north on Highway 6. You'll soon see the fork in the road that leads to Route 366. Known as the Sunrise Trail, this scenic drive hugs the North Shore, merges with Highway 6 around Pugwash, and concludes at Pictou.
Along your drive, you'll see beaches — dozens and dozens of them, ranging from large provincial parks with full facilities to tiny community coves down unmarked lanes. This is what the area is best known for, and visitors can expect warm, calm waters; soft sand; occasional rocks; and lots of seabirds. No matter where you stop, avoid parking on private property and blocking driveways, and make sure to leave the beach cleaner than you found it.
Depending on the exact route you take along the North Shore, you'll cover 100 miles in about 2 hours — assuming, that is, that you don't stop at a beach or any of these charming little spots along the way.
1. The Bridges Of Tidnish Bridge
Near the start of Route 366 is Tidnish Bridge, which is a bit confusing, since there are actually two bridges well worth checking out! A 2.3-mile walking trail from the Tidnish Visitor Centre crosses the two bridges and concludes at Tidnish Dock Provincial Park.
The first water crossing is a 215-foot suspension bridge that offers fantastic views of the woods and water and is just a 10-minute walk from the trailhead. Photographers love it, and it's a quick activity for families on the go. Meanwhile, the historic keystone bridge a bit farther down the trail is a relic from an ambitious railroad engineering project. While the project didn't progress as expected, the science and design behind the keystone bridge remain much admired.
2. Amherst Shore Provincial Park
This beautiful campground, which offers 30 serviced and 12 unserviced camping sites, is a lovely destination for campers and RVers. It's a clean, well-kept, friendly spot that a lot of people overlook. In peak season, there's often a camper-in-residence, a long term visitor who knows the park and area and will offer valuable local advice and camping tips. Day visitors are welcome as well, and the park offers a great selection of hiking trails and beaches.
3. Pewter In Pugwash
Pugwash received international attention in 1957 as the site of the Pugwash Conferences on Science and World Affairs, a conference that led to discussions and progress on nuclear disarmament. Today, the site of the conference (Thinkers Lodge) is a National Historic Site. However, this local history isn't why you'll see so many cars parked along the side of the road.
Pugwash is one of the world's leading manufacturers of pewter. The village is home to Seagull Pewter, Canada's best-known source for pewter gifts, home goods, jewelry, Christmas ornaments, and more. Amos Pewter is another big local name for pewter gifts and souvenirs. Both are excellent spots to pick up gifts and do a little holiday shopping.
Pro Tip: Don't overlook the small salesroom to the right of Seagull Pewter's main entrance. There are some serious discounts and, in particular, the Christmas ornaments from previous years are bargains.
4. Loads Of Lighthouses
Along the North Shore, you'll see several small red-and-white lighthouses perched precariously close to the shoreline. Assuming you can pull over safely, they make for a fun photo opportunity. The cutest lighthouse of all might just be the small Wallace Harbour Sector (Range Front) Lighthouse, just east of the community of Wallace. This 1905 property was sold by the federal government to the local community association for just $1 in 2015.
5. Jost Wine
The tiny community of Malagash was once known for salt mining (there's a small museum devoted to the industry), but today it's known across Nova Scotia as the home of Jost Vineyards, Nova Scotia's largest and longest-operating vineyard.
Guests are free to explore the vineyards and enjoy wine tastings. Dogs are welcome in the outdoor areas, and the staff will happily supply a bowl of water to keep your furry friends comfortable. Indoors, the small Seagrape Cafe & Deli offers simple meals and picnic fare like packaged cheese and meats.
Pro Tip: If you can't make it to Jost, you can buy their products at any Nova Scotia Liquor Commission store or outlet (and at many fine restaurants).
6. The Flavors Of Tatamagouche
This North Shore hub gained fame when the entire town was featured on the Canadian reality show The Week the Women Went. However, the vibe is anything but Hollywood here — except when it comes to the food! The community packs a powerful punch when it comes to supporting food startups.
The Tatamagouche Brewing Co operates out of a converted butcher shop on the main street and makes small-batch, organic craft beer. Check out their weird beer series for some unique flavors.
The Appleton Chocolates Co. incorporates local ingredients like maple syrup, wild blueberries, and cranberries into their homemade candies. They share a physical space with Meeting Waters Coffee, a casual coffee shop and cafe by day and a "drinkery" by night.
The most memorable meal of all can be found at the Train Station Inn & Railway Dining Car. The restored station and railway cars are one of Nova Scotia's most unique destinations for eating and sleeping. The dining car dates to 1928. Some signature dishes include fish cakes with maple baked beans and biscuits for breakfast, lobster rolls and pulled pork sandwiches for lunch, and lobster pasta for dinner. Vegan and gluten-free options are also available.
Note that there are a couple of steep, narrow steps for entering and exiting the dining car.
7. Balmoral Grist Mill
If you have time for a quick detour from the shoreline, the Balmoral Grist Mill is just a short inland drive from Tatamagouche. A working mill since 1874, Balmoral processes Scottish-style oats, wheat, and buckwheat. It's a fantastic destination for history lovers and provides valuable insight into the lives of early settlers.
8. Seafoam Lavender Gardens & Farm Store
This might just be the best-smelling spot on the North Shore! From early May through early October, guests are welcome to browse the gently scented rows of lavender at Seafoam Lavender Gardens & Farm Store, whose toiletries and other lavender products can be found in gift shops across Nova Scotia. At their on-site farm gift shop, you can buy their bestselling lavender tea, culinary buds, and chocolates, plus lavender bath bombs, lotion, lip balm, and essential oils.
9. Pictou
This idyllic seaside drive comes to an end in the town of Pictou, which has easy highway connections to all of Nova Scotia's major destinations, including Halifax, New Glasgow, Antigonish, and Cape Breton Island. Pictou is also just a few minutes away from the community of Caribou, which is a terminal for the ferry to Prince Edward Island.
Along the Pictou waterfront is Hector Heritage Quay. It's home to the Hector, a faithful replica of the original ship that brought some of the very first Scottish emigrants to Nova Scotia in 1773. Visitors are encouraged to explore the ship and even go below deck to see what living conditions were like during the perilous sea voyage.
As a large community, Pictou has a strong assortment of services and amenities, including fast food and family-style restaurants. However, foodies will want to grab a slice of local pizza. Pictou County is famous for putting "brown sauce" on pizza (in reality, it's a reddish-brown sauce that's heavily laden with herbs, minced veggies, and a few secret ingredients). Acropole is one of the best-known pizzerias, but most local shops sell slices with brown sauce these days.
Bonus: Ice Cream Barns
Along the quiet back roads of Nova Scotia, you'll occasionally come across an ice cream barn. Ice cream barns are small sheds that have been converted to serve up ice cream cones and sundaes. Sometimes, they share space with another parking lot; occasionally they'll be at the end of a private driveway, and they might not be in a barn at all (for instance, there's an ice cream barn counter at the back of the Tidnish Country Store). Keep an eye out for large, colorful, ice cream cone-shaped signs advertising Scotsburn Dairy. Scotsburn is a local ice cream producer and the supplier for all ice cream barns. Moon Mist, a colorful blend of banana, bubblegum, and grape ice cream, is a local favorite.