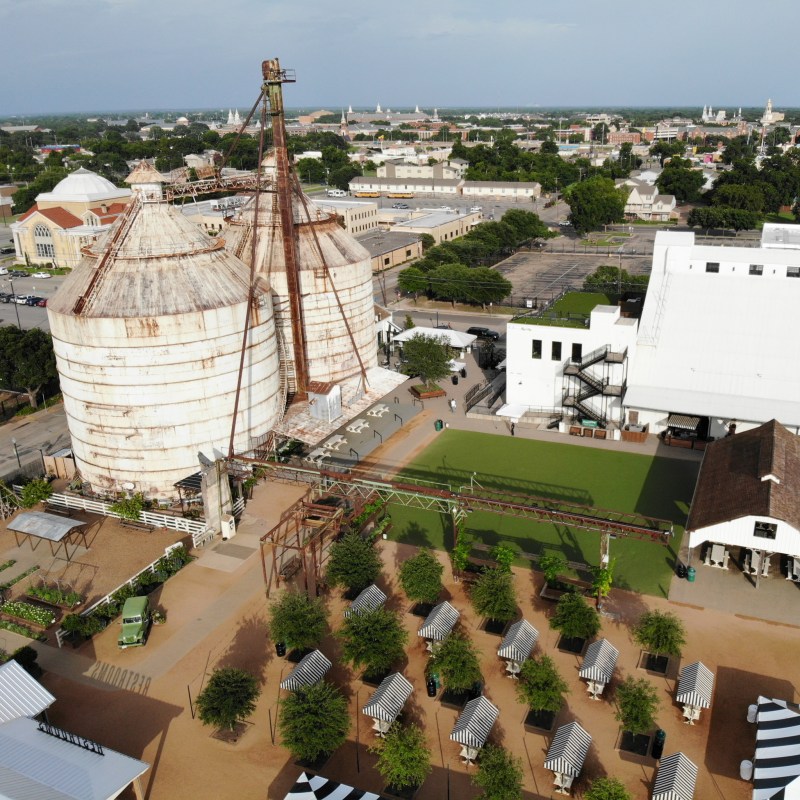 Deep in the heart of Texas, roughly halfway between Dallas and the capital city of Austin, is the quaint town of Waco. While the Lone Star State's biggest cities have always been household names, many midlife travelers likely first heard of Waco in 1993. A raid on the Branch Davidian compound commanded national headlines for several weeks, ending in a fiery blaze and fueling the phrase, "We don't want another Waco."
But with the first episode of Fixer Upper two decades later, Chip and Joanna Gaines unknowingly began transforming Waco's image. With bright subway tile and miles of shiplap, they blew away the dark clouds lingering over the town, turning it into a tourist destination.
Here's how to spend a perfect day (or a delightful weekend) in quaint Waco.
1. Visit Magnolia Market At The Silos
After rising to fame through Fixer Upper, Waco residents Chip and Joanna Gaines set their sights on transforming an abandoned cottonseed mill into a beautiful downtown destination. Around a pair of rust-streaked ivory silos, the couple created Magnolia Market, a 12,000-square-foot home decor shop. But a trip to the Silos is not like any other home goods shopping experience.
A fleet of food trucks frames the northwestern corner of the two-block compound, and a football field-sized green space stretches between the market and silos, providing the perfect place to picnic. A picturesque garden leads to Magnolia Seed + Supply, and additional on-site businesses include Silos Baking Co. and Magnolia Press Coffee Co.
As if they didn't have enough to keep themselves busy as they raise five kids and manage their current business holdings, Chip and Joanna are expanding the grounds of the Silos to include additional specialty boutiques, a baseball field, and the relocation of the oldest church in Waco.
Read more about my trip to the Magnolia Market so that you know what to expect when you visit the Silos.
2. Grab A Bite At Magnolia Table
For a great breakfast or lunch spot a few miles south of Magnolia Market, visit Magnolia Table. While it's not uncommon to wait an hour or more for a table, the food and service make it worthwhile. Breakfast lovers will enjoy the eggs Benedict, skillet oatmeal, and French toast. If you visit at lunchtime, check out the chicken salad on a croissant, or order a burger topped with Havarti. And whether you top them with butter and jam or sausage gravy, be sure to try Jo's buttermilk biscuits!
Fun Fact: Legend has it that Elvis Presley dined at the Elite Cafe, the predecessor of Magnolia Table, on his way to training at Fort Hood.
3. Shop At Spice Village
With more than 60 specialty shops under one roof, the Spice Village at 2nd and Mary brings together some of the best boutiques in Central Texas. Find apparel, gifts, home decor, jewelry, and more in this renovated, century-old warehouse just a few blocks north of Magnolia Market.
4. Go Antiquing
Fixer Upper fans regularly witness Chip incorporating restored lumber and hardware into the homes they are restoring and watch Joanna accent the finished space with vintage pieces. With more than 15 antique shops in Waco, there are plenty of places to search for your own treasures. La Salle Shoppes, Junque in the Trunk, and Craft Gallery are great places to start your antiquing adventure.
5. Hit The Halls Of Fame
Long before modern-day law enforcement agencies were established, the Texas Rangers hunted fugitives and investigated crimes in the Wild West. It was the Rangers who brought down the notorious bank robbers Bonnie and Clyde, and it was a Texas Ranger (and not a Secret Service agent) who foiled an assassination attempt on President William Howard Taft. Learn more about the men and women who have served the great state of Texas for 200 years at the Texas Ranger Hall of Fame and Museum.
Fun Fact: Historians believe that the mask-wearing fictional Lone Ranger was inspired by Bass Reeves, a black cowboy.
Just a few steps south of the Texas Ranger Hall of Fame, the Texas Sports Hall of Fame honors sports legends who were either born in Texas or who played for Texas-based teams. In a state synonymous with Friday Night Lights, you will see a heavy emphasis on American football, including a room dedicated to Dallas Cowboys coach Tom Landry. But you'll also see exhibits honoring Mia Hamm, the Olympic soccer star who attended high school in Wichita Falls; the heavyweight boxing champ, Olympian, and Texas native George Foreman; and the legendary baseball pitcher Nolan Ryan.
6. Tour The Dr Pepper Museum
The year before the world's best-known soft drink was invented in Atlanta, Waco pharmacist Charles Alderton created Dr Pepper. At the Dr Pepper Museum, you can explore exhibits and memorabilia associated with the nation's oldest nationally recognized soft drink. After learning about soft drink failures, like Orbitz and New Coke, try your hand at your own creation with the Make-A-Soda Experience, and relive your childhood with a delicious Dr Pepper float at the old-fashioned soda fountain.
Fun Fact: Have you ever wondered why the old Dr Pepper bottles included the numbers 10, 2, and 4? In the 1920s and 1930s, studies showed that people experienced daily energy drops at 10:30, 2:30, and 4:30, so Dr Pepper advertised that sipping one of their sodas at 10, 2, and 4 would prevent that from happening.
7. Enjoy The Outdoors
After exploring the museums and shopping your heart out, get outside to continue enjoying Waco. Just east of the Waco Convention Center and the Hilton Waco, tucked between the Washington and Franklin Avenue bridges, the Waco Suspension Bridge connects two park areas along the Brazos River. And if this pedestrian-only passage looks vaguely familiar, that's because the cable used in its construction was purchased from John Roebling's company, the designer of the Roebling Bridge in Cincinnati and the Brooklyn Bridge in New York.
If the larger-than-life longhorn cattle sculptures catch your eye as you cross the Waco Suspension Bridge, know that they represent the early days of the bridge's 150-year history, when cattle were driven north over the bridge along the Chisholm Trail.
8. Cruise The Brazos River
See the sights of Waco from the water by boarding a Waco River Safari historical sunset cruise. This 2-hour tour will give you an overview of the history of Waco as you glide down the Brazos River to the Bosque River and the sun slowly slips below the horizon.
Watch for long-legged blue herons wading in the water, red-tailed hawks soaring overhead, and raccoons and deer scampering along the banks as you enjoy your river cruise.
9. Visit The Cameron Park Zoo
For a guaranteed gander at animals, visit the Cameron Park Zoo. Nestled in Cameron Park and surrounded by acres of giant oak trees, the 52-acre, fully accessible zoo is on the smaller side, but it is incredibly well maintained. View a variety of amazing animals from Africa and South America in naturally landscaped enclosures.
10. Wander The Baylor University Campus
With its red-brick colonial-style buildings supported by soaring white columns and topped with elegant towers, the Baylor University campus might make you feel like you've suddenly been transported to Virginia or Kentucky. But that could be intentional. After all, the world's largest Baptist University was founded by Judge R. E. B. Baylor, a Kentucky native.
Take a guided tour, or simply wander the tree-lined paths to explore on your own. But whatever you do, don't miss the Bill & Eva Williams Bear Habitat, where you can see the American black bears who serve as Baylor's mascots.
11. Stay In A Fixer-Upper
For five seasons, HGTV addicts watched as goofy Chip and patient Joanna converted neglected houses into beautifully restored homes throughout Central Texas. As the years have passed since the first episode of Fixer Upper aired in 2013, many of the families featured on the show have converted their residences into vacation rentals.
If you've got your heart set on staying in a renovated fixer-upper when you visit Waco, you've got options. If you are visiting Waco on a solo trip or with just one travel partner, the one-bedroom, one-bath Shotgun House is within walking distance of both downtown and the Silos. If you're traveling with up to eight guests and need additional bedrooms and bathrooms, consider the Morrow House, a sun-drenched farmhouse-style cottage. For even more space, consider the five-bedroom Gorman House with its wrap-around porch, or this mid-century modern home with an incredibly private backyard oasis.
You can also stay with Chip and Joanna by renting one of their properties in or near Waco, including the Magnolia House, Hillcrest Estate, or Carriage House.
For more to do in the Dallas area, see this page.