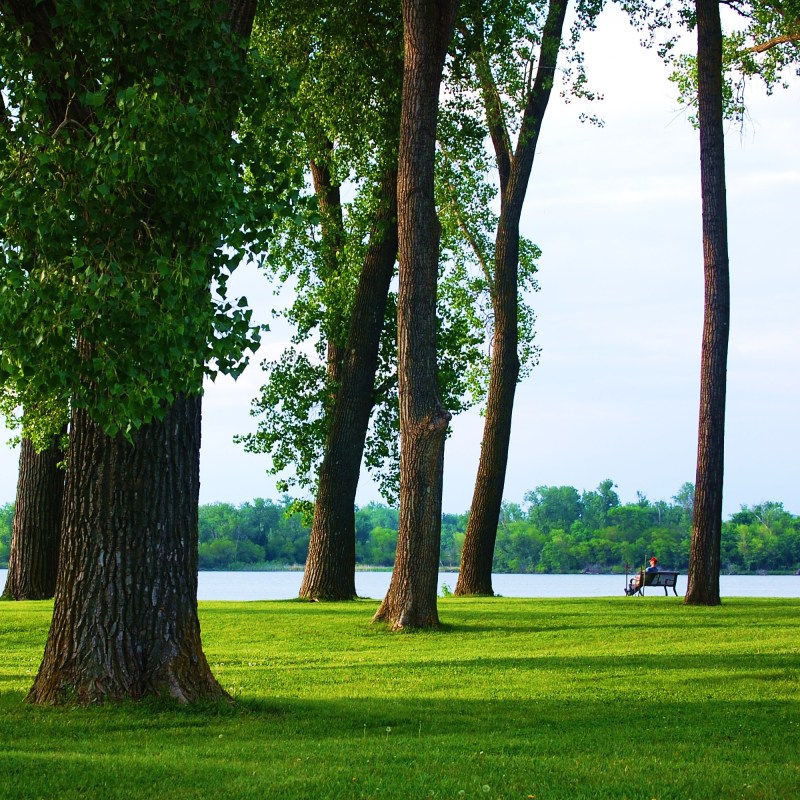 North Iowa is home to several experiences that are exceptional yet are under the radar. This area in Iowa offers rolling hills, prairie, and an opportunity to see some of the best sunsets of your lifetime. I know this very well, as North Iowa is where I live. Every time a friend of mine visits, they remind me of how fortunate I am to call North Iowa home. The people and attractions are exceptional in this less-populous area of the state. June and July are spectacular months to explore this area as the fields are lush and green, as are the wildflowers. You will quickly learn that each community has numerous attractions to keep you busy all day long.
1. Forest City
Forest City is home to Winnebago Industries. Winnebago's Class A, C, and B Motorhomes are made here, and the Visitors Center is located at 1045 South 4th Street. Factory tours are available during the summer months for visitors who are curious about how these iconic RVs are constructed.
Grab a pastry and a cup of coffee from Cabin Coffee before you head to the local state park and find a picnic table to enjoy breakfast with a view. Pilot Knob State Park is a short drive from town and offers numerous hiking trails (including one of the eight best hikes to experience in Iowa) with spectacular views from the tower on Pilot Knob. Plan to spend a good portion of your day in the Forest City area, then drive to Clear Lake for a couple of nights of lodging.
2. Clear Lake
Clear Lake, Iowa is home to the legendary Surf Ballroom. Here is where Buddy Holly played his last concert before that fateful plane crash in February of 1959. Take a short drive out to the crash site. You will see the famous black glasses along the road as you approach the trail to the site. All visitors to the crash site will walk approximately a quarter of a mile. Depending on the weather before your visit, you may need mud boots. The hike to the site is surrounded by corn and soybean fields. What's fascinating to me is the fact that there are often people from several states at the site on any given day. People leave items at the marker as a memorial.
Arrive back in Clear Lake for a meal at Starboard Market. Order a local favorite, The Dude sandwich, and a bowl of chicken enchilada soup accompanied by a chocolate mint brownie. You will not regret anything that you order from this award-winning sandwich shop. Clear Lake State Park also offers a beautiful beach and picnic area. If a picnic is on your radar, stop into Louie's Custom Meats and More for your perfect picnic lunch. The Surf Ballroom offers a museum with memorabilia from all genres of music. Book a stay at the Larch Pine Inn for a charming night's stay.
Pro Tip: Near sunset, position yourself near the seawall downtown or at Clear Lake State Park for an epic sunset photo.
3. Mason City
Mason City is home to music and art. Meredith Willson's boyhood home, which is located near downtown, can be toured. Music Man Square offers a museum that focuses on Willson's life as a composer. He is most known for The Music Man, for which he wrote the script, lyrics, and music. Stroll the streetscape and place yourself on the set of The Music Man movie.
While in town, hop on the River City Sculptures On Parade walking tour for an epic art experience. More than 50 sculptures on a 1.5-mile walk are sure to give you a sense of the town. Enjoy lunch at State Street Deli for a top-of-the-line sandwich. I highly recommend The Michigan sandwich.
After lunch, lace up your walking shoes for a 90-minute walking tour of Rock Crest-Rock Glen Historic District. This walking tour includes the first planned Prairie School development in America and the Park Inn Hotel, the last hotel in the world designed by Frank Lloyd Wright. The majority of this walking tour is on pavement, but it is not a flat walk. Expect some elevation gains.
After your walking tour, indulge in a steak at Northwestern Steak House for the best steak meal you will ever have. Give them a call at 641-423-5075 after 4 p.m. to place your order or reserve your seat. Stay in a room at the Historic Park Inn Hotel for an architecturally marvelous night to remember.
4. Rock Falls
Wilkinson Pioneer Park is located in Rock Falls, Iowa. This is an 80-acre county park that offers complete camping facilities surrounded by native prairie. Fishing, picnicking, hiking, and biking are all favorite activities of the park's visitors. My favorite thing about this park is the covered bridge that sits on the road. One thing that makes this bridge unique is that you can drive your car through it. Many of the covered bridges that remain in the United States are for viewing and cannot be driven through.
Pro Tip: If you are camping, I would suggest stocking up on your groceries in nearby Mason City before you head to your campsite.
5. Charles City
Charles City is home to numerous outdoor experiences, including the Charles City Whitewater at Riverfront Park. This is a one-quarter mile rodeo course and it is rated at Class II and III levels and has three distinct features for paddlers of all levels. Kayakers, inner tubers, and stand-up paddleboarders all take to the waters here. The Cedar River provides endless hours of recreational activities and is flanked by the Charley Western Recreational Trail. A highlight of this five-mile trail is a scenic view from a bridge that overlooks the Cedar River and the beautiful Friends Garden.
History buffs will want to visit the Carrie Lane Chapman Catt Girlhood Home. Carrie was a driving force behind the Nineteenth Amendment to the United States Constitution, which ultimately gave women the right to vote in America. There is no fee to visit, and daily tours are given from Memorial Day to Labor Day. Another free collection of art is the Mooney Collection, which is housed in the Charles City Public Library on the Cedar River. Works from Rembrandt, Picasso, Matisse, Salvador Dali, and Grant Wood are all found here.
A favorite meal of mine is pizza from Cedar River Pizza Co. Order your pizza and enjoy it along the riverbank. After your fun day exploring Charles City, head on over to Red Cedar Lodge for a quiet night's stay along the river.
6. Nashua
A few miles south of Charles City, you will find the charming town of Nashua. This community is home to the world-famous Little Brown Church in the Vale. People travel from all around the world to be married here. Travelers can visit during the day, as the church doors are always open. There is no fee to visit. Plan to spend 30 minutes exploring the church and its grounds.
The Bradford Pioneer Village Museum is next door and takes visitors back to 1836. This museum is small, but it plays big. It showcases the life of a pioneer and what it was like to live during those times.
7. Drive The Iowa Heritage Byway (Starting In Northwood)
The Historic Jefferson Highway runs right through North Iowa. You can hop on this historical route at the Minnesota border north of Northwood. The route travels south through Kensett, Manly, Mason City, Rockwell, Sheffield, and Hampton. Plan to spend a full day driving this route in North Iowa, as I can guarantee that you will find something unique to see in each town along the route. The signage is excellent and the route is entirely paved. Highlights of this North Iowa route include the Worth County Historical Society in Northwood. There is a one-room schoolhouse on site that is in excellent shape. It has been well taken care of and showcases school life of yesteryear. At the south end of the North Iowa route, the Franklin County Courthouse is stunning. It is listed on the National Register of Historic Places and the rusticated stone really stands out.
These seven places make North Iowa stand out from other areas of the state. Most importantly, slow down and enjoy each community as you immerse yourself into it. The arts, music, nature, and food experiences are sure to win you over.