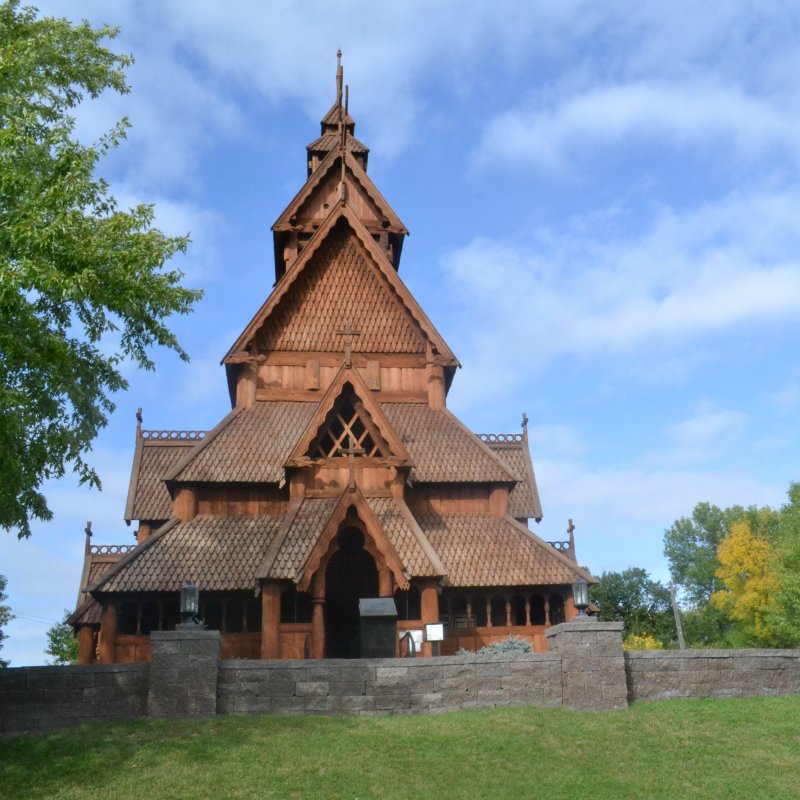 There's a joke among Air Force members about Minot, North Dakota. Minot's not generally high on "dream assignment" lists, so the joke goes, "Why not Minot?" "Freezin's the reason." Once they report for duty and explore the area, however, people are often reluctant to leave. They come to love spending time with the local residents, traveling the area, and experiencing that homey small-town feeling. And while the town is known for its cold winters, its spring, summer, and fall seasons are lovely and inviting. Minot is also home to the North Dakota State Fair, which attracts more than 300,000 people each year.
Even the Minot Visitors Bureau picked up on the joke, making "Why Not Minot?" a part of its tourism campaign. You'll also hear Minot native and actor Josh Duhamel enthusiastically promoting his home state in ads for North Dakota's tourism office.
Here's how to spend a perfect weekend in underrated Minot.
Things To Do In Minot
Home to an annual Scandinavian celebration that attracts people from around the world and a quaint zoo with a Scottish Highland cow and a red panda, Minot has proven to be more than a joke about the weather. During your visit to the Magic City, you'll find lots to do.
Explore The Scandinavian Heritage Park
Whether or not you're of Scandinavian descent, you'll enjoy a visit to the Scandinavian Heritage Park. Located near the heart of the city, the park traces the history and culture of the five countries that comprise Scandinavia: Sweden, Norway, Denmark, Finland, and Iceland.
As you stroll through the park taking in the sites and history, you'll find buildings related to each country. The replica Gol Stave Church, meant to resemble a Viking church from Norway, is a must-see.
The park is home to one of the tallest Dala horses in the world, standing about 25 feet tall. You'll learn about North Dakotans who changed the world, including Sondre Norheim, who was born in Norway, but called Minot home. Norheim revolutionized downhill skiing with his innovations and ski designs. You'll also find sculptures honoring explorer Leif Erikson and author Hans Christian Andersen.
The park is popular with international visitors during the Norsk Hostfest each September, the largest Scandinavian festival in North America. Visitors enjoy traditional food, music, and folklore at the nearly 50-year-old event. The four-day event at the state fairgrounds attracts national musical acts, vendors, and lots of people wearing Viking helmets and garb. You'll also likely run into a troll or two during your visit.
See The Animals At The Roosevelt Park Zoo
Since opening its gates in 1921 with a bison on display, the Roosevelt Park Zoo, now open year-round, has grown to accommodate nearly 160 animals and 68 species. Visitors can see animals such as Amur tigers and lions, African warthogs, red pandas, red kangaroos, and cotton-top tamarins. Other unique animals at the zoo include Scottish Highland cattle, longhorns with shaggy coats, and Kirk's dik-dik, the smallest antelope in the world. North American animals you'll find at the 19-acre zoo include bison, bobcats, brown bears, river otters, and reindeer (caribou).
Visit The Dakota Territory Air Museum
With two hangars, the Dakota Territory Air Museum showcases the history of flight and its impact on the Minot area.
The first hangar traces the history of flight, with a replica of a Wright Brothers glider as well as military and civilian aircraft. The museum also includes an exhibit of military equipment, weapons, and uniforms.
The second hangar, which opened in 2013, hosts aircraft on loan from the Texas Flying Legends. You'll find World War II vintage planes like a P-51 Mustang, British Spitfire, and Japanese Zero.
A walk about the museum's outdoor display will take you up close to American aircraft that have served at Minot Air Force Base, including an F-106 Delta Dart, an F-15 Eagle, and a training jet. The museum includes a memorial to the B-17 bomber team that crashed at Minot Airfield during a World War II training mission.
Head To The Craft Breweries
Seeing a need for a local craft brewery, Souris River Brewing opened its doors in 2012. With nine taps, the brewery proudly uses local sources to produce its more than 70 flavors, including a pale ale, spicy hops, and a dark Belgian ale. The brewery's menu features locally sourced steaks, salads, and appetizers such as barbecue bison meatballs, breaded walleye bites, a buffalo burger with bleu cheese, and a poutine burger (a grass-fed burger topped with fries, cheese curds, lettuce, onions, and dark gravy).
While Souris River Brewing focuses on a variety of craft beer, Atypical Brewery & Barrelworks focuses on producing barrel-aged sour ales. Opened in 2019, Atypical calls a former cottage-style gas station home.
Peruse The Taube Museum Of Art
Calling the renovated Union National Bank home since 1997, the Taube Museum of Art features displays by different artists each month. With two galleries, the Taube Museum of Art hosts special exhibits, including a human rights collection featuring more than 60 artists. The museum is open from Tuesday through Saturday.
Enjoy North Dakota Wines At Pointe Of View Winery
Located about 15 minutes outside of Minot, Pointe of View Winery offers unique wines made from North Dakota fruits such as rhubarb and apples. As North Dakota's first winery, Pointe of View took on the state's short growing season to harvest its own grapes. Viking Deed is a combination of honey and apple. With a menu strong on semisweet and sweet wines, Pointe of View also produces apple cider and mead. Check out the cread, made with cranberries.
Take A Road Trip To Garrison
Garrison is located about an hour south of Minot. Take a selfie with Wally the Walleye, a 26-foot-long statue celebrating the city's designation as the Walleye Capital of the World. For more unique attractions, swing by the giant fishing bobber water tower and Gene, a 15-foot-tall statue near the local golf course.
While in the area, you could also visit Fort Stevenson State Park, located on a peninsula on the beautiful Lake Sakakawea. The park features scenic views, a prairie dog town, and interpretive walking trails.
Best Restaurants In Minot
Badlands Restaurant & Bar
Enjoy a casual dining experience at Badlands Restaurant & Bar. With a menu featuring fresh salads, burgers — including mushroom-smothered burgers and burgers topped with barbecue sauce and fried onions — sandwiches, pasta, fire-grilled ribeye and sirloin steak, and, of course, walleye, you'll find something delicious to enjoy.
Thai Hot
For a change of pace, head downtown to Thai Hot for dinner. With a menu featuring fresh sushi and Thai, Thai Hot offers several combinations that will surely satisfy your appetite. Thai Hot is home to some of Minot's best Asian cuisine.
Charlie's Main Street Cafe
Start your day with a hearty meal at a classic breakfast joint, Charlie's Main Street Cafe. Try the cheesy ham scramble, buttermilk pancakes, steak and eggs, or specialty omelets and biscuits and gravy. Charlie's also offers lunch and dinner options.
Best Places To Stay In Minot
Dakotah Rose Bed & Breakfast
The Victorian-era Dakotah Rose Bed and Breakfast will certainly provide a relaxing weekend stay. With only five suites and guest rooms, you are guaranteed an intimate experience. Each room has modern amenities, such as flatscreen televisions with cable and private bathrooms. You'll kick off each morning with a home-cooked breakfast in the main dining room. Guests are encouraged to explore the grounds and the bed and breakfast itself, which has a ballroom that is open for guests to use.
Sleep Inn & Suites
There are several chain hotels available in Minot. The centrally located Sleep Inn & Suites is among the most popular. With comfortable rooms and large suites, you'll definitely feel comfortable during your visit. You can even relax in the on-site lounge with a nightcap. The hotel has an excellent fitness center and swimming pool, and it's located next to the Dakota Square Mall, so you can walk to the mall without stepping outside. In addition to several national brands, the mall houses regional outlets like Scheels All Sports, where you can find clothes and North Dakota memorabilia.
For more on North Dakota, see this page.