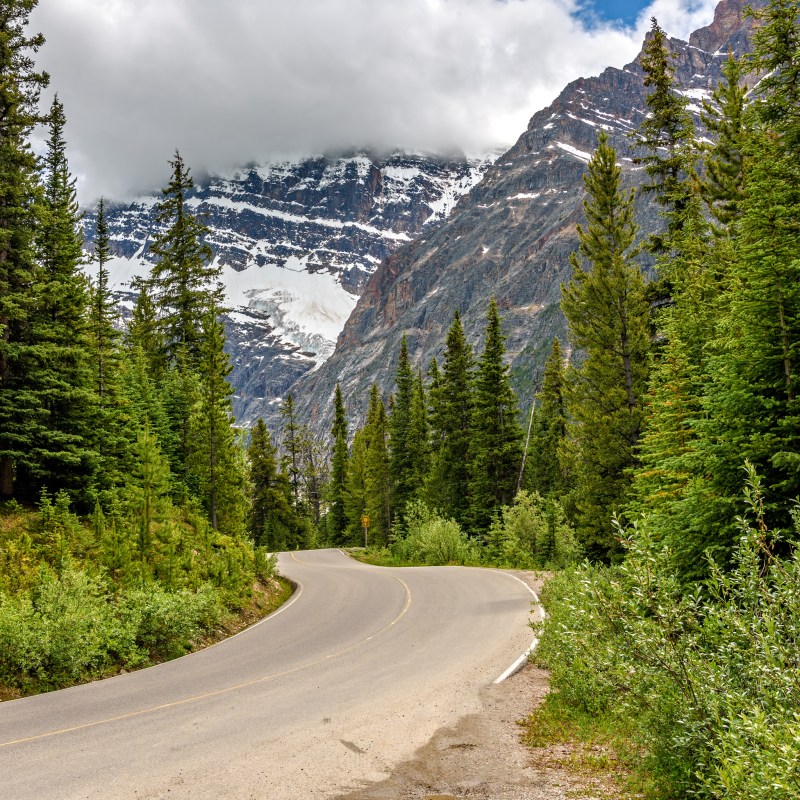 The Icefields Parkway in the Rocky Mountains is one of Canada's most famous scenic road trips.
I've extended the route here by starting in the town of Banff, taking the Trans-Canada Highway for 57 km (36 miles) to Lake Louise, and then turning north on Highway 93/Icefields Parkway to go a further 230 km (140 miles) to the town of Jasper.
The trip is inside two national parks, Banff and Jasper, and can be done in either direction. It can also be enjoyed as an extension of this scenic Alberta road trip: Calgary to Banff.
This is a land of raw geology. The glaciers on the mountaintops carve the rocks into great bowls, their meltwater feeding the mirror-like lakes below. Avalanche paths and thundering waterfalls show the force of nature. Even the air is sharp and crisp. It's invigorating to be here.
Most people visit between May and mid-October, and July and August are especially popular. September mid-week offers smaller crowds and some fall colors.
From October through April, the few businesses between Lake Louise and Jasper, including the Icefields Discovery Centre, close. The exact opening and closing dates may vary slightly from year to year and from one business to another.
The highway is open year-round. Parks Canada provides winter driving advice. You need a park pass to travel the Icefields Parkway at any time of year.
The visitor information centers in Banff, Lake Louise, and Jasper are worth stopping into for advice about hikes, ski trails, animal sightings, accessibility, and anything else you'd like to know about travel in the parks.
1. Banff
The resort town of Banff is the main service center in Banff National Park. Stock up on gas and necessities here or in Lake Louise.
Spend at least a few days in Banff. Take in the historic Fairmont Banff Springs Hotel, the calm water and marshland boardwalks of the Vermilion Lakes, and the gondola up Sulphur Mountain. Not far from town, there are boat rides on Lake Minnewanka, a gondola to the alpine meadows of Sunshine Village, and easy, scenic hiking in Johnston Canyon.
Banff is a base for adventure travel and sports, like climbing, rafting, cycling, golf, and backpacking. The winter downhill skiing is world-famous.
The Upper Hot Springs is a naturally heated mineral water pool open daily till late in the evenings.
As far as wildlife viewing goes, elk sometimes wander in town. On the Trans-Canada Highway leaving Banff, bighorn sheep might cross your path.
Don't stress the animals by feeding them or trying to get up close. If you see a bear, stay in your car with the windows up.
The speed limits in the national parks are meant to protect the animals. There are also a few special bridges to help them cross the highway.
Looking for more to do before driving out of Banff? Banff and Lake Louise Tourism is a great source of information on available activities, including Icefields Parkway tours.
2. Lake Louise
The famously photogenic lake and the world-class ski resort of the same name are on opposite sides of the Trans-Canada Highway at Lake Louise.
In the winter, you can skate, ski, or snowshoe on the lake, all while admiring the glacier at one end and the Fairmont Chateau Lake Louise at the other. There's an easy walking trail up the side of the lake in summer. For more of a challenge, put on your backpack and make it a full day of hiking.
Moraine Lake is especially popular in the fall when the needles of the larch trees turn gold.
From Lake Louise, head north on Highway 93/Icefields Parkway toward Jasper.
3. Bow Lake
Bow Lake, Bow Glacier, Bow Glacier Falls, and Num-Ti-Jah Lodge are about 30 minutes north of Lake Louise. Bow Summit, the highest point on the Parkway, is a popular spot for taking pictures. There's an easy hike here.
4. Saskatchewan River Crossing
About 80 km (50 miles) from Lake Louise is the junction with Highway 11/David Thompson Highway. It runs parallel to the North Saskatchewan River, going east to beyond Red Deer.
The Crossing Resort has a gas station, the General Store and Gift Shop, a dining room, a cafeteria, a pub, and accommodation. This is a popular stopping place. (Remember: It's closed in winter.)
Half an hour east is Abraham Lake, often photographed in winter when methane bubbles form tubes in the thick winter ice.
Rocky Mountain House National Historic Site is two hours east of The Crossing. This site features archaeology and stories of the fur trade.
5. Parker Ridge
Parks Canada rates the Parker Ridge hike as easy, with a 2.5-hour round trip time. You may see small animals that look a bit like hamsters but are actually related to rabbits. These are pikas, and they only live at high elevations.
There are great photo opportunities, including a view of the Saskatchewan Glacier. The glacier's meltwater feeds the North Saskatchewan River, eventually reaching Hudson Bay.
6. Sunwapta Pass
Sunwapta Pass, about 5 km (3.1 miles) south of the Icefields Discovery Centre, is the second-highest point on the Parkway. It's a major watershed divide and the boundary between Banff and Jasper National Parks.
7. Columbia Icefield Centre And Athabasca Glacier
The big man-made tourist attraction on the Icefields Parkway is the Columbia Icefield Centre, with Parks Canada's interpretive theater and displays.
The process of alpine glaciation is nicely described in this pamphlet about the Athabasca Glacier (PDF).
In addition to the free offerings, you can buy tickets for private motorized tours of the Athabasca Glacier and the 1-km- (0.62-mile-) long glass-floored Skywalk high above the ground. These are both accessible to people using wheelchairs, but please check with the operator ahead of time. The current advice is that you need to book at least 72 hours in advance.
To see the ice up close without paying, follow the trail to the toe of the Athabasca Glacier. Signs show how much the glacier has receded in recent years.
There's a hotel and restaurant at the Icefield Centre. (Note that it's closed in winter.)
People are surprised how cold it can be at the glacier, even in summer. This is a vast sheet of ice. Being near it is literally like standing in a freezer. To enjoy yourself longer and in comfort, wear sturdy, warm boots and winter clothes, even in July.
8. Sunwapta Falls
Sunwapta Falls is about 50 km (30 miles) north of the Icefields Centre. People like the easy access to the Upper Falls from the parking lot and the short hike to the Lower Falls. Nearby Sunwapta Falls Rocky Mountain Lodge has accommodation and a restaurant.
9. Athabasca Falls
Another 20 minutes toward Jasper brings you to Athabasca Falls, another favorite spot for its natural beauty. Like Sunwapta Falls, there is reasonably easy access from the parking lot.
10. Mount Edith Cavell
One of my friends loves this mountain so much he drives up from Calgary just to see it and walk up to the toe of the glacier. Not many mountains are named after women. Edith Cavell was a British nurse who helped around 200 British, French, and Belgian soldiers escape to safety from Belgium in the First World War. She was caught and executed by a firing squad.
11. Jasper
The town of Jasper has about half the population of Banff. I agree with those who say it feels less commercial. Like Banff, it has a range of accommodations, dining, and activities in all seasons. You can easily spend a few days here, enjoying a range of outdoor activities in summer and skiing (both kinds) in winter.
The Jasper Sky Tram is an easy way to get up high for some alpine hiking, followed by a meal at the top or bottom station.
Jasper National Park is the second-largest Dark Sky Preserve in the world, perfect for stargazing.
Maligne Lake, 45 minutes away, is stunningly scenic and popular for paddling.
Pro Tips
I asked my friends for their favorite places along this route. They were all different — something for everyone. They included geocaching (lots of places), the Fireside day-use area near Banff, combining a Parkway trip with a ride on the Rocky Mountaineer train, Pyramid Lake in Jasper, going from Jasper to Banff in an RV, and enjoying the view from the Big Bend. You can also combine this road trip with my recommendation for a scenic Alberta road trip: Calgary to Banff to enjoy more of what Alberta has to offer.
Writer Candy Harrington has described wheelchair accessibility in Banff and the Icefields here.
The websites for Parks Canada, Banff and Lake Louise Tourism, The Icefields Parkway, the Banff-Jasper Collection, and Tourism Jasper are good information sources. And each of the two parks (Banff and Jasper) has specific information about its operations.