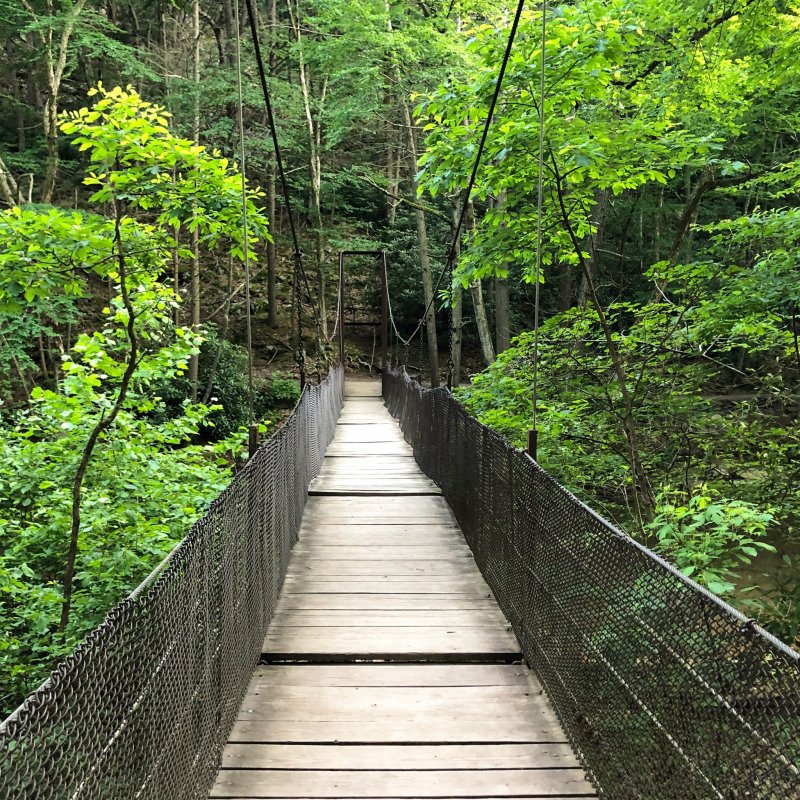 These are the best hiking trails in Western Pennsylvania, including the Kinzua Bridge Skywalk and a ghost town trail.
Pennsylvania has a vast outdoor playground. There are thousands of miles of hiking trails in the Keystone State, from easy flat trails to difficult mountainous terrain. So next time you visit, pack your hiking shoes and get outdoors for a hiking adventure. Not sure where to start? Let me introduce you to a few of my favorite trails.
I selected the following trails for their scenery, uniqueness, and accessibility.
1. Shawnee Lake Trail, Shawnee State Park
Schellsburg
This easy trail is scenic and circles around Shawnee Lake. The path is wide and level with a picturesque view of the lake, and in the fall, the changing leaves give a spectacular show. This trail is a very easy walk as it's a level surface with an almost unnoticeable elevation gain. The trail is covered with fine gravel, so no big rocks or roots.
Allow a minimum of two hours to complete the entire loop, and be sure to take your camera because you are sure to see some small wildlife — maybe including a deer or two — and numerous eye-catching plants as you hike around the lake.
2. Kinzua Bridge State Park
Mount Jewett
This is my pick for the best hike in Western Pennsylvania. Check out TravelAwaits' picks for the best hikes in all 50 states here. The Kinzua Bridge State Park has both easy and more difficult trails, and it also provides epic panoramic views of mountains, valleys, historic landmarks, and even a railroad.
The easy trail to the Kinzua Bridge Skywalk ends with a walk on the 301-foot-tall skywalk. A broken railroad bridge turned into a pedestrian walkway in 2011, it features a glass-bottom end section. You can stroll 600 feet out onto the skywalk. Looking out over miles of forest and the gorge provides a spectacular view. I visited in the spring, but it would be absolutely gorgeous when the leaves change in fall.
Another easy trail takes you along the old railroad bed. It is flat and an easy, level hike.
The more difficult trail takes you down steep banks and rock steps to the bottom of the Bridge Skyway to view the remainder of the bridge wreckage as it was left after a tornado struck in 2003. This particular trail requires hiking shoes with excellent traction.
If only hiking the skywalk, an hour or two spent here would be fine. Plan for half a day if hiking the other trails, too.
3. Pennslyvania Turnpike Tunnel Hike
Breezewood
A portion of the Pennsylvania Turnpike was abandoned in the late 1960s when new roads were built in the area. The full hike is nearly eight miles in length and includes two tunnels. It's paved, but broken in spots, so it is a mostly easy walk with some gentle climbs, but a bit long to do both tunnels. For a fun and more manageable experience, I recommend a shorter hike out and back to the first tunnel.
This hike takes you along the old roadway and tunnels, which were part of America's first long-distance limited-access highway, which opened in the 1940s. Now the abandoned roadway and tunnels are accessible only by foot or bike.
If you take this interesting hike, be sure you stay on the roadway and do NOT go without a flashlight. It is very dark and damp inside the tunnels and, I will admit it, a bit scary if it is totally dark since neither end of the tunnel is visible from the center.
Coming from the east, the larger of the two tunnels, Sideling Hill Tunnel, is a short hike, and the tunnel is 1.3 miles long. If you continue for another 3.5 miles, you come to the half-mile long Rays Hill Tunnel. If starting on the west end, you will park in Breezewood.
Plan to spend two to four hours on this trail, depending on how far you want to hike.
Pro Tips: This is an abandoned tunnel area, and signs near the entrance let you know you are proceeding at your own risk. Take a jacket and a flashlight.
4. Cucumber Falls Trail, Ohiopyle State Park
Ohiopyle
Ohiopyle State Park is a large park with a half dozen waterfalls and fascinating trails. The payoff for this trail is the Cucumber Falls, a 30-foot cascade that drops into the Youghiogheny River.
Parking is available near the Cucumber Falls trailhead. There is an easy short trail to an overlook that will afford you an excellent view of the falls from above.
If you descend several dozen stairs, you will be at the base of the falls. You can even get closer by following the trail along the river. If you go closer to the falls, use caution because the rocks will be slippery. You can even go behind the Cucumber Falls if you desire.
Plan at least an hour for this trail. You could spend the day in the park seeing other falls, too.
5. Ridge Runner Trail, Presque Isle State Park
Erie
While Pennsylvania is not near the ocean, you can experience the next best thing at Presque Isle State Park. This 3,200-acre park has sandy beaches, trees, and even a lighthouse, so your hike will be full of impressive scenery.
The moderate to difficult Ridge Runner Trail is a two-mile hike. It includes a sand ridge not maintained by park staff, so sure footing and sturdy hiking boots are needed.
If you are not up to a difficult hike, you can view this scenic area by exploring the paved path near the Perry Monument. It is an easy 1.6-mile hike.
6. Balanced Rock Trail, Trough Creek State Park
Entriken
Trough Creek State Park is an area I have hiked many times. The Balanced Rock Trail is a steep hiking trail rated as difficult. But it is a short 0.12 miles, and if you have suitable hiking footwear with traction and good balance, you should be able to handle this hike. I was able to complete it even when I was very out of shape and didn't have the proper footwear.
The end-of-trail reward is Balanced Rock, an unusual geological formation that looks like a rock hanging off the side of the mountain.
There are other less-strenuous hikes in the park. One of my favorites takes you to Rainbow Falls. Just be aware of trail conditions and have quality footwear with traction for this park. Some paths are narrow in spots and you will encounter roots, rocks, and cliffs.
7. Thousand Step Trail (Part Of Standing Stone Trail)
Mount Union
The Thousand Step Trail has a set of 1,000+ rock steps that form part of the half-mile hiking trail. Not for the faint of heart or out of shape hiker, it is considered difficult because of the many stone steps. While this hike is strenuous the entire time, there are places to stop and rest as you climb.
Built in the 1930s, the Thousand Step Trail was created for miners to use to make their way to a sandstone mine known as the Ledge Quarry. The steps are numbered by 100, so your progress can be measured as you climb. Even if you only make the first 100 steps, it feels like an accomplishment.
Once you arrive at the summit — that would be step 1,037 — plan to rest a bit, and enjoy the magnificent view.
On your leisurely walk down the steps, take time to enjoy the scenery.
Pro Tip: Be careful on the steps, especially when wet or in the winter when they could be covered in ice.
8. Ghost Town Trail
Ebensburg To Blacklick
This unique hike features remnants of a railway with old mining towns lining the hiking trail. On the Ghost Town Trail, you will see coal-industry equipment, discarded rail cars, the Eliza Furnace, and informative signs along the way with historical information. You can't wander around the ghost towns since they are mostly on private property, but the hike is fun and entertaining.
The trail is rated easy and is made of crushed limestone, and you will share the path with bikers. The entire trail is 36 miles in length. You can start in Ebensburg or Blacklick and hike as far as you are comfortable. I'd plan for at least two or three hours on this trail so you get to see some of the ghost towns.
9. Three Rivers Heritage Trail
Pittsburgh
Not everyone can go out to the rural areas to hike. But luckily, there are several urban trails near Pittsburgh to enjoy, and this is one of them. You can hike the 24-mile Three Rivers Heritage Trail system without leaving the city. It's an urban trail with views of the rivers and city sights. You'll enjoy an easy, level paved path spanning the banks of the Allegheny, Monongahela, and Ohio Rivers. It is excellent for walking, but be aware that inline skaters and bikers are permitted on this path, too. You can spend a half-hour to all day walking along the rivers and discover why Pittsburgh is a must-visit Pennsylvania destination along the way.
10. Highland Park Trails
Pittsburgh
An expansive hilltop park, Highland Park is home to the Pittsburgh Zoo and Aquarium and hosts several walking trails. These easy trails have beautiful scenery, including Lake Carnegie. Plan to spend an hour or so on the park's trails.
The next time you visit the Keystone State, I hope you will plan a hiking adventure. There are numerous Pennsylvania hiking trails and nature experiences just waiting for you. Get out and enjoy nature and the fresh air as you explore Pennsylvania on foot.
This article is presented by KEEN Footwear. I have been enjoying my KEEN Terradora II Waterproof hiking boots. I love the traction they provide even on slippery rocks and how they fit my narrow feet and provide arch support. Shop KEEN's Terradora II and other hiking shoes here.