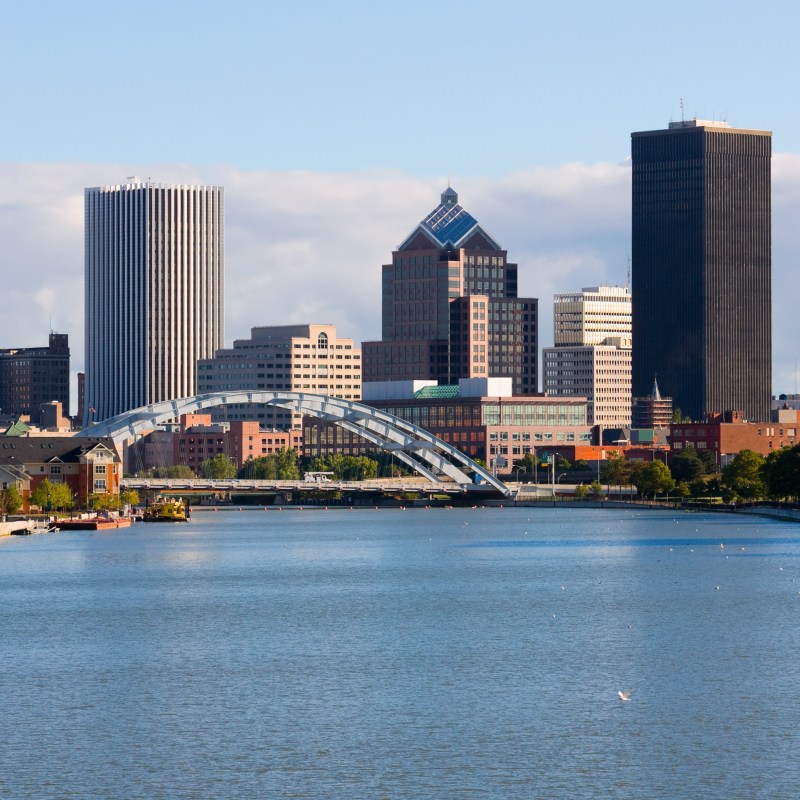 Host to more than 140 annual festivals and events, Rochester, New York, offers history, art, museums, green space, and a fantastic farm-to-table food scene. Though it's the third-biggest city in New York, Rochester still has a small-town feel thanks to its historic, walkable downtown and position on the shores of Lake Ontario. It's no surprise that Rochester consistently ranks among the most livable and family-friendly cities in the United States.
What To Do In Rochester
Visiting Rochester's museums should be at the top of any visitor's to-do list. Rochester has several of the best and most unique museums in the country. It also excels as a home for the arts and cultural institutions, and it's a great place to take in a performance if you're able to do so.
A four-season destination, Rochester is beautiful to visit year-round, though visitors in winter will want to take care to dress for the weather and put snow tires on their vehicles. But the extra effort is worth it. During the time leading up to Christmas, the Roc Holiday Village is a magical setup in downtown Rochester that's designed to mimic the look of New York City's Bryant Park. When warmer weather comes around, the area hosts the Rochester Lilac Festival and North America's largest display of lilacs.
Visit The Susan B. Anthony Museum & House
The year 2020 marks the 200th anniversary of suffragist Susan B. Anthony's birth and the 75th anniversary of the establishment of the Susan B. Anthony Museum & House. This property was the site of Anthony's arrest for voting in 1872 and the headquarters of the National American Woman Suffrage Association during her tenure as president. And sadly, this is also the location where Anthony died in 1906.
If you're able to plan your visit for a Monday, do so. Every month, the museum hosts a luncheon lecture on a topic pertaining to Anthony's life and times. It's wise to purchase your ticket in advance, and you can see a list of upcoming topics here.
Note that the first floor of the museum is wheelchair accessible. With advance notice, the staff can provide interpretation services of the second and third floors for those who have difficulty climbing stairs.
Tour The Newly Revitalized George Eastman Museum
Founded in 1947 as an independent nonprofit institution, the George Eastman Museum is the world's oldest photography museum and one of the oldest film archives. At any given time, there are temporary exhibitions on photography and cinema in the main exhibition galleries, in the Project Gallery, in the History of Photography Gallery, and on the second floor of the property.
In 2020 and into 2021, a new visitor center, education pavilion, and cafe space will be constructed. While it's possible there may be some construction activity in certain areas during your visit, you can look forward to much-need improvements for visitors to enjoy.
The majority of the museum is accessible for those with mobility restrictions, with full details available here.
Delight Your Inner Child At The Strong National Museum Of Play
While little ones love The Strong National Museum of Play, this is definitely not exclusively a children's museum. The Strong is home to the National Toy Hall of Fame and the World Video Game Hall of Fame, and its expansive collection of vintage toys and play objects from years gone by fills guests with nostalgia. Exhibits at this accessible museum feature old-fashioned pinball machines, vintage Valentine's Day cards, and American board games.
At present, The Strong is expanding in a most novel way. It's completely reshaping its surrounding area to create a Neighborhood of Play — a walkable, interactive space around the museum and into Rochester itself.
Pay Tribute To Heroes At The Hochstein School
This year marks the 100th anniversary of The Hochstein School. Once a station of the Underground Railroad and the home of Quaker abolitionists Isaac and Amy Post, this one-time church hosted the funerals of Frederick Douglass and Susan B. Anthony.
Today, it's a music and dance school with a mission to provide access to arts education for all. The Hochstein is the only school of its kind in the country, and a host of special events are planned to celebrate its centennial, including tours and concerts.
Catch Some Thrills At The Seabreeze Amusement Park
If you're a thrillseeker at heart (or maybe just a historian who likes to walk on the wild side), a ride on the Jack Rabbit roller-coaster at the Seabreeze Amusement Park is a must. This is the oldest continuously operated wooden roller-coaster in the country. The Seabreeze park itself is also home to a water park, family attractions, arcade games, and more.
Celebrate Americana At The Genesee Country Village & Museum
The Genesee Country Village & Museum is the largest living history museum in New York. It features costumed interpreters in restored historic buildings who breathe life into the authentic working 19th-century country village. The museum includes 68 buildings, heirloom gardens, and even livestock, plus live demonstrations at the pottery, cooper shop, tinsmith shop, and blacksmith shop. Together, the displays and buildings cover the pioneer settlement dating from 1795 to 1830 and the Gaslight Era of 1860 to 1900.
The museum's modern buildings are wheelchair accessible, as are many of the historic properties, including the Amherst Humphrey House, Foster-Tufts House, Pioneer Farmstead Barn, Blacksmith Shop, Cooper Shop, Drug Store, and Tinsmith Shop. However, not all of the estate is accessible, and during bad weather, the unpaved paths may be difficult to navigate.
Play Golf
If there's one thing that Rochester knows and loves, it's golf. There are more than 60 golf courses in the area. Rochester consistently ranks as one of the best golf regions in the nation, as well as one of the most affordable. One course of note is Ravenwood, which was selected by Golf Digest as the fifth-best new public course in the U.S. when it first opened in 2003.
Where To Eat In Rochester
If there's one thing the Rochester restaurant scene is known for, it's beer. In and around the "Northeast's best beer town," there are more than two dozen breweries. If you see a local brew on a menu, be sure to order a pint.
Here are some of the best places to eat and drink in the area.
REDD Rochester
As Rochester's first restaurant by a Michelin-starred chef, REDD offers salads with smoked trout, steamed buns with pork belly and hoisin, wings with Thai chili glaze, and their own modern take on pizza, pasta, and burgers.
Rella
A small-plate seafood bar, Rella serves up more than just shareable seafood. The pasta with braised short ribs is popular, as are the creative combinations like mushroom puree with Brussels sprouts and duck as well as Belgian endives with rapini, fennel, and prosciutto.
The Owl House
This sweet spot specializes in creative sandwiches, soups, salads, and small plates made with local ingredients, plus lots of local craft beer. You'll also find a selection of gluten-free, vegetarian, and vegan options. Try their BVE burger (with a beef or chickpea patty), which comes with strawberry-sriracha jam and crispy onions.
The Arnett Cafe
This friendly cafe serves up homestyle comfort food like chicken and waffles and strawberry lemonade. It's a great stop for breakfast, where a long list of classics like a full stack of pancakes and a side of beef sausage ring in at well under $10.
Fuego Coffee Roasters
This small cafe roasts their own beans, which makes for incredible lattes, Americanos, and cappuccinos.
Where To Shop In Rochester
Downtown Rochester is compact and pedestrian friendly. The best way to explore the shops is to park in the center and take your time visiting the different shops. Here are some places to look out for.
Small World Books
This quirky independent bookstore frequently hosts author events.
Simply Simone Naturals
Simone makes all-natural, handmade, vegan toiletries and skincare products that are fresh and affordable.
Fleet Feet
A fantastic destination for runners and walkers, Fleet Feet is a one-stop shop for all fitness activities.
Little Button Craft
This charming, funky craft store is the place to go for beautiful yarn and fun stickers, key chains, jewelry, and pouches.
Where To Stay In Rochester
Rochester has a fantastic selection of chain hotels at every price point, but the city is known for its history, and there are many beautiful turn-of-the-century inns available. For something a bit different, these two independent properties are well worth checking out.
The Strathallan
This elegant boutique hotel has a variety of rooms and suites, plus a heated indoor pool and a modern gym with fantastic views.
Ellwanger Estate
This romantic bed and breakfast is nearly 120 years old. It's named after George Ellwanger, a renowned horticulturist, and the beautiful gardens on the property are maintained by the Landmark Society of Western New York. Guests are welcome to explore.