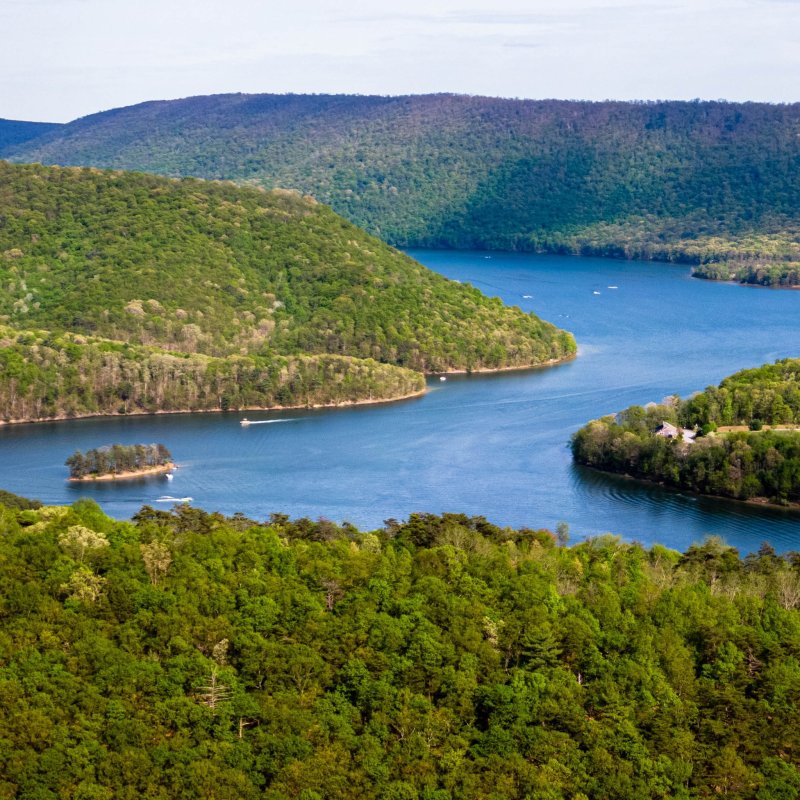 If you want a relaxing back-to-nature vacation, away from stress and rush hour traffic, the Raystown Lake area in Central Pennsylvania is the perfect spot. Kick back and relax, and enjoy the water, trails, and panoramic views at Pennsylvania's best-kept secret.
Hidden in the middle of rural central Pennsylvania, Raystown Lake is the largest lake located entirely in Pennsylvania. It offers 8,300 surface acres of clear water surrounded by 21,000 acres of forested mountain slopes. A multi-purpose lake, Raystown was constructed and is managed by the U.S. Army Corps of Engineers.
Raystown Lake offers an abundance of things to do. There is something for everyone, from camping and boating to luxury accommodations, glamping, and relaxing. Visitors come to the area from far and wide to enjoy the peaceful, calming atmosphere and nature's sounds. But it is, for the most part, a hidden gem in Pennsylvania that most of the world has not yet learned about.
Some of my favorite memories are of boating on the lake and picnic meals at various campsites. You can spend all day on and around the lake and only run into a handful of people. It is peaceful and serene with just the sounds of birds chirping, frogs croaking, and the water lapping against the shore.
Getting to the Raystown Lake area is easy. Driving is the best way since you will want to have your own transportation to reach the various things you decide to see and do.
The Amtrak Pennsylvanian has a stop in Huntingdon (north of Raystown Lake) and offers roll-on, roll-off bike service.
Things To Do At Raystown Lake
The lake itself provides an abundance of things to do: everything from kayaking to jet skiing, fishing, tubing, boating, swimming, and more.
Seven Points
The Seven Points Marina offers rentals. Rent a pontoon, houseboat, jet skis, or kayaks by the day or hour and enjoy your favorite water activities. If fishing is your thing, Seven Points also rents fishing boats that accommodate up to four people. Some of the boats are pet friendly, so feel free to bring Fido along.
Check out the fish feeding station while at the marina. It is fun for all ages. They sell food there so you can feed the fish. You will be amazed by their size!
Seven Points also has picnic areas, a public beach area, and a concession stand near the beach. They also have a public boat launch.
If you happen to be there during the summer, head to the visitor center on Tuesday mornings for their free wake-up receptions.
Lake Raystown Resort
Known as nature's most inviting playground, Lake Raystown Resort is one of Central Pennsylvania's top destinations.
One of my favorite things to do here is to take a dinner cruise on the resort's Proud Mary showboat. They offer public sightseeing, breakfast, and dinner cruises. It is a relaxing way to tour the lake. It is beautiful all the time, but especially gorgeous in autumn when Mother Nature paints a masterpiece of crimson and gold fall foliage.
The showboat has two levels, so you do not need to do stairs unless you want to. Seniors enjoy a 10 percent discount on sightseeing cruises.
The resort has boat rentals at the marina. You can rent pontoon, fishing, and houseboats. They also sell food to feed the fish at the feeding station.
The resort has a beach area, various picnic areas, a convenience store, a pizza shop, and the Marina Cafe, which offers full meals. It is a treat to eat dinner on the deck as you watch the sun set over the lake and the boats.
There are various easy and moderate hiking trails throughout the resort. There are also six different geocaches that can inspire some adventures.
There is a small waterpark that includes a swimming pool. Note that this area is usually a bit noisier and less peaceful.
Lincoln Caverns And Whisper Rocks
Explore winding passageways and splendid rooms containing massive flowstones, thousands of delicate stalactites, pure white calcite, and sparkling crystals at Lincoln Caverns. Special activities are offered here year-round, so be sure to check the website to see what might be happening during your visit.
Inside the cave, lighting is sometimes dim, and some walkways may have slippery surfaces.
Nature trails and picnic pavilions are available outside the caves. While you are there, take some time to visit their gift shop, Raystown Rocks, which features minerals, fossils, and other unique items.
Trough Creek State Park
A breathtaking gorge formed as the Great Trough Creek cut through Terrace Mountain in the 541-acre area now known as Trough Creek State Park. Hiking trails lead to amazing treasures including Balanced Rock and Rainbow Falls. There is also a swinging bridge you can cross and an ice mine. Several picnic areas are available.
Famous for their beauty and scenic views, the hiking trails are sometimes narrow and steep with rocks and roots covering the paths in some areas. That said, we have enjoyed hiking these trails with friends in their 70s and 80s with little or no difficulty. The trails may be slippery when wet and icy in winter. Hikers should wear sturdy shoes.
Isett Heritage Museum
The Isett Heritage Museum is one of the most unique museums in Pennsylvania. You have to see it to believe it. Think machines, electronics, automobiles, fashion, typewriters, hardware, and more. They have over 40,000 items dating from the 1800s till the present on display.
You will want to spend half a day here. It encompasses several different buildings and is on mostly flat, easy-to-walk surfaces.
Thousand Steps Trail
Thousand Steps is a 3.4-mile trail located near Mount Union, Pennsylvania, that features a river and is rated difficult. The trail is mostly uphill and covers uneven ground at times, so you need to be in good shape and be confident about hiking to attempt it.
For the active 50+ traveler, this is a great way to get a good workout (it is equivalent to 1 hour on a Stairmaster), and the view from the top is beautiful.
Bike The Rails-To-Trails
Within a half-hour drive, you have two rail-trails to choose from for bicycling or walking: the Lower Trail in Alexandria and the H&BT Trail in Riddlesburg.
The Huntingdon and Broad Top Rail-Trail follows the route of the former H&BT Railroad and stretches 10.6 miles through south-central Pennsylvania.
The Lower Trail is a 17-mile-long trail from Alexandria to Williamsburg.
Both of these trails are flat and an easy walking grade, although they're not paved.
Best Places To Eat At Raystown Lake
Woody's Bar-B-Q
If you are in the mood for barbecue, try Woody's Bar-B-Q. Baby Back ribs, chicken, pulled pork, and more are served.
Marina Cafe
Marina Cafe at Lake Raystown Resort offers creative American fare and old-time favorites. It is a casual indoor and outdoor setting overlooking the picturesque marina. They offer breakfast, lunch, and dinner daily.
Original Italian Pizza
OIP, which has locations in Saxton and Huntingdon, offers Italian fare, including pizza, various Italian dishes, and subs.
Best Places To Stay At Raystown Lake
Heritage Cove Resort is the newest campground on Raystown Lake. It features vacation cottages, full hook-up campsites, a boat launch, boat rentals, a pool, and more. I enjoyed camping here and often visit to rent kayaks and put them in at their dock.
Beachfront bungalows, waterfront villas, camping, and cabins — you can find them all at Lake Raystown Resort. The Lakeview Lodge features suites and rooms. They also rent houseboats so you could spend your vacation on a boat in the middle of the lake!
Stay in the middle of the fun at Raystown Lake Resort. Those staying the night enjoy a private beach, private boat docks, and more. Quiet hours are observed from 11 p.m. till 8 a.m. so you can get a good night's rest.
If a rented house with lots of room is what you are looking for, Heron's Cove is your answer.
If you desire to get away from it all and get back to nature, the beautiful Raystown Lake area will undoubtedly be a perfect location for your next vacation. Looking for more Pennsylvania fun? Consider embarking on the perfect Pennsylvania foodie tour for travelers ages 50+.