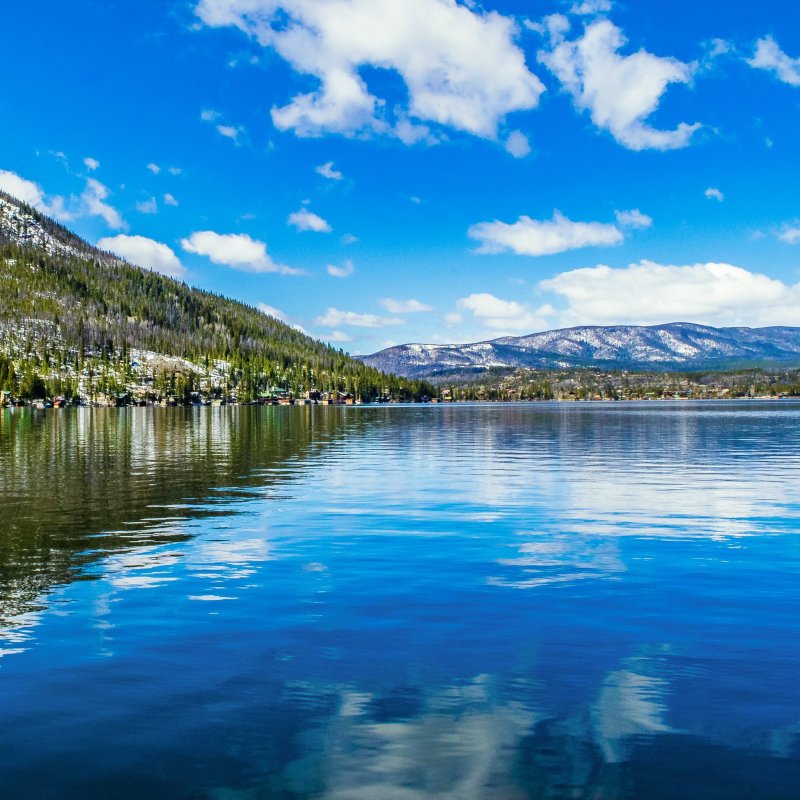 The first time I was in Grand Lake, Colorado, when driving into town, I saw a sign on a bridge that said "Colorado River." I was confused at first. My wife and I were married at the rim of the Grand Canyon, far above the Colorado River way below, and that river finds its way through the Rocky Mountains from here all the way to there? And then flows to Mexico?
Yep. The headwaters of the Colorado River are just north of Grand Lake, Colorado. There are two lakes here — Grand Lake and Shadow Mountain Lake — and those headwaters flow into the southern end of Shadow Mountain Lake. From there it's just a hop, skip, and a jump to the Gulf of California in Mexico.
So that was my first thought driving into Grand Lake. Pour a glass of water into this lake and it ends up in the Pacific Ocean. But this lake (and the surrounding area) has so much more to offer. Here are some things to do during a beautiful weekend in Grand Lake.
Rent A Boat And Get Out On The Lake
The Grand Lake area is actually a series of three lakes. The first lake is Grand Lake, tucked right into a mountain valley at the base of Shadow Mountain. Then there's a short waterway to Shadow Mountain Lake, which is larger (and is where the Colorado River comes in). The outflow of Shadow Mountain Lake is the Colorado River itself, which runs south to Lake Granby. It's a very unique setting — it's rare to see lakes like this tucked right up against the mountains.
Grand Lake (the town) has a marina where you can rent a boat to explore Grand Lake. And they have all kinds of boats. You can rent a paddleboat or kayak and paddle around the marina area, or you can rent a pontoon boat and explore the entirety of the lake. I want to emphasize the uniqueness again — this is a lake tucked directly into the mountains.
Drive Highway 6 Along Lake Granby
There are many scenic drives in the area. One favorite of ours is the lakeshore drive around Lake Granby to the south.
From downtown Grand Lake, take the highway (Highway 34, the only way into or out of town for the majority of the year) south for approximately 10 miles. You'll see Highway 6 on your left. Highway 6 follows the lake's edge for many miles.
It eventually turns from blacktop to a gravel road, but keep going. It's worth it. As you drive, the mountains on the side of the lake begin to rise higher and higher. We took Highway 6 all the way to its end at the Monarch Lake trailhead (approximately 9.5 miles). If you have time, walk to the edge of Monarch Lake (a very short walk). It's a great view — Lonesome Peak to your south, Thunderbolt Peak to the east, and Mount Irving Hale to the north.
Hike Up To Adams Falls
Grand Lake sits right on the edge of Rocky Mountain National Park. It's not very well known for that because access into the main parts of the park is only open for about 4.5 months out of the year when the mountain pass (Trail Ridge Road) is open. From late May or early June until mid-October, Trail Ridge Road is open and you can drive from Estes Park (on the east side of the park) to Grand Lake (on the west side). From October through late May, most of the national park is cut off from Grand Lake.
But one small corner of the national park is right outside Grand Lake. In this part of the park you'll find Adams Falls. And you don't have to go through any park gates or pay any entrance fees to access it.
The hike is short (less than half a mile to get to the falls), but it includes a few brief climbs. The total elevation gain from the parking lot to the falls is 113 feet, so think of it as climbing 11 sets of stairs over half a mile. But once you get there, the view is great. Adams Falls is a waterfall in a small box canyon, so the sound of the water is loud.
If you're feeling adventurous, continue past Adams Falls and check out the meadow just to the north (another quarter-mile of hiking). There's no real elevation change to this part of the trail, so it's an easy add-on. Here's a photo I took from that spot on our visit:
Watch The Sun Come Up Over Shadow Mountain
Don't worry — you don't have to get up early to watch the sunrise. It's called Shadow Mountain for a reason. Because the lake (and the town) are tucked right up against the mountain, the sun doesn't peer over the mountain until hours after sunrise.
One morning my wife and I got our coffee, walked down to the town park (there's a beach there, right on the water, with many benches), and sat there, mid-morning, watching the sun finally clear Shadow Mountain. You'll feel like you're in Switzerland or something, where the sunrise isn't really a sun rising because of the massive mountains.
Drive Into Southwestern Rocky Mountain National Park
Even when Trail Ridge Road is closed, there's more of the park open to Grand Lake than just Adams Falls. You can still access the southwest corner of the park all the way to the Colorado River Trailhead (which is where the mountainous portion of Trail Ridge Road will typically close from October to May).
This is a fun drive to see those parts of the park. Please note that this does pass through the entrance gate into the national park, so you'll have to pay an entrance fee, which is currently $20 (or read up on how to get a National Parks Senior Pass). If you're willing to pay, this drive up the Colorado River valley is quite beautiful. There's lots of wildlife, many trails, and lots of pull-offs for photo opportunities. And if it's the summer, you can drive all the way to Estes Park if you want to, up over the Continental Divide.
Walk Down Grand Avenue
Grand Avenue is the main drag in Grand Lake. It's where all the shops and restaurants are located. It feels very Old West, with wooden-plank sidewalks in many locations.
But it's also very modern. One of the best aspects of Grand Lake in the summer is the Rocky Mountain Repertory Theater. The theater brings in professional actors and actresses and puts on full productions of Broadway favorites. This isn't some local municipal theater — they bring in Broadway talent and put on amazing shows. The Summer 2020 season is unfortunately canceled, but check their website for information about reopening.
That's just one thing found on Grand Avenue. You can grab ice cream, get some souvenirs, or maybe even purchase some local artwork. And in case you're hungry …
Best Restaurants In Grand Lake
O-a Bistro
Where Grand Avenue meets Highway 34, right at the entrance to Grand Lake, you'll find O-a Bistro. It's hard to miss, right at the intersection of the two main roads in the area.
We went there for breakfast and, when we're back in Grand Lake, we will return for breakfast. I had the Waconda Special, which is biscuits and gravy combined with breakfast potatoes and scrambled eggs. When we return, that's what I'm having again.
Cy's Deli
Our favorite lunch spot in Grand Lake is a tiny place called Cy's Deli. It's not a large restaurant — think of it more as a counter. But we were told they made the best sandwiches in the area, and whoever told us that was not wrong.
You know how every town has that restaurant where all the locals pop in to grab a sandwich on their lunch break and then head back to work? In Grand Lake, that's Cy's Deli. I had the Reuben, and it was amazing.
Sagebrush BBQ
When visiting Grand Lake a few years ago, one of our friends was celebrating his birthday. So we chose Sagebrush BBQ for our dinner out to celebrate.
I mentioned how most of downtown Grand Lake feels like the Old West. Well, that's the vibe at Sagebrush BBQ. Good food, good drinks, and kind of a saloon feel. My wife and I split the BBQ Sampler, and it was great.
Where To Shop In Grand Lake
All of the good shopping in Grand Lake is right on the main drag (Grand Avenue) downtown. There are souvenir stores, art galleries, clothing stores, and everything in between.
There aren't any high-end clothing stores here, but there's still great shopping. As I said above, think Old West, with stores that have trading post and mountain products in their names. My wife loves outdoor stores, and she found several great options in Grand Lake.
Best Places To Stay In Grand Lake
Grand Lake seems to be the area where people from Denver either own a summer house or know someone who owns a summer house. So the lodging is very much based in housing rentals.
Because of that, the Airbnb and Vrbo options here are nearly endless. For our birthday trip, we had four couples, and we rented a four-bedroom cabin near Shadow Mountain Lake for way less than we expected to pay. I say "cabin," but it was a luxury home in a private neighborhood on a hill above the lake. It was the perfect place to spread out, relax, and unwind. Next to a lake, tucked into the mountains.