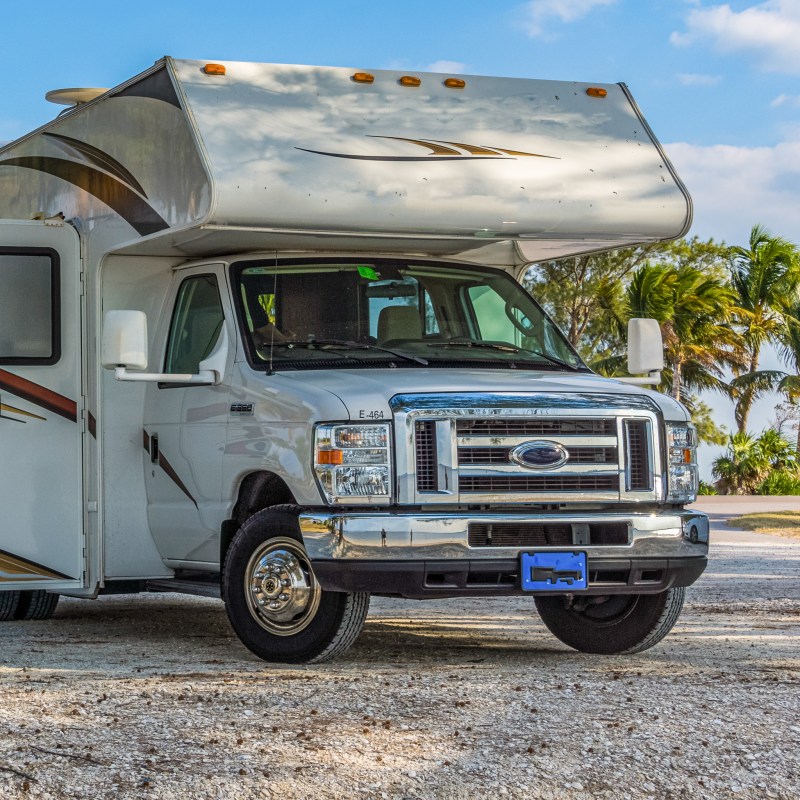 The Sunshine State is a magical destination for RVers and road trippers. The best time to go, weather-wise, is between November and March. The best times to avoid are July, August, and September. You don't want to be there for hurricane season.
Editor's Note: This itinerary is written with RVing in mind, but can be enjoyed in a car, van, or SUV as well. If you're not RVing, consider camping or checking into local bed and breakfasts or Airbnbs along the way.
Begin Your Adventure In Orlando
Once you've fixed a date, all roads lead to Orlando. The Magic Kingdom is a must stop for anyone and especially for RVers. Fort Wilderness is a beloved campground on Disney property. It's pricey, but this camping resort is worth it according to the legions of campers who have visited again and again. Because you are on park property, you have access to park transportation to get you to the various places you want to visit.
Plan to spend at least a weekend here and longer if your plans allow. Even the campground is a destination, with a waterslide, pool, canoeing, and horseback riding, plus all the Disney amenities at the adjacent hotel.
If Disney is not your interest, then head over to Orlando, where you can stay in of the many Orange county camping parks or at Wekiwa Springs State Park. Wekiwa is very popular and books up early, so make your plans accordingly. It has swimming and boating, trails for hiking, and bears!
The park is heavily wooded, and if you have a large and tall trailer, you need to have some skill to navigate. It's worth it for the natural experience. Orlando has lots of fun things to see and do if you need to get out of the woods. It has a great art museum and a vibrant downtown with lots of clubs and restaurants. Or head over to Winter Park for great shopping and dining in a pedestrian-friendly environment. You can also visit Zora Neale Hurston's hometown of Eatonville if a literary stop is your interest.
Hit The Beach In Cocoa For Surf And Space
Florida, of course, is known for its beaches, so head over to the Space Coast for some sand, waves, and fun. In Cocoa Beach, you can stay at the Jetty Park campground and beach. Full hookups to primitive campsites are available. The campground overlooks the waterway that leads to the NASA Kennedy Space Center and serves cruise ships departing out of Port Canaveral.
Day trips can include the Kennedy Space Center in Titusville, or head over to Canaveral National Seashore and rent a canoe to explore the islands that make up this national park area. You'll be within spitting distance of the launch pads and have a beach for fun and sun. There is no RV camping, but the beach and islands have some of the last pristine shorelines left in the state. Make sure you head over to Port Canaveral, where the fishing boats come in, for some fresh-caught seafood. One of my favorites is Seafood Atlantic, where you can dine in or buy your seafood out of their store and grill it at your campsite.
An additional site for a day trip is Daytona Beach, about an hour north. The International Speedway is located here along with the famous hard-packed, drivable beaches. If you visit in March, watch out for Bike Week! It's a huge gathering of motorcycle enthusiasts that rivals the Sturgis, South Dakota, Motorcycle Rally.
Pick Your History: St. Augustine Or Fernandina
Head north out of Cocoa Beach on I-95. There are two great places to stay, but if you are pressed for time, choose only one. First is Anastasia State Park on the beach near St. Augustine — about 125 miles north of Jetty Park. Sites are Water/Electric with a dump station on site.
St. Augustine is the perfect destination for day tripping. You'll cross over to the mainland on the beautiful Bridge of Lions. Explore the historical sites of the oldest city in America on foot or by tour tram. The Castillo de San Marcos fort is fun to walk through. From the fort, you can look out over the bay and the Matanzas River. There are plenty of dining and shopping opportunities as well. One of my favorites is just north of the city on the beach side. Aunt Kate's at North Beach Camp Resort is where you will dine on freshly caught seafood in a natural setting on the river. The RV resort also has a beachside restaurant. Either way, you are steps from the beach or the Intracoastal for a perfect sunset dinner.
If you would rather go farther north for camping or are at liberty to add another stop to your road trip, head another 50 miles north of Jacksonville to Hanna Park, a Duval county park. You'll have access to 1.5 miles of pristine beaches and 60 miles of trails in this beautiful natural area. You'll park your RV in a modern campground that lies in an old hammock of live oaks complete with hanging moss. You can make advance reservations, and some sites have full hookups. You'll walk or drive to the beachfront parking that leads directly to native sand dunes filled with sea oats and scrub palm. Enjoy a lovely and relaxing day at the beach.
While at Hanna Park, you'll want to do some day tripping to experience history and nature. Take the Mayport Ferry over to the islands for historical sites and several great state parks. Drive north to visit Amelia Island and Fernandina Beach, where you'll find quaint shopping, restaurants, and great drinking establishments. The Fernandina Shrimp Festival is in late spring and is a fantastic day. At the end of the day, before you take the ferry back to Hanna Park, stop at the Sandollar Restaurant. It's right on the water where you can enjoy live music on the open-air deck.
This part of the road trip will take about a week to enjoy depending on how long you have and if you stayed at Disney World. Ready for more stops? Head west to the Panhandle, or if you have less time, skip ahead and drive south to Gainesville.
Head West To the Panhandle For Beautiful Beaches
Once you leave the north Florida coast, you'll head west toward the Panhandle. Tallahassee is a good stopping point about 180 miles away on I-10. The state capital is also home to Florida State University.
Continue your drive west another 150 miles to your next destination, Topsail Hill Preserve State Park and RV Resort. Topsail is a favorite stop for RVers. Know that there are annual rallies of various groups that will snatch up sites early. The panhandle beaches are renowned for their white sand and are often listed in the top beach destinations nationally.
Day trips can be made to Panama City, a quintessential beach destination with excellent seafood, beaches, and boating to the east. Pensacola to the west is rich in military tradition and has numerous sites to see, including the Naval Air Station with its fighter jets. This entire coastal area attracts huge crowds in the spring, so be prepared for traffic and shoulder-to-shoulder crowds.
Experience Old Florida In The Big Bend
You can wind your way 102 miles back east to the big bend on the Gulf of Mexico. Stop in Apalachicola for some down-home, old Florida seafaring history. This region was hit hard by Hurricane Maria in 2018 and a lot of destruction has yet to be cleared. The area is known for its oyster beds, interesting historical spots, curiosity shops, and fresh-caught seafood. Of course, you can head out on charter boats for Gulf fishing as well.
Back To Central Florida
Whether you are coming from the north Florida coast or out of Big Bend, head back to Orlando by way of Gainesville along I-75 (195 miles from Apalachicola or roughly 90 miles from Hanna Park). Though Gainesville is home to the University of Florida, it is a charming city in its own right. Explore the historic downtown filled with art galleries and restaurants. The annual arts festival in the historic district near downtown is in November. On campus, you can visit the UF Bat Houses, which thousands of bats fly out of nightly, or spot gators in Lake Alice across the road.
A great place to camp is Paynes Prairie Preserve State Park just outside of Gainesville on I-75. Site of a now dry lake, there are loads of migratory birds, trails, and a herd of buffalo that roam this amazing natural site. Take an afternoon trip to visit the farm home of Marjorie Kinnan Rawlings (author of The Yearling). The Yearling Restaurant serves authentic rural Florida foods like frog legs, gator, and hearts of palm salad. It's a local favorite.
Pro Tip
Avoid Gainesville and Tallahassee on fall football weekends. It's standing room only and bumper-to-bumper traffic when rabid football fans descend.
Florida is a very large state, and you've just hit the northern points. Tampa, Fort Myers, the Gold Coast on the east, and of course the Keys also are wonderful places to explore via road trip.
Headed south? Continue your epic Florida road trip: Miami to Key West.