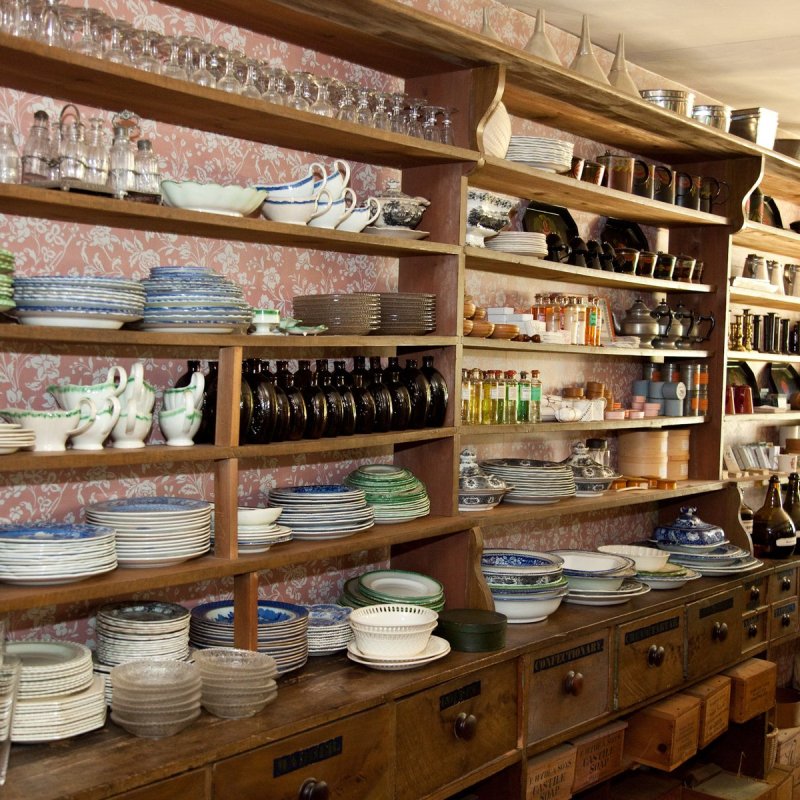 Treasure hunters visiting any state in New England will be overjoyed with the sheer number of fun antique stores and flea markets offering kitschy finds and priceless heirlooms alike. Dealers from up and down the East Coast flock to classics like the Brimfield Antique Flea Markets, and marketplaces throughout the region have local pickers who uncover exquisite antiques and country decor.
Whether you are a scavenger who loves rummaging through boxes to unearth that special find or a connoisseur looking for a quality piece to round out your collection, the antique shops in New England will provide what you're looking for.
Here are 13 of the best stores in the area.
1. Brimfield Antique Flea Markets, Brimfield, Massachusetts
The Brimfield Antique Flea Markets, the mother of all New England antique and flea markets, is a destination in and of itself. It opens three times each year — in May, July, and September — for a six-day shopping extravaganza in Massachusetts. The markets consist of 20 separate vendor fields, each filled with dozens of dealers offering fine antiques, mid-century modern furnishings, handcrafted furniture, and upcycled pieces. Additionally, you'll find jewelry, linens, and accessory decor deals to fit your personal style.
There is plenty of parking; however, it is in fields and neighboring lots. The parking fees vary by distance to the center of the action.
Pro Tip: Plan on spending a good portion of your day here, and wear very comfortable walking shoes.
2. Skinner Auctioneers, Boston And Marlborough, Massachusetts
Hosting more than 60 auctions each year, Skinner Auctioneers offers their discerning customers rare and one-of-a-kind finds.
Their auction catalogs are beautifully crafted and showcase auction categories such as decorative arts, jewelry, musical instruments, wine and spirits, folk art, fine art, American antiques, European antiques, and many more.
With an online catalog for each auction that includes color photos and descriptions of each lot, you can inquire about an item, set up alerts, submit absentee bids, and participate in interactive, live bidding. Skinner offers real-time antique shopping from the comfort of home.
The auction houses in Boston and Marlborough, Massachusetts, are open Monday through Friday from 9 a.m. to 5 p.m. Appraisal appointments are available but must be scheduled in advance. Skinner offers appraisal services out of offices in New York, Maine, and Florida.
3. Grafton Flea Market, Grafton, Massachusetts
The Grafton Flea Market in Grafton, Massachusetts, is the perfect scavenger adventure. This indoor/outdoor flea market is open Sundays from April through December. If you are looking for a classic New England flea market, this is it. You never know what you will find, and you may have to dig, but that is the fun of the hunt.
The Grafton Flea Market opens at 6 a.m., so you can get an early start, enjoy the coolest part of the day, and catch some great deals.
4. Portland Flea-For-All, Portland, Maine
The Portland Flea-for-All in Portland, Maine, is open Fridays, Saturdays, and Sundays year-round. The 70-plus antique and artisan shops offer unique curated wares. You'll find antique bowling accessories at Alley Oop Vintage, resin and crochet jewelry at Mad Meadow, retro 1950s pieces at Retro Girls Attic, burlap and linen wall art at Fiber and Water, and much, much more.
Pro Tip: The Portland Flea-for-All offers gift certificates that are accepted by all of their vendors.
5. Old House Parts Company, Kennebunk, Maine
Refurbished and rough architectural elements await at the Old House Parts Company in Kennebunk, Maine. The architectural salvage company's warehouse is a treasure trove of antique windows, doors, and other authentic design elements.
This is the place for you if you are planning on incorporating reclaimed period architectural features into your design.
The Old House Parts Company also offers custom work. You can view some of their one-of-a-kind, upcycled projects in their gallery. They also offer an extensive online gallery for your perusal, but be warned — it may entice you to begin a new remodeling project.
6. Cabot Mill Antiques, Brunswick, Maine
Cabot Mill Antiques is located in a renovated cotton textile factory in Brunswick, Maine. The shop is home to 160 different vendors offering vintage collectables and antiques.
One neat vendor is Atlantic Time, a clock sales and restoration shop. Other vendors specialize in antique furniture, glassware, porcelain, prints, and bric-a-brac. The whole place is chock-full of vintage items awaiting your discovery.
The mill is also home to several artisan studios and houses two restaurants, making it a perfect place for a lunch and shopping date.
7. Antiques Marketplace, Putnam, Connecticut
The Antiques Marketplace in Putnam, Connecticut, is home to 130 dealers. Showcasing furniture, clothing, glassware, and more, the marketplace is an indoor fun zone for antique hunters and upcycling gurus.
This is a great place to shop when the weather is questionable. It's like a mall filled with antique shops, each one unique and intriguing.
8. Elephant's Trunk Flea Market, New Milford, Connecticut
The Elephant's Trunk Flea Market in New Milford, Connecticut, is open for your perusing pleasure every Sunday from April through December. In operation since 1976, the Elephant's Trunk Flea offers around 500 vendors.
This is a popular event; gates open at 7 a.m. for guests, so get there early for the best selection.
Pro Tip: The Elephant's Trunk Flea Market is about a 2-hour drive from the Antiques Marketplace. Combine the two for a fun Sunday antique-hunting outing.
9. Providence Flea, Providence, Rhode Island
The Providence Flea in Providence, Rhode Island, is not just a country fair; it's a heart-of-the-city artisan and vintage vendors marketplace. Located along the river, the Providence Flea is open on Sundays during the summer and fall and moves indoors during the winter and spring. Dates vary. Admission is free, and street parking is free on Sundays.
Pro Tip: Check the flea market's Instagram page for fun online events, vendor listings, and more.
10. Wilmington Antique & Flea Market, Wilmington, Vermont
The Wilmington Antique & Flea Market in Wilmington, Vermont, is a classic New England event; it's been around since 1983. The market offers antiques, collectables, and artisan crafts. The 10-acre outdoor venue is open every Saturday and Sunday from mid-May through mid-October. It is also open on Memorial Day, Labor Day, and Columbus Day for your holiday shopping pleasure.
This quaint, traditional area of Vermont offers visitors a quiet, Mayberry-like respite from the daily grind.
Pro Tip: Wilmington is situated in a prime leaf-peeping region, so consider heading there in the fall. You can catch the final weekends of the antique market and enjoy Mother Nature's awe-inspiring, colorful autumnal display.
11. Five Corners Antiques, Essex Junction, Vermont
Five Corners Antiques in Essex Junction, Vermont, offers beautifully curated displays of a wide variety of local antiques. The 44 vendors specialize in primitives, arts and crafts, Victorian, and vintage finds. With the wide selection of small to medium-size items, you'll undoubtedly find a period accent to suit your style.
12. New Hampshire Antique Co-Op, Milford, New Hampshire
With 20,000 square feet of dealers and consignors, the New Hampshire Antique Co-op has something for everyone.
It houses six distinct shops: The Plaza, Main Street, The Gallery, Small Treasures Hall, Market Square, and Discovery Barn & Loft. At each, vendor wares are meticulously displayed for your hunting enjoyment.
The fine art gallery houses gorgeous, museum-quality artwork. You can view the gallery at the co-op's Ruby Lane site — it will take you down the art appreciation rabbit hole!
Pro Tip: Can't get to New Hampshire? No problem. You can shop online via the co-op's Facebook and Instagram pages.
13. Hollis Flea Market, Hollis, New Hampshire
The Hollis Flea Market in Hollis, New Hampshire, is a bargain hunter's paradise. This is the flea where locals and visitors come together for a giant yard sale. You will find regular vendors alongside those selling recently unearthed attic, basement, and garage treasures.
Pro Tip: Wear sturdy shoes and comfortable clothes. This is a hands-on, dig-in kind of flea market.
Antique connoisseurs and pickers alike will undoubtedly enjoy a journey through New England. If you are looking for something special or want to plan an antique-focused road trip, visit AntiqueTrail.com. This site includes a description, website, and map of each of their 1,500 member antique shops nationwide.