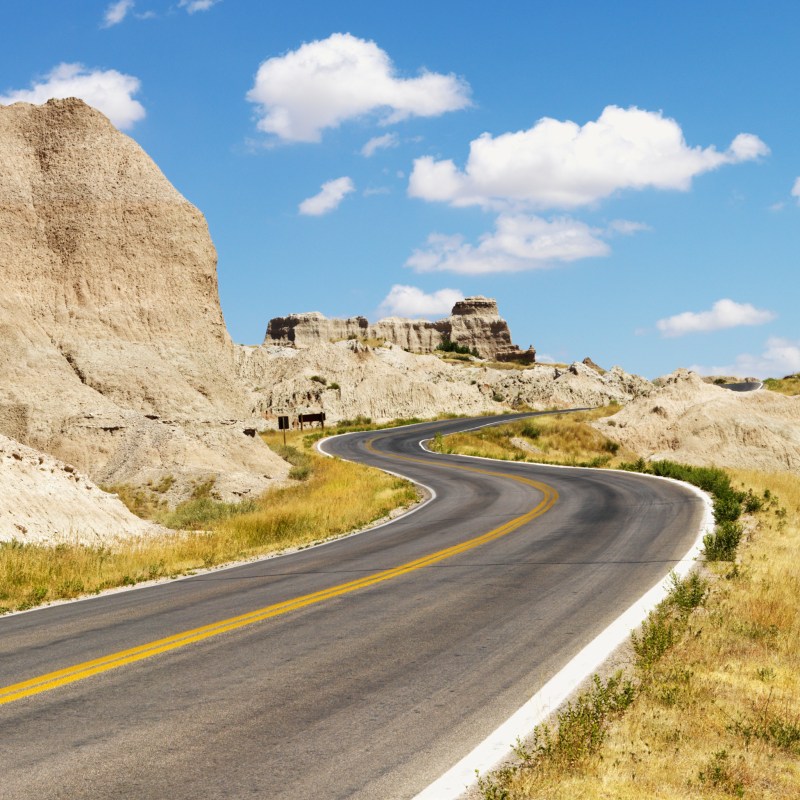 South Dakota is a state with many different landscapes. When you start your road trip on the eastern side of the state, you are in the rolling hills. On the western end of your road trip, the Black Hills greet you for an experience of a lifetime in and around the forested area near Deadwood. Summer is a great time to explore South Dakota as the weather is ripe for stunning outdoor activities.
This road trip offers experiences all year long, but summertime brings magical experiences that do not happen year-round. The wide open skies with beautiful summer sunsets along this route offer an opportunity to appreciate middle America. Here are my recommendations of the things that you need to experience on your epic South Dakota road trip. Keep in mind that I suggest a one-week itinerary, but this road trip could easily fill two weeks of your time.
Sioux Falls, South Dakota
Sioux Falls is located along the eastern side of the state and is home to beautiful Falls Park. The park itself covers 123 acres and is beautiful during the daylight but extra colorful after the sun goes down. The Butterfly House and Aquarium is fun for everyone as it's home to more than 800 free-flying butterflies who will greet you. Highlights of the aquarium are the coral reefs, marine life, and other sea creatures who reside in South Dakota's only public saltwater aquarium.
Art enthusiasts will appreciate the Sculpture Walk, and the Arc of Dreams offers a nice walking tour of the downtown area. Visitors have the opportunity to explore art and take in the beautiful downtown while experiencing culture in the Midwest. Plan a minimum of two hours in the downtown area and one full day to explore before you head west toward the other side of the state. Sioux Falls offers a good three days worth of activities, which means you will have several things to choose from.
Mitchell, South Dakota
Mitchell is home to The World's Only Corn Palace. As an Iowa farm girl, I grew up stopping here on all of our trips to the Black Hills and Yellowstone. To this day, I still stop here with my family when we head west in South Dakota. I highly recommend that everyone visit the Corn Palace as it's a wonderful tribute to agriculture and beautiful architecture.
The Dakota Discovery Museum is an affordable museum that offers insight into history and art. These two attractions alone make Mitchell a place to unwind from your South Dakota road trip. Another unique place to explore is the Mitchell Prehistoric Indian Village, which showcases archaeology in many different forms. RV parking is available onsite at the village as are picnic areas for your enjoyment.
Chamberlain, South Dakota
A highlight of Chamberlain is the Dignity of Earth and Sky sculpture of a Native American woman standing tall on a bluff over the Missouri River. She honors the Native Americans of the Great Plains and can be accessed via I-90 at the Chamberlain rest area. Be sure to take a photo of this stunning sculpture and visit the wonderful museum inside the rest stop. I would plan to spend two days in this area.
The Native American National and State Scenic Byway runs through this area of the state. Landscapes along the way include mixed-grass prairie and rolling hills that end in limestone cliffs that line the river in many places. It's common to see prairie dogs, pronghorn, and deer as you travel this north-south route through central South Dakota. A lot of this route is undeveloped, making it a historical route that appears to be untouched by time.
Hunting and fishing are both very popular, and the area offers several outfitters and lodges that accommodate guests. Birding is very popular in the Chamberlain area, so make sure you have packed your binoculars.
Wall, South Dakota
Wall is home to the world famous Wall Drug. As you travel westward to Wall, you will see signs that read, So many miles to Wall Drug. In the 1930s, this became known as the place to stop for free ice water as folks traveled west. Plan to spend a full partial day here, as you will find unique shops, Western art collections, a chapel, and even a good old-fashioned soda fountain.
Your stop would not be complete without a meal at the Wall Drug Store Cafe. The bison burgers are popular as is the coffee. If you enjoy quirky roadside attractions, you will fall in love with Wall Drug. If not, you may want to travel onward to the next stop, which is south of town.
Badlands National Park offers rugged beauty that you cannot find elsewhere. The bighorn sheep will lure you in, and you will spot them around many turns. If you are fortunate, you will also see bison, prairie dogs, and black-footed ferrets. The overlooks are handicap accessible and afford you vistas of 244,000 acres of natural beauty containing one of the world's richest fossil beds. I would highly recommend visiting near sunset as the golden hour is truly a magical sight. This park has never been exceptionally busy when I have visited, which makes it an extra special place to visit.
Rapid City, South Dakota
Rapid City sits on the eastern edge of the Black Hills and offers experiences that many just drive by. Instead, this is where I suggest you explore museums on this road trip. The South Dakota Air and Space Museum is located at Ellsworth Air Force Base and offers adventure for everyone. With more than 30 vintage military aircraft on site, you will appreciate fascinating stories.
The Museum of Geology offers specific insight into paleontology and mineralogy. Sioux Pottery is made from the red clay that you find in the Black Hills in South Dakota, and it's fun to see it come to life here. Visitors cannot only view the pottery, but also visit the factory to see how it is made. You will most likely want to plan a future trip to Rapid City alone.
Keystone, South Dakota
Keystone is where you will find yourself in the heart of the Black Hills and can experience Mount Rushmore. The Rushmore Borglum Story is located in town and offers tours that provide insight into the creation of Mount Rushmore. Upon your arrival at Mount Rushmore, you'll find that this attraction is unique in the fact that there is a fee for parking but admission is free. Hang onto your parking ticket, as it is good for one year. This will give you an excuse to plan another road trip through this area of the country, as Mount Rushmore is truly an all-American experience you may want to have again.
Near Keystone is where you can also hop on the well-known Iron Mountain road. This is where you will experience granite tunnels and pigtail curves. If you are lucky and paying attention, as you near Mount Rushmore, you will have a view of it through your windshield. Anyone with a tendency toward motion sickness will want to sit in the front seat, as this is a winding road.
Deadwood, South Dakota
Deadwood is where you will wrap up your road trip across the beautiful state of South Dakota. This town is loaded with history, as there's a story to be told around each corner. The Historic Fairmont Hotel, also known as the Oyster Bay Bar and Casino, and the Bullock Hotel are where you can have a ghostly experience if you're after the paranormal. Mind Blown Studio offers glass blowing classes, which I would highly recommend. You can also grab a sandwich and a cup of coffee while observing this fun craft.
The Historic Adams House offers tours that showcase its beautiful oak interiors, hand-painted canvas wall coverings, and stained glass windows. A tip I would give you is to purchase a combo pass, which includes the Adams Museum, Days of '76 Museum, and the Historic Adams House. The best tip I can give you is to make time to stroll the streets of Deadwood. You will find something that intrigues you as you explore.
Your road trip from Sioux Falls to Deadwood, South Dakota, has the potential to be a life-changing experience. Make the time to explore each town, dine in the local diners, and get to know the people in the communities. The people of South Dakota are warm, welcoming, and very proud of their state. From the historical sites and museums to outstanding nature experiences, I can guarantee that you will not be disappointed in the time that you spend in South Dakota.