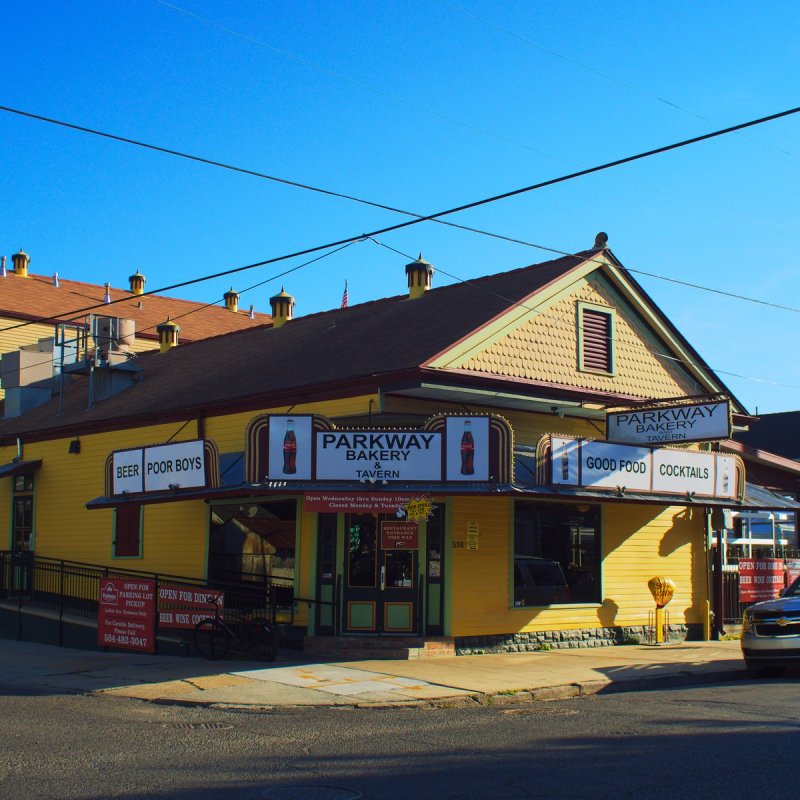 New Orleans is one of the oldest cities in the United States and has been influenced by West African, Native American, European, and Caribbean cultures, so it's no surprise that the city is known for fantastic cuisine.
In particular, New Orleans specializes in Creole and Cajun cooking. Although they are sometimes thought to be one and the same, these styles are distinct. Cajun dishes, such as jambalaya, stem from the French immigrants who settled in the swamps around New Orleans. Creole dishes, on the other hand, feature African, European, and Caribbean elements. The most popular Creole dishes include roux-thickened gumbo, Creole shrimp, and creamy grits.
With more than 1,400 restaurants in New Orleans, there's always a new place serving up delicious Southern fare. Here are some of the best places to try local cuisine while you're in the Big Easy.
Felix's Restaurant & Oyster Bar
Although there are three locations, Felix's Restaurant & Oyster Bar in the French Quarter provides the most New Orleans charm. You may have to wait in line until a table opens, but the line moves quickly, and the food is worth the wait. The casual and friendly service makes Felix's a great first stop on a local cuisine adventure.
Felix's, which claims to be New Orleans's original oyster bar, serves freshly shucked oysters from the Gulf. You can choose from six expertly prepared varieties: oysters on the half shell, Buffalo oysters, oysters Bienville, chargrilled oysters, oysters Rockefeller, and oysters du jour. In addition to the oysters, the blackened Louisiana alligator and the Bayou platter (which features samples of étouffée, jambalaya, and red beans and rice) are worth trying.
Commander's Palace
The vibrant turquoise two-story mansion in the heart of the Garden District is not just a restaurant — it's an experience. The amazing hospitality and the incredible chefs (including Emeril Lagasse!) have made Commander's Palace a destination in and of itself.
From the moment you enter, you'll be treated like royalty. Everyone is trained to provide the best service. Sommeliers provide wine suggestions in each dining room, and servers deliver plates to the entire table at the exact same moment. This kind of service demands a certain kind of dress — no flip-flops or T-shirts are allowed.
The incredible service isn't the only thing to love about Commander's Palace. The exceptional Southern dishes feature fresh and local ingredients; signature items include sherry-topped turtle soup, thick gumbo, and pecan-roasted Gulf fish. Don't miss the bread pudding soufflé, a dessert whose top caves under a sweet whiskey sauce.
Katie's Restaurant And Bar
Set just one block away from the busy Canal Street and the streetcar line, Katie's Restaurant and Bar is nestled in between locals' Mid-City homes. Family-run since 1984, the restaurant provides a warm and welcoming experience for its patrons.
The large purple building with green accents offers Creole-Italian meals including everything from Atchafalaya pizza to blackened shrimp pasta to Cajun Cuban sandwiches. The restaurant also serves a different kind of beignet — savory, cheesy, and with just the right amount of kick. The crawfish beignet is filled with shrimp, crawfish, Cheddar, mozzarella, and jalapeños and topped with a jalapeño aioli.
Down The Bayou
Situated on trendy Oak Street, this modern Cajun restaurant is not to be missed. Down The Bayou's Chef Carl Schaubhut recreates Southern classics with new flavors and ingredients. It's not surprising that he does it with ease, since he's worked at highly regarded restaurants like Commander's Palace and Café Adelaide. Don't miss the boudin balls, blue crab pasta, or alligator Bolognese.
The cuisine isn't the only Bayou-inspired feature of the restaurant. The design includes wooden tables, booths with olive-colored cushions, and moss-like tendrils hanging from the chandeliers.
The cocktails are also inspired by Cajun tradition. Try the specialty Fire on the Bayou, which features vodka infused with pepper jelly, citrus, and Lillet, or the Bayou 75, which features Simonet Blanc de Blancs, house-made citruscello, and honey syrup.
Upperline Restaurant
For an upscale night on the town, make dinner reservations for Upperline Restaurant. The friendly yellow townhouse was built in 1877 and converted into a restaurant that serves rich and flavorful Creole dinners.
Inside, an eclectic collection of local art hangs on the walls. Elegant and cozy, the ambiance is only heightened by the delicious local cuisine. There's traditional Southern cuisine, but there are also intriguing combinations like fried green tomatoes with shrimp remoulade. The drum fish, Louisiana grillades, and slow-roasted half duck are also delicious, and you can't go wrong finishing up with Southern sweets like honey-pecan bread pudding and Louisiana pecan pie.
Parkway Bakery And Tavern
Those who crave a good sandwich should look no further than Parkway Bakery and Tavern — it offers one of the best po'boys in town. Like most things in New Orleans, po'boys have a long and interesting history.
Po'boys, or poor boys, were named for hungry railway employees who went on strike. These 20-inch French bread sandwiches were filled with roast beef, potatoes, and gravy and kept the working class fed.
Parkway Bakery has created numerous variations on the original. In addition to the gravy and roast beef, their signature po'boys include items like golden fried shrimp and smoked alligator sausage.
It's a casual joint, so you can enjoy your po'boys at the plastic tables and chairs out back or take your sandwich to go.
Brennan's Restaurant
It's unlikely that you'll pass Brennan's Restaurant's classic pink facade without a second look. And you most certainly should enter, since this spot in the French Quarter offers some of the best Creole breakfast and dinner in the city. From the posh wallpaper to the dishes flambéed before your eyes, you'll feel like royalty. Order the scrambled truffle eggs and seasonal crepes for a meal and a show.
Make sure to leave room for the bananas Foster, a dessert of butter, sugar, and rum that's prepared and lit tableside and served with cold vanilla ice cream. This dish originated at Brennan's and is known and loved around the world.
Dooky Chase's Restaurant
Set in a quiet, residential neighborhood, Dooky Chase's Restaurant could be mistaken for a beautiful brick home if not for the sign hanging in the corner. Inside, red walls, white tablecloths, and paintings by black artists greet those who walk through the door. It's a restaurant that's been around for almost 80 years.
The late Leah Chase — the chef at Dooky Chase and the Queen of Creole Cuisine — was the inspiration for Princess Tiana in Disney's animated movie The Princess and the Frog. Her passion for great food, civil rights, and African-American art made her a beloved member of the community.
Dooky Chase's lunch buffet is filled to the brim with Southern dishes, including must-have items such as hot sausage, mac and cheese, and the most amazing fried chicken. Notable folks like Beyoncé and Jay-Z, the Obamas, and Quincy Jones have come to Dooky Chase to get a taste.
Willa Jean
Fluffy biscuits, strong coffee, and Southern hospitality await at Willa Jean, just minutes away from the French Quarter. It's known as one of the best New Orleans brunch spots, and the owner, Kelly Fields, was recognized by the James Beard Foundation this year.
Willa Jean offers Southern food in a contemporary brick-and-tile dining room; the setting reflects the restaurant's modern take on traditional dishes. The menu centers on available seasonal items. That being said, if fried chicken and Tabasco honey are on the menu, don't pass them up!
On the weekends, Willa Jean is always crowded, so make sure to make reservations to avoid a long wait.
Headed to New Orleans? Check out these eight little-known attractions and these 12 totally free things to do in the city. If you want to hear some great jazz music while you're there, be sure to stop by some of these venues.