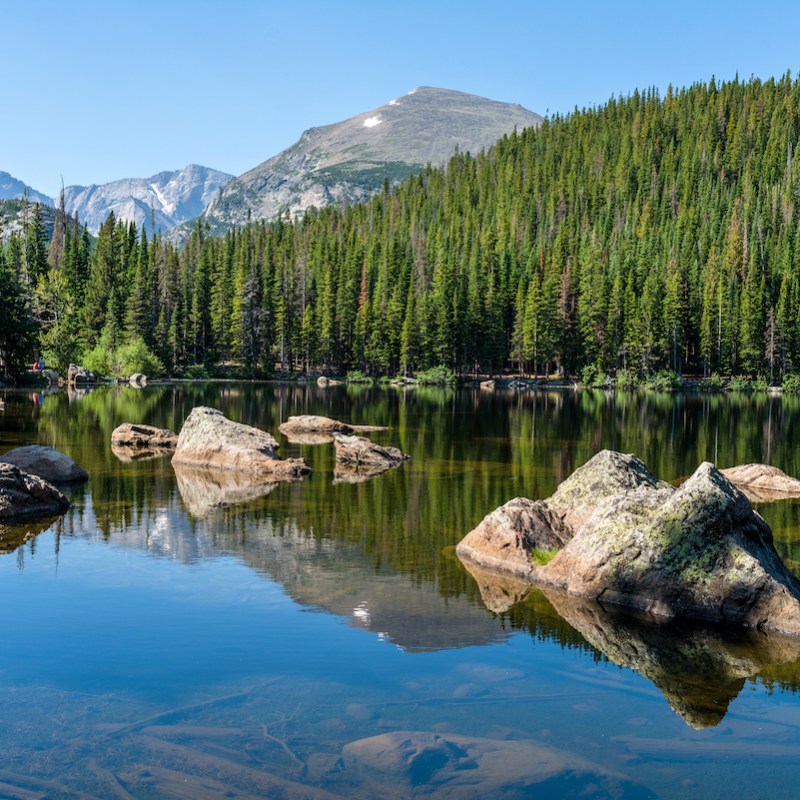 Rocky Mountain National Park holds a special place in my heart. My family and I have been visiting this national park for more than 25 years. On our first visit, hiking was not on our radar. Over the years, it became one of our favorite things to do in the park. It started with our boys in child carriers, and today, my husband and I enjoy hiking the trails together.
We have hiked many of the trails, and people often ask me where they can find a short hiking trail. The definition of short can vary. All of these hiking trails are two miles or less with different skill levels. They all offer incredible views and an opportunity to experience the beauty that Rocky Mountain National Park provides. The best tip that I can give you for these hikes is to start early in the day before the usual afternoon thunderstorms move in.
1. Sprague Lake
Sprague Lake is located off Bear Lake Road, one of the most popular areas in the park for a short hike. This lake offers a handicap-accessible hiking trail that goes around the lake. The 0.5-mile trail is a loop trail that circles the lake. You can hike this trail at all hours of the day, and each time, you will see something different. The Sprague Lake trail is flat and great for all members of your party. Pack a picnic lunch, as there are picnic tables nearby and log benches to sit on with beautiful views. Sunset is spectacular, as the colorful sky lights up behind the mountain backdrop. You can spend 30 minutes to half a day in this area of the park. Nature enthusiasts will fall in love with Sprague Lake.
2. Bear Lake
Bear Lake is the trailhead for many trails in Rocky Mountain National Park. If you want, you can choose to hike around the well-marked nature trail around Bear Lake. This loop trail is 0.7 miles in length and can be busy at times. The Bear Lake trail is handicap accessible and offers something for everyone. Toward the end of June and into July, the wildflowers are incredible. With an elevation gain of 49 feet, this trail is suitable for everyone.
This area of Rocky Mountain National Park is a great place to begin many of your hiking adventures. The Bear Lake Trailhead offers trails for all levels of hikers. If you are more adventurous and want to hike to the top of Flat Top Mountain, this is where you begin your hike. Easy, moderate, and difficult trails all start in this part of the park. Sunset tends to be a little quieter at Bear Lake and can offer some exceptional wildlife viewing. We have seen moose at the lake on two different occasions when we have visited near sunset.
3. Nymph Lake
Nymph Lake is an easy hike from the Bear Lake Trailhead. The hike to and from Nymph Lake is a little more than a mile. The lake is often covered with beautiful water lilies. We have often stopped here on our way to other lakes in the park. Nymph Lake is an excellent spot to kick back, relax, and enjoy the mountain views. The trail can be busy, but you can find a pine tree with a cleared area to sit in and enjoy all that this beautiful lake has to offer. If you are planning a hike to Dream Lake, Nymph will be the first lake that you come upon. One of my fondest memories of Nymph Lake was when our son was 2 years old. He took a swim in Nymph Lake before our day had started. We had packed dry clothes, and he had dry clothes for the rest of our day that included a hike to Lake Haiyaha.
4. Dream Lake
Dream Lake is the most photographed lake in the park, and it's an easy hike from the Bear Lake Trailhead. This hike is 2 miles long, round trip. With an elevation gain of 426 feet, it's not a difficult trek. On your way up, you will pass Nymph Lake. Once you arrive at Dream Lake, walk around the lake, find the perfect rock to sit on, and perhaps enjoy your snacks. Keep your snacks close to you, as the chipmunks will come out of every nook and cranny to try to steal a morsel. The trail to Dream Lake also can be busy. To avoid trail congestion, hike early or late in the day. If you want to hike more than a couple of miles, you can hike to Emerald Lake or Lake Haiyaha.
5. Alberta Falls
The Glacier Gorge Trailhead is where you can begin your short hike to Alberta Falls. This 1.6-mile out-and-back trail will take you to and from an incredible waterfall in Rocky Mountain National Park. I always like to find the perfect rock to sit on and enjoy the waterfall. If I cannot see it directly, the sound of the waterfall alone is soothing.
The trail to Alberta Falls is considered an easy hike, with an elevation gain of 232 feet. If you want to continue to Mills Lake, it is approximately 2 miles from Alberta Falls. If you choose to continue, you will hike through some beautiful aspen trees with stunning views of the mountains. I have not hiked to Alberta Falls in the fall, but I have been told that the aspens are glorious in their golden color.
6. Irene Lake
The Irene Lake Trail is on the west side of the park, near Grand Lake. This trail is a 0.8 loop trail with an elevation gain of 85 feet. Moose are more common on this side of the park, and it's not uncommon to see them around this area. There are restrooms and picnic tables in the parking area close to where you hop on the trail. The wildflowers are incredible in the summer. They add to the colorful backdrop that the lake provides. Be sure to take your binoculars with you, as this lake is well-known for birding. If you look across Trail Ridge Road from the parking area, you will see Sheep Rock. This rock formation is where you can often see Bighorn Sheep that frequent the park.
7. Alpine Ridge Trail
The 0.7-mile out-and-back Alpine Ridge Trail is located near the Alpine Visitor Center on Trail Ridge Road. I would not recommend this short hike until you have acclimated yourself to the elevation, as this trail reaches more than 12,000 feet high. You begin your hike up the stairs near the Alpine Visitor Center and enjoy the view. It's crucial to stay on the trail, as the surrounding tundra is not a place for visitors to wander. You can quickly become winded with each step that you take as you are climbing. Your total elevation gain is 147 feet. Wear a winter hat and coat, as the winds will be cold at the top. The 360-degree view at the top is incredible, making your climb something you will talk about for years to come.
8. Lily Lake
Lily Lake is a 0.8-mile loop trail on the east side of the park. Stroll at your leisure and take in all of the views. The trail is wheelchair accessible and offers birding and incredible lake views. The trail surface is composed of dirt and gravel with a boardwalk in certain places. If you want a little more of a challenge, follow the signs to Lily Ridge Trail. If you hike a little further, you will have a nice view of the mountains. Lily Lake is a fantastic place to relax and unwind after a day of a longer hike or other outdoor activities. Lily Lake is known to have some of the best wildflowers and birding in the park. Vault toilets and picnic tables can be found in the parking area. Sunset is a great time to visit, as the lake is stunning and the crowds have left for the day.
I hope you will enjoy some or all of these short hikes in Rocky Mountain National Park. Dress in layers and wear comfortable hiking shoes, as many of the trails are uneven and rocky. You will also want to carry a day pack with water, a rain poncho or jacket, a first-aid kit, and snacks. You can enjoy all of these trails at your own pace. You are the only person that will determine how far and how fast you move on the trails.
Be on the lookout for moose, elk, deer, and even bighorn sheep. Wildlife can pop up anywhere as you hike through the park. Some of my most memorable family hikes have been when wildlife appeared out of nowhere, and we watched them for hours. Keep your distance, as you are in their home. It's never safe to approach wildlife, as you never know what their next move will be. Before you visit, familiarize yourself with the wildlife and what each species looks like. Be safe, smart, and educate yourself a little bit before you opt for an epic hike in Rocky Mountain National Park.
Related Reading: