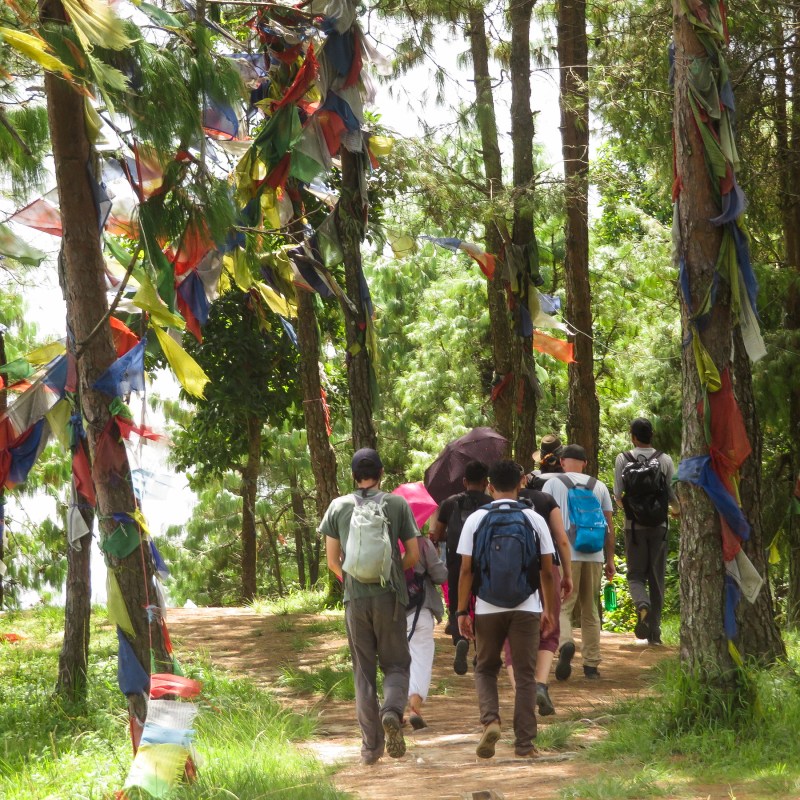 For my husband and me, it's day 14 at home. It's the first time we've gone two weeks without setting foot off our property.
As Jill Weinreich pointed out in "Insights From Italy: What An American Living In Venetian Lockdown Hopes We'll Learn," an interview we published on March 19, staying home has not been a hardship for us. It has been a time for some deep thinking and tremendous gratitude.
We have a home. We have means. We have Amazon Prime and had groceries from Whole Foods delivered this morning. We have a little property and a creek runs behind our house. It's spring, so we can appreciate all the plant and animal life that's emerging without needing to go anywhere.
But the need right here in our own community feels more pressing than ever. I recently declined to go into the hospital to donate platelets. I slept on it after getting a call from the blood bank coordinator at the beginning of the week, and it just doesn't feel right. I'm feeling some guilt about that.
Likewise, should we have checked with more people in our neighborhood to see if they needed fresh food? We picked up and delivered produce a few times before our shut-in officially commenced, but we haven't helped that way since. We could share some Granny Smith apples and dried soups, but naturally, that feels like not enough.
So here we wait, sometimes out enjoying the sun. Preparing more consecutive home-cooked meals than I've eaten since graduate school. And scrolling. Facebook and Instagram definitely feel like places for connection, and it was while scrolling that I saw a post that caught my eye.
"While our book is premised on overseas volunteering, the content applies just as much to local field positions as well. If you're looking for a way to learn about intentions and volunteerism during your #selfisolation or #quarantine, now is a perfect time to grab a copy for yourself!"
I was struck by this @learning.service post. I started following the account at the recommendation of Charis Boke, a Cornell Intensive Nepali Language Program classmate who's led Where There Be Dragons cultural immersion programs in Nepal. On a whim, I reached out to Learning Service for an interview.
Yesterday, I spoke to Claire Bennett, one of Learning Service's founders. She's currently self-isolating in Indonesia (which is a story in itself!). She spent part of her evening sharing Learning Service's story and goals with me.
Here's why she says now is the time to reconsider voluntourism, and how our travel dollars, and energies, can be spent more wisely when it's time to travel again.
Learning Service Is Way More Than A Book
Right off the bat, Claire stressed that Learning Service is way more than a book. Yes, she, Joseph Collins, Zahara Heckscher, and Daniela Papi-Thornton coauthored Learning Service: The Essential Guide To Volunteering Abroad, but she told me the book came out of a larger advocacy movement. "We never planned to write a book — that was not our intention at all."
In 2012 and 2013, Claire was living in Nepal (which is still her permanent home despite her current self-isolation in Indonesia) and Daniela was living in Cambodia, where Claire used to live as well. These were hotspots for very typical groups of volunteers, and Claire and Daniela found themselves getting disillusioned with the many negative side effects of the volunteers coming and going.
They recognized the volunteers' intentions, but saw firsthand how certain volunteer efforts were contributing to corruption and misdirection of funds, especially when it came to orphanages in the two countries.
Claire explained that orphanage trafficking is a very well established fact by academics all around the world. "Children are used as a tourism product," she explained, "brought away from their families," who are being deceived or manipulated.
"There's a demand for volunteering with children," she said. "It's like a product." And civil wars in Nepal and Cambodia once meant there were a lot of orphans. "But now there are fewer."
Nefarious means of keeping the numbers of orphanages up are just part of the problem. Learning Service also challenges people to think about the disconnect between people's understandings of what is best for children in their own countries versus their willingness to join a busload of people turning up for an afternoon to play with kids at an orphanage or make donations of toys and rice that are immediately put back onto the market and sold.
Claire brought up attachment theory and pointed to a win in Australia: Last year, the country outlawed orphanage volunteering. No companies or schools registered in Australia are allowed to engage in orphanage-related voluntourism any more.
But It's Not Just About Orphanages (Or Not Helping At All)
"It's pretty easy to deconstruct something like voluntourism," Claire told me. But she also pointed out that just telling people they're wrong or have bad intentions isn't very helpful.
"We weren't just going to point out the negatives," she said. She and her colleagues realized many prospective volunteers are "trying to genuinely make changes that they want to see in the world."
So they made a series of toolkits and videos that still exist on the Learning Service website.
That said, answering questions about how the history and context of problems prospective volunteers want to address relate to things like colonialism couldn't be addressed through what Claire called "the soundbite approach."
"We were missing the bigger picture of how you need to approach something like this," she told me. "Instead of being defensive, let's unpack this. Isn't there something to be salvaged in terms of global solidarity? What we want to lay out is much longer than an article, so we decided to write a book, which then took four years."
Learning Service: The Essential Guide To Volunteering Abroad was published in 2018 and got "really great responses." Claire told me, "Noam Chomsky endorsed it, so that was really good."
Using This Time To Learn And Reflect
"We have a psychological attraction to simplicity," Claire told me. "This village doesn't have a well. These poor orphans …" these are the kinds of problems people hop on a plane bound for tropical places to fix, and the experiences often seem made to be photographed, for Instagram or otherwise.
But the day in, day out commitment to homelessness or lonely elderly people, or any of the problems we've become aware of in our own communities, especially right now, often seem "really unglamorous." Claire said they're "complex cultural problems that are difficult to unpack and solve," and that a village's lack of a well or an orphan population is actually no different. They only look simple.
Companies can market the idea that they're really easy to fix; cruises can arrange a stop with a half day of volunteering.
Claire said people think that they can "drop in for an afternoon and solve these huge problems like poverty and global inequality" but stresses that they can't. And she says our context right now — one of global lockdown — actually has "loads of positives."
She urges people to look at their immediate communities for opportunities to help and says there are "loads of opportunities for this bigger understanding of global interconnectedness and our responsibilities to other countries."
"It's going to be really clear how inequality is playing a part."
"There are no borders to this thing," she said. "We are going to have to work together. We have to acknowledge that there's extreme inequality in the world."
She sees a silver lining in China sending supplies and ventilators out to places that are currently stricken but also points to the importance of doing turning inward.
If you've been considering volunteering overseas, she suggests learning about yourself and your own motivations.
"Travelers are absolutely overwhelmed. They don't know who to trust. You might be looking at all these articles that are highly critical of voluntourism, but then on the other hand, you get all these marketing machines that want you to pay a lot of money to go do this."
She says now we have time to do the research, because none of us will be going anywhere for a while.
'Just Go On A Vacation'
This advice might come as a surprise, but Claire, who saw the effects of the stalled tourist industry in Siem Reap, Cambodia, before self-isolating in Indonesia (where she was leading a group of Princeton undergraduates who were evacuated to their homes back in the States) suggests that when people can travel again, they "just go on a vacation. Go on a learning trip. Then decide how to help."
During our chat, she discussed the blurred lines voluntourism creates between the tourism sector and the international development sector and said that while hapless students showing up somewhere to build a fence might feel like they're on vacation, the work they're doing (or the problems they're contributing to) are more development related.
Unfortunately, few of these projects are community driven. They often involve descending on another person's culture having "already decided what the problem and solution is themselves — coming into a problem and putting themselves in a position of authority."
Traveling somewhere as a tourist, on the other hand, is an opportunity to stimulate the local economy and to learn. Valuing this opportunity is exactly why learning comes first in Learning Service (a riff on the service learning model that's picked up steam in many colleges and universities).
"Tourism is not in the cards right now. At some point, it will be. What is going to be important then is people coming back to these destinations and spending their money in the local economy."
Claire encourages people to vote with their money and make responsible tourism decisions, opting for "ecotourism places" and "social enterprises that are training up street kids, where tourism dollars can really go a long way."
"Realistically, that is going to be the kind of tourism that will be easy to do without very much research or a long time commitment that will get these developing economies back on their feet," she told me. "Not that there won't be a place for volunteering. It requires a lot of research and mindful reflection. The efforts are going to be most useful put into local community initiatives where you are not going to be the hero of the story … you're going to be a tiny cog in a much larger ecosystem."
If you go to a "quote-on-quote poor place," Claire said, "people will assume you're there to help." What if, instead, your response to questions was, "Actually, I'm just going to go to learn"?
Going into week three at home, and literally dreaming about travel back to Mexico, India, and beyond, this is definitely something I'll be ruminating on.