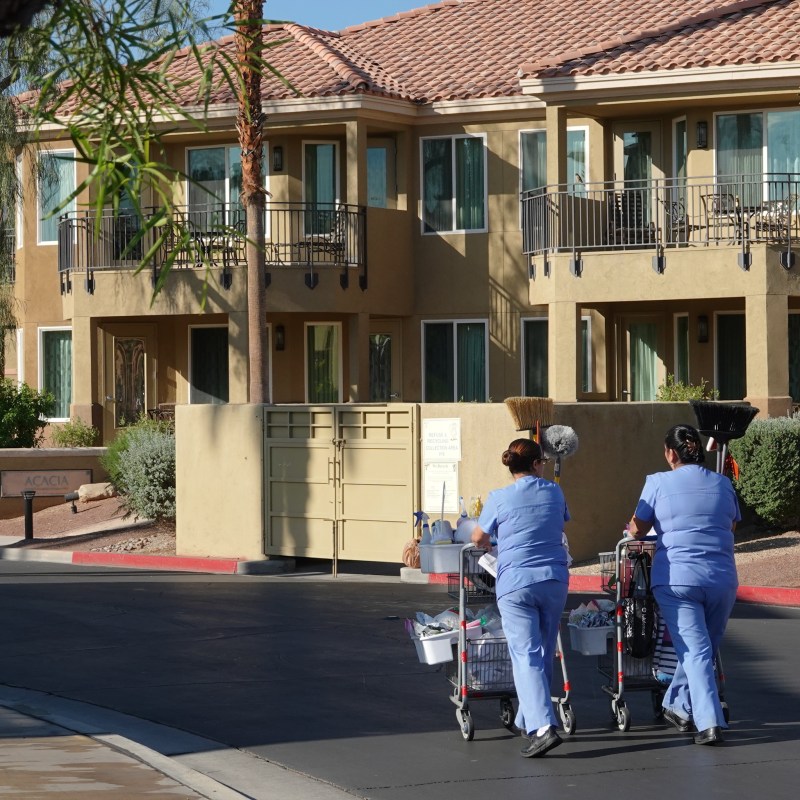 We all have our shortlists of beloved travel-related businesses. Maybe yours includes a boutique hotel you've checked into again and again or the hole-in-the-wall restaurant you just have to visit every time you're in your favorite city. Maybe you've gotten behind a brand's mission, love a tour company's guides, or have been planning a bucket-list-worthy meal or excursion for years and hate to think of what COVID-19 means for restaurants', companies', and small businesses' operations and employees.
While staying home has put an end to so many people's travel plans, it's also given us time to reminisce on wonderful memories and cultivate empathy for those who are affected differently than we are. Of course, those whose livelihoods are tied to the travel and service industries are top of mind. For example, my husband, god-family, and I had a fantastic experience at a Mexican eco-resort last year, and since COVID precautions have been grounding flights and necessitating quarantines, I've been thinking of the many open-hearted, hospitable people there whose jobs may be at risk.
I don't like to think of people brazenly keeping their travel plans; I also don't like to think of the impact the travel shutdown is having on anyone involved. Instead of dwelling on these things, yesterday I reached out to small travel-related businesses to ask, "How can we support impacted travel businesses, right now, from home?" Here are some of the best tips we've received.
1. Order Merch
Peter Klamka, owner of the Blind Pig restaurant in Las Vegas (and very near the Strip) suggests that you buy merchandise directly from a restaurant's website. You could get a new t-shirt, tank top, or hoodie in the mail that will be a fun conversation piece when we're all back out and about again. Of course, attractions and destinations beyond restaurants sell merchandise.
I for one am thinking of ordering from the Neue Galerie's bookstore. It's my favorite museum, it's in New York, and it's closed until further notice. But all purchases support the museum, which is something I can feel good about, even if I won't be visiting New York or all the lovely Klimt paintings any time soon. Note that shipment may take much longer to process than usual. Patience is key, and making a supportive merch purchase isn't about getting something that you need in the next few days.
2. Purchase Gift Certificates…
Jessica Hammer is the founder of Taste of Toulouse, a solo food tour operator in Toulouse, France. "Over the weekend," she told us, "I had to suspend operations for at least one month with the government's new orders regarding the closure of non-essential businesses as well as the obvious safety concerns. It's hugely stressful for me because, as a business owner, I am not protected by France's unemployment system. Employees of businesses who have to shut down are protected by at least partial unemployment, but business owners have no guarantees like that. So, I have had to refund at least one month's worth of business — and it will probably end up being much, much more than that, as this crisis continues."
She told us she would love it if wanderlusters would buy gift certificates. "If you have the means, buy gift certificates for future tours, activities, restaurants, et cetera," she said. "This is really helpful for our cash flow and help with moral support."
3. …Or At Least Accept Them
Avital Ungar, owner of larger food tour operator Avital Tours, which engages in "storytelling through food" in San Francisco, Los Angeles, and New York City, suggests that folks "accept gift certificates or credit for a future tour instead of refunds." He told us, "Cash is king, and it will allow companies to make good decisions instead of being backed into a corner and having no opportunity to make decisions."
This goes along with Hammer's suggestion to delay, not cancel, your trip. "Many travel businesses are offering vouchers for later travel as an alternative to refunds," she told us, "and many of them are offering extra bonuses for choosing the vouchers" (which are essentially gift certificates toward future stays and experiences). "This not only helps our cashflow, but also our morale. It's a vote of confidence in the future of the travel industry and all of its small businesses."
Like Hammer, Ungar also suggests that purchasing gift certificates is an excellent option if you're in a position to do that.
4. Explore Your Options
I'm still thinking about places in the world that I hope to visit, and you probably are, too. Lance Syrett, general manager of historic Ruby's Inn, the closest lodging option to Bryce Canyon National Park in Utah says it is a good time to continue to research and explore travel options — and to let people know you're doing so. "While people might not be traveling right now, the moment this passes, they will be ready to hit the great outdoors."
"Seeing intent to travel and future plans made helps spread hope and encourages both businesses and those cooped up inside, giving hope that we will all get through this!"
If you're daydreaming about staying at a given hotel, taking a specific tour, or dining at a restaurant you've never been to before, reach out! Let them know their business is on your radar and you're looking forward to an opportunity to give them your patronage.
5. Write A Review
Did you ever have an outstanding meal, a blissful hotel stay, or a fantastic tour guide and promise you'd write a review, only to get swept up in the day-to-day when you got home? I'm guilty as charged on that front. I definitely have a review to-do list. Hammer makes the point that "if you've taken a trip in the last year but haven't yet left reviews for travel related businesses, now is the time! It's fast, easy, and free!"
"Go online and leave reviews for the tours, hotels, restaurants, et cetera that you enjoyed on your last trip. It'll bring back some hopefully happy memories for you but also give us the extra boost of visibility we need to hit the ground running again once the crisis abates."
6. Be Willing To Pay A Cancellation Fee
No one wants to hear this, but cancellation fees can help the travel and hospitality industries from hurting worse than they already are. Ian Ropke, founder and owner of Your Japan Private Tours, which has been operating out of Kyoto since 1990, told us, "I have a quite bit of experience with disasters — Fukushima, the Kobe Earthquake, SARs, the coronavirus," and he ran one of Kyoto's first B&Bs from 2000 to 2018. This put him into contact with diverse travelers as they responded to unexpected forces that drastically affected the course of their vacations.
"When things like the coronavirus occur, the business of tours and bed and breakfast accommodation face nearly a 100 percent cancellation rate," Ropke shared, going on to say that it really helps when clients who cancel are willing to pay reasonable cancellation fees.
He hopes travelers can keep in mind the people who will suffer most from cancellations: freelance and seasonal workers. He shares what might be an unpopular opinion, at least among travelers, but at very least it's food for thought: "Cancellation or re-booking fees should be an industry standard." And, in his opinion, it's fair for those to be set at 30 percent.
If you're up against cancellation fees that are stressing you out, or making you mad, ask yourself (and maybe even the representative you're working with), Who does this benefit? And what are my options for future travel? Odds are, a bit of empathy will go a long way, which brings us to our next point…
7. "Be Kind And Compassionate"
This tip comes from Hammer. "If you do have to ask for a refund, be kind. Offer encouragement. Be patient."
"We're all in this together," she said, "and we're all hurting in one way or another: you because you have to cancel your plans, us because we're facing the prospect of a lot of hard work and investment of time and money going down the drain and wondering if we'll ever get it back." Her bottom line: "Treat everyone with kindness and compassion, just like you would like to be treated."
Ungar suggests doing something with your good-heartedness. Send your favorite businesses a thank you note or note of positivity. "Honestly, nice notes and appreciation of their business are the most kind motivation tour operators can feed off of right now." This goes for other service workers and travel-industry professionals, too.
8. Keep Communicating
Jim Prugh, owner of Lindsborg Vacation Rentals, says the business has been strongly impacted by COVID-19. "Guests have canceled their reservations in March and April," and Prugh said, "this issue has been conpounded by Airbnb's recent change to their extenuating circumstances policy, which allows guests to simply cancel and get all of their money back. While this is a great policy for guests, [it has] quite simply removed any opportunity for their hosts to serve and communicate with their guests during this trying time."
Even if you can cancel online without any human interaction, consider reaching out, and not just to prospective Airbnb hosts, but any business that will be affected by your need to stay close to home.
9. Book Future Travel
Kent Redding, president of Africa Adventure Consultants, a Denver-based African safari company, is another business owner who's felt the dramatic impact of COVID-19. "A few weeks ago our days were filled with planning luxury safari experiences for our clients. Now our time is spent staying abreast of the news, flight cancellations, travel bans and camp closures, and working with our clients to update them on the ever-changing situation — and working with them to postpone their travel plans as necessary."
"As a small, family-owned business," Redding told us, "I am also committed to caring for my staff during these uncertain times."
He encourages people wanting to support travel business in light of the current travel shut down to start planning for future travel right now. "Not only will they have more options for 2021 safari camps and lodges before they fill up with postponed 2020 travelers, but they will also have something to look forward to during this time of social distancing. I've already spent time with my family dreaming and planning where we want to go next, and I encourage others to do the same!"
Ruth Franklin, co-founder of Secret Paradise Maldives, an adventure and guided tour company, notes that paying your deposit now "will help many small and medium businesses with cash flow."
10. Continue Shopping Local
This surprising (and delightful!) tip comes from Hammer. "Support local businesses wherever you are," she told us. "By supporting the local businesses in your own communities, you help sustain unique places that people want to travel to."
She went on to say, "No one travels to go to places that have the same stores and restaurants as everywhere else. Many of the local businesses in your own community probably sustain themselves, at least in some part, through tourism. Your support is essential in helping them survive until the return of outside travelers. If they're closed right now because of government orders, buy a gift certificate online if it's available and be the first one in the door when they reopen."
I'm grateful that St. Louis businesses including Frida's (one of my favorite eateries) and Sammysoap ("a job creation machine for adults with intellectual and developmental disabilities disguised as the world's best soap company" — and the place I buy all my bar soap), are inviting phone-in and online orders for curbside pickup, and of course I encourage you to visit both of them if you ever find yourself playing tourist in the Saint Louis area.
11. Finally, Keep It Up With The Likes And Shares
If you're active on Facebook or Instagram, Franklin said, "Sharing posts is an easy win," and Kristie and Todd Roling, the owners of Stone Hill Inn, an award-winning, adult-only B&B in Vermont, agree. "Spend this extra social distancing time connecting with your favorite businesses and travel locations online," they suggested. "Follow all your favorite places on social media and make sure to share their posts regularly with your family and friends." Of course, we invite you to get involved with TravelAwaits' social media accounts, too, and to chime in as we continue celebrating travel every day, even from our homes and home offices.