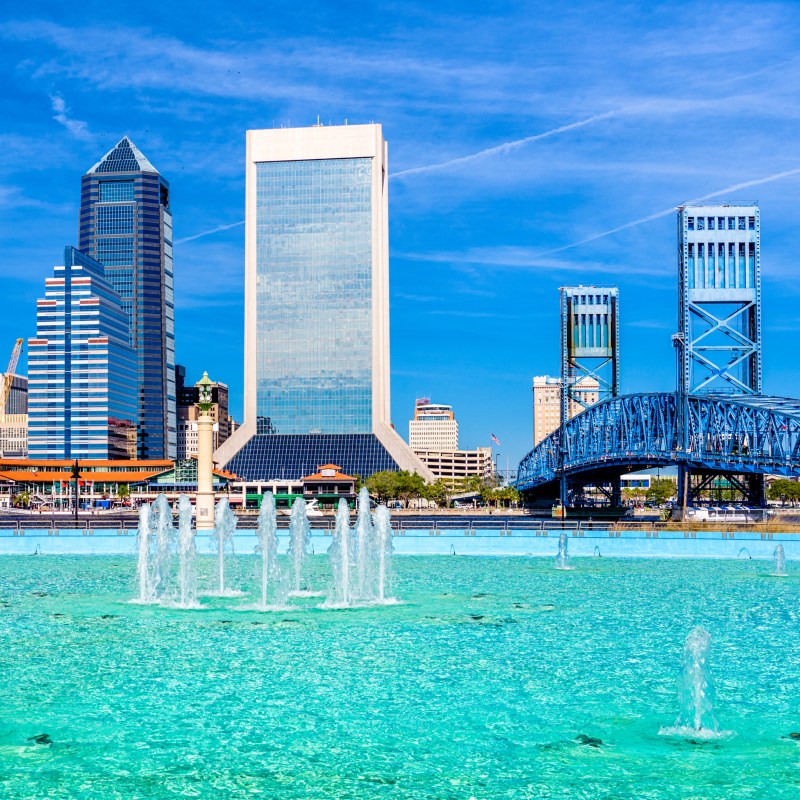 Jacksonville, Florida, probably isn't a city you think of in connection with snowbird locations, but there are many reasons to book an extended winter holiday in this bustling East Coast area.
The Jacksonville area is home to a lively and young-at-heart crowd. No shuffleboard for these retirees — they are fit, busy, and ready to rock.
Jacksonville boasts miles of sandy beaches, a lively town center, and a variety of housing options, and the local communities are the perfect escape from chilly winter temperatures.
Here are just a few of the reasons you ought to consider snowbirding in Jacksonville.
1. It's Got Beautiful Sandy Beaches
The Jacksonville Beaches, known to locals as "The Beaches" or "JAX Beaches," are a group of communities along San Pablo Island. The beaches run along this barrier island and offer gridded streets of beachfront near beach homes. Just off the beaches are quaint shops and restaurants backed by a main drag that has all the big-box and franchise stores you'd ever need.
As you make your way down the coastline, you'll find Atlantic Beach at the northernmost point, and then Neptune, Jacksonville, and Ponte Vedra Beaches as you head south. With the city's 22 miles of beach, you'll be sure to find your perfect toes-in-the-sand spot.
Sunbathing is the most popular beach activity, but if you're looking for something more active, you can try surfing. Atlantic Beach is a great beginner surf hangout.
The Jacksonville Beaches Visitor Center is a good place to go to get answers to all of your beach-related questions.
2. It's Home To A Thriving Retirement Community
The Jacksonville beachside communities have a relaxed, hip vibe focused on nature and personal wellbeing.
You will find a thriving retirement community along the JAX Beaches that centers on the Beaches Town Center. Populated with unique boutiques and eateries and surrounded by homey beach residences, the town center attracts locals, transplants, and snowbirds alike.
You will find locals and visitors enjoying the morning paper — an actual newspaper — sipping coffee, and chatting at one of the little coffee shops. Residents also gather at their beach, golf, and tennis clubs for workouts, lunch, and time with friends.
You will find that this area feels like a small town, even though the nearby city of Jacksonville is the largest city by area in the United States at 840 square miles.
3. There Are Plenty Of Recreational Opportunities
If you are looking for a private club with a community feel, the Ponte Vedra Inn & Club fits the bill. This luxury resort offers golf, tennis, a private beach club, and fine dining. It's also a hotel, so when those out-of-town guests arrive, you'll have a place to stash them.
Golf is king in Florida, where you can hone your game virtually any day of the year. There are many amazing courses in the Jacksonville area and throughout Florida. One, however, stands head and shoulders above the rest: TPC Sawgrass, which hosts the PGA Players Championship each March. There are two courses on the property, and both have tee times open to the public.
Of course, beach time tops the list of fun things to do in the Jacksonville area. East Coast Sport Rentals has everything you'll need for fun at the beach. Kayaks, surfboards, stand-up paddleboards, and other beach necessities can be rented at its hut right on the beach.
If you are interested in biking or hiking through the area, there are enough trails that you could take a different one every day for three weeks. The Jacksonville Parks and Recreation Department has assembled a comprehensive list of trail guides and maps. The list highlights the topography and length of the trails, providing all the information you'll need for your hike or bike ride.
Fishing and boating are other great ways to spend the dreamy warm days in Jacksonville. The city boasts more than 40 miles of intracoastal waterways, so there's a quiet fishing spot, peaceful kayaking stream, or stand-up paddleboard cove for every water enthusiast.
4. It's Cultured
The Cummer Museum of Art, a classic fine arts museum with sculptures, paintings, line drawings, and beautiful gardens, will satisfy the most discriminating visitors.
The Jacksonville Symphony will wow you with pieces by the greats, tributes to musical legends, and special events. Your night at the symphony will be glorious!
Golf may not be everyone's idea of culture, but the World Golf Hall of Fame, located in nearby Saint Augustine (a city bursting with history, and a destination in its own right), contains a comprehensive history of the sport. Even non-golfers will appreciate the museum and its beautiful grounds. With the interactive installations, you can test your putting and driving skills, find your name on top of the leaderboard, and explore the genesis of the game.
5. It Offers Fantastic Cuisine
In February of 2020, Jacksonville hosted its first food and wine festival. The inaugural event was a smashing success, giving guests the opportunity to taste more than 60 wines. Almost two dozen area restaurants provided tastings of their specialty dishes plus live music, and local artisans came together to present a first-class event. The proceeds from the festival went to area nonprofits.
In Jacksonville, breakfast is a time to sip your cup of Joe and gossip with the neighbors. Southern Grounds on Neptune Beach is the place to go. It offers baked goods for your coffee pairing; the fresh-made muffins and scones are especially popular. In the evening, the spot morphs into a local pub.
For the quintessential Spanish experience, visit the Casa Marina Hotel to enjoy a martini on the rooftop. Sip away as you enjoy a panoramic view of the beach and the moonlight dancing on the waves.
For fantastic New American cuisine, try Doro. Located in the Beaches Town Center, Doro offers fresh dishes in a clean, modern dining room. The market fish of the day is guaranteed to be a fresh, local catch prepared with seasonal accompaniments. Try the pavlova with kiwi and strawberry coulis for a light, sweet end to your meal.
Set out on a culinary adventure in Atlantic Beach at Azurea. As part of the Adventurous Palate Dinner, your party will enjoy a custom-designed five-course menu with a sommelier-selected wine pairing.
6. The Weather Is Lovely
If you spend your non-snowbird months in the North, you will find the temperatures in Jacksonville very hospitable. The average high temperature in January is 64.8 degrees, and in March it jumps to 73.7 degrees.
You may see Floridians and permanent transplants sporting winter jackets when it's 65 degrees out. But if you are visiting from the frigid North, 65 degrees is beach weather!
Needless to say, the Florida weather is a great conversation starter.
7. It's Conveniently Located
Jacksonville International Airport is served by many popular airlines, including JetBlue, Delta, American, Southwest, and Spirit.
In Jacksonville, you have quick access to Miami with a flight just over the 1-hour mark. In under 2 hours, you can be in Washington, D.C. You are just a few hours away from Havana, Cuba.
The drive to Orlando for a visit to the Magic Kingdom or Universal Studios is a short 2 hours. The amusement parks are a great place to meet up with your grandchildren.
8. It's Affordable
According to Expatistan, the cost of living in Jacksonville is lower than it is in 82 percent of U.S. cities. Considering all the Jacksonville area has to offer, your retirement dollars will go further, affording you a better standard of living, even if it is only during snowbird season.
There are many places to find short- and long-term rentals in Jacksonville. If you are just beginning to investigate the area, a fabulous hotel or beach club will do the trick. There are many Airbnb beach rentals, too; select one of their Superhosts to be assured of a quality stay.
If you are looking for more of a community feel for a monthlong stay, try Suncastle Properties. It offers homes on the beach, the golf course, and many other options in a variety of sizes and price ranges.
Whether you are looking to commune with nature or be wrapped in luxury, Jacksonville will not disappoint. Next time you are considering a snowbird flight, you might want to check out the area and everything it has to offer.