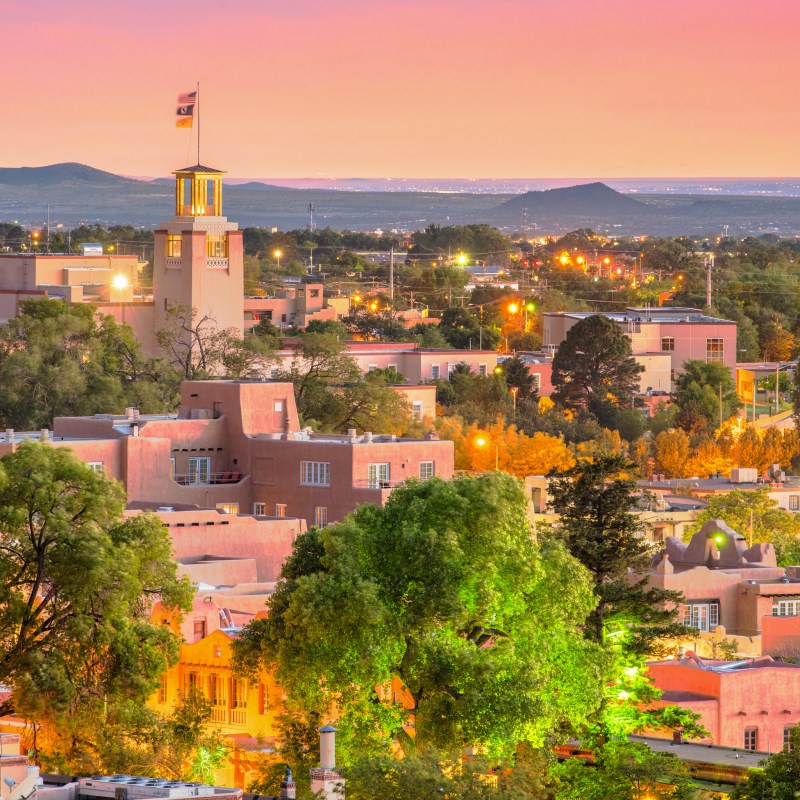 Santa Fe probably isn't on your list of budget-friendly vacation destinations. But don't let the opulence of the Santa Fe Plaza, with its high-end art galleries and boutiques, dissuade you. Santa Fe offers plenty of affordable and free activities, whether you love the great outdoors, historic architecture, or fascinating museums.
And while the city has its fair share of luxury hotels, there are accommodations for every price point.
Santa Fe is known for its fantastic food and margaritas, and you'll find plenty of places to get your fill of sopapillas, chile, and Frito pie without breaking the bank.
So if you're traveling on a budget, give Santa Fe a second look.
When To Visit
I've visited Santa Fe during every season. The city gets more than 300 days of sunshine each year, so there really isn't a bad time to visit.
Santa Fe is located in a high desert that sits at the southern edge of the Rocky Mountains. Since the altitude is about 7,000 feet above sea level, you can expect snow in the winter months. Fall and spring are both mild and sunny. Peak travel season is the festival season, which runs from July through September.
There is a regional airport, but if you're traveling on a budget, I recommend Amtrak's Southwest Chief, which will drop you in Lamy, New Mexico, with a shuttle waiting to take you to Santa Fe.
If you prefer flying, you can fly into Albuquerque for less and then take the New Mexico Rail Runner Express, a regional train that only costs $9 to travel the hour and a half from Albuquerque to Santa Fe.
How To Get Around
Getting around Santa Fe on a budget is easy. If you don't have a car, the historic plaza area is quite walkable, and public transportation is affordable. The Santa Fe Trails bus system can be tracked using the RouteShout 2.0 app.
What To See And Do
Take In The Local Art
There are a number of ways to experience Santa Fe's art scene without paying a dime.
The free self-guided tour of the New Mexico State Capitol will take you to the Capitol Art Collection.
After your visit to the capitol building, go window shopping in the historic plaza, where the various displays are real works of art. Don't miss the Santa Fe Indian Market, which showcases Native American art.
Finally, head to Canyon Road with its more than 100 galleries, boutiques, and restaurants within a half-mile.
Get Outdoors And Enjoy The Sunshine
If it's sunny out — and it probably will be — take advantage of the free self-guided walking tour the city offers. Then visit the Santa Fe Farmers Market to grab some inexpensive lunch items for a picnic along one of the numerous trails. If you prefer to bicycle, rent a bike and head to the one of the bikeway trails. AllTrails lists many easy and moderate trails to explore in and around Santa Fe.
The Santa Fe River meanders through town. Walk a few miles along the 15-mile greenbelt that follows the river.
If you're visiting during the summer, you might be able to catch a free concert outdoors. Check out the schedule and then bring a blanket to enjoy one of the many performances.
Train enthusiasts should visit the Santa Fe Railyard, with its restaurants, galleries, and live entertainment. The railyard houses the old Santa Fe Rail Station, where you can check out the train schedule for the New Mexico Rail Runner Express and view the locomotives parked at the railyard.
Tour The City's Historic Sites
With its 400 years of history, Santa Fe offers plenty to see — and much of it is free. Everywhere you turn, there are historically significant houses, churches, and public buildings. Spend some time examining these marvelous structures, admiring their details.
If you'd prefer a guided tour, Santa Fe Discovery Walking Tours offers a great one for just $16. You'll leave with a better appreciation of Santa Fe's long history, serene adobe architecture, religious landmarks, and colorful culture. Stops on this tour include the Plaza, 109 East Palace Avenue, Cathedral Park, the Cathedral Basilica of Saint Francis of Assisi, and the Loretto Chapel.
Another great historic site to explore is the San Miguel Chapel, considered to be the oldest church in the continental United States. Originally constructed to serve a small congregation of soldiers, laborers, and Native Americans, this adobe church was partially destroyed during the Pueblo Revolt of 1680. The present building dates to 1710 but has undergone significant renovations since then.
Visit The Museums
The New Mexico CulturePass will give you access to many state museums and historic sites for just $30. Some of the highlights include the New Mexico Museum of Art, the New Mexico Museum of Space History, the National Hispanic Cultural Center, the Museum of Indian Arts & Culture, and others. Children under 16 receive free admission to state-owned museums in Santa Fe.
Visit Museum Hill to explore four world-class museums that cover the art, history, and culture of the Native American Southwest and the Spanish colonial era. You'll also find a cafe and botanical garden.
Where To Eat
In Santa Fe, the New Mexican cuisine is where it's at. Your toughest decision will be whether to order your enchiladas with red or green sauce (I choose Christmas sauce, a little of both). Be warned that the heat of the chiles can be fierce. Some restaurants post signs saying you won't get a refund if it's too spicy for your taste. If you're unsure, I recommend ordering the sauce on the side.
For a cheap and classic Santa Fe lunch, visit the Five and Dime General Store for a Frito pie from the snack bar. The original Frito pie features beans, red chile, Fritos, cheese, and onions piled into a Fritos bag. It's affordable (just $5) and an experience to try this old-time treasure.
Blue Corn Cafe offers fresh, budget-friendly dishes. I love the green chile stew, a warm bowl of simmered tender pork, potatoes, and posole in a green chile sauce. A cup of stew and a warm flour tortilla only cost $4.95, and you can enjoy your meal on the rooftop patio overlooking the Santa Fe Plaza.
My favorite restaurant in Santa Fe, however, is The Shed. This Santa Fe institution has been feeding diners since 1953. I usually sit at the bar, because the place is always crowded and I prefer not to wait. Order the enchilada plate Christmas style and wait for the explosion of flavor. For $12.25, you'll get pinto beans, posole, garlic bread, and two blue corn tortillas layered with cheddar cheese and onion and covered with red chile (or your preference of sauce).
Where To Stay
During my many visits, I have stayed at a luxurious $500-per-night townhouse, a variety of mid-range hotels, and even a hostel. I've never had a bad stay.
In general, the most affordable lodging can be found outside the historic area on the Cerrillos Road corridor. Still, you'll find a moderate rate at Inn of the Governors. Located near the heart of the downtown area, it's just a few blocks from all the action. This Southwest-style hotel — with wood-burning kiva fireplaces in many rooms and loads of charm — offers free parking, a delicious breakfast buffet, and a hopping bar where you will often meet locals. Rates vary, but the hotel claims to be downtown Santa Fe's best value. Rates can be as low as $119 depending on when you visit.
On Cerrillos Road, you'll find the humble yet accommodating Santa Fe Sage Inn. It's a bit of a walk from the downtown area, but the inn provides a shuttle to take you back and forth. A double queen room generally costs about $60 per night.
If you're hoping to save even more money on lodging, consider the Santa Fe International Hostel. It's a little farther from the Santa Fe Plaza area but is on the bus line. I spent a few nights at the hostel during one visit. It reminded me of the summer I spent backpacking and staying in youth hostels in Europe. I made several friends. I met guests from Canada and Australia, plus travelers who would save money and pay for their room by working at the front desk. There aren't a lot of amenities here — no room service — but the price can't be beat, and you can meet other travelers while putting together a puzzle or reading a book in the lobby. A bed in a dorm room costs $20 per night. Private rooms start at $25.
If your heart is set on a four-star hotel on the Plaza, check out the Santa Fe Convention and Visitors Bureau's website for specials.