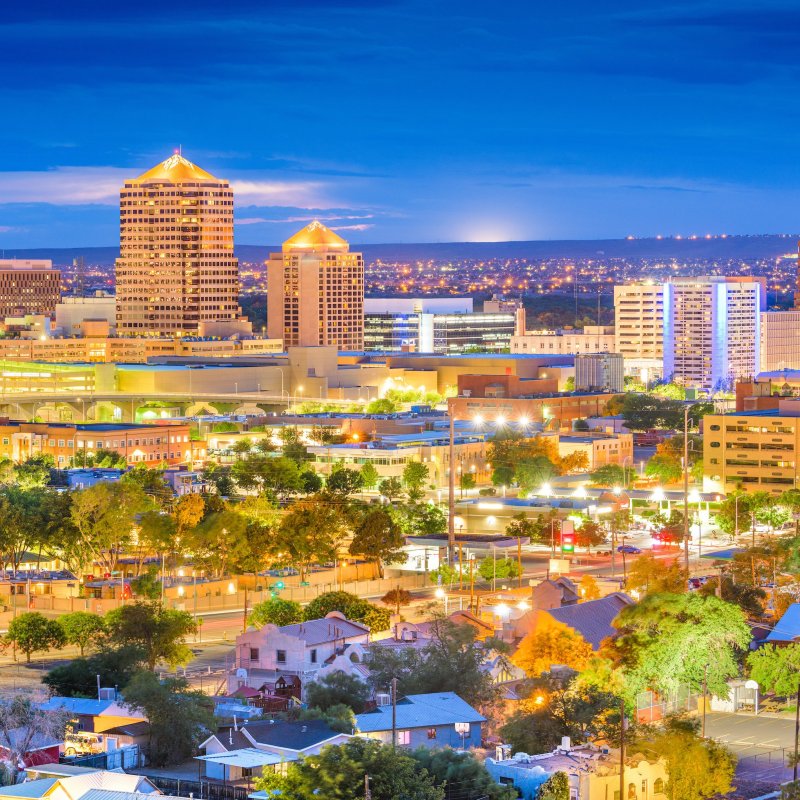 With its stunning scenery, rich history, and vibrant culture, New Mexico truly deserves its nickname, the Land of Enchantment, and centrally located Albuquerque, home to the state's largest airport, is an ideal jumping-off point for your New Mexico adventures.
Here are eight fantastic day trips from Albuquerque. The great thing about these spots is that the journey through the New Mexico landscape to reach them is often just as satisfying as the destinations themselves. Happy trails!
1. Bandelier National Monument, Los Alamos, New Mexico
The opportunity to explore the ruins of an old Pueblo community is what draws most visitors to this national monument 2 hours north of Albuquerque. The most popular hiking trail in Bandelier is the 1.2-mile Main Ruin Loop Trail, which starts at the Frijoles Canyon Visitor Center and offers visitors the opportunity to climb into a series of small cliff dwellings via wooden ladders and stone staircases. The first quarter-mile section of the Main Ruin Loop Trail is wheelchair accessible, however.
During high season (mid-May through mid-October), visitors arriving between the hours of 9 a.m. and 3 p.m. must access the Frijoles Canyon Visitor Center via a shuttle bus from the White Rock Visitor Center, located approximately 8 miles north of the Bandelier National Monument entrance.
A less crowded but more challenging alternative to the Frijoles Canyon area of Bandelier is the 1.5-mile Tsankawi Trail, which is located 12 miles from the main section of the park. This mesa trail features petroglyphs and cliff dwellings and requires ladder climbing and navigating narrow stone trails.
2. Valles Caldera National Preserve, Jemez Springs, New Mexico
In an area that is known for rugged, forest-covered mountains, this expansive meadow tucked into a valley in the Jemez Mountains is a true novelty. Located 80 miles north of Albuquerque, this 13-mile-wide depression was created by a volcanic eruption about 1.25 million years ago. The Valles Caldera National Preserve is home to the second-largest elk population in New Mexico and is a hot spot for Gunnison prairie dogs.
While driving down the gravel road that leads to the caldera and ends at the visitor center is a visually rewarding experience in and of itself, the preserve also has hiking trails of various lengths and is a popular spot for trout fishing. Mountain biking, horseback riding, cross-country skiing, and snowshoeing are all permitted on the preserve. Valles Caldera is on the Jemez Mountain Trail National Scenic Byway and can easily be included in a day trip to Bandelier National Monument or Jemez Springs.
3. Jemez Springs, New Mexico
Jemez Springs, New Mexico, is a tiny historic village tucked into the Jemez Mountains just an hour north of Albuquerque. It's located on New Mexico State Road 4 along the Jemez Mountain Trail National Scenic Byway, and getting there is half the fun. On the drive to Jemez Springs, you'll see stunning mesas and red canyons.
The village's biggest draw is the Jemez Hot Springs, a peaceful and beautifully landscaped collection of four hot spring pools where visitors pay an hourly fee to soak. The town is also home to the Jemez Historic Site, which includes the stone ruins of a 500-year-old Native American village as well as the San Jose de los Jemez Mission dating to the 1600s. The popular Battleship Rock picnic area and East Fork Trailhead are just 5 miles north of Jemez Springs.
Lunch or dinner at Los Ojos Restaurant and Saloon, a rustic cowboy bar that has been serving the village since 1947, is a great way to round out your Jemez Springs experience. Friday and Saturday evenings feature a prime-rib special and live music.
4. Kasha-Katuwe Tent Rocks National Monument, Jemez Springs, New Mexico
Venture an hour north of Albuquerque to Kasha-Katuwe Tent Rocks National Monument, and you'll find a short hike that rewards you with fantastical hoodoos, a majestic slot canyon, and sweeping views of the Rio Grande Valley and the surrounding mountain ranges.
Kasha-katuwe means "white cliffs" in the Pueblo language of Keresan, and the rocks at this monument are indeed a soothing mix of white, beige, and pink. The cone-shaped tent rock formations that cover the area vary in height from just a few feet to 90 feet and are the result of volcanic eruptions that occurred six to seven million years ago.
Visitors can view the tent rocks on the easy 1.2-mile-long Tent Rocks Cave Loop Trail, but those up for a challenge can venture down the 3.1-mile out-and-back Tent Rocks Slot Canyon and Cave Loop Trail, which includes a trek through a narrow slot canyon and ends with 630-foot climb to the top of a mesa for great views.
Parking is limited, and at peak times, visitors might have to wait to gain entrance to the park.
5. Salinas Pueblo Missions National Monument, Mountainair, New Mexico
The often overlooked Salinas Pueblo Missions National Monument about 2 hours southeast of Albuquerque comprises three separate sites: Abo, Quarai, and Gran Quivira. A treat for history and archeology enthusiasts, the national monument is home to the picturesque ruins of 17th century Spanish missions and Native American pueblos.
The three historic sites are situated around the town of Mountainair, New Mexico, where the park's headquarters are located. While each of the sites has a small ranger station, the main visitor center in Mountainair is a great place to get oriented. View the short, thoughtfully crafted film to learn about the various groups that have inhabited the sites over the years, including the prehistoric Pueblo and Jumano groups, the 17th-century Spanish Franciscan missionaries, the settlers of the 1800s, and the 19th- and 20th-century archeologists.
If you aren't in a hurry, consider taking the Salt Missions Scenic Byway to this destination.
6. Bosque Del Apache National Wildlife Refuge, San Antonio, New Mexico
Considered by many to be one of the best national wildlife refuges in North America, Bosque del Apache National Wildlife Refuge, located about an hour and a half south of Albuquerque, is best known for its prime bird-watching. High season at the refuge is early November to late January, when thousands of snow geese, Ross's geese, and sandhill cranes use the protected land as a migration stopover. Watching the birds take off en masse each morning is quite a treat.
While late fall and early winter are the most popular times to visit the refuge, each season offers unique bird- and wildlife-spotting opportunities. The 12-mile tour loop is a relaxing way to explore Bosque del Apache, but the refuge also has 11 hiking trails, and many areas of the refuge are open to bicycles. Free guided van tours are also available many weekends (reservations are required).
If you're looking for a good green chili cheeseburger, the Buckhorn Tavern and Owl Bar & Cafe are two popular roadside diners near the junction of Interstate 25 and Route 380 on the way to Bosque del Apache.
7. Madrid, New Mexico
Located on the Turquoise Trail National Scenic Byway between Albuquerque and Santa Fe, the former coal-mining town of Madrid, New Mexico, is now a revitalized community filled with galleries, funky shops, and restaurants, all housed in rustic historic buildings. It takes about an hour to get from Albuquerque to Madrid, and while Madrid has the largest selection of shops and restaurants, it's worth looking into the six other communities along the trail as well.
The town of Cerrillos, New Mexico, just north of Madrid, is home to the one-stop Casa Grande Trading Post, Petting Zoo, and Cerrillos Turquoise Mining Museum, where visitors can shop for rocks and minerals as well as antique bottles and sterling silver jewelry made with rare Cerrillos turquoise.
In Sandia Park, New Mexico, just 20 minutes from Albuquerque, the funky Tinkertown Museum features a variety of elaborate miniature scenes that were hand-carved by the late folk artist Ross Ward.
8. Chimayo, New Mexico
The enchanting town of Chimayo, New Mexico, located about an hour and 40 minutes north of Albuquerque on the High Road to Taos Scenic Byway, is best known for the Santuario de Chimayo. This popular pilgrimage site has four chapels, but the main attraction is the historic Chapel of Our Lord of Esquipulas, a small Spanish Colonial-style adobe structure. The earth beneath the shrine is said to have curative powers.
Visitors can learn more about Chimayo and its citizens through the thoughtfully curated collection of artifacts and photographs at the Chimayo Museum in the city's historic Plaza del Cerro.
Textile lovers also associate Chimayo with its 400-year-old weaving tradition. Ten distinct traditional Chimayo weaving designs are still in use today, and those looking to view or purchase traditional pieces can visit Trujillo's Weaving Shop, Ortega's Weaving, or Centinela Traditional Arts.
If you get hungry, the family-owned, award-winning Rancho de Chimayo offers a delicious array of authentic New Mexican dishes.