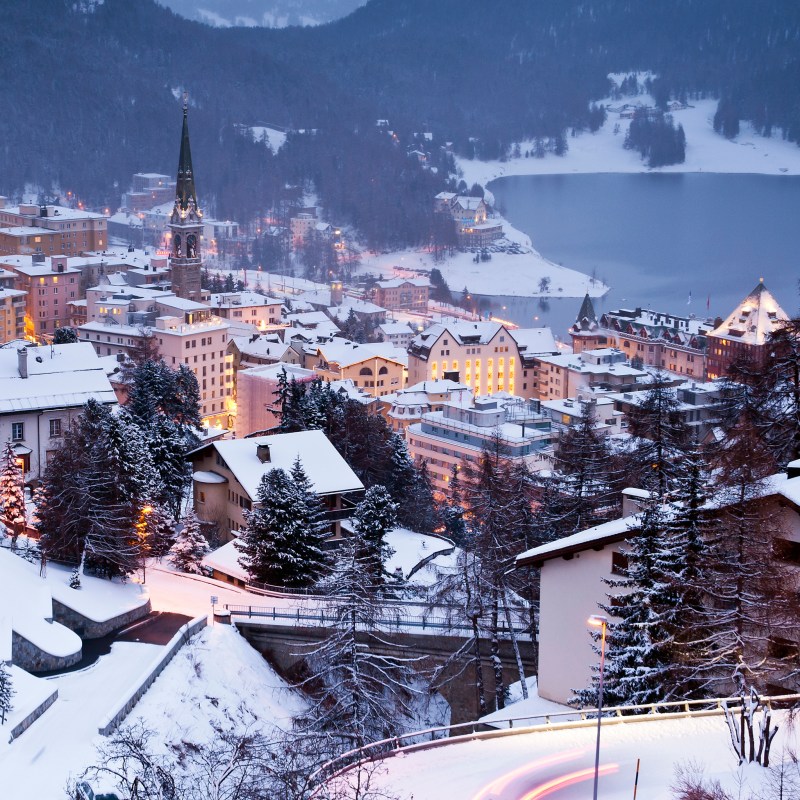 If you had asked me what to do in Saint Moritz before I visited, I would have had a one-word answer: ski. And since I don't ski, the stunning Swiss Alps town was never on my bucket list.
Luckily, a weekend at the swanky winter-only hideaway Carlton Hotel introduced me to the wealth of reasons the Upper Engadine of Switzerland has been a vacation destination for luxury-seekers for more than a century.
I rode the UNESCO World Heritage Bernina Express from Zurich, a spectacular activity on its own featuring twists and turns through 55 tunnels and more than 100 gravity-defying trestle bridges.
When I arrived, it was immediately apparent why Saint Moritz has been a popular winter resort for centuries. With 322 days of sunshine per year, crystal-clear skies, and "champagne air," plus a reputation as the cultural center of the Alps, Saint Moritz offers a lot besides skiing. In fact, I spent several days exploring the town and the surrounding area and never once met a visitor who was headed to the slopes.
Here's how to have the perfect weekend in Saint Moritz — no skis required.
Watch Horses Gallop Across Ice
Did you know that horses like ice? I didn't either. But in the height of winter, when Lake Moritz is frozen solid (2 feet is the minimum), a tented village springs up on the ice, and equestrian sports fans from across Europe come to watch Thoroughbreds in a frozen wonderland.
Start your weekend at one of the equestrian events held throughout the winter, like White Turf — featuring horse races along the snow-covered ice track — or Snow Polo. I attended the latter, and it was fabulous. Teams galloped across the snow-dusted ice while an announcer called the fast-paced action and riled up the crowd.
It's free to watch the races and matches, but you must pay approximately $60 for a seat in the stands. I opted for the stands, and my admission included a glass of Perrier-Jouet bubbly, canapes (served with a real cloth napkin!), and a fleece blanket.
Almost as surprising as horses on ice, the sun was so strong that I had to take my coat off!
Cuddle Up On A Sleigh Ride
If the horses aren't running during your visit, or if you simply want to get closer to the equine action and immerse yourself in the winter wonderland, take an afternoon ride on a horse-drawn carriage. The horses will transport you through the snow-dusted forest and past the frozen lake. Along the way, you can nibble on a picnic of delicacies and sip champagne in classic Saint Moritz style.
Enjoy High-Altitude Art
Saint Moritz is the cultural center of the Upper Engadine area, and you could spend an entire morning exploring the dozen or so museums and galleries that adorn the town. Among the highlights are the Vito Schnabel Gallery with its soaring rooms featuring rotating contemporary art exhibits, the century-old domed Segantini Museum dedicated to the work of renowned local painter Giovanni Segantini, and Galerie Karsten Greve with its ever-changing array of international avant-garde works.
Slide Into Sledding
Saint Moritz has hosted the Olympics twice, and one of the remainders of its time raising the rings is the Olympia Bob Run, a world-class bobsled track made of natural ice. If you're feeling daring, you can sign up to slide down the track at speeds of up to 80 miles per hour.
Or if you're like me and want to take things much easier, you can spend the afternoon coasting down the longest sled run in Switzerland, the Schlittel-Bahnorama, which sluices down the mountain from Preda to Bergun. Getting there is half the fun on the efficient and incredibly scenic railway (a 20-minute ride).
Once you arrive in Preda, rent a wooden sledge and then coast down the nearly 4-mile run (about 45 minutes; $15 for unlimited rides). At the end, I returned my sled in the storybook town of Bergun and enjoyed a delicious meal of traditional (read: heavy and delicious) Swiss dishes at a local cafe.
Eating In Saint Moritz
Pack your stretchy pants: You'll be tempted by some of the richest cuisine in all of Europe in Saint Moritz, and it's all worth every single calorie.
Since the Alps sit at the German and Italian borders, you'll hear Italian and German being spoken, as well as French (the other country bordering Switzerland), English, and the local language of Romansh.
What does this mean for the cuisine? You can expect the best of all of these food-tastic destinations — and carbs aplenty. Almost every meal will include pasta, potatoes, risotto, cheese — and also truffles, a result of being near Italy and the unusual market of international foodies. During my stay, truffles made an appearance in several forms, including shaved on pizza and mixed into a cheese fondue.
Here are some local dishes and restaurants to try.
Pizzoccheri
For a taste of the Swiss Alps in one bowl, this heavy, hearty, and very delicious dish is a must. It combines buckwheat tagliatelle, potatoes, and a creamy cheese sauce, almost as if chefs from Italy and Germany met at the Swiss border and added their pasta and potatoes to a traditional fondue. It's the perfect post-sledding food (especially if you have a nap planned for later in the day).
Rosti
Rosti are sheet-thin, crisp-edged, golden-brown potato pancakes that can be piled with toppings such as smoked salmon, ham, and sour cream. Try them at Hanselmann, a historic (and affordable) all-day cafe that's also known for its stellar pastries.
Gourmet Dining
Michelin stars illuminate the restaurant scene in Saint Moritz like shining constellations in the night sky. The town is such an upscale dining magnet for foodies that there's a culinary Olympics every winter where you can eat a single course at each hotel's starred restaurant in a unique progressive dinner.
If your stay doesn't coincide with the event, treat yourself to a multicourse feast at Da Vittorio, where Italian influences are seen in dishes such as the Paccheri Da Vittorio (fist-size pasta tubes served with a tomato-and-cheese sauce crafted tableside) and a Perigord truffle topped with ravioli. Dinner ends with a French touch: an apple tarte Tatin with layers of apples so thin it takes the pastry chef 4 hours to layer them.
Shopping In Saint Moritz
Saint Moritz's main shopping thoroughfare, Via Serlas, feels like Madison Avenue in the Alps. There are decadent shops that are home to the most illustrious international designers — think Chanel, Louis Vuitton, and Prada — plus a surprising number of shops dedicated to full-length fur fashion. The window-shopping is delicious, and if you have the budget, you'll find the newest collections to choose from. If you're not a luxury brand shopper, there's still one sweet way to take in the shopping scene.
Chocolate is a Swiss specialty, and the Laderach shop is where to find delectable gourmet versions of truffles, macaroons, and the shop's own sweet specialty, FrischSchoggi (thick planks of hand-poured milk, dark, and white chocolate studded with nuts, berries, or pieces of honey toffee). A selection of card-shaped pieces carved from 4-foot long planks starts at about $19.
Where To Stay In Saint Moritz
Saint Moritz is known for its luxury accommodations — there are five five-star hotels in the town of just 5,000 people.
The glamorous Carlton Hotel Saint Moritz has been at the top of best-of lists since it premiered in 1913. In the 60 plush, lake-facing suites, every detail feels completely personalized, yet never stuffy. Whether you're sipping champagne in front of the roaring fireplace or splashing in the spa's outdoor pool (yes, the sun is that warm), you'll feel taken care of.
My sumptuous suite channeled designer Carlo Rampazzi's penchant for plush materials, with damask and gold drapes and a posh velour settee. The mahogany dining table was the perfect spot to enjoy breakfast with a view of the shimmering lake.
And since the Carlton is only open in the winter, it's the perfect excuse to plan a cold-weather weekend stay.