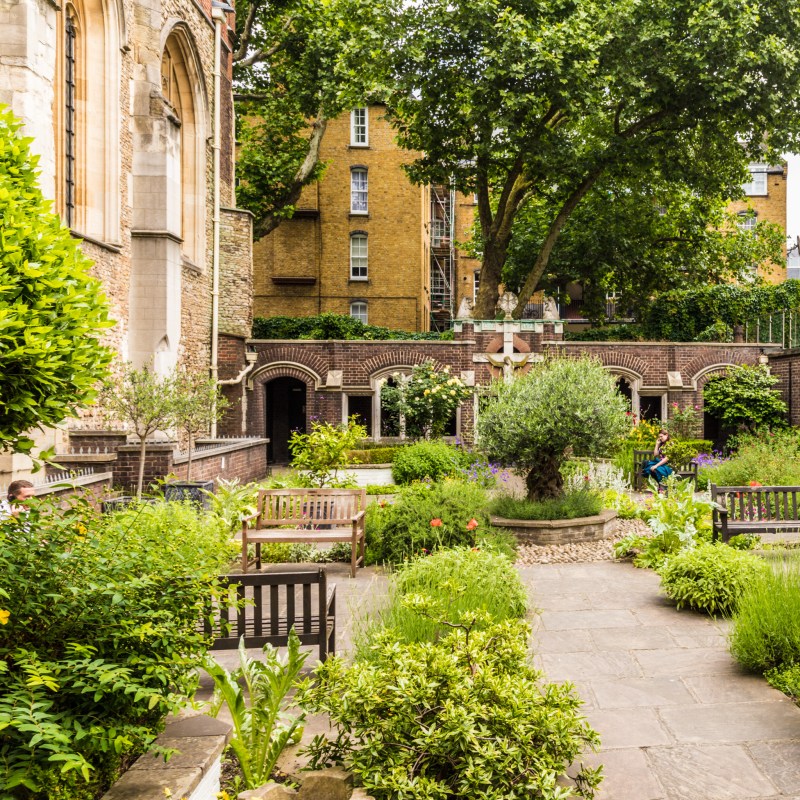 Today, Clerkenwell is one of London's trendiest neighborhoods, but back in the 12th century, it was decidedly spartan in nature. That's because it was founded as a monastic hamlet. However, only a few traces of that devout community remain. That's due in part to Clerkenwell's more recent history as a hot spot for breweries and distilleries, which led to an employment boom and inevitable decline. Clerkenwell was home to the slums of Charles Dickens's Oliver Twist. Thankfully, conditions in this underrated London neighborhood have greatly improved since Dickens's day, and Clerkenwell is a fantastic destination for history lovers, pub-goers, and bargain travelers.
Clerkenwell is located in the northeastern corner of central London. Most of the main sights can be reached from the Farringdon tube station, which is just one stop away from King's Cross station and rail terminal. It's also next door to Bloomsbury, famed for its connection to Britain's most prominent writers, including Virginia Woolf. There's a lot going on here!
Here are eight reasons why Clerkenwell is London's best bargain.
1. You Can Tour An Almshouse Built On Top Of A Graveyard
It's not every travel article that begins by imploring visitors to check out a graveyard, but I think you'll agree that the Charterhouse isn't a spot to miss — and neither is it your average burial site.
Once a 14th-century Carthusian monastery, the Charterhouse was built around the communal grave of thousands who died during the Black Death of 1349. For a time, the buildings housed some of the most expensive and exclusive schools in Britain. Today, the campus is an almshouse, providing low-income pensioners with a place to live and a strong, supportive community.
You can explore the legacy of these ghosts and scholars by popping in to join the community at a chapel service — or otherwise, you could explore the museum for free. Themed tours (if you love gardens or architecture, you won't want to miss them) should be booked in advance and cost about £15.
2. You Can Visit The Norman Church Where Benjamin Franklin Once Worked
The church of Saint Bartholomew the Great dates to the 12th century. It's a rare example of a Norman building, complete with a 13th-century arch. It's worth seeking out just to check out the pretty courtyard, which is a snug little spot to enjoy your coffee. However, you'll also want to visit the Lady Chapel, which is where Benjamin Franklin apprenticed as a printer. Note that this isn't just a historic site — Saint Bartholomew is London's oldest parish church, and it has an active congregation.
Admission costs £5, but attending a worship service is free — and that includes the Thursday evening Evensong (musical service) followed by bangers and mash plus beer at a cash bar.
3. You'll See The Square That Saved The World
Have you ever done first-aid training with Saint John Ambulance? You can thank Clerkenwell for that! Saint John's Square marks the site of the 12th-century Priory of Saint John. The priory was the former seat of the Knights Hospitaller, an order founded in 1113 to provide medical care to those wounded in the Crusades. Over the centuries, the organization evolved into the British Order of Saint John and eventually into a global organization offering first-aid training, community education, and volunteer opportunities.
Visitors can browse the small Museum of the Order of Saint John that sits at the entrance of the square at no cost. Guided tours (suggested donation: £5) offer a special behind-the-scenes look at rooms normally closed to the public.
4. The Local Walking Tour Is A Real Bargain
The highly respected London Walks organization is famous for offering both general-interest walking tours of London as well as tours focused on specific neighborhoods. The London's Secret Village tour really reveals Clerkenwell's character. According to the company, the tour focuses on "mystery plays and plague pits; riots and rookeries; bodysnatching and bombing; jousting and jesters; bloodshed and burnings; monks, murder, and medicine." It also covers many of the attractions featured in this article. Best of all, it only costs £10 (£8 for seniors), making it one of the best deals in town.
Solo female travelers will appreciate that all London Walks programs start at a busy subway station and that the London's Secret Village tour takes place both on Monday at 2:30 p.m. and periodically as an evening pub walk. It's a relaxed, safe, and congenial way to explore.
5. You Can Sip Local Brews At An Old-Time Pub
The Jerusalem Tavern on Britton Street is an outpost of the independent Saint Peter's Brewery in Suffolk. Offering a mix of traditional beers and funky seasonal offerings, the tavern dates to 1720 and is supremely cozy. There's a good selection of affordable pub grub available at lunch every day and at dinner on Wednesdays, Thursdays, and Fridays. Toasted sandwiches, homemade sausage rolls, and hearty salads are popular offerings. Keep an eye out for the cheese platter for one — three varieties of cheese plus a baguette — which only costs £9.
6. You Can Enjoy A Sustainable Feast For Less
The Clerkenwell Kitchen, one of the most beloved restaurants in the neighborhood, is all about sustainable food, and local, organic ingredients dominate the menu. Simple breakfast items like yogurt with seasonal fruit and granola, scrambled eggs on toast, and porridge with honey range from £4 to £5. Most lunch items ring in at £14 or less, including the pheasant salad with walnuts and pomegranate and the leek-and-cheddar tart with coleslaw and a salad of celeriac and Jerusalem artichokes. You'll also find lattes with oat milk and tasty baked goods. This is one of London's best values, and it's worth every penny.
7. The Accommodations Focus On Value
Thanks to the university residences, such as those at the London School of Economics' Rosebery Hall, anyone visiting Clerkenwell in summer or during the winter holiday can stay in the empty student dorms. They come with quiet halls, private rooms, a host of nearby amenities, and a price range of £50 (for singles with a shared bathroom) to £180 (for family-friendly two-bedroom apartments).
However, the real treat in this neighborhood is Goodenough College, on the border of Clerkenwell and Bloomsbury. Goodenough College is an educational charity, and it runs The Goodenough on Mecklenburgh Square, a four-star hotel. Guests can take advantage of all the college's amenities, including dining, lectures, and sporting events. But the rooms are anything but student dorms. They're packed with all the amenities of a hotel, but with the style of a cozy inn. Note that the single room is a small room with just one twin bed — a great deal for solo travelers. However, the superior single room has a touch more space and a queen-size bed. Don't be afraid to do a bit of bargain hunting. Often it's less expensive to book with a third party than with the college itself.
8. The Shopping Is Fun And Authentic
While Clerkenwell is steeped in British history, there is a decidedly continental flair at the Exmouth Market. This pedestrian-friendly street is home to cute little cafes complete with small tables and chairs set up on the sidewalks, fun boutiques, florist shops, hairdressers, and even bike shops. The food is absolutely fantastic, with independent coffee shops, bakeries, and cafes serving up diverse flavors.
London bound? Don't miss these 10 free museums in the city. And when you're ready for a break from the hustle and bustle, consider one of these eight amazing day trips from London.