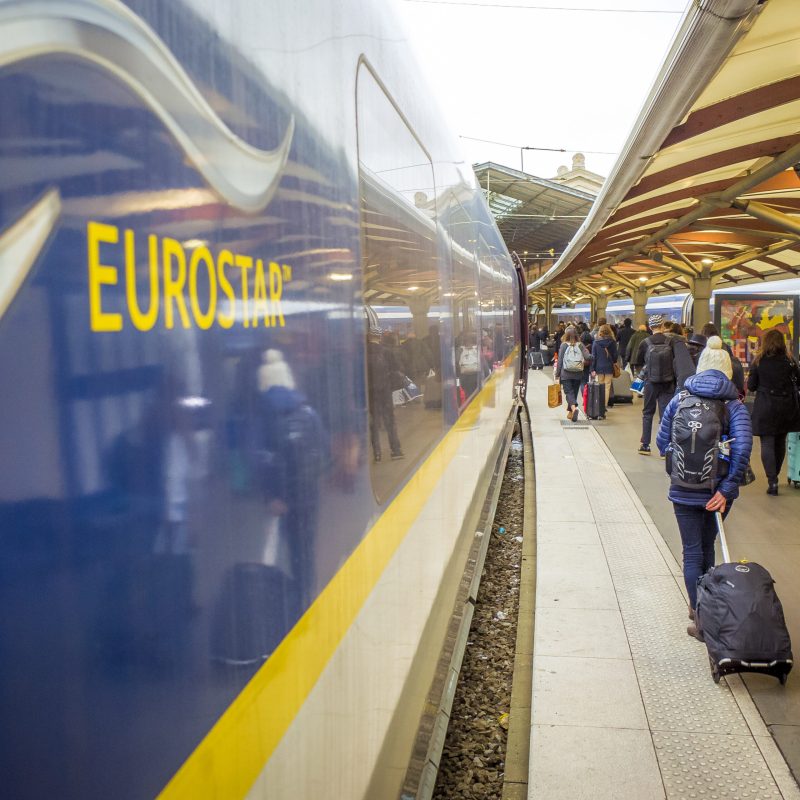 Eurostar is the train that runs between London and Paris for people going without a car. It runs more than 12 times daily, connecting St. Pancras International Station in London with Paris Gare du Nord. Here's some basic information about how Eurostar works, what it's like, and other ways of making the trip.
London and Paris each offer legendary culture, dining, history, architecture, shopping, and more. There's no need to pick just one when you can easily travel between them any day of the week.
Why Take The Train?
Different travelers have different priorities, especially when it comes to cost, time, comfort, and, increasingly, the carbon footprint of their journeys.
Depending on the situation, Eurostar can be a better choice than flying. Here are some of the reasons why.
Cost
The Eurostar ticket includes a reserved seat and allows you to bring two pieces of luggage. Children travel for less on Eurostar.
Cost And Time
The train arrives in Paris proper. If you fly in, you'll spend time and money transferring from the airport to the city center.
Time
Airlines need you at the airport at least two hours before takeoff. Eurostar in London asks you to arrive between 45 and 60 minutes ahead (longer if you need special assistance). Also, traveling by Eurostar, you'll clear French customs and border control before leaving London. On the train, there's no waiting to collect your luggage after the journey.
Comfort
The train is more relaxed and spacious.
Carbon Footprint
The train has a significantly smaller carbon footprint than a London-to-Paris flight or vice versa.
The Eurostar journey time is under two and a half hours. From about 5 a.m. to 11 p.m., trains go approximately once each hour. The most correct and detailed information is on Eurostar's website and its current timetable.
Things To Know
Eurostar's pricing depends on how far in advance you book and how much demand there is for the particular day and time you want to ride.
The cheapest offer is the Eurostar Snap £25 one way fare, a limited availability, restricted, non-refundable deal you have to book through Facebook.
Beyond that, the regular booking process offers three classes of fares: Standard, Standard Premier, and Business Premier. As of January 2020, the return fares range from £79 to £339 (Standard), £199 to £439 (Standard Premier), and £491 (Business Premier). One-way fares are about £15 more than half the return fare, roughly.
Tickets go on sale 180 days in advance and can be purchased online or by phone for a £10 fee. Some travel agents handle Eurostar bookings. Booking for yourself online gives you the most control of your reservation, though.
Your seat is assigned, but you can change it online based on availability. The Eurostar website has seat maps.
In Standard class, you pay for food and drink, but you can bring your own food in any class.
I like Standard Premier class because it has larger seats than Standard. You'll be served a light meal, have more space, and be surrounded by fewer people.
Business Premier offers a private lounge, last-minute boarding privileges, and fancier meals.
Where To Board In London
St. Pancras International Station is part of Kings Cross St. Pancras. These two connected stations function as one.
You can get there by Tube (London Underground), bus, taxi, or out-of-town train.
The Journey Planner on the Transport for London (TfL) website will help you select the best route. Use the "Edit Preferences" button to find options with the least walking, the fewest stairs, and so on. Also, ask at the ticket office of any station in the TfL network for up-to-date travel advice and tips. Maintenance work, often done on weekends, can lead to reduced service and delays.
St. Pancras is a beautiful Victorian building that's worth exploring. Eurostar takes up much of the lower level.
You will have your luggage with you the whole time. At the Eurostar departures area, pull out your passport and ticket and say your goodbyes. There's airport-style security and a border check by French officials.
Everyone traveling needs a valid passport. For the precise rules about entering France, including whether you need a visa, the Government of France website is the authoritative source. Here is a visa questionnaire they provide. Your own government's website may offer useful information as well.
After security, everyone waits in the Eurostar departure lounge. When you board the train, put your larger bags into the big rack at the end of the car. Smaller items can go in the overhead rack above your seat.
Accessibility for people with limited mobility is a priority in London's public transport. St. Pancras has stairs with nearby elevators along the way from the Tube to the Eurostar.
Eurostar is not part of Transport for London. Eurostar's website has extensive information about what assistance they offer once you reach them. You should arrive earlier (75 minutes ahead at least) if you require assistance, and if you want help with luggage, keep it under 33 pounds per piece.
What To Know About Paris Arrival
The Eurostar journey itself is easy. You can eat and drink and plug in your devices. Eurostar offers Wi-Fi (though this might be limited). There are toilets on board.
In the Channel tunnel, it's dark, but that doesn't last long. Mostly the view varies between railway embankments and the flat countryside.
In Paris there are no formalities. Gather your luggage, leave the train, and voila, you're there.
What to do next? Gare du Nord is a major station. You can get a taxi, bus, regional train, or the Paris Metro from here.
The local scammers love the Paris Metro self-serve ticket machines. They will offer to "help" you. Their so-called "help" is always complicated, and you will always lose. Avoid these people and don't let them distract you. The official agents do not wander around the station; they serve only at the ticket counter.
If all you need is tickets for the Paris Metro, you can often buy them on board your Eurostar train at the bar buffet.
Alternatives To Taking The Train
I've already compared the Eurostar to flying.
That said, the cheapest way from London to Paris is by bus. Prices start around £12 one-way. The bus drives above ground and goes into the Chunnel on a vehicle train, not the Eurostar. You stay on the bus the whole time. This journey is hours longer and less comfortable than the Eurostar.
The ferry to France is another option. You can either take a bus from London to Paris via the ferry or find your own way to and from the ferry terminal at each end, going from London to Dover and from Calais to Paris.
Eurostar London To Paris Final Thoughts And Tips
London and Paris are in different time zones. Paris is one hour ahead. The schedule uses the local time — London time for departure, Paris time for arrival.
The Eurostar website has special offers on Paris attractions, deals on hotels, and activities for adults and children, including a very cool virtual reality app, and extensive information about the service.
The website The Man in Seat 61 is full of train travel tips and information. He says if you are connecting to another train in Paris, don't book your Eurostar ticket until you have your onward train booked first.
I've taken several trips on the Eurostar and it's been a smooth, calm ride every time.
Want more on getting around during your European vacation? Here's why one writer says renting a car in Britain was a hair-raising experience (and why she absolutely recommends it), plus nine reasons to take a bike tour of Versailles.