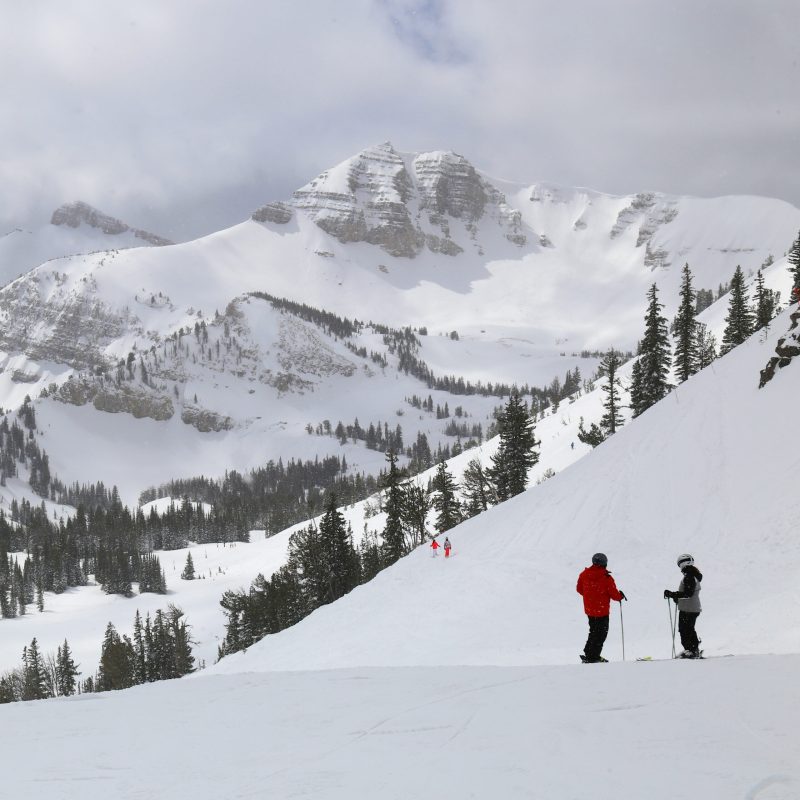 Jackson Hole, Wyoming, is one of the most iconic towns in North America. Not only is it the point of entry to the incredibly beautiful Grand Teton National Park and Yellowstone National Park, but it's also a magnet for outdoor and nature lovers with thousands of miles of trails in the neighboring Bridger-Teton National Forest.
The entire population of Jackson is only about 10,000 local residents year-round, but the options to explore the outdoors are endless. No matter what time of year you visit Jackson Hole, there is always something to do. But I think the charm of Jackson Hole is particularly beautiful in winter when the summer tourist crowds have gone, and the entire area is covered in a blanket of snow. It's a perfect winter playground for adults and kids alike.
There are a great many reasons to visit Jackson Hole in winter. Here are a few that come to mind.
1. Enjoy Winter Sports In One Of The Best Ski Resorts In The Country
Jackson Hole Mountain Resort, known as JHMR among locals and visitors, is among the most famous ski resorts in the Western United States. It occupies the greater part of Teton Village in Wyoming. The resort is located about 12 miles northwest of Jackson and about 10 miles south of Grand Teton National Park. Complete with several hotels, restaurants, lodges, and even private homes that are available for rent, it is a small city in itself that provides access to some of the most iconic ski runs in the West.
JHMR is mostly known for its steep terrain and a large continuous vertical drop of 4,139 feet, which attract thousands of adventure junkies every year. Nearly half the runs are rated expert level and only about 10 percent as beginner. This makes JHMR one of North America's most expensive ski resorts.
Snow King Mountain, which is the other ski resort in town, caters more toward the locals. The local schools often use it for speed ski training for their teams. One unique thing about Snow King is that the ski runs are open late, so you can ski at night for a whole different experience.
2. Spot Wildlife In And Around Town
The Greater Yellowstone Ecosystem, which encompasses Yellowstone National Park, Grand Teton National Park, and the surrounding areas, is one of the few ecosystems in the country that still has populations of all the major species of animals indigenous to North America. From wolves to grizzly bears, foxes, coyotes, moose, bison, elk, and countless birds and other smaller mammals, the area around Jackson Hole is a magnet for wildlife lovers.
Jackson Hole is also home to the National Elk Herd, which winters on the National Elk Refuge (more on this below). The best part of being in Jackson is that you don't have to go far to see wildlife, especially in winter. Oftentimes you will see moose walking into town, elk taking a break in someone's back yard, and even bald eagles feeding on roadkill off the side of the road.
Pro Tip: Here's where to go to boost your odds of seeing wildlife.
Moose-Wilson Road
This narrow, winding road between Teton Village and the town of Moose is closed between November 1 and May 1. But you can always park your car and go cross-country skiing to spot lots of wildlife. This road offers some of the best odds of seeing moose in the valley. Wolf sightings are also a possibility, and bears have been spotted here in spring, summer, and fall.
Solitude Area Just North Of The Airport
The subdivision of Solitude is home to some of the finest residences in the area, with huge sprawling estates that offer dramatic views of the Teton range. Of course, this means elk and moose have a lot of room to roam around. You will also spot the occasional fox hunting small rodents, especially in winter.
3. Enjoy Sleigh Rides In The Country's Premier Elk Reserve
The National Elk Refuge is a national wildlife refuge in the heart of Jackson. The elk refuge is administered by the U.S. Fish and Wildlife Service, which is responsible for conserving and enhancing the nation's fish and wildlife populations and their habitats. But elk aren't the only species of wildlife you may see on the National Elk Refuge. You will spot the occasional coyote, fox, or deer, plus swans and other animals who take refuge in this large open area just north of the city. In winter, horse-drawn sleigh rides are an extremely popular activity that will let you get up close with the large herd of elk that winter in the reserve.
You can get the sleigh ride tickets at the visitors center just outside of town. Be sure to arrive there early because the rides do tend to get full very quickly, especially during holiday weekends.
4. Watch Iconic Sunrises And Sunsets In Town
If you love the mountains and nature, there is no better place to explore than Jackson. What makes this area special is that the mountains are so close and accessible, even outside of the national park. With no real foothills to block your view of the majestic granite peaks of the Teton range, it is a great place to just soak in all the beauty of nature. Be sure to take some time to observe the sunrises and sunsets in Jackson. The light bouncing off Sleeping Indian Mountain to the east makes for a beautiful picture-perfect moment.
5. Explore National Park Trails Sans Crazy Summer Visitor Traffic
Take a winter tour through nearby Yellowstone and Grand Teton national parks and enjoy the pristine Wyoming winter landscape. The interior roads of both parks are closed to visitor traffic and private cars, but you can hop on a heated snow coach for a unique park experience. These tours offer unparalleled vistas, options to see geological wonders like Old Faithful, and encounters with elk, moose, bald eagles, and many more. There are many local outfitters you can choose to book one of these tours.
6. Enjoy Miles Of Backcountry Skiing And Snowmobiling In Neighboring Bridger-Teton National Forest
There are plenty of alternatives to downhill skiing and snowboarding that offer gorgeous winter vistas and a great workout. You can snowshoe through one of Jackson Hole's many powder-covered trails or take a guided snowshoeing trip with a Grand Teton national park ranger.
Cross country skiing is another option if you are opposed to downhill skiing. In fact, most of the hiking and biking trails around Jackson are groomed for cross country skis by the city of Jackson in winter and are a free alternative to paying expensive resort fees. You can even rent snowmobiles and go into the backcountry in Bridger-Teton National Forest.
7. Explore The National Museum Of Wildlife Art
The National Museum of Wildlife Art was founded in 1987 and is a beautiful museum in Jackson Hole that is home to an impressive collection of artworks representing wild animals from around the world. The museum features work from artists such as Georgia O'Keeffe, Andy Warhol, Robert Kuhn, and John James Audubon, among others. Even the location of the museum is a work of art. It is built into a hillside that overlooks the vast expanse of the National Elk Refuge.
8. Walk Around Downtown Jackson
The downtown area in Jackson Hole is home to some really cute boutiques, restaurants, and art galleries. During winter the streets are quiet, and you can really take the time to explore the shops and chat with the locals. Everything slows down in winter, so you will get a feel for what it is like to live in a place like Jackson Hole.
9. Enjoy Great Dining Options In Jackson
Jackson hole has many great restaurants. From fine dining to cheap eats, there is something for everyone. Even if you have dietary restrictions — think vegan, vegetarian, or even gluten-free — you are bound to find something good to eat in Jackson. For a fun evening, head to Pinky G's Pizzeria, the only place in town where you can order pizza by the slice. Pinky G's is open late with live music on the weekends.
As you can see, there is a lot of variety in the kinds of things you can do in Jackson, Wyoming, especially in winter, making Jackson a great place to visit no matter the time of year.
Want to travel during a different season? Check out Jackson Hole, Wyoming in the summer: eight amazing things to do.