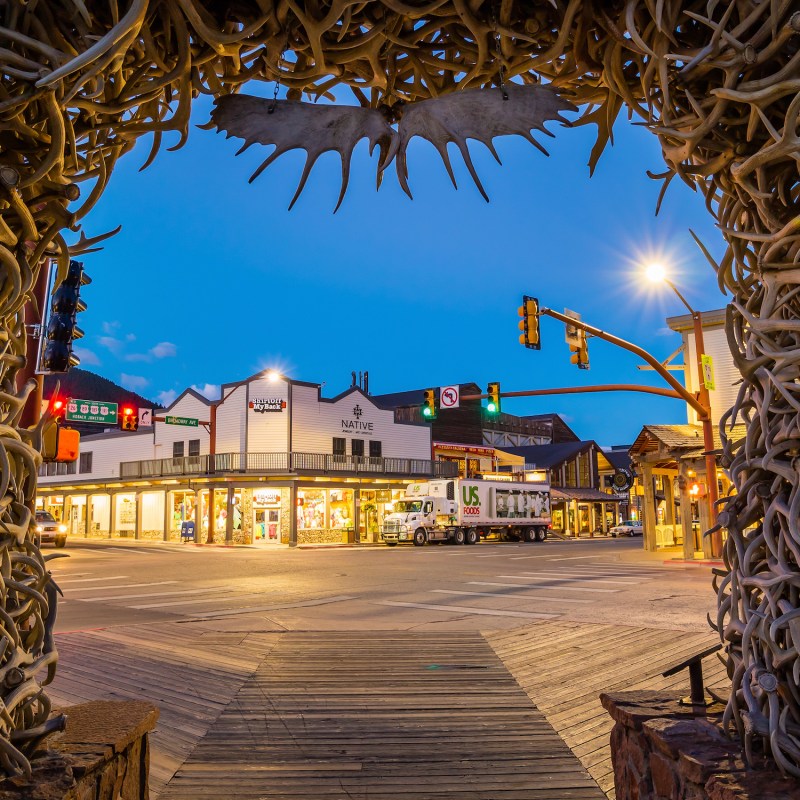 Jackson Hole Wyoming, or Jackson as it is known to many, is one of those places that epitomizes what it means to live and play in America's Wild West. A place where jagged mountains spiral to meet the sky, unparalleled landscapes delight the senses at every corner, and the mighty Snake River runs through the town, Jackson is nothing like most towns in America.
Although Jackson has only around 10,000 people who live there year-round, the tourist population that passes through Jackson during any given season warrants some classic and modern eats to satisfy any pallet and any wallet. The good thing is that you will get just that and more from the dining scene in Jackson.
No matter if you are vegan, vegetarian, an international cuisine lover, or even a hard-core meat eater, there is something for you to eat in Jackson.
1. Persephone Bakery
Persephone Bakery is a bakery that specializes in artisanal rustic bread and pastries, and this bakery is a classic in Jackson that is often visited by locals and tourists alike. With two locations in town — one downtown and one near Teton Village on Moose-Wilson Road in the Aspens — this eatery is a classic that you must try when in Jackson.
They are very busy for breakfast, especially on weekends, so don't forget to get there early or even call ahead to make reservations. Everything on the menu is fresh and delicious. Their special is their cinnamon brioche, which makes for a decadent breakfast treat or amazing mid-morning snack paired with a delicious chai tea latte.
2. Picnic Coffee And Cafe
Primarily a local joint, Picnic Coffee and Cafe is buzzing with activity first thing in the morning, especially on weekends. The cafe is located in a more commercial part of town, so it can be a little hard to find. Make sure to have your GPS handy. It is stocked with locals' favorite pastries handmade by Persephone, as well as its own versions of classic American favorites like pop tarts and whoopie pies. Their French toast with seasonal berries and super-sized avocado toast is delicious and so very filling.
3. Palate
Nothing can compare to the view that Palate patrons get to enjoy. It is located in the Museum of Wildlife Art and overlooks the National Elk Refuge. It is a perfect place to enjoy art and nature with small eats, classic fare, and some amazing wine. To take your experience up a notch, ask for patio seating, especially if you are visiting in late fall, when the aspens change color and the elk are in mating season. You'll be able to hear the sounds of male elk rutting all throughout the valley.
4. The Bunnery Bakery And Restaurant
A local favorite since 1975, The Bunnery Bakery and restaurant is a comfortable, casual dining spot located in the heart of downtown Jackson about half a block north of the town center. Their breakfast and lunch menus offer an extensive collection of hearty, delicious classics as well as unique original recipes. They also have a bakery counter that has the freshest pies, cakes, and baked goods. Here, you can get the perfect meal to fill up on for a day on the slopes in winter or hiking in Grand Teton National Park in summer. Their specialties are their trademarked granola, pancake, waffle, and oatmeal mixes, which boast unique blends you'll find nowhere else.
5. Pinky G's
Pinky G's has been voted the best pizza in the valley since opening in 2011. Its claim to fame is being featured in the popular show Diners, Drive-Ins and Dives on The Food Network. The funky decor and delicious food makes it a very popular joint no matter the season. In fact, it is also one of the first places in town to offer New York-style hand tossed pizza by the slice and is always a hit with locals and tourists alike. Pinky G's is open most nights till past midnight and on weeknights it has live music until the wee hours of the morning.
6. Million Dollar Cowboy Steakhouse
Jackson also boats some classic iconic Western cuisines that are popular with meat lovers all around the valley. The Million Dollar Cowboy Steakhouse is a modern steakhouse serving a selection of local and regional meats including dry-aged beef and bison meat. They also have seafood and some vegetarian options. The casual ambiance is perfect for a quick dinner or lunch in town before heading out to enjoy nature.
Please note, that the Million Dollar Cowboy Steakhouse is temporarily closed with plans to reopen in the spring of 2022.
7. Teton Thai, Annie's Thai, And Everest Momo Shack
Jackson has its fair share of international cuisines, thanks to places like Teton Thai, Everest Momo Shack and Annie's Thai among others. All three places are casual eateries, but the food is delicious. They get very popular during summer and tourist season, so make sure to call ahead and make reservations.
Momos are a type of Nepali dumpling and a must-try if you haven't had Nepali cuisine before. Everest Momos shack also offers traditional Indian dishes and curries for those who love a little spice in their food. Annie's Thai is a newer establishment in town, and their portions are substantial. Be advised that their food when ordered spicy is actually quite spicy. So, if you are unsure, definitely check with your waiter before ordering a spicy dish per the menu. All three restaurants have plenty of options for vegan, vegetarian, and gluten-free cuisine.
8. The Handle Bar
One of the many restaurants that is within Teton Village and Jackson Hole Mountain Resort, this American pub is owned by celebrity chef Michael Mina. Its slopeside dining makes it an ideal spot for skiers, hikers, bikers, and all those who want dinner with some of the most dramatic views in the country. The menu offers a diverse array of classic pub food as well as an extensive selection of beers and signature cocktails.
9. The Alpenhof Bistro
Another lunch, dinner, and bar establishment within Teton Village, the Alpenhof is right there on the slopes. This casual eatery is perfect for those who just want to take a break from the slopes in winter or even a quick pit stop for coffee while on the way to Grand Teton National Park. The bistro is located right next to the free shuttle buses that ply from downtown Jackson to Teton Village, so if you don't feel like driving and want to take the scenic route to lunch, dinner, or breakfast make sure to stop by the Alpenhof Bistro.
10. Vertical Harvest
Vertical Harvest is a three-story hydroponic farm located in downtown Jackson. The greenhouse grows fresh produce year-round, allowing local restaurants and grocery stores to offer the fruits of their labor. Vertical Harvest also has a retail store that offers locally sourced food and regionally crafted products. It is definitely worth a visit to observe the vertical greenhouse and sample some delicious local fare.
11. Jackson Hole Farmers Markets
A must-see and explore during the summer months, Jackson Hole's farmer's markets are fantastic opportunities to shop, eat, and sample all the deliciousness that is grown in the valley. From artisan bread and fruits to vegetables and everything else in between, the farmer's markets attract locals and tourists alike. The Jackson Hole Farmers Market is held in the town square every Saturday morning and the Jackson Hole Peoples Market is held every Wednesday at the base of Snow King, a ski resort in the heart of the town.
Jackson Hole is definitely a tourist town any time of the year. From winter sports like skiing, snowshoeing, and snowmobiling to hiking, camping, and trekking in summer, there is something to do for anyone who enjoys the great outdoors, nature, and dramatic landscapes. And while most visitors assume that it is the land of wild game like bison, elk, and deer, Jackson is also a place for artisan, health-centric, and international cuisine.
Visiting Jackson Hole, Wyoming, in the summer? Consider these eight amazing things to do.