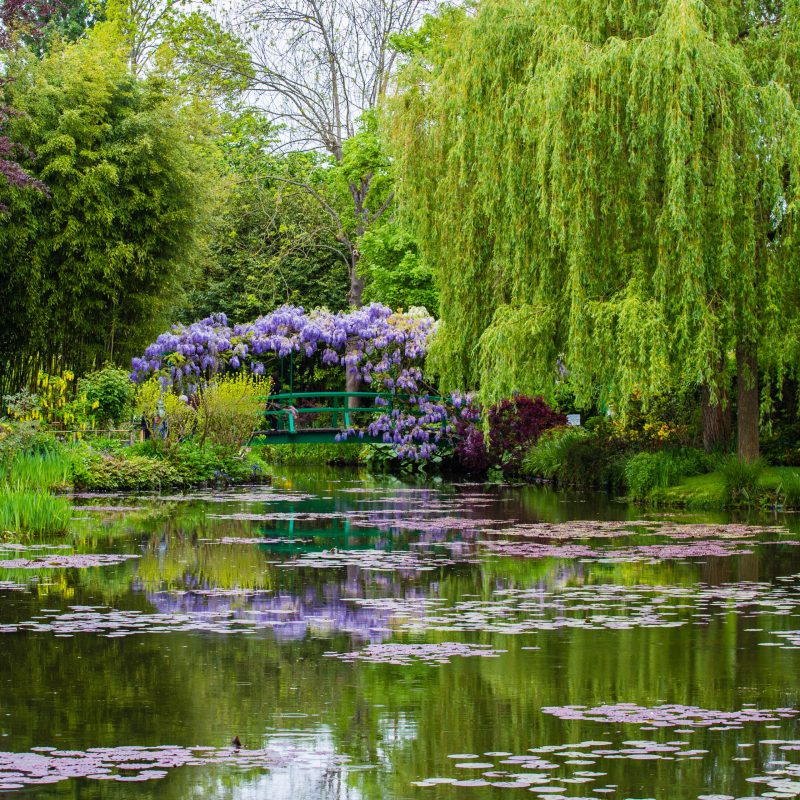 It's hard to believe there was a time when Impressionism wasn't only dismissed by the art world — it was downright mocked. What a difference a century makes! Today, Impressionism is arguably the best-known artistic era, and millions of people flock to Paris each year to see masterpieces by Renoir, Manet, Morisot, and — most famous of all — Monet.
Paris was Claude Monet's playground, but it was the nearby village of Giverny that became his beloved home. What started as a simple house and garden in 1883 was slowly built up, often by Monet himself, into one of the most spectacular gardens in France by the time of his death in 1926.
Today, the Claude Monet Foundation preserves the house and garden. Visitors to the site can enjoy two garden attractions in addition to the Monet home: the flower garden, called the Clos Normand, which surrounds the house, and the Japanese-inspired water garden that's located on the other side of the road.
Visitors can enjoy elegant and untamed fruit trees, ornamental trees, climbing roses, hollyhocks, nasturtiums, daisies, poppies, water lilies, weeping willows, and dozens of other varieties of plants and flowers, all arranged according to Monet's artistic sensibilities.
Quite simply, it's one of the most beautiful places in all of France, and it makes for an amazing day trip from Paris. Here's what you need to know before you go.
Where Is Giverny?
Giverny is 50 miles northwest of Paris in the region of Normandy.
While Giverny is an ideal day trip from Paris, it's also close to many other lovely cities and destinations. For instance, it's about halfway between Paris and Rouen, and Dieppe and Le Havre are nearby as well.
How To Get There
Take A Taxi
If you're short on time, you can take a taxi to Giverny. The price is steep — one-way fares cost about $200 — but you'll be there in about 50 minutes. If you're traveling in a quartet and want the most flexibility possible, a taxi is the way to go.
Take The Train And Bus
From Paris's Gare Saint-Lazare, you can catch the train to Vernon. There are hourly trains, the trip takes about 50 minutes, and it only costs $10 to $30. From Vernon, you can catch a shuttle bus at the station for just a few euros that takes you to Giverny. It's an environmentally sound and economical way to travel, but the journey will take more time.
Join A Tour
There are plenty of Paris tour companies that offer bus tours to Giverny. In many ways, these tours offer the best of both worlds. For a reasonable price, you get round-trip transportation on a coach bus, plus admission to Monet's Gardens, and possibly other perks. The trip is usually quicker than using the trains and buses, and the tour team will take care of all the logistics. On the downside, you'll be stuck with the schedule of the tour, and you won't get much free time.
When Is The Best Time To Visit Monet's Gardens?
The Claude Monet Foundation is open to visitors every day, including holidays, from April 1 to November 1. Visiting during the spring or autumn is ideal for avoiding the crowds and enjoying the gardens. If you do visit in the summer, however, try to arrive when the foundation opens at 9:30 a.m. to beat the crowds and the heat.
If you are a flower fanatic, you'll want to check the foundation's online flower blooming calendar before your visit.
Tickets And Tour Options
Tickets for adults and seniors cost 10.50 euros. Children and students pay 7.50 euros, while those under the age of seven can enter free of charge. There is a reduced fare for disabled visitors, who pay 6 euros. The gardens are wheelchair-accessible, but the house has many steps.
You can buy tickets online in order to skip the lines. Tickets are issued for either the morning or afternoon.
Combination tickets to the Claude Monet Foundation and the Museum of Impressionism are available for a reduced price. However, these tickets must be purchased in person at either museum or at the Vernon tourism office. There are also options to bundle these sites with other Impressionist sites in Paris, including the Musee Marmottan Monet, the Musee de l'Orangerie, and the Musee d'Orsay.
Private tours for groups can be arranged by contacting the foundation in advance. However, most visitors take the self-guided tour, and there are curators stationed throughout the house to answer questions.
What To See In Addition To The Gardens
While Giverny has become synonymous with Monet's Gardens, it offers so much more. Giverny is a village with lots of things to see and do. Plus, nearby Vernon also has attractions that many visitors overlook.
Museum Of Impressionism
Giverny's top attraction save for the Claude Monet Foundation gardens, the Museum of Impressionism houses one of Monet's famous water lily paintings. Generally open from mid-March through mid-November, the museum often closes for a week in July to change exhibits. Check the website before you go to confirm the dates. Admission is free the first Sunday of the month and otherwise costs 8.50 euros.
Eglise Sainte-Radegonde De Giverny
A must-see spot for any Monet fan, this pretty Norman church is where Monet and his family are buried. The crew of a World War II Royal Air Force bomber that crashed nearby is honored here as well.
Modern Impressionist Galleries
Monet may be the star here, but modern-day Impressionists still flock to Giverny. Claude Cambour, Florence Ramier, and Christophe Demarez are set up here on the same road as the Claude Monet Foundation.
Old Railroad Path
Giverny is separated from the town of Vernon (and the train station) by approximately 3 miles. You can easily walk the distance between the two towns by following the old railroad path. It's a relaxing walk, there's no chance of getting lost, and Vernon has just as many attractions as Giverny.
Collegiale Notre-Dame De Vernon
This Gothic church, with its beautiful stained glass windows and wooden carvings, is part of what makes a visit to Vernon so special. Admission is free, and you just need a few minutes to explore the inside.
Vernon Fine Arts Gallery And A.G. Poulain Museum
If you're in the area on a Sunday, you can visit the Vernon Fine Arts Gallery and A.G. Poulain Museum for free. Otherwise, it costs about 5 euros. In addition to an exhibition on Impressionism and the artists of Giverny, it also has a large collection of animal-themed art. Note that it's closed on Mondays.
Vernon Market
Wednesday and Saturday mornings from 8 a.m. to 1 p.m., Vernon comes to life as the Vernon Market takes place at the center of town. Vendors sell everything from fresh fruit and vegetables, local cheese, eggs, honey, and flowers to live rabbits, ducks, and chickens! It's a great way to enjoy local life in a small French community.
Want to enjoy Paris off the beaten path? Check out these hidden gems, delightful shops, surprising things to do, and lesser-known churches in the city.