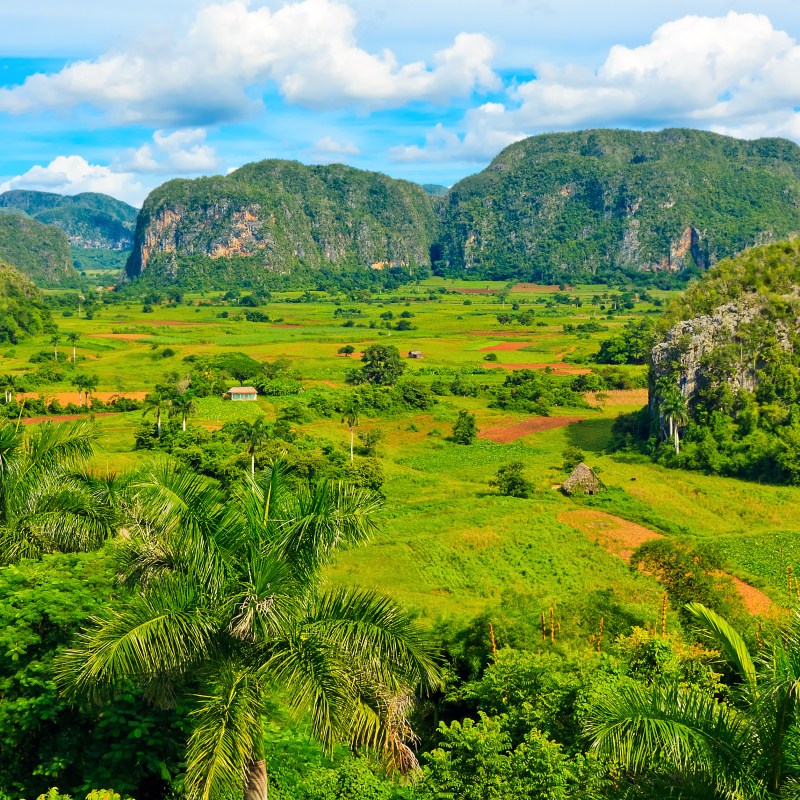 When the hustle and bustle of Havana becomes overwhelming after a few days, many travelers make their way to Vinales.
Vinales is a quaint countryside town in western Cuba situated just 2.5 hours west of Havana. This sleepy village is known for its tobacco plantations, dramatic karst landscapes, and relaxed and welcoming atmosphere. Life moves a little slower here, forcing visitors to take in the soul-enrapturing beauty around them.
Here are some of the best things to see and do on a visit to Vinales.
1. Dance To Live Cuban Music
Live Cuban music can be found on practically every street corner in Vinales's quaint downtown area, bringing this sleepy countryside town to life each night.
One of the best parts about Cuba in general is the abundance of live music on the street, and Vinales is a great place to witness this phenomenon. You're guaranteed to hear songs from Cuba's beloved ensemble Buena Vista Social Club, a group established in 1996 to revive the music of pre-revolutionary Cuba. Songs like "Chan Chan" and "Pueblo Nuevo" will have you dancing (and probably drinking) alongside Vinaleros late into the night.
While you won't have trouble running into live Cuban music on the streets of Vinales, El Vinalero is a great bar and restaurant offering live music at night (it functions as a tribunal during the day). El Vinalero is a great local hangout where delicious mojitos are sold for only 90 cents.
2. Go Horseback Riding
One of the best ways to see the countryside of Vinales is to go horseback riding.
Vinales Valley was named a UNESCO World Heritage site in 1999, and horseback riding through this dramatic landscape will undeniably be one of your best memories of Vinales. Visitors can witness traditional agricultural techniques and gaze upon the stunning karst panorama of the area.
Riding Vinales offers 5-hour and 6-hour tours that stop at some of the most spectacular spots in the valley. Tours include cave excursions and visits to local tobacco plantations for a chance to try the famed Cuban cigar.
While you can book a horseback riding excursion in advance, you can also arrange this activity through most Airbnbs in Vinales.
3. Catch A Salsa Show At Centro Cultural Polo Montanez
After my cousin and I toured Vinales Valley on horseback, we met some locals who told us to meet them that night at Centro Cultural Polo Montanez. We didn't really know what to expect, but we went anyway, and it ended up being the best nightlife experience we had in Vinales.
Centro Cultural Polo Montanez is named for the famous guajiro (country folk) sensation Polo Montanez, a Cuban singer and songwriter who gained international fame and then died tragically in a car accident in 2002.
Centro Cultural Polo Montanez offers live performances every night from 9 p.m. to 2 a.m., and admission for foreign visitors only costs $1. There are different performers each night. While I was there, a group of about 10 Afro-Cuban dancers put on a fantastic salsa show.
After the show, the stage becomes a dance floor where visitors and locals are invited to dance salsa and other Latin dance styles until closing time.
4. Visit A Tobacco Plantation
Cuban cigars are practically synonymous with Cuba itself; they're simply referred to as Cubanos. Tobacco is the main crop grown in Vinales, so it will come as no surprise that there are numerous tobacco plantations to visit during your trip.
As I mentioned before, a great way to see one of these tobacco plantations is via a horseback riding tour. Without a doubt, your Airbnb host will be able to book you a tour at any time. Each time my cousin and I wanted to do something in Vinales, we would let our host know, and she would call someone and have a tour ready for us within 15 minutes.
A visit to a tobacco plantation in Vinales offers visitors an opportunity to travel back in time to a simpler world where agriculture flourished. You'll meet a local tobacco farmer who will tell you about the process of growing tobacco plants and the ways in which they use the leaves to make Cuban cigars. Of course, you will also have the opportunity to try a cigar yourself.
Honey is another crop that's commonly produced in Vinales, since the tobacco plantations use it to seal their cigars and may even rub a small amount near the tips to prevent chapped lips.
You can usually purchase Cuban cigars at tobacco plantations to bring back home to friends and family.
5. Explore A Coffee Plantation
Another of Vinales's commonly grown crops is coffee. Coffee is consumed by most Cubans, and coffee plantations are located throughout Vinales Valley.
You can visit many coffee plantations in conjunction with the nearby tobacco plantations; they are popular stops on horseback riding tours of Vinales.
6. See The Mural Of Prehistory
One of the largest murals in the world, the Mural of Prehistory (Mural de la Prehistoria), was painted in 1961 by Leovigildo Gonzalez Morillo, who studied under the great muralist Diego Rivera.
Approximately 260 feet tall and 400 feet wide, the Mural of Prehistory depicts the life of the first inhabitants of the Cuban archipelago. The mural is part of the mountain Mogote Dos Hermanas and surrounded by unparalleled views of Vinales Valley. Goats and other local animals roam free here, adding to the unique charm of the area.
The Mural of Prehistory makes a great photo op, and you'll find a souvenir shop and a few small outdoor bars nearby. Try the excellent pina coladas!
7. Appreciate The Views At Mirador De Valle De Vinales
Views of Vinales Valley and the surrounding Sierra de los Organos can be seen at various points throughout the city, but you'll find an excellent lookout point with a stunning panoramic view at Mirador de Valle de Vinales, which is adjacent to the town's famous Hotel Horizontes Los Jazmines.
8. Cycle Around Vinales
Since Vinales is relatively small, one of the best ways to see the entirety of this charming village in a short amount of time is by renting bicycles and cycling through the town.
There are a handful of bike rental points in Vinales, with mountain bike rentals available for about $15 to $20 per day. Your Airbnb hosts can help arrange bike rentals or cycling tours.
Eating In Vinales
Downtown Vinales is teeming with delectable local cuisine, along with a variety of pizza parlors and restaurants catering to tourists.
Tres Jotas
Tres Jotas is one of the most famous restaurants in Vinales, serving hot tapas, a vast selection of wine, delicious cocktails, and an abundance of options you won't find at other local hubs.
When dining at Tres Jotas, be sure to try one of the signature dishes: slow-cooked lamb marinated in red wine.
La Dulce Vida
If you've had enough rice and beans, head to La Dulce Vida, the best Italian restaurant in Vinales. It offers delicious wood-fired pizzas and classic Italian pasta.
La Dulce Vida has a welcoming and relaxing ambience and a comfortable outdoor seating area with cushioned seats, ideal for a nightly recap and people-watching opportunities.
El Olivo
Offering vegan and vegetarian options, El Olivo is a Mediterranean-style restaurant that serves up soups, salads, grilled vegetables, vegan paella, and pasta dishes.
El Olivo is one of Vinales's few true farm-to-table restaurants, with most of its ingredients coming straight from the restaurant's farm just about 2 miles up the road.
Balcon Del Valle
A dining experience with a view, Balcon del Valle is a traditional Cuban restaurant with a three-story wooden deck overlooking the breathtaking Vinales Valley.
Balcon del Valle has friendly staff members and affordable meals, with all mains accompanied by rice, salad, fruit, and plantain chips. Be sure to try some of the restaurant's fresh fish and sit back and relax with a refreshing mojito.
Shopping In Vinales
Since Vinales is a small town, the shopping consists mostly of souvenir shops and local craft shops.
A private-enterprise market, Mercado de Artesania, sets up daily on Calle Joaquin Perez, selling a variety of Cuban-themed arts and crafts. Here you can find Che Guevara and Fidel Castro knickknacks, along with stalls selling jewelry, hats, T-shirts, and leather goods.
While you'll find the best Cuban cigars at the local tobacco plantations, Vinales is home to a famous cigar shop called El Estanco that offers top-notch Cuban cigars at affordable prices.
When strolling through downtown Vinales on Calle Salvador Cisneros, you'll find shops selling unique Cuban products, such as CDs by local musicians, locally made instruments, and, of course, Cuban rum.
Traveling To Cuba From The United States
It should be noted that there is a travel ban in place for U.S. citizens traveling to Cuba.
In 2015, President Barack Obama lifted the embargo against Cuba, allowing U.S. citizens to travel there for the first time since 1962. In June 2019, however, President Donald Trump announced new travel restrictions on visits to Cuba — you can read more about the ban here. In short, recreational and educational travel to Cuba, including cruise travel, is now prohibited.
Despite the recent ban, U.S. citizens can still visit Cuba; they simply must mark one of 12 options on their visa. The most common of these is "support for the Cuban people."
Under this form of travel, U.S. citizens are required to support only the local economy in Cuba and are prohibited from partaking in any activity or staying in any accommodation funded by the government. For example, since many resorts and hotels are funded by the Cuban government, U.S. citizens must stay in Airbnbs, known in Cuba as casas particulares.
Before heading to Cuba, I was quite worried about the recent travel ban and wondered how much it would affect my trip. Thankfully, the only time the ban was apparent was at airports in the U.S. I was required to provide my reasoning for traveling to Cuba when checking into my flight, and I was asked for my reasoning again when going through customs on my way back home.
For more information on how to visit Cuba from the U.S. in 2020, see this piece.