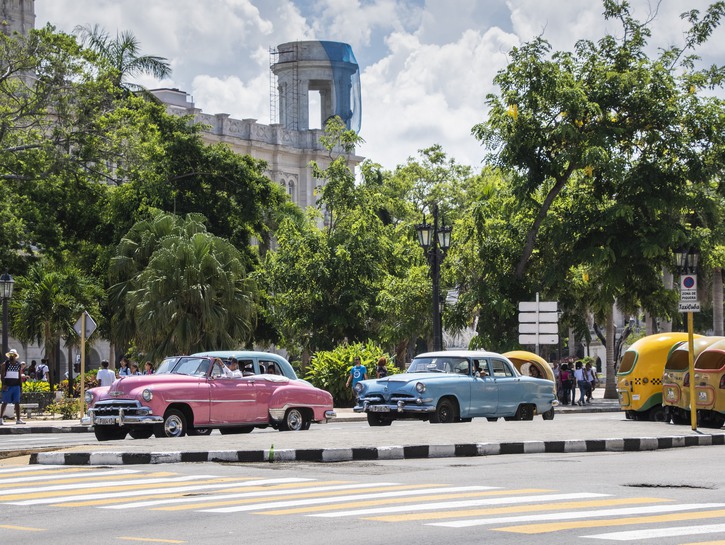 As of June 4, 2019, much of the following information is outdated due to new travel restrictions that dictate when Americans can and cannot go to Cuba. Want to know more about the ban? See our article on why it just got harder to travel to Cuba. Want to know what travel to Cuba was like before the new restrictions went into effect? Read on…
For many American travelers, a Cuban vacation is a romantic prospect. U.S. citizens haven't been able to visit the country for decades, and when President Obama relaxed regulations in 2014, thousands of tourists scrambled to plan their trips. Of course, travel regulations have changed since then, but dedicated travelers can still take a trip to Cuba — and arranging a visit to Cuba isn't necessarily difficult.
If you're considering Cuba as a travel destination (we'll avoid calling it a "vacation spot" for reasons that will become obvious in a moment), here's everything you need to know.
Do I Need A Visa To Travel To Cuba?
Let's get this out of the way: If you're American and are wondering how to visit Cuba as part of your vacation, you're out of luck…if you use that exact language on your travel license application.
While the U.S. State Department forbids Cuban tourism, the institution authorizes 12 categories of travel, including professional research, journalistic activities, family visits, religious activities, and "providing support to the Cuban people."
Most leisure travelers will fall under that last category (you can view the full list of authorized travel categories on travel.state.gov). To get a general license, you'll need to submit a travel itinerary that fulfills this requirement:
"The traveler's schedule of activities does not include free time or recreation in excess of that consistent with a full-time schedule."
In other words, you'll have to have a strict, accurate itinerary. Practically, this means that leisure travel is still possible — you'll just have to keep to a schedule, and in some cases, you'll need to submit receipts at the end of your trip to prove that you adhered to it.
Can Travelers Get To Cuba Easily In 2019?
While entry/exit requirements have changed somewhat since 2017, most U.S. travelers won't have any trouble getting through customs. We spoke with an American traveler, "Stephen" (not his real name), who visited Cuba in 2017. He said that the process was extremely easy.
"I went with a few other guys my age, and we didn't have any issue at all," he told TravelAwaits. "We hired a company to help us get the general license, and from that point on, it was like any other trip. We didn't have to submit receipts, and we had no trouble getting through customs to re-enter the United States. I'd still exercise caution, but I'd tell people: Don't worry. It's not a big deal."
We asked Stephen how his Cuban trip differed from other international travel experiences.
"Because of the 'support of the Cuban people' requirement, we made more efforts to interact with the locals than we might have otherwise," he says. "That made it a much better trip. Cubans are friendly to U.S. travelers, and they're very much willing to help you get around. Just don't talk about politics, and you'll have an easy time."
Where Exactly Is Cuba?
Geographically, Cuba is one of the United States' closest neighbors (politically, not so much). The city of Havana is 228 miles from Miami and only 105 miles from Key West. As such, flights from Florida to Cuba are often inexpensive, although rates vary considerably. In our research, we were able to find one-way weekday flights to Cuba for just over $200.
With that said, if you prefer not to fly, you've still got options.
Ferries might be available from Floridian cities like Port Everglades and Key West in the near future, although to operate, boats need approval from the Cuban government.
How To Get To Cuba By Boat Or Cruise
Non-American-owned cruise ships have been able to stop in Cuba for years, but since 2014, American cruise ships are able to sail directly to Cuba from U.S. cities. Companies like Carnival, Royal Caribbean, and Holland America all have Cuba cruise options.
Passengers on these ships still have to travel under one of the 12 authorized categories of travel. Fortunately, the cruises are organized so that passengers meet the people-to-people visa requirements.
Several years ago, that meant that tourists needed to stick with their tour groups for all excursions, but these days, most cruises offer on-board activities or planned excursions that meet the requirements for "educational and cultural experiences." You should still keep a journal of all of your experiences to show that you weren't "vacationing" (even though your trip will probably feel like a vacation).
You will need a valid passport and a tourist card when visiting Cuba via cruise ship, and it can typically be requested directly from the cruise line during the booking process. Be sure to fill out each section and keep the card in a safe place.
Traveling To Cuba By Plane
While you can't just jet off to Cuba on a whim, you can certainly travel by plane, provided that you're willing to do a little planning. First, make sure you have all the necessary documentation. You will need a valid passport with two pages available for entry/exit stamps, along with the aforementioned travel visa/tourist card, which authorizes entry.
Again, your trip must fall within the 12 authorized travel categories, and you will declare the category when applying for the travel visa. When flying directly from the U.S. to Cuba, you will buy your visa directly through the airline. This visa will be pink, not green. You won't be able to board your flight with a green visa, so be sure to use the appropriate process to obtain your documentation.
There are a handful of airlines currently flying to Cuba, most with direct flights out of Houston, Fort Lauderdale, Orlando, New York City, Miami, Charlotte, Atlanta, and Tampa.
When Is The Best Time To Visit Cuba?
Cuba has a mild subtropical climate with an average annual temperature of about 77 degrees Fahrenheit. If you've been to Southern Florida, you know what to expect, although Cuba also benefits from cooling trade winds during the warmer seasons. Note that the eastern side of the country enjoys warmer weather than the western region.
Regardless of when you're visiting, you'll enjoy fairly temperate weather, but cyclone season lasts from June 1 to November 30. Hurricanes are most likely in August, September, and October. With that in mind, if you've got a flexible travel schedule, you'll want to plan your visit between December and May.
What Is There To Do In Cuba?
First Things First
In order to travel to Cuba under a general license, you'll need a properly planned itinerary. This is an important step to make sure you stay on track to meet your travel requirements, but to also get the most out of your trip.
Here's another important note: In Cuba, you cannot use your debit or credit cards. Because of the embargo and the limited technological infrastructure, Cuban businesses aren't set up to accommodate American credit cards. The easiest solution for this is to simply use cash, but unfortunately, this isn't always straightforward.
Cuban currency isn't internationally traded, so you'll have to make the exchange once you arrive. There are two currencies used in the country, the Cuban Convertible Peso (CUC) whose value is 1:1 to the U.S. dollar, and the Cuban Peso (CUP). When you exchange your money, you'll receive CUC in return, but there are some benefits to using both currencies while in the country, and you can exchange CUC to CUP at any bank.
There is also a penalty (10 percent charge) for exchanging U.S. dollars to Cuban currencies. To avoid this, you will need to exchange whatever cash you bring into either euros, pounds, or Canadian dollars before doing the CUC exchange. And remember, you have to complete all CUC exchanges again before leaving the country.
Once you've got cash in hand, you're ready to experience Cuba. Here are a few highlights to add to your itinerary.
Explore Havana
Most U.S. travelers will spend part of their Cuban vacation — er, "support the Cuban people" trip — in Havana, and with good reason: It's the cultural center of Cuba and a wonderful place to explore.
In a sense, Havana feels like a city locked in time. The streets are lined with classic American cars, which the locals have kept running out of necessity due to the U.S. trade embargo. You'll certainly want to visit the city center, Old Havana.
There, you can check out La Cabaña or Castillo del Morro, two Spanish fortresses founded in the late 16th century. Architecture buffs will want to stop by Catedral de San Cristobal, a breathtaking cathedral constructed in 1777.
When you're ready to socialize, walk down Plaza de Armas, where Baroque buildings surround shaded gardens. You'll typically see locals (and a few of your fellow tourists) drinking, eating, and enjoying the temperate Cuban weather.
We're just scratching the surface. Plan on spending a few days in Old Havana if possible; you won't run out of sites to visit, and you'll quickly develop an appreciation for Cuba's incredible culture.
Visit Cienfuegos
Realistically, you could spend your entire vacation in Havana, but most travelers will want to make their way out of the city at some point. Located on the southern coast of Cuba, Cienfuegos has more rural charm, and its city center features a few colonial buildings that are certainly worth a visit.
More importantly, Cienfuegos offers access to Bahia de Cinefuegos, a gorgeous bay with bars, restaurants, and some of the most breathtaking views in the Western hemisphere.
In the hills above the town, you'll find El Nicho, a group of waterfalls and natural pools that's accessible via taxi. Spend a day at the park and enjoy a quick dip, but bring plenty of mosquito repellent.
Escape To Playa Girón
Havana's many museums provide an excellent insight into Cuban history, but Americans might also want to spend a day at Playa Girón, a tranquil beach located on the eastern side of the Bahía de Cochinos, which Americans know the Bay of Pigs.
Walking the beach is something of a sobering experience — it's where the CIA's botched raid nearly led to World War III.
Today, however, Playa Girón is a perfectly peaceful beach. Nearby towns cater to American and Cuban tourists, but you'll spend most of your time marveling at the gorgeous blue waters. You probably won't fight for a spot on the sand, and if you venture out to snorkel, you won't be disappointed. Just don't expect American amenities: Food and drink portions are small, and the public restrooms aren't exactly well kept.
If you're considering a Cuban trip, go ahead and start planning. While the country's unique entry requirements scare off some travelers, the extra paperwork is worth the effort. Cuban vacations are relatively inexpensive and easy to organize, and if you're excited by the idea of exploring other cultures, you certainly won't regret the investment.
*This article was updated in May 2019.
Photo Credit: Mathias Lovstrom / Unsplash