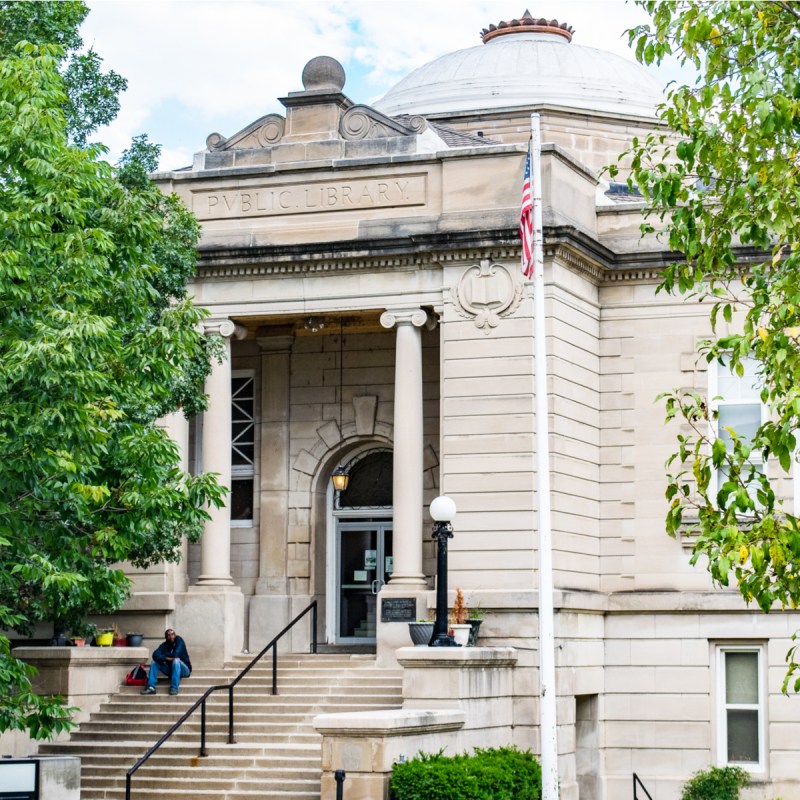 In Iowa, communities may be best known for where and what to eat. However, in Ottumwa — about a 90-minute drive southeast of Des Moines — you can expect unique attractions alongside historical restaurants. The hometown of actor Tom Arnold is also home to the American Gothic farmhouse, miles of hiking trails, and possibly the most famous loose-meat diner in the United States.
Ottumwa's tourism tagline is "Let us surprise you." You will be surprised as well as impressed when you visit. I had long wanted to visit Ottumwa and jumped at the opportunity to go as part of a trip hosted by the city's tourism bureau. All opinions are my own.
1. Tour The American Gothic Farmhouse
Located about 20 minutes from Ottumwa, Eldon, Iowa, is home to the farmhouse made famous in the 1930s painting American Gothic by Iowa artist Grant Wood. Wood, from Cedar Rapids, visited the house twice, creating a drawing of it so he could complete the painting in his studio. Also known as the Dibble House, the two-floor farmhouse was originally owned by Charles Dibble after it was completed in 1882.
The house was donated to the Iowa State Historical Society in the early 1990s and opened to the public shortly afterward. The American Gothic Farmhouse's visitors center offers a look at the history of the farmhouse as well as pop culture variations of American Gothic, including iterations with animated characters and celebrities. After touring the farmhouse, you may want to grab a costume from the visitors center and pose for your own American Gothic picture.
2. Visit Chief Wapello's Gravesite And Memorial Park
Learn about Native American history in the Ottumwa area with a visit to Chief Wapello's Gravesite and Memorial Park. The chief of the Sac and Fox Nation was buried at a spot that became known as Agency because it was where the tribe eventually was relocated by the U.S. government following the Black Hawk War. Army General Joseph M. Street, the first person to serve as an Indian agent here, is also buried nearby. The park, which is immaculately maintained, also has a marker recognizing the area's railroad history.
3. Explore Ottumwa's Downtown And Parks
With buildings dating back to the late 1800s and early 20th century, a self-guided tour of Ottumwa's three-block downtown district gives you a look at true Americana. Community leaders have worked to restore storefronts to their original facades, giving the area a more authentic look. With aged ghost signage on buildings, architecture enthusiasts will enjoy taking in sights such as the Ottumwa Theater and Fidelity Savings Bank.
While Main Street has had an overhaul to bring back the good ol' days, Canteen Alley invites you to take in contemporary art. Considered a "green" space, the alley includes interactive art pieces that help with recycling rainwater. A large water faucet sculpture also processes rainwater that drains from building roofs into the ground. Even the bricks in the one-block alleyway are permeable, allowing rainwater to easily soak into the ground. Murals highlighting the area's history adorn the sides of buildings in the alley.
Situated on the south end of downtown, the area's history from Native American tribes to the railroads and the meatpacking industry is told at the Wapello County Historical Museum. Located in a converted train depot, the museum has thousands of artifacts on display, including a small section on the television series MAS*H, whose character Radar hailed from Ottumwa.
With 16 miles of walking and bicycling trails available, outdoor enthusiasts will enjoy exploring Ottumwa. From the Chief Wapello Trail that follows the Des Moines River to camping areas, playgrounds, and splash parks, it's nearly impossible not to find an Ottumwa park you'll enjoy. Nature enthusiasts can take in bird sightings, including eagles and other seasonal raptors, near the lock and dam, just a short walk from the historic downtown area. Ottumwa is home to one of the 99 Freedom Rocks, an art project honoring Iowa veterans. Each county has one rock. Wapello County's Freedom Rock honors Tuskegee Airmen and Gold Star families.
4. Visit Antique Airfield And Airpower Museum
Fans of vintage aircraft will marvel at the exhibits located at the Airpower Museum in nearby Blakesburg. Home to the Antique Airplane Association, the museum houses a variety of classic single-engine airplanes, with some planes that are more than 80 years old. The museum is also home to a variety of exhibits, including antique propellers, engines, models, and military photos. With two mowed-grass runways, the antique airfield is a sight to see as vintage planes land. The museum is open year-round with free admission; however, organizers request that visitors leave a small donation.
5. Eating In Ottumwa, Iowa
Dine At Canteen Lunch In The Alley
Have you ever enjoyed a loose-meat sandwich? Using fresh ground beef on a hamburger bun and adding pickles, onions, ketchup, and mustard, the Canteen Lunch in the Alley creates a meal that's so popular people stand in line just to sit at the 16-person counter to enjoy a quick bite. And you must be doing something right to stay in business for more than 90 years.
Half the fun of eating at the counter is watching the staff make sandwiches; they move quickly while loudly announcing each order. Located on the same spot since 1927, the eatery has undergone a few renovations, but it's kept its Midwestern charm. The restaurant is said to have been the inspiration for a storyline on the original Roseanne television series when she and her sister opened a loose-meat diner. Diners can also place orders to go. After finishing your sandwich, you'll be tempted to order a warm slice of pie with a side of ice cream or perhaps a milkshake.
Enjoy Dinner At Appanoose Rapids
Offering an eclectic menu with items such as a bacon jam brie cheeseburger, hummus panini, and sirloin steaks with honey bourbon and rosemary sauce, Appanoose Rapids seeks to challenge your taste buds. Using fresh ingredients, the owners want to combine a global culinary experience with Midwestern values. The downtown restaurant is packed nearly every night, but the wait is minimal. Appanoose Rapids has a bar area with a variety of drinks where you can relax before dinner.
Lunch At And Check Out The Bridgeview Center
How often does a convention center invite people to have lunch or dinner? When you have Chef Bob Newell, you find a way. While the Iowa native has developed a loyal following in Ottumwa, his culinary skills are usually reserved for convention-goers and special events diners. However, he opens the Bridgeview Center to the public on occasion, offering special menus when he does. It's best to check the center's schedule for public dining.
Grab A Coffee At Top Hat
Located on Main Street, Top Hat needs to be on any coffee lover's must-visit list. The coffee is outstanding and served in a variety of styles such as lattes and espressos. Combine your drink of choice with a freshly-baked pastry, and Top Hat is an excellent breakfast spot. The coffeehouse also hosts local musical entertainment. Top Hat is a unique coffee shop in that its profits are channeled to Blessings Soup Kitchen, which offers free meals to people in need.
6. You Can Have Your Choice Of Places To Stay In Ottumwa, Iowa
More than a century old, the Hotel Ottumwa provides a comfortable stay in downtown Ottumwa. With 61 suites and guest rooms, the hotel is also home to the Tom-Tom Lounge and Second Street Cafe, where you can enjoy an impressive breakfast at reasonable prices. The hotel is centrally located downtown with the Des Moines Riverfront about three blocks away.
Ottumwa is also home to other hotels including AmericInn by Wyndham Ottumwa, Hampton Inn Ottumwa, and Holiday Inn Express and Suites.
A visit to Ottumwa packs in a lot of fun and food. As the tourism bureau says, "You'll be surprised."
Want more unparalleled Hawkeye State fun? Read up on these nine under-the-radar Iowa towns and why you should visit.