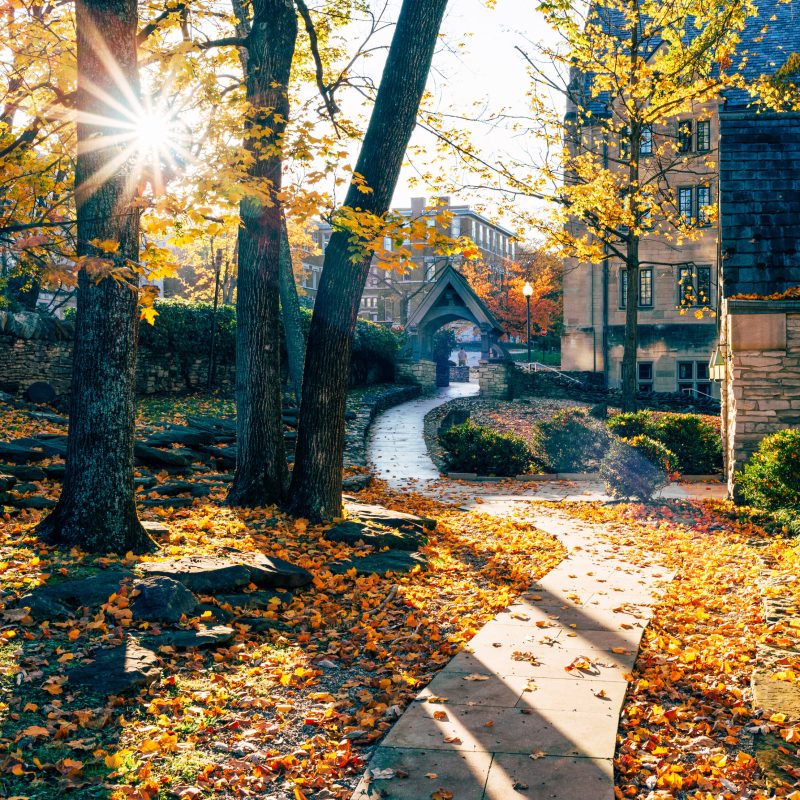 When most folks think of visiting Indiana on a weekend trip, they envision the Indy 500 and historic sites like Abraham Lincoln's childhood home. But the state is also home to a delightful destination you've likely never visited before: Bloomington, Indiana.
This city of 85,000 people welcomes visitors with small-town American hospitality while providing plenty of opportunities to shop, enjoy the outdoors, and try some of the finest cuisine from around the world. You can visit wineries, purchase handmade goods, and explore the culture of Mongolia and Tibet all in a single weekend in this beautiful town.
Here are some of the best things to do during a weekend in Bloomington.
Try Experimental Wines At Oliver Winery & Vineyards
Oliver Winery & Vineyards has been a top-rated winery in the United States since 2017. It's also Indiana's oldest winery and one of the largest wineries in the country. You'll find an extensive but approachable wine list in the beautiful tasting room situated on Interstate 69 about 10 miles out of town.
While you're there, sip an Oliver cabernet sauvignon or sauvignon blanc, try the semisweet cherry moscato, taste the estate-bottled vintage from Oliver's Creekbend Vineyard, or sample the latest pilot project experimental wine.
The property and buildings are beautiful, so you'll want to spend at least 2 or 3 hours at the winery, or longer if you want to enjoy a production tour (offered Friday through Sunday) or some live music. The tasting room is open Monday through Saturday from 10 a.m. to 6 p.m. and Sundays from noon to 6 p.m.
Shop And Play At Monroe Lake
If you love the outdoors, head to Monroe Lake during your weekend in Bloomington. The park is a part of the Indiana State Parks system and covers nearly 25,000 acres, with more than a third of that consisting of the lake. Monroe Lake is the largest in the state and is great for bass fishing, so be sure to bring along your fishing gear.
The park is also home to nine recreation areas, three wildlife resting areas, a campground, swimming beaches, marinas, a general store, restaurants, and an activity center, along with a few other amenities. There's even a hotel-resort there for those looking for a cozy place to stay the night.
With so many things to see and do, you could easily make a full day of your visit to Monroe Lake. If you don't have a day, you could always spend a morning or afternoon swimming, picnicking, or exploring the park.
Experience The Far East At The Tibetan Mongolian Buddhist Cultural Center
Bloomington prides itself on the diversity of its culture, so it's no wonder that the Tibetan Mongolian Buddhist Cultural Center is one of the most popular destinations within the city for travelers and townies alike.
A friendly tour guide will walk you through the center, offering a deeper look at the history of the buildings and at Tibetan and Mongolian culture in the U.S. The preservation of this culture among the Tibetan exile communities and the Mongolians of Kalmykia, Buryatia, and Tuvia living in the U.S. is one of the main purposes of the center. The Dalai Lama has been involved in the center through his representatives, and he has visited in person several times since the center's founding.
The beautiful artwork is central to an experience at the cultural center. The collections include Tibetan butter sculptures and paintings of Buddhas, bodhisattvas, and Tibetan historical figures. The cultural center is also home to a library of Tibetan works and a gift shop where visitors can purchase items crafted by Mongolians and Tibetans.
If you wish, you can register for events such as yoga, teachings, lectures, and recitations.
Catch A Show At The Buskirk-Chumley Theater
The Indiana Theater (now called the Buskirk-Chumley Theater) in downtown Bloomington has been around since 1922. The luxurious theater was built to draw crowds looking for a high-class evening out that anyone could afford. The venue hosted Hoagy Carmichael, who wrote Georgia on My Mind, and made history in the 1940s when it invited African-American football players to sit anywhere in the theater.
The Buskirk-Chumley offers a range of events and activities for all ages, from the Bloomington Playwrights Project Playoffs (in which artists have 24 hours to develop and rehearse a script) to the season's full-fledged plays. If classic films like Star Wars and Rudy are more your speed, you'll also find these playing on the regular. There's something going on here nearly every day of the year. Check the calendar for times and events.
Eating In Bloomington
Bloomington offers a world of fine food from a variety of international destinations. In fact, the restaurants here are so diverse that the city's dining slogan is "Bloomington: A World of Food." The cultures represented here may surprise you, but the food can only delight.
Samira's Restaurant
The number-one Bloomington restaurant on TripAdvisor, Samira's Restaurant is one of the many eateries you'll want to experience on your visit to Bloomington.
The unique restaurant combines Mediterranean, Afghan, and Middle Eastern ingredients in its dishes. It offers rich and spicy vegan-friendly choices such as Vegetarian Manto and Samarok Lawang. It also sells delicious lamb kebabs, tajine, and meaty manto filled with ground beef and veggies.
The restaurant is decorated with rich Middle Eastern tapestries and warm candlelight for cozy dining indoors, but it also offers casual outdoor seating in the warm-weather months.
Mother Bear's Pizza
Another popular spot in Bloomington offers some good old American cuisine: pizza. Owners Ray McConn and Bruce Storm founded Mother Bear's Pizza in 1973. By 1979, the restaurant was earning titles like "best pizza in Bloomington" and "one of America's top nine pizzas." The accolades haven't stopped coming since then.
Of course, what you're coming for is the award-winning pizza, but the warmth of the staff and space are so inviting that you'll want to stay for a while, chatting with friends or grabbing some drinks.
As for the food, you can choose a delicious pizza like the Spinoccoli, a cheesy vegetable medley of flavors, or the Cosmo, with sausage and vodka sauce, bacon, and portobello mushrooms. You could also make your own pizza from a wide variety of toppings.
Darn Good Soup
If you prefer healthier options, stop by Darn Good Soup. The restaurant offers an array of soups — helpfully listed on the website so that you can decide ahead of time — that includes several gluten-free and vegan options.
The food here lives up to its name. Rave reviews from customers mention the chicken tortilla soup more often than most, but the gazpacho, borscht, Italian wedding, yellow squash, shrimp bisque, and twice-baked potato soups are all to-die-for options when you need a zesty, delicious dish.
The colorful atmosphere and vintage entryway make lunch here a pleasurable experience all around.
Shopping In Bloomington
Shopping in Bloomington, much like eating in Bloomington, is a unique, multicultural experience. Some of the best options include locally sourced food and handmade goods, while others bring the world to you through fair trade products by artisans with intriguing stories.
Bloomington Community Farmers Market
The top-rated shopping destination in Bloomington is the Bloomington Community Farmers Market. Tourists and locals alike love the market for its locally grown produce, baked goods, coffee selections, locally made sausages, herbs, spices, flowers, honey, and more. You'll even spot some artists and street performers.
Be sure to bring some cash, since many of the vendors don't take credit cards. The market is open every Saturday, rain or shine, from April through November, and every Tuesday from June through September.
Cherry Canary Vintage
What's a weekend without a little clothes shopping — or even better, vintage clothes shopping? Cherry Canary Vintage offers a wide range of fun, vintage trinkets; funky clothing for men and women; accessories; and kitschy houseware items like planters, glassware, and pendant lights.
Walking into the shop will take you back in time. You'll spot goodies from childhood, Halloween costumes, and other interesting items you'd only find in a vintage store like this one.
Landlocked Music
If you love vinyl, you'll want to head to Landlocked Music. Landlocked sells records from all genres — along with CDs, tapes, DVDs, turntables, and old magazines — that you'll enjoy browsing for a few minutes or several hours.
Landlocked has become an institution in downtown Bloomington over the years, and it sells LPs and music by local artists.
Global Gifts
Fair trade shopping is what you'll find at Global Gifts. The shop's mission is to serve impoverished artisans in the developing world by providing fair income and employment. It does this by selling beautiful wares that have been sourced ethically. The shop's handmade products include everything from scarves and blankets to holiday ornaments and musical instruments.
The products come from more than 40 countries, and a small staff and group of volunteers help the mission succeed. You'll find a wide range of gifts (or goodies for yourself!) here and make a difference in the world as you shop.
Gather Handmade Shoppe And Co.
Lovely handmade goods are the focus at Gather, a locally owned shop in the historic Redmen Building on the town square of Bloomington. The owner, Talia Halliday, and her small staff of artistic women welcome you with warm smiles and interesting stories about the works you'll see here.
At Gather, you'll find toys, jewelry, contemporary art, bath and body products, illustrations, woodworking, and crocheted and knitted goods. If you're lucky, you'll arrive in time for a workshop or class given by one of the local artists.
Planning a trip to Indiana? Check out these 8 great things to do in Indianapolis.