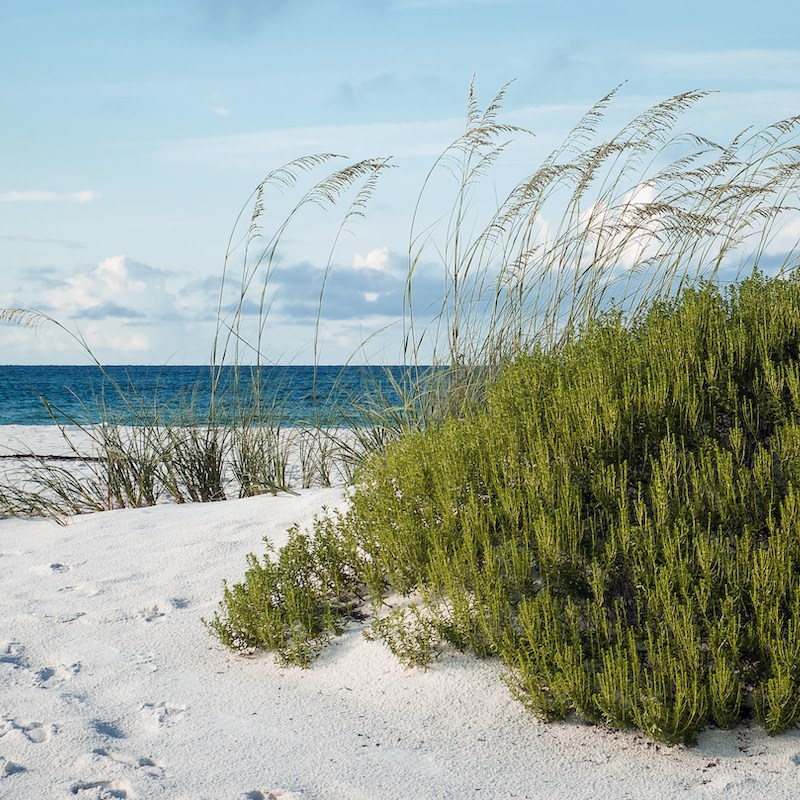 The idyllic getaway of Rosemary Beach, Florida, is on the cusp of becoming one of America's favorite new vacation destinations. And with its family-friendly vibes, charming architecture, golf courses galore, excellent coastal cuisine, and that sugar sand beach, it's easy to see why.
Read on for the reasons you should make Rosemary Beach, Florida, and the South Walton beach area your next getaway location. This quaint little town is the least Florida place in Florida.
Best Things To Do in Rosemary Beach, Florida
1. Walkable And Bikeable
Perhaps my favorite part of my recent weeklong jaunt to this area was how I didn't have to get in the car one time the entire trip (except to get to the airport). We rented bikes and were able to find great restaurants, bars, and attractions within biking distance.
Some were even close enough to walk. Almost every day, we'd take a bike ride as a family to explore the pretty neighborhoods and impressive seaside homes. There are numerous biking paths all over, but we used one adjacent to the famed Scenic Highway 30A the most.
2. Perfect For A Multigenerational Trip
Rosemary Beach is super family-friendly. There are tons of activities around for kids. Nearby state parks are fun for the whole family. Plus, the water deepens so gradually that you can walk out really far and it's still shallow; that made it way more fun to swim and splash or do water sports with my niece and nephews.
Additionally, the aforementioned biking options meant we could take family bike rides together. Most of the area's restaurants offer kids' menu options and also open early enough for kid-friendly dinner time. Of course, there is the Havana Beach Bar if you're looking for an entirely 21+ crowd.
Beautiful rentals — not hotels — make it even more fun to share a large beach house together – most of which can hold a beach bonfire. Ours was located in the perfect spot right between Rosemary Beach and Alys Beach, two of the loveliest communities in the region. We also had a day trip to Panama City Beach which is just 15 miles away but the rentals there seem to be a little more expensive.
Pro Tip: If you do opt to stay in a hotel room, The Pearl Hotel is a South Walton gem.
3. White Sand Beaches
The beautiful beaches on this stretch of Florida's Gulf Coast, including Panama City Beach and Rosemary Beach, are made of clear quartz. They are luxuriously soft and even squeak when you walk on them. Additionally, there are some pretty sand dunes in the area to explore, too. As an added bonus, the beaches stay nice because most pets aren't allowed on the beach unless an area homeowner has a special permit. If the weather permits definitely aim for a nice beach bonfire.
4. Easy To Get To
On my recent trip, we had family members coming from Lincoln and Omaha, Nebraska; St. Louis, Missouri; and Austin and Houston, Texas. It was a breeze to get to Rosemary Beach even with all of us coming from those different places. That's because there are two airports that are easily accessible from South Walton. Panama City airport is roughly half an hour away, while Pensacola is less than 2 hours from Rosemary Beach.
There are also numerous large metropolitan areas within driving distance. Atlanta is just over 5 hours away by car while Nashville is 7 hours from the beach. Both New Orleans and Birmingham are about a 4-hour journey.
5. Close To Other Charming Beach Communities
While the charming town of Rosemary Beach itself has enough to keep visitors busy, it's also super close to a number of other cute beachy villages so be sure to pack your beach chairs and enjoy sunbathing and swimming by day and a cozy atmosphere around a beach bonfire by night.
One of my favorite excursions of the week was heading to Seaside, famous for being the setting and film location of The Truman Show. Their Saturday farmers market was a lively, exciting spot, and I loved walking around exploring local vendors and produce.
All in all, the South Walton beaches consist of numerous posh beach towns between Destin and Panama City Beach. They include (from east to west) Inlet Beach, Rosemary Beach, Alys Beach, Seacrest, Water Sound Beach, Seagrove Beach, Seaside, Water Color, Grayton Beach, Blue Mountain Beach, Santa Rosa Beach, Dune Allen, Sandestin, Miramar Beach, and Seascape. The name comes from the name of the county, South Walton.
6. Championship Golf Courses Nearby
With warm weather all year long, Florida is the perfect backdrop for a vacation with a golf element. My husband and his cousins loved driving an hour or less to try out different courses during our week in Rosemary Beach. Both public and private course options abound, so any level of golfer from beginner to pro can find a course that fits. My hubby liked both the Signal Hill Golf Course in Panama City Beach as well as the Emerald Bay Golf Club in Destin.
7. Located On 30A
Until my trip, I hadn't heard of the famous coastal highway 30A. Known as Scenic Highway 30A, this two-lane road hugs Florida's Gulf Coast and is widely considered one of the prettiest drives in the U.S. Coincidentally, 30A is also a lifestyle brand that embraces this happy, beachy approach and was inspired by the highway's beachside communities. Travelers who want to pick up some of the cute clothes and other wares from the 30A brand can get them all around the area.
I recommend doing your 30A shopping at Amavida Coffee. The brand truly represents the feeling you get with the wind in your hair, the sand under your feet, and all those gorgeous ocean views. While you're in the town center, browse the rest of the upscale boutiques in the area.
8. No High-Rise Buildings
Boardwalks, cobblestone streets, fountains, and gas lamps make the area so charming, but so does the fact that there aren't giant buildings all over the place. Instead, Rosemary Beach is dotted with carriage houses and cottages. This is on purpose — a reflection of the New Urbanism school of thought for development/planning.
In fact, structures of over 50 feet or roughly four stories high aren't allowed in the South Walton beaches area. The few that do exist were built before this ban was put in place. This also helps with population density. The beaches never feel too crowded. There simply aren't that many people staying right in the area.
It's easy to see that there's something special about this stretch of Florida's Gulf Coast. The South Walton beaches between Destin and Panama City are the perfect spot for a family getaway, foodie adventure, and relaxing beach vacation all rolled into one.
Add Rosemary Beach, Florida, to your list for getaways ASAP. You won't regret it. And do it soon, because for now, Rosemary Beach is popular but not oversaturated and still has a bit of an undiscovered vibe.
9. Excellent Culinary Scene
It's no surprise that the treasures of the Gulf, like fresh seafood, shine in these beachside communities. But there are lots of other dining gems as well.
Restaurant Paradis
Paradis stands as the epitome of elegance, setting itself apart as the most upscale spot on our list. While the prices lean towards the higher end, the impeccable dining experience justifies every penny.
The romantic ambiance and sophisticated fare make it a prime choice for special celebrations, be it birthdays or anniversaries. Its popularity is well-earned, reflected in the glowing reviews it receives. Remember to secure reservations well in advance, as the intimate dining room tends to fill up quickly.

Paradis takes pride in sourcing locally grown produce and fresh Gulf catches, ensuring a dynamic menu that evolves with the changing seasons. Their Oysters Rockefeller appetizer is a definite highlight, featuring a delightful combination of creamed spinach, apple-smoked bacon, smoked cheddar, and a zesty blood orange beurre blanc.
The Lobster Encrusted Grouper entree, served alongside orzo and Brussels sprouts, is a delightful treat, as is the Gulf Coast Snapper served with a crispy skin.
Known for its skilled bartenders, exceptional cocktails, and impressive wine selection, the drinks menu at Paradis is an experience in itself that you won't want to miss!
Pescado Seafood Grill & Rooftop Bar
Pescado Seafood Grill & Rooftop Bar in Rosemary Beach is adored for its relaxed yet refined dining experience, adorned in coastal hues. The service is top-notch, and the rooftop bar offers breathtaking views of the Gulf of Mexico. Don't miss out on their famous paella, like the hearty Paella Valenciana boasting a medley of flavors from clams, mussels, chicken thighs, shrimp, Spanish sausage, and calasparra rice.
For a meaty indulgence, savor their succulent 48 oz. porterhouse infused with rosemary, garlic, and thyme. The tapas selection is a must-try, featuring delights such as spiced lollipop lamb chops, pan-roasted pork belly, and pan-seared diver scallops with creamy Mexican street corn salad.
Pescado Seafood Grill & Rooftop Bar Sunday Brunch is equally tempting. Dive into their challah French toast with a delightful graham cracker crust, poached pear, and amaretto mascarpone. If savory is your preference, the duck confit with hash root vegetable promises a satisfying twist.
Make sure to explore Pescado Seafood Grill & Rooftop Bar creative range of comfort classics, like the chicken and waffles and grilled cheese—with a delightful addition of lobster. Delish!
Amavida Coffee And Tea
Coffee connoisseurs will appreciate the local artisan Amavida Coffee and Tea; be sure to get their unreal fancy chocolate with Hawaiian sea salt. You can feel extra good about it, too, since Amavida is a certified B Corp that balances purpose and profit.
Edward's Fine Food And Wine
Edward's Fine Food and Wine has an impressive wine list and offers an upscale experience; on our trip, one night just the adults went out to eat here. My scallops were some of the best I've ever had. The crispy Brussels appetizer was another show-stopper.
Grayton Beer Company
Beer enthusiasts will rejoice in the area's celebrated microbrewery, Grayton Beer Company; my hubby enjoyed his American lager all week long.
George's At Alys Beach
Another great, slightly upscale spot we tried was George's at Alys Beach. If you can, sit outside on the perfectly breezy patio to enjoy the coastal cuisine with Southern flair. Menu favorites were the crab etouffee arancini, ABC salad (avocado, beet, citrus), and the spicy salt and pepper shrimp.
The Summer Kitchen Cafe
Another favorite was our regular lunchtime spot, The Summer Kitchen Cafe, in the heart of Rosemary Beach. Their veggie burger was excellent, but they're known for creative coastal cuisine. This spot is actually the oldest eatery in Rosemary Beach.
If you're ready to book your Rosemary Beach getaway, here are some popular beach vacation rentals:
Dreaming of Inlet Beach – your dream vacation awaits you
Top guest reviews
The cutest place to stay, the beach was very clean and quiet. Property was close to everything. Will be staying again!
We loved the condo just a perfect space for two people. Loved location. You can walk to shops at Rosemary, but on outskirts of the traffic of Rosemary. Also very easy to access beach. That was a huge plus. Used the pool a few times after walking back from the beach. We would definitely return if we come back to this area.
My family and I loved the condo and had a great stay! It was clean, updated and had everything you would need.It's across the street from the beach and has a beautiful view of the ocean. We also walked and biked to Rosemary Beach and all its conveniences. The pool was nice but note that it is not heated so it was quite chilly this time of year. Chris from Kismet was great to work with and quick at answering any questions. My only criticism is the early check out is 9:30am, which I wished was a bit longer. Other than that, we'd definitely be back!
Fantastic View from a Beautiful Condo! The location was perfect-easy access to everything.
This property is in very close walking distance to the beach, just walk over the boardwalk and you are there! Loved sitting on the deck in the mornings and able to look directly at the beach. The space is neat and clean and perfect for a couple or family, the built-in bunk beds were a huge hit! Very close to the best shops and restaurants. Cannot wait to return!
Read Less ∧
Read More ∨
Dreaming of Rosemary Beach – your dream vacation awaits you
Top guest reviews
Great location! Loved the bikes!
Positives. Incredible beach front view! We absolutely loved seeing the water and it gave us room to breathe in the tight Rosemary Beach community. And the girls LOVED the loft sleeping area. We slept so well, hearing the ocean and our access to the beach was wonderful.Negatives. Furnishings were tired and there was old bacon under one of the beds (we know because we had to fix one of the beds.). The kitchen is fine if you are not planning on cooking very much. But the restaurants were all booked into April OR you could wait for an hour and a half with no reservation. That said, we were there during spring break so it was a zoo.BUT, the Rosemary Beach property management was wonderful and brought items that were not in the kitchen (lids, dish towels, colander) so we were able to work with it. The Rosemary Beach architecture is beautiful but really too packed in for us so I doubt we will return. But, if you enjoy that community, this house would be great-just realize it is not one of the ones that has been updated!
Read Less ∧
Read More ∨
For more information about Rosemary Beach and beaches nearby, check out:
FAQs
What is Rosemary Beach FL known for?
Rosemary Beach is known for its Charming architecture & upscale dining. Voted as one of "America's Most Romantic Small Towns" by CNN, Rosemary Beach will enchant visitors wandering its winding paths and cobblestone streets, or dining al fresco in its welcoming patios and courtyards.
When Should I Go To Rosemary Beach?
Springtime is the perfect season to visit Rosemary Beach, Florida. With schools still in session and the busy season yet to take off, you can enjoy quiet beaches and amazing weather on your vacation.
Can You Swim at Rosemary Beach?
Yes, you can swim at Rosemary Beach. The ocean is usually very calm and perfect for swimming, surfing, or paddleboarding. You will definitely enjoy the beautiful white sand and perfectly clear blue water.
Is Rosemary Beach Expensive To Visit?
Rosemary Beach is on the expensive side and warrants visitors to spend a pretty penny. In its own secluded area on the Florida Panhandle, anything from dinners to accommodations to even ice cream will run you more than you'd think.