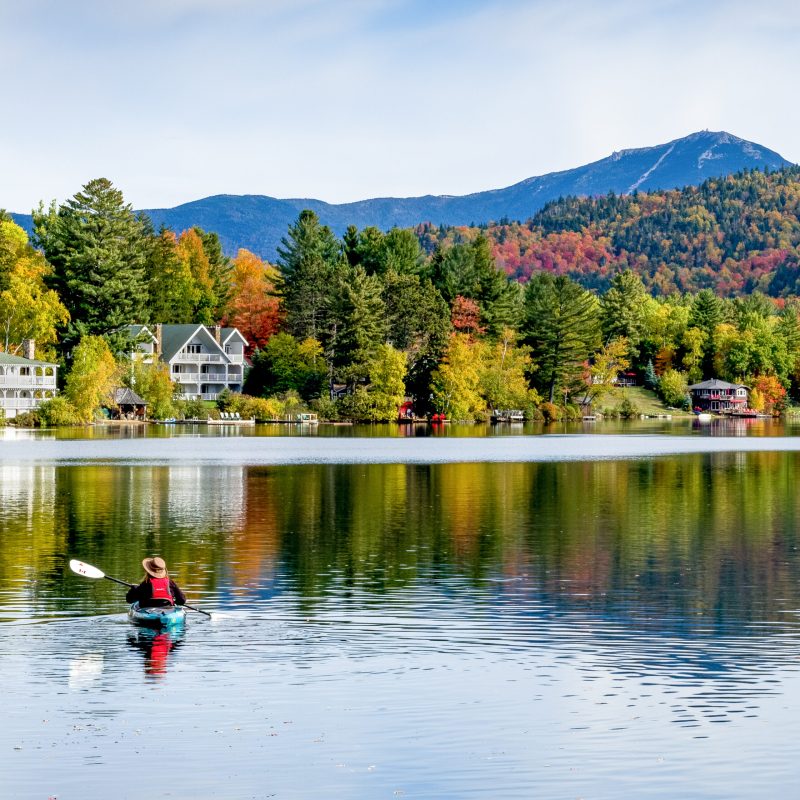 Lake Placid, New York, is a tiny town (about 3,000 people live there) with a massive reputation. The town hosted the 1932 and 1980 Winter Olympics and is home to a world-class training center. Locals like to boast that at least one resident of the town qualifies for the Olympics each time the event is held.
The area is famous for its natural beauty and winter sports opportunities. Even at the recreational level, however, I'm still too much of a wimp to tackle downhill skiing, speed skating, or bobsledding (though I tip my hat to those who do). I need to enjoy winter — and all seasons — at my own pace!
Thankfully, there's plenty to do in Lake Placid even if you're not into extreme winter sports. The area makes for an incredible weekend getaway. Here's what I recommend.
Give Snowshoeing A Try
I have a confession to make. I was terrified to try snowshoeing for the first time. Let's just say that I'm not especially graceful at the best of times, let alone on snow.
But Lake Placid is the perfect place to give snowshoeing a go. There are trails for every level of confidence and ability. No matter how much of a beginner you are, you'll still be relaxed enough to enjoy the great outdoors. I am ridiculously lacking in confidence for most athletic ventures, but even I found snowshoeing to be fun and, if not entirely easy, very intuitive.
If you're heading to Lake Placid for the first time, here are some trails to check out (and most double as pretty hiking trails in the summer).
High Falls Gorge
In nearby Wilmington, New York, High Falls Gorge has family-friendly and beginner trails plus an impressive waterfall that's even more striking when it's frozen.
Little Crow To Big Crow
Little Crow to Big Crow is great for those with intermediate experience looking to up their fitness level. This route is 3.2 miles round trip.
Allen Mountain
More physically demanding, and not for novices, Allen Mountain is a challenging 18-mile round trip.
Get Your Thrills At The Lake Placid Toboggan Chute
Lake Placid isn't your average winter town, and this isn't your average sledding hill.
For decades, the Lake Placid Toboggan Chute has offered thrilling toboggan rides from the top of a converted ski-jump trestle dating to the 1932 Winter Olympics. Today, the steps and rails are more comfortable to climb thanks to a recent renovation. I believe its actual height is about 30 feet, but let's just call it super high!
Riders pile onto an old-fashioned wooden toboggan and head down an icy chute onto the frozen surface of Mirror Lake. Depending on weather conditions, some toboggans travel more than 1,000 feet across the surface of the lake.
Note that the opening and closing dates of this activity vary based on weather conditions.
Cuddle With Some Sled Dogs
Going on a dogsled ride is exhilarating, yet remarkably not scary for timid travelers. That's because the happy, playful dogs are in charge, and they know the paths and routes inside out. All you have to do is sit back and enjoy the ride! The speed and turns were occasionally a bit nerve-racking, but my comfort level remained firmly intact, since I was still on solid ground.
There are multiple dogsled tour operators in Lake Placid, and all adventures include cuddles with the sweet pups who pull the sled. Thankfully, this is one winter activity that has a bit of flexibility — a huge amount of snow and sub-zero temperatures aren't necessary to make it happen.
Go For A Sleigh Ride
Look out, dogs — there's another sled in town! Or sleigh, rather. There's nothing so nice as being bundled up on the back of a sleigh, heading out for a gentle ride over the snow-covered trails, before finishing up with some hot chocolate.
Country Dreams Farm offers beautifully scenic sleigh rides through the snow that are cozy and snug, ideal for both couples and families. If you can, time your ride for dusk to enjoy the changing colors of the sky and snow.
During the summer months, Country Dreams offers a petting zoo and farm visits for children, and in the fall, you can enjoy a pumpkin patch and corn maze.
Go Wild At The Wild Center
Technically, The Wild Center isn't in Lake Placid, but it's worth the 40-minute drive to nearby Tupper Lake, New York.
The Wild Center, which I was fortunate enough to visit for the first time during a press trip several years ago, is an indoor and outdoor experience that brings visitors closer to nature in unexpected ways. Imagine playing in a giant spiderweb made of ropes or exploring a treehouse that's also an eagle's nest. The Wild Walk is a walking platform at the level of the treetops, and there are ample hiking trails on the ground as well. Words don't do it justice — you absolutely need to experience this for yourself.
Note that hours and activities are limited in winter. I'd recommend this as an activity for late spring, summer, or early fall.
Enjoy The Saranac Lake Winter Carnival
If you're going to take part in a winter carnival, make it the one that's been operating since 1897! Starting the first weekend in February, the Saranac Lake Winter Carnival is a 10-day festival that includes arts events, concerts, public skating, curling, a fun run, and more. There are also plenty of opportunities to grab great food. It's just a few minutes from Lake Placid and is one of the most popular winter activities in the region.
Eating In Lake Placid
The Lake Placid food scene is cozy and highly social. You can expect large portions of American comfort food and a focus on local beer.
To enjoy local produce, visit the Lake Placid Farmers Market, which runs on Wednesdays from mid-June through mid-October.
Here are some of my favorite places to eat in the area.
Dancing Bears Restaurant
A snug, sociable space, Dancing Bears Restaurant is heavy on comfort food and offers dishes like burgers and fries, roast turkey with apple cider gravy, and fresh local trout. I still remember the brownie-style mug cake topped with ice cream and whipped cream fondly.
Lake Placid Pub & Brewery
Lake Placid Pub & Brewery is another lively destination that's perfect for beers and bragging with friends after a day of outdoor adventure. The menu offers classic pub grub (the deep-fried pickles are a popular choice) and in-house brews, including porter stouts, IPAs, and English-style ales.
The Breakfast Club, Etc.
There's nothing like an all-day breakfast spot, and The Breakfast Club, Etc. does a mighty fine job serving up eggs Benedict variations, waffles, French toast, different incarnations of potatoes, and — best of all — Bloody Marys, complete with homemade mixers. My choice — a skillet with apples, sausage, and Brie — was a delicious combination that sent me over the moon.
The Cabin Grill
Located in the Hotel North Woods, the Cabin Grill is another great Lake Placid breakfast option. There's a good selection of yogurt- and granola-based choices, bacon and egg platters, and omelets. There are several tempting vegetarian options, too.
You can also pick up your local New York maple syrup from the staff. The Cornell Maple Program operates out of Lake Placid and is part of Cornell University's cooperative extension program that focuses on community development, making this maple syrup sweet in more ways than one.
Shopping In Lake Placid
Main Street is positively packed with souvenir shops, and you can easily find Olympic-themed knickknacks, cute home decor items, and outdoor gear there.
Keep an eye out for a copy of A Lady in the Lake by George Christian Ortloff. It's a compelling account of Lake Placid's most famous mystery.
Here are some of the area's best shopping stops.
The Adirondack Popcorn Co.
Offering the most delicious popcorn I've ever tried, The Adirondack Popcorn Co. is the perfect place to indulge all your savory and sweet cravings. My personal favorite is Moose Crunch, which combines popcorn, chocolate, peanut butter, nuts, and pretzels.
Saratoga Olive Oil
I fell head over heels in love with this delicious shop, which allows generous samples and tastings of dozens of different olive oils and balsamic vinegars. Persian lime, blood orange, harissa, and black peppercorn are just some of the olive oil flavors, while the vinegar selections include apricot, black cherry, cinnamon pear, and lavender.
Where'd You Get That Hat?
One of the more unique shops in Lake Placid, Where'd You Get That Hat? is a must-visit spot for headgear connoisseurs, along with anyone who enjoys spending time outdoors and is always searching for the right kind of hat. It's fun, funky, and a bit of a local institution — chances are more than a few people will recommend that you visit.