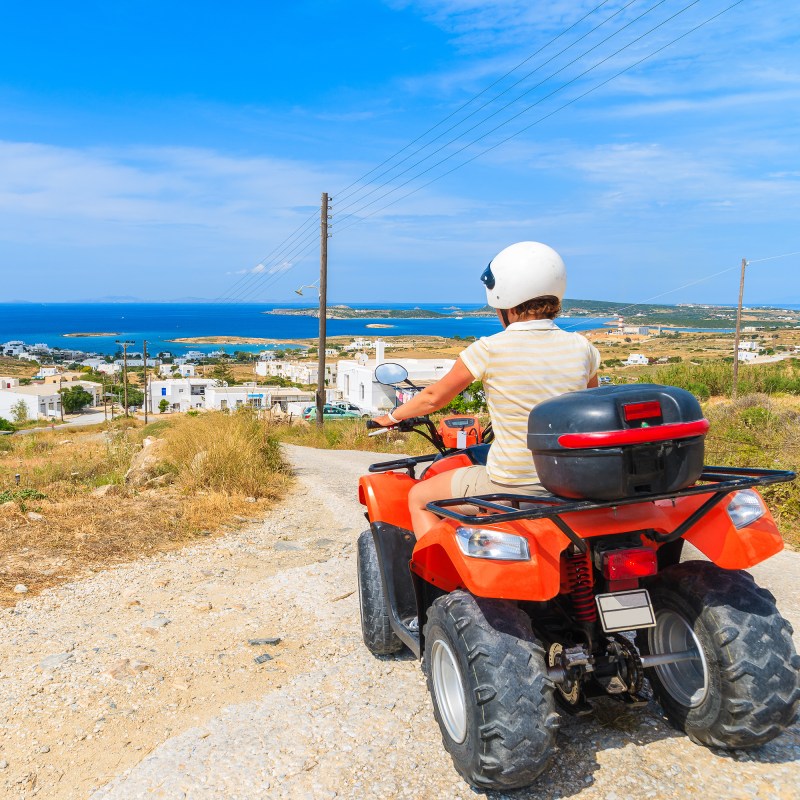 With less than 48 hours on the beautiful island of Paros, Greece, my family and I had to plan carefully in order to make the most of our visit.
On Paros and on many other popular Greek islands, ATVs are arguably the best way to get around and see everything that these stunning destinations have to offer.
Paros is situated in the Aegean Sea and is part of the Cyclades, a group of Greek islands located southeast of the mainland. Widely known for its sandy beaches and traditional villages, Paros is a great place to relax and soak up the sun. It's also a transportation hub for island hopping to other popular islets like Santorini and Mykonos.
How To Rent An ATV In Paros
Depending on what time of year you're visiting Paros, you can either book your ATVs in advance or simply rent them on the day of your arrival. Since my family and I visited Greece at the beginning of June, the very beginning of the tourist season, we just rented our ATVs when we got to Paros.
My family and I stayed in Parikia. Since it's the island's capital and is home to the island's main port, there are numerous companies there that rent ATVs. The process is pretty uncomplicated: Simply visit an ATV rental office and present a valid United States driver's license to rent a vehicle. My family and I paid 25 euros per vehicle for 9 hours of driving time.
If you're visiting Paros during the summer months, peak tourist season, you may want to consider renting your ATVs in advance. To book your ATVs, head to Paros European Rent, Polos Tours Paros, or Sardis Rentals.
The Best Time To Rent An ATV In Paros
Paros's Mediterranean climate consists of mild, rainy winters and warm, sunny summers. Due to the island's favorable year-round temperatures, you can rent an ATV at any time of year.
Though there really isn't a bad time to rent an ATV in Paros, doing so during peak tourist season may prove to be more of a challenge.
There is generally more traffic on the island during the summer months, and the roads can become crowded with buses, other ATVs, and motorbikes, something to consider if you'd prefer to tour the island in peace.
Things To See And Do In Paros
Paros is teeming with stunning beaches, quaint villages, and ancient architecture. On an ATV, you can see the entire island in one or two days, visiting all of its major towns and landmarks.
1. Parikia
Parikia, the island's capital, is a great place to stay and begin your ATV adventure in Paros. This unrivaled Cycladic village is home to the island's major port, making it a popular stop for island hoppers.
In the center of Parikia lies the Frankish Castle, a well-preserved 13th-century Venetian fortress that offers marvelous views of the town. Wandering through Parikia, you'll find winding cobblestone streets, boutique shops, and Greek houses painted in hues of white and blue.
A 5-minute walk east of the Frankish Castle is the Monastery of Panagia Ekatontapiliani, one of Greece's most important Byzantine structures. The church was built by the first emperor of Constantinople, Constantine the Great, and its name translates to "the church with one hundred doors." Legend has it that the church has 99 doors, and the 100th will open when Constantinople is returned to Greece.
If you happen to visit Parikia in the evening, be sure to check out Dionysos Restaurant. Helen, the owner, offers fabulous service and even better Greek cuisine, including her famous "prawns on fire," a variety of fresh seafood, risotto, and other traditional Mediterranean dishes.
2. Aliki
A quiet seaside fishing village, Aliki is situated just 7 miles south of Parikia. There are only 280 inhabitants within the village, and 1,118 in the entire community.
Many taverns and seaside cafés line Piso Aliki Beach. It is a great place to take the family — it offers an abundance of Airbnbs and restaurants; a playground; and football, basketball, and volleyball — and it is located just a 5-minute car ride from the New Paros Airport.
If you're looking to experience some fascinating Greek history in Aliki, be sure to visit the Folklore Art Museum of Cycladic Civilization, a museum filled with miniature works by self-taught artist Benetos Skiadas. Visitors can walk through the museum's beautiful garden full of olive trees, amaranth, and woodbines while gazing upon Skiadas's miniature sculptures, particularly his collection of model ships.
3. Golden Beach
If you travel east from Aliki for about 9 miles, you'll come upon Golden Beach, a picturesque beach stretching more than 2,000 feet. It's considered one of the best beaches in Paros.
A popular spot for windsurfers due to its ideal wind conditions, Golden Beach has hosted the annual Professional Windsurfing Association's World Cup since 1993. It's a beautiful beach with lounge chairs for hire and various seaside restaurants and bars. Since the beach can get quite crowded during peak season, be sure to rent your sunbed in advance.
While soaking up the sun on Golden Beach, stop for lunch or a delicious cocktail at Rebel Beach Bar, a gorgeous seaside restaurant serving traditional Greek dishes. Be sure to try the Gingerman cocktail, the Greek salad, the shrimp saganaki, or the seafood pasta.
4. Lefkes
Continue northwest for about 6 miles to Lefkes, a charming village situated in the mountains of Paros.
One of our Airbnb hosts told us that Lefkes is the most beautiful village on the entire island, and as soon as we arrived, we could see why. The views of the Aegean Sea from the steep cobblestone streets are spectacular. Ramnos, the town's central thoroughfare, is home to taverns, shops, a school, and the House of Literature, an establishment offering ideal working conditions for professional writers and translators from around the world.
If you're looking for a sweet treat in Lefkes, head to Lefkes Donuts House. The owner, Anna, will make you feel right at home, and she serves fresh and delicious homemade donuts daily.
5. Santa Maria Beach
Another fantastic beach in Paros, Santa Maria Beach is located about 9 miles north of Lefkes in Plastira Bay. The long coastline is home to two golden beaches, both of which face Aliki Bay.
Visitors flock to Santa Maria to snorkel and dive in its crystal-clear waters and explore its marine life. The beach offers lounge chairs, umbrellas, water sports facilities, scuba diving opportunities, and paddleboards.
Near the beach is a well-known camping site, a great place to spend a night under the stars. Keep in mind, though, that the campsite can become incredibly crowded during July and August.
If you're looking for nightlife near Santa Maria Beach, visit Santa Maria Beach Bar. This eclectic beach bar offers fabulous cocktails and great live music by famous DJs.
6. Kolimpithres
Hop back on your ATV and head about 6 miles west to Kolimpithres, a coastal area known for its unique geology and rock formations.
Kolimpithres consists of three small beaches, the third having the most beautiful limestone rock structures. Visitors can rent sunbeds for 12 euros each, and there are a number of beachside cafés and bars to visit.
7. Krios Beach
To complete your Paros ATV adventure, drive southwest for 6 miles to Krios Beach, a lovely beach located near the center of Parikia. This long, sandy beach features azure waters and a bay that protects the area from strong winds.
Krios Beach offers umbrellas, sundecks, and small taverns selling food and drinks. You'll enjoy the stunning views of Parikia and the surrounding area, with its many charming hotels and Airbnbs.
If you're looking for a unique outdoor experience at Krios Beach, you can camp out on the beach in sleeping bags, tents, or your own camper or caravan. At Krios Beach Camping's site, you can bring your own equipment or rent equipment, and the company even offers free transportation from the port and the airport.
Planning a trip to Greece? Don't miss the best things to see and do in Athens.