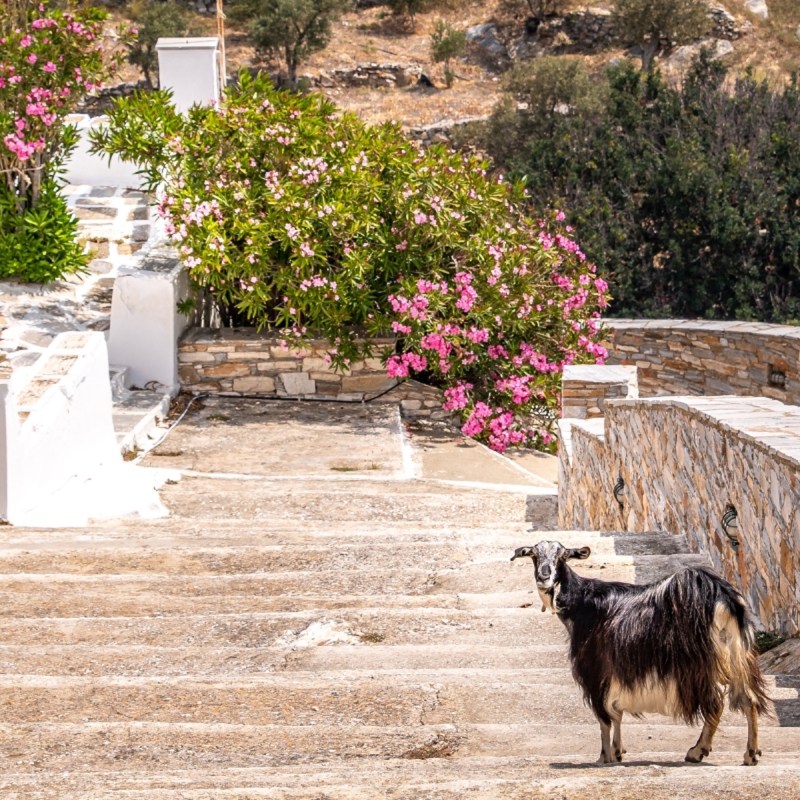 I knew I was onto something when the reaction of every Greek I talked with about plans to visit Tinos Island was the same: "Oh, Tinos is magnificent!" Neighboring Mykonos gets more fanfare; however, Tinos is the hidden gem when you want something different and authentic. It's where you can relax into the rhythm of Greek life on a rocky island famous for miracles, diverse traditional villages, marble sculpting, culinary delights, and wind.
No matter what brings you to the Cyclades, here are my favorite things to do during a week on Tinos Island, Greece.
1. Museum Of Marble Crafts In Pyrgos
Marble sculptures are a prominent feature around Greece. It's in artwork, architecture, and everyday things like window frames and faucet handles. There are government buildings, ancient sites, and houses of worship, adorned with marble. Tinos is known for marble; more specifically, the art and trade of marble sculpting. The island is home to some of the world's most famous sculptors and it has trained even more. UNESCO recognized Tinian marble craftsmanship as an expression of the cultural identity of Tinos, awarding it the Intangible Cultural Heritage of Humanity in 2015.
The permanent exhibit in the Museum of Marble Crafts displays trade tools and explains the process of turning rock into art and functional pieces. A museum visit provides a better understanding and appreciation of the marble you see throughout Tinos and Greece.
Pro Tip: Listen to the "This Is Athens" self-guided audio tour. You'll learn that marble sculptors trained in Tinos are involved in restoring the Acropolis and other historical buildings.
2. Traditional Villages Of Tinos
More than 40 traditional villages are clinging to mountainsides and hugging coastlines around Tinos. Their structures are similar, but each has a unique story. You'll see hundreds of dovecotes (homes for pigeons and doves), windmills, and churches as you drive through the island's interior, and I bet you'll be hard-pressed to name the village you love most!
Pyrgos is one of the largest; Agapi (literally the village of Love, according to my Athens taxi driver) will capture your heart; Kardiani hugs the mountainside providing memorable Aegean Sea views; Panormas is known for great seafood and beaches; Volax has other-worldly granite boulders; and Isternia is perfect for sunsets. And that's just the beginning!
Pro Tip: Look at the calendar for festivals to experience local tastes and culture. The Rakizio Festival in Fallatados in September or the Artichoke Festival in Komi in June are two possibilities.
3. Beaches
There are over 40 beaches to enjoy on Tinos. Which one you choose depends on what type of beach experience you want. Tinos is the Island of Aeolus — the Greek god-king of the winds. Some beaches experience more wind than others. This is good news for surfers and kiteboarders!
Locals recommend the following beaches: For kitesurfing and surfing, try Ormos Isternion, Panormos, boho-vibe Rochari, and Kolympithra Beach. There are several organized beaches, but the ones in Kardiani Bay, Ormos Gianak, and Kalivia are recommended. Families love Agios Romanos for its shallow blue waters. Agios Fokas near Tinos Town is popular but can get windy.
Pro Tip: "Organized" beaches have amenities like chairs and umbrellas, while others don't. Plan and pack according to what type of beach it is.
4. Tinos Trails
Exploring the island on foot is a unique way to see Tinos. There are over 186 miles of looping and one-way trails and about half are marked with familiar blue- and white-painted lines on rocks along the footpaths. The island is mountainous, so some of these trails can be challenging, yet they offer an up-close look at important historical and archaeological sites, castles, and folk museums.
Pro Tip: Even when you want to avoid a long hike, use the Tinos Trails to choose interesting shorter walks. One such hike brings you to Prophet Elias Church outside of Pyrgos.
5. Tinos Town (Chora)
Chora is the bustling main town. It's fun to sit in a café and watch all the comings and goings, especially all the near-misses around the traffic circle by the port. Walk up and down the streets for great shopping, restaurants, and white-washed houses. Fresh flowers and friendly faces are found around every corner.
Pro Tip: Your rental car can be delivered here at the port upon your ferry's arrival. I highly recommend Dimitris Rent a Car. They are family-owned, have clean cars, and their service exceeds expectations.
6. Holy Church Of Panagia Of Tinos
The faithful history lovers, the architectural enthusiasts, and the curious will enjoy The Holy Church of Panagia of Tinos. Vendors sell religious items on streets leading to the church because it is a popular pilgrimage site. Followers of the faith visit to pay their respects; some crawl on their knees to show their devotion and pray for compassion, health, and healing. It is no small feat on stone streets! During my visit, one elderly man was making his way over the cobblestones on such a pilgrimage, absorbed in the emotion of his faith. Inside the walls, visitors will learn about the church, marvel at the miracle of the icon upon which the church was built, and enjoy the grounds.
Pro Tip: Candles purchased from the vendors can be lit inside the church.
7. Mycenaean Tholos Tomb At Agia Thekla
Take the trail to the Mycenaean Tholos Tomb at Agia Thekla. This spot is unique because it's one of only three known beehive-shaped tombs in the Cyclades. They found precious artifacts inside the grave, which suggest it was initially made for the dead of a local princely clan. On your way there, you will enjoy the playful company of resident goats climbing the chapel walls.
Pro Tip: Be sure to carry water with you and watch for vipers, the island's only "dangerous" species.
Tinos Restaurants
Botilia Tinos
Tucked away on a quiet, white-washed, paved-stone street, yet close to the hustle and bustle of Tinos, you'll find Botilia. Inviting outdoor seating and jazz music coming from speakers set the mood. Specials include meat dishes like beef stew, lamb, and vegetarian meals. I ordered eggplant with a glass of wine and it was perfect. The restaurant is family-owned and loved by the community. My server showed me a water-color that a customer painted for them, which they use on their business cards.
Athmar
Located above Pyrgos Main Square, enjoy a lovely outdoor courtyard anchored by an impressive (and massive) plane tree. Athmar provides the perfect morning cup of coffee and breakfast. You'll enjoy locally sourced ingredients that are the foundation for traditional and modern palate-pleasing meals. The welcoming spirit of the owner and staff makes them feel like friends who you cannot wait to see again when you return.
Marathia
Known for delicious fish, wild artichokes, and unbeatable sea views, this culinary jewel on Agios Fokas is a delightful way to end the day. At Marathia, dine on a deck above the sand, which has incorporated live tamarisk trees into the space. Watch the sunset as you sip your favorite Greek wine and enjoy piped-in jazz music — excellent ambience and food to remember.
Tinos Hotels
Anthea Boutique Hotel And Spa
Located within walking distance to Agios Fokas Beach, this hotel is designed to resemble a traditional village. It's perfect for small groups or families wanting a cluster of private rooms and a unique setting with gathering areas and a beautiful pool.
Pro Tip: Ask for an unobstructed room with a sea view.
Phaedrus Living Kardiani Airbnb
Located in the quiet traditional village of Kardiani with jaw-dropping sea views, Phaedrus Living Airbnb checks all the boxes for the perfect extended stay. The location worked well as a home base while exploring the island by car. Relax and take in the gentle sea breeze and memorable sea views. In the distance, you will hear the jingle of bells from neighboring goats, the soft sound of sheep, and the crowing of roosters.
Pro Tip: Bring a bottle of wine, local cheese, and olives to enjoy on the balcony.