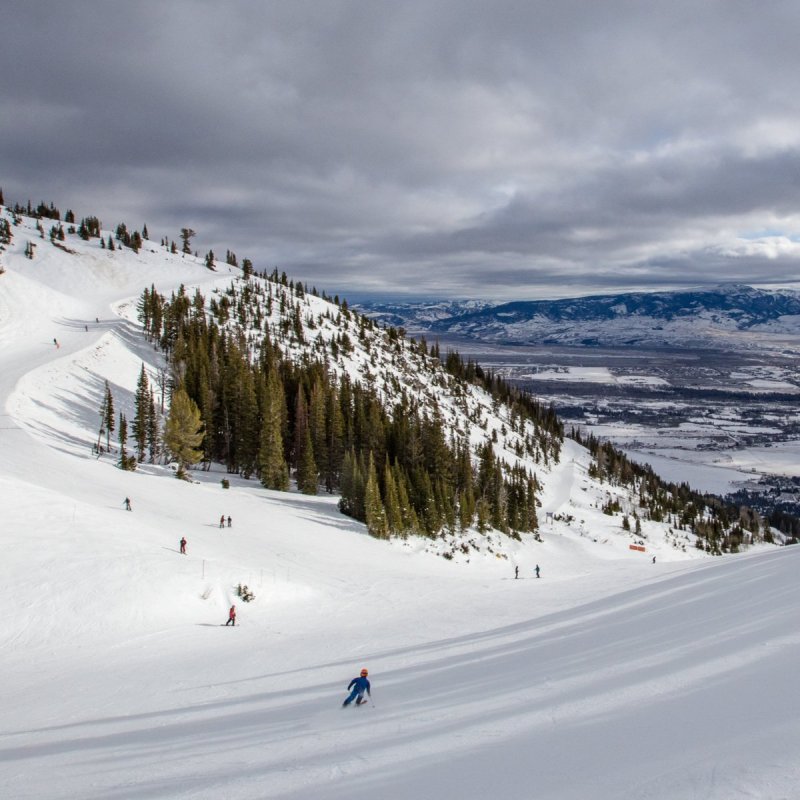 With winter coming into full swing and snow production on the slopes starting to ramp up, it's time to start thinking about your ski trip. If you're looking to break away from your local ski hill and go on a true skiing adventure, we've compiled a list of the top family-friendly ski resorts in the U.S. that have something for everyone.
1. Keystone Ski Resort
Keystone, Colorado
Keystone Resort is part of a family of ski resorts under the Vail Resorts name. The resort prides itself on having something for everyone, including intermediate and advanced skiing opportunities.
If you have kids or family members who aren't big on skiing, there are plenty of places for them to have fun while you hit the slopes. The Kidtopia zone includes a giant snowball launcher, a Sasquatch hunt, and a giant snow fort. Other non-skiing activities include snow tubing on Dercum Mountain, sleigh rides, snow cat adventure tours, and ice skating. Once your day is wrapped up, head to the spa for a massage and warm up at the lodge.
From a skiing perspective, it doesn't get much more exciting than a weekend at Keystone. There are different peaks to ski down, so you'll be able to map exciting runs that fit your skill level.
2. Sundial Lodge
Park City, Utah
Another excellent ski resort for the whole family is Sundial Lodge at Canyons Village in Utah. Located in the beautiful town of Park City, Sundial has everything you look for in a family-friendly ski resort.
This massive resort features 17 peaks and over 300 trails to choose from. Trail difficulty varies from absolute beginner to the most advanced runs, meaning you'll be able to brush up on your skills or put them to the test when your family visits Sundial. Room and resort amenities are as inclusive as the trail selection. Ski lockers, ski storage, and ski-in, ski-out features make it very friendly for snow-seekers. Other amenities such as shuttles, in-room hot tubs, a heated pool, and fire pits help you maximize the fun you can have at Sundial Lodge.
Of course, there are plenty of other great activities to enjoy for those who don't like skiing. Among the most popular are horse-drawn sleigh rides, zip-lining, and snowmobiling. You can also take a trip to Park City's historic downtown district.
3. Massanutten Resort
McGaheysville, Virginia
What Massanutten lacks in death-defying ski runs and incredibly challenging trails it makes up for in family-friendly fun and diverse winter-weather opportunities. There are several trails to choose from in addition to activities like snow tubing, ice skating, lessons, and terrain parks. And there's more to Massanutten than the diverse range of snowsports. You'll find an incredible indoor water park for year-round fun, which is perfect for those not looking to ski. Escape rooms, a full-service spa, and children's activities all await you once you arrive at Massanutten.
4. Northstar California Resort
Truckee, California
Northstar California, another Vail Resorts property, is located in Martis Valley to the northern end of Lake Tahoe. This resort offers world-class skiing, plus great family bonding opportunities, like s'mores sessions and nightly bonfires. Outdoor ice skating is also available for those who aren't as big on skiing. Don't miss out on some snow tubing if your kids don't know how to ski. They'll experience plenty of exciting thrills as they zip down the tubing hill. Other available winter activities include cross-country skiing, candle-making classes, fat tire biking, and live music events.
If you're more into tricks than thrilling downhill runs, you can take a run down the terrain park and show off your skills, or dedicate some time to practicing maneuvers that need work. Northstar California's Burton Progression Park makes sure there's something for all skill levels.
Want to go off resort for a bite, or try eating local in Lake Tahoe? These are the best restaurants to try.
5. Omni Mount Washington Resort
Bretton Woods, New Hampshire
History and winter fun collide at Omni Mount Washington's Bretton Woods Ski Area in New Hampshire. While you ski or ride down the mountain, you'll see breathtaking views of the presidential mountain chain, Mount Washington, and the iconic Mount Washington Hotel. This resort comes with a fresh stack of new 2020 awards including the best snow, scenery, and grooming in the east from Ski magazine.
Snowsporting opportunities include alpine and Nordic skiing, terrain parks, and of course, lessons for those looking to brush up on their skills or learn the sport for their first time. Other kid-centric activities include a children's snowmobile park for children over 44 inches tall and under 110 pounds, a snow play program, and tubing.
In addition to skiing, there's plenty more for everyone to experience and make the most of their trip. Snowshoeing, ice skating, and guided winter tours await you at the Omni Mount Washington.
6. Jackson Hole Mountain Resort
Jackson Hole, Wyoming
If you have young, winter-loving kids, a trip to Jackson Hole Mountain Resort should make its way toward the top of your list. You'll find dozens of trails that range from green all the way to double black diamond.
The family-friendly focus of Jackson Hole makes it a very attractive option. For example, kids under 14 can rent and ski for free when you book a condo for four or more nights. That can save you a lot of money on lift tickets alone over the course of a long weekend. The Jackson Hole Kids Ranch is there to help young skiers and riders learn the sport and work their way up the ranks from "Bears" to "Soaring Eagles."
Advanced skiers are also in love with Jackson Hole resort. Challenges such as heli skiing and cat skiing provide opportunities for the most advanced skiers in your group.
7. Beaver Creek Resort
Beaver Creek, Colorado
This mountain resort offers plenty of fun for both skiers and non-skiers alike. The two hour drive from Denver is not only stunning, but the final destination is striking and beautiful.
There's still plenty for children who are new to skiing to do and enjoy if you have little ones joining you on your trip. All over the mountain, you'll find kid adventure zones scattered across 13 different green-rated ski trails. The Cookie Cabin gives your kids an extra incentive to keep skiing all day. Stop in near the top of the summit for a refreshing hot chocolate and a freshly baked chocolate chip cookie. The kid's adventure zone lets them ski through a real Western-style camp complete with covered wagons and teepees.
There are great skiing opportunities for all levels of skiers. Beginner skiers can make their way to Red Buffalo Park, which lets those new to the sport experience a wide range of terrain types. Intermediate skiers can mix it up and challenge themselves with plenty of blue square trails and challenges — available via an app — to put their skills to the test. And advanced skiers will want to attempt Talon's Challenge, which features 26,000 feet of the most challenging black diamond and double black diamond trails.
8. Park City Resort
Park City, Utah
Park City Resort was once an old silver mining town. Now, it's a winter sports paradise. You'll find fun and excitement for the whole family just 35 minutes from the Salt Lake City airport, meaning you'll spend less time driving and more time out in the snow.
Park City is truly a winter wonderland. It features over 330 trails with difficulties for all skill levels on 7,300 acres of terrain for you to tackle. Other benefits to staying at Park City include ski-in, ski-out capability, fireworks shows, and other live entertainment. Childcare services include snow play, arts and crafts, and more, so everyone can enjoy the resort. The property's High Meadow Park is a great place for young skiers and snowboarders to learn the ropes and have fun in a breathtaking environment.
All over the country, you'll find great skiing and snowboarding opportunities for you and your family, no matter what skill level skier you are.
Want a winter-inspired getaway? These are the best small towns to visit for Christmas in the U.S., plus five national parks you must visit during winter.