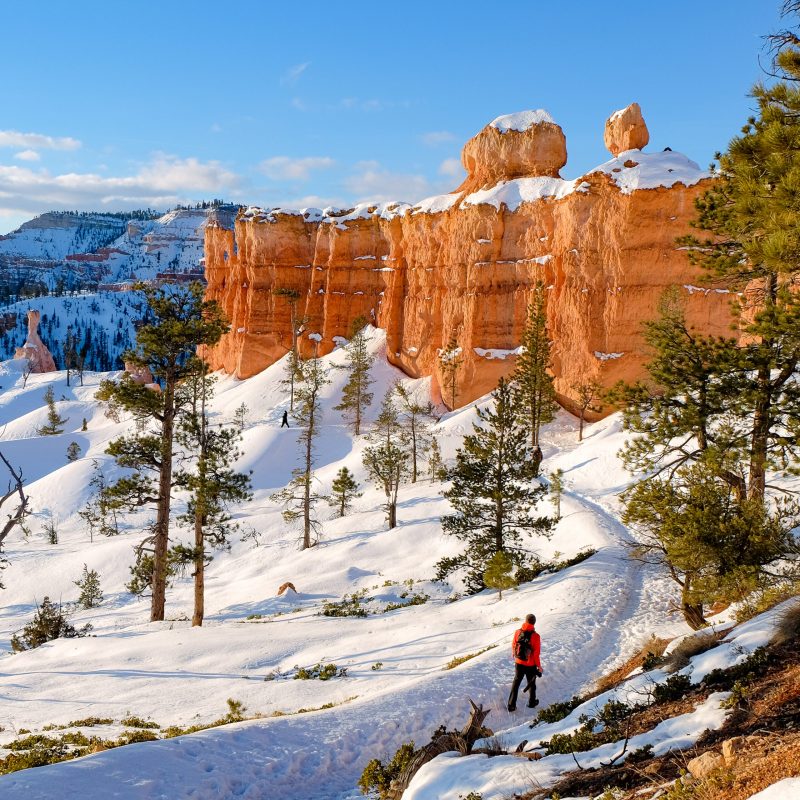 Winter is just around the corner, but that doesn't mean you have to halt all your plans for visiting America's stunning national parks until spring rolls around again. In fact, it may even be worth it to revisit a park you've already visited in the winter. So much is different during this time of year, meaning you can have an entirely new national park experience. Because of this, we've compiled a comprehensive list of national parks you absolutely have to visit in the winter.
1. Bryce Canyon National Park
Utah
Despite the colder temperatures in this Southwest park during winter, it still has plenty of life for snowbirds. One thing that makes Bryce Canyon National Park such a stunning spot to visit during wintertime is the vivid contrast between fresh, white snow and the canyon's red-hued rock faces. The park is also less busy in winter, so you'll have more nature to yourself and less foot traffic around you.
The park takes safety very seriously due to the hazards associated with wintertime in the area. It's not uncommon for temperatures to spike into the upper 30s then fall to 15 degrees or cooler in the course of a day. This creates a freezing and thawing cycle which, on the one hand, produces a unique landscape, but can also create rockfall dangers. Pack for wet, cold conditions. Waterproof hiking boots, ice crampons, and quality winter clothing are highly advisable.
Snowshoeing and cross country skiing are very popular among Bryce Canyon visitors during the winter months. However, due to the risk of cornices — a unique type of avalanche — hiking, snowshoeing, skiing, and other activity is forbidden around the canyon edge until spring. Much of the park, however, is fair game for these exciting winter pastimes. Guided snowshoeing treks are also provided at this park. You don't need your own snowshoes for these, but waterproof hiking boots are required.
One thing you might want to plan your trip to Bryce Canyon National Park around are the guided full-moon snowshoe hikes. Reservations are not guaranteed due to demand; instead, hikers are chosen via lottery. Simply bring your group (maximum party size of six) to registration to enter the lottery. You will be required to show you have appropriate footwear in order to enter. While you're not guaranteed a spot, planning a trip around the dates listed on the full-moon snowshoe hike page is still a great idea given that it's a rare and memorable opportunity you might be able to enjoy.
2. Acadia National Park
Maine
If you're looking for a Northeastern national park experience this winter, Acadia National Park is the ticket. Located just south of Bar Harbor, Acadia National Park offers a wide range of incredible activities and vivid landscapes you won't find anywhere else.
Prepare for some frigid temperatures if you plan on visiting Acadia National Park in the winter. Average temps range between 14 and 35 degrees before factoring in the windchill. Since some of the park is coastline and the park is surrounded by ocean on three sides, it can get pretty windy, making the temps feel much colder.
If you're properly equipped, Acadia National Park will welcome you. It's an unparalleled winter wonderland in northern Maine. Expect to see the beautiful, rocky New England coastline coated in sea spray that freezes on, creating gorgeous scenery most of us only think possible in our dreams.
Because of how drastic the changes here can be between summer and winter, large portions of the park will be closed or traversing through them will be advised against. That doesn't mean there's nothing to do here though. In fact, the wintery sights are unlike any others in the nation.
Skip the most hardcore winter activities and opt for a scenic drive to some of the park's most sought-out destinations instead. Jordan Pond Road and Ocean Drive are both open during the winter. If you want to get out and hike, know that even with extra traction, such as ice grippers, cleats, or other traction-boosting gear, the park's granite rocks can still be slippery. If you're not experienced and confident about keeping yourself safe, take easier hiking trails or stick to the carriage roads for winter hiking. Cross country skiing and snowshoeing some of the 45 miles of carriage roads in the park are also great wintertime activities.
Acadia National Park allows for other wintertime activities that few other parks permit. Snowmobiling and ice fishing are fair game, which adds additional layers of possibility to a New England adventure. Snowmobiling is permitted on unplowed roads including the fire roads and park loop road system (which is closed to cars during winter.)
3. Rocky Mountain National Park
Colorado
Mountainous terrain means winters that come early and stick around for some time even after leaves are budding at lower elevations, and you won't want to miss an opportunity to visit this incredible national park during its extended winter. There's a ton of things to do despite the colder conditions and snow blanketing the ground.
You'll find there's plenty to keep you occupied for well over a week. Snowshoeing is one of the most popular activities in the park, and many of the trails are accessible by snowshoe. You can even register for a free park ranger-led excursion. Cross country skiing is another major winter attraction in this park. You're sure to run into some fellow cross-country skiing enthusiasts during your trip.
Those with young children can even go sledding at Rocky Mountain National Park's Estes Park Hidden Valley (the only place where sledding is permitted in the park). Plastic sleds, tubes, or saucers are required. Metal sleds and sleds with metal runners are not allowed.
Another great reason to visit the park is wildlife viewing and photography. The white snow provides excellent contrast to spot treasured animals such as moose, elk, and mule deer. The Colorado River is a popular gathering place for these large mammals.
While preparing for your adventure, you're going to want to keep a few things in mind. The weather in Rocky Mountain National Park can feel like the home base of Old Man Winter. Snow falls steadily and temperatures throughout the winter months dip down into the 20s with warmer days reaching 40. Pack warm, dry gear that's built for extended periods of time outdoors. Because of the warmer spikes throughout the winter seasons, avalanches can be a risk and it's not uncommon to encounter trail closures. Check the avalanche forecast each day you're spending in the park.
4. Grand Canyon National Park
Arizona
Grand Canyon National Park was the second most-visited national park in 2018, so it goes without saying that it can get pretty busy, especially during peak months. Winter, however, is not the peak time and the crowds will be much more manageable, allowing you to better enjoy the park. While the North Rim closes in the winter, the South Rim remains open.
Weather in the park is about as unpredictable as it is in Bryce Canyon. Temperatures range from 14 to 44 degrees on average, and you may experience snow, rain, and sun all in the same day. Be prepared for the season, and you can have a great time in the park.
Most of Grand Canyon National Park's scenic roads are open throughout the winter and only close during periods of inclimate weather. Those feeling up for a real challenge can take a multi-day trek that runs from the South Rim to the North Rim. The park has a resource page to help make sure visitors are well-prepared for long winter hikes in the canyon. You'll also want to check out these 10 tips for hiking the Grand Canyon, no matter what time of year you go.
If you're not one for hiking — or driving — consider taking a bus tour along the South Rim for excellent views or a scenic train ride from Williams, Arizona to the park. The Grand Canyon Railway and Hotel in Williams also offers ride and stay packages that are enticing — and customizable.
5. Death Valley National Park
California
One national park that flies under the radar in regard to excellent winter visiting is Death Valley. This location is known for being very hot and very dry throughout most of the year. In winter, though, temps are more humane with average January highs around 67 degrees and lows in the 40s. Despite the more agreeable temps, the time between Thanksgiving and Christmas is when Death Valley National Park sees the least amount of visitors.
The many things you would do in summer — like visiting the mysterious sliding rocks of Racetrack Playa — can also be enjoyed in winter, just without summer's triple-digit temperatures. Spend part of a day at Furnace Creek Golf Course, which sits more than 200 feet below sea level and is touted as the lowest golf course on earth. The ball won't travel as far as it usually does and players must adjust their club selection to this interesting challenge.
Despite the cooler temperatures, Death Valley is still very dry in winter, so visitors should bring lots of water, and extra sunscreen won't hurt.
Don't let the cooler temperatures and risk of snowy weather slow you down. Take some time to plan a trip to one of these exciting national parks this winter. There are plenty of new sights to see and memories to make.
California bound? Don't miss Yosemite's Firefall: the incredible must-see phenomenon that only happens one time of year. (Hint: It's in the winter!)