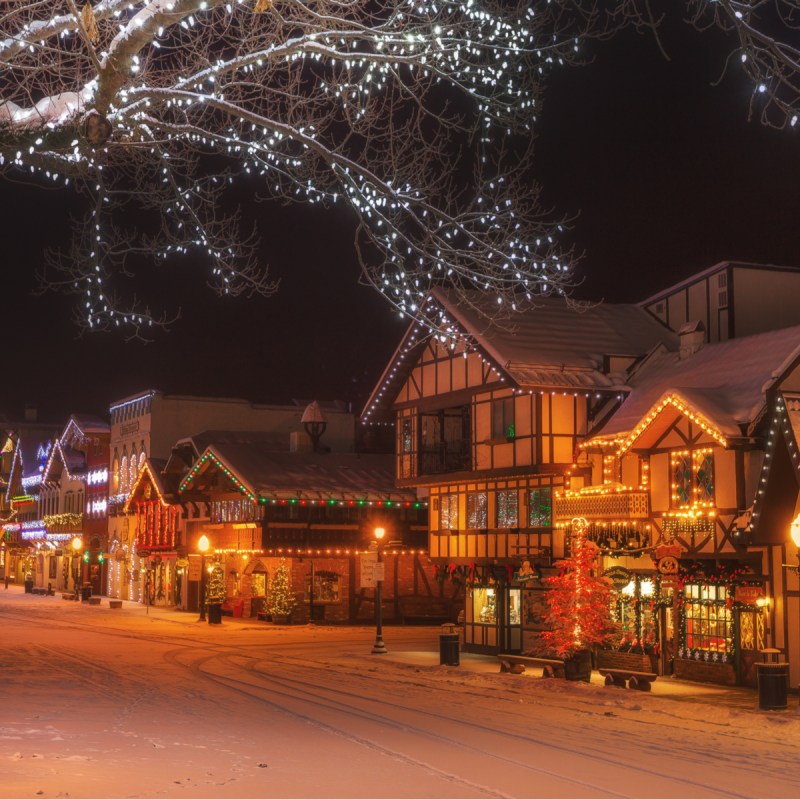 When you think of Christmas, a magical world of dazzling lights, friendly neighbors, cups of cocoa, and a crackling fire dances before your eyes. It's the most wonderful time of year and you want to celebrate it somewhere new — somewhere charming and magical. You want a getaway unlike any other Christmas you've had before.
Big cities have a certain charm at Christmastime, but there's nothing quite like celebrating the holidays in small-town America. And these small towns scattered across the land offer you the wonder of European fairytale settings — or, alternatively, warm winter nights where you can escape the cold — all with sparkling trees, and festive touches like the friendly smiles of carolers singing into the night.
Thomasville, Georgia
North of Tallahassee, Florida, by about 40 minutes and south of Atlanta by three and a half hours, this little town in Georgia goes unnoticed by most folks — unless they live nearby. Locals know this charming small town for what it is: a beautiful, historically fascinating Southern town that's filled with magic during the holidays.
The streets are all alight when winter hits. There are sparkling streetlamps, twinkling Christmas lights around town, and candles in windows. The quaint shops and restaurants offer local goods and Southern cuisine — try some of the deep-fried comfort food at Sass! Restaurant or treat yourself to seafood at George and Louie's for a holiday meal you won't find anywhere else.
The Thomasville Victorian Christmas Festival is a free opportunity to stroll the town's streets and enjoy ice sculpting, carolers, a live nativity, and seasonal treats like roasted chestnuts and marshmallows.
Quincy, Florida
The former home of Coca Cola millionaires, birthplace of Lady Chablis, and site of one of the most charming little music theaters in the region, Quincy, Florida, is a small town worth visiting during the holiday season. Spanish moss- and Christmas light-draped trees line King Street, where you'll find the charming historic McFarlin House bed and breakfast (which will be decked out in holiday lights and elegant antiques from a Southern past) along with some of the most gorgeous Southern mansions you've ever seen.
The town square, just a few blocks away, is clothed in Christmas decor, while the courthouse still radiates with the charm of an era long past. Drive through town on the lookout for beautiful homes or take a walk through the quiet town square by the courthouse, art gallery, and a small collection of restaurants. You'll spot some old murals just off the square and find charming churches along the oak-lined streets.
A little outside of town, you'll find some gorgeous parks and charming restaurants to try. Make a day of it at Lake Talquin State Park or the nearby Wakulla Springs State Park and Lodge about 45 minutes south of town.
Santa Claus, Indiana
If you're looking for a bigger affair at Christmastime, why not visit a small town that's name is inspired by the holiday? Santa Claus, Indiana, is small in population but big on Christmas spirit. The town goes all out for the holiday season with celebrations all December long. You can roast some chestnuts over an open fire at Santa's Candy Castle, get photos with the famous resident of the North Pole, purchase lovely handicrafts at the Arts and Crafts Show, visit the Christmas shops and Santa Claus Museum and Village, and take in the many Christmas displays throughout town.
Join the town residents for Christmas letter writing, candy tastings, the Christmas parade, and many other high-energy holiday activities perfect for any family that wants to make the most of the glorious holiday.
Frankenmuth, Michigan
Frankenmuth, Michigan, is a beautiful small town about an hour and 30 minutes outside Detroit. The town boasts Bavarian-style architecture and celebrates Christmastime with a beautiful Christkindmarkt throughout December. The stunning light displays, holiday-themed historic tours, and a famous dinner with Mr. and Mrs. Claus at Zehnder's restaurant all add up to a magical Christmastime trip anyone can enjoy.
Frankenmuth has the largest Christmas-themed store in the world — Bronner's Christmas Wonderland — which has over 300 Christmas trees and 96,000 square feet of retail space.
Newark, Ohio
This little town just 45 minutes from Columbus was once the hub of multiple Ohio industries. Now the town boasts of its famous former residents — including Jerrie Mock, the first woman to fly around the world — a family-friendly Smithsonian affiliate museum and S.T.E.M. center called The Works, dozens of delicious restaurants, and charming boutiques and stores.
As you stroll the easy-to-traverse town center, you'll spot numerous murals, see the stunning courthouse, and pass bronze statues depicting local historical figures. Wander just a block from the square, and you can meet an incredibly friendly bookstore cat at the quirky Kicks Mix Bookstore. When you're hungry, grab some amazing barbecue at Barrel and Boar right across from the courthouse.
This small town is chock full of holiday joviality, with an impressive light display at the courthouse and town square, while the restaurants, pubs, shops, and bed and breakfasts outdo themselves with holiday cheer. Plus, karaoke nights, sing-alongs, and other entertaining Newark holiday events are hosted annually. Just check the local calendars to see what's going on where.
Eureka Springs, Arkansas
Eureka Springs, Arkansas, is a small town that bustles with activity all summer long. But a wintertime visit will enchant and delight the whole family with a country Christmas in a more low-key setting. You'll find the stunning Thorncrown Chapel is especially breathtaking when decorated for the season — its glass walls and ceiling glistening with wintry lights.
Shopping, restaurants, and attractions are open and welcome guests all season long, while the town itself is awash with festive cheer, light displays, and the enchanting sounds of Christmas carols during the many seasonal events hosted in and by the town.
Lancaster, Pennsylvania
If you're looking for a super cozy, old-fashioned Christmas, you'll find it in Lancaster, Pennsylvania. This is Amish country, and the town itself is charming and feels like it's been lifted from a bygone century with its old-world markets, locally made goods, and delicious pastries.
You'll find Amish markets for splendid gift shopping. Listen to carolers' charming Christmas songs, take a carriage ride, or ride along for the reading of The Night Before Christmas with Victorian-dressed actors on the Strasburg Railroad.
The town is filled with charming family-style restaurants and handicraft shops, along with tons of beautiful bed and breakfasts, inns, and little hotels where you'll be welcomed by fireplaces, antiques, and some of the most beautiful light displays in the Northeast.
Leavenworth, Washington
If you're looking for a fairytale setting for your Christmas vacation, consider the small town of Leavenworth, Washington. This small town gleans inspiration from Bavarian architecture and culture and is nestled into the Cascades — making it the perfect destination for a snow-covered storybook Christmas getaway.
While in town, you can visit the Christkindmarkt, which hosts festivities suited to a German-inspired holiday. Enjoy sizzling bratwurst, drink hot mulled cider, munch on roasted nuts, and enjoy a waking holiday dream amid the half-million Christmas lights strung up through town for the pleasure of holiday revelers. Listen to carolers, enjoy hand-bell concerts, and soak up the magic of the incredible town Christmas tree.
Holland, Michigan
If you're looking for a different take on a European-style Christmas, make Holland, Michigan, your destination. The inviting town draws visitors year-round, but at Christmas, the village comes to life like no other time of year. The historic downtown pops with festive lights, holiday open houses, strolling carolers, roasting chestnuts, and the Dutch Winterfest, where you'll experience the holidays with all the wonder of the land of tulips and wooden shoes — without an expensive plane ride.
Photo opportunities abound, with Santa Claus and his reindeer at a family-friendly petting corral. The Parade of Lights, the Kerstmarkt, Victorian Christmas tea parties, special exhibits and holiday events across town, plus many unique boutiques and shops offer you more to do than you'll have time for during a holiday visit.
You can visit the shops at the Dutch Village for a unique experience, meeting artisans and performers who are familiar with the old-world ways.
New Hope, Pennsylvania
Near the historic site where Washington crossed the Delaware, you'll find New Hope, Pennsylvania, is filled with holiday delights all December long. The small town is home to a beautiful theater in a converted grist mill, multiple historic sites where former presidents have stayed, carriage companies, horse stables, vintage shops, classic boutiques, and beautiful hotels and inns.
You'll find Christmas lights dotting the banks of the Delaware Canal. Christmas trees fill windows in charming inns, carolers bring merry songs wherever they go, and shopkeepers will greet you with tales of unique times in our country's history.
New Hope is also just across the river from Lambertville, New Jersey, where more carriage rides, aged apothecaries, and beautifully kept boutiques await your exploration.
Want to escape the cold this holiday season? Set your sights on one of these eight great warm cities to visit around Christmas and find your best vacation deal here at Expedia.com!