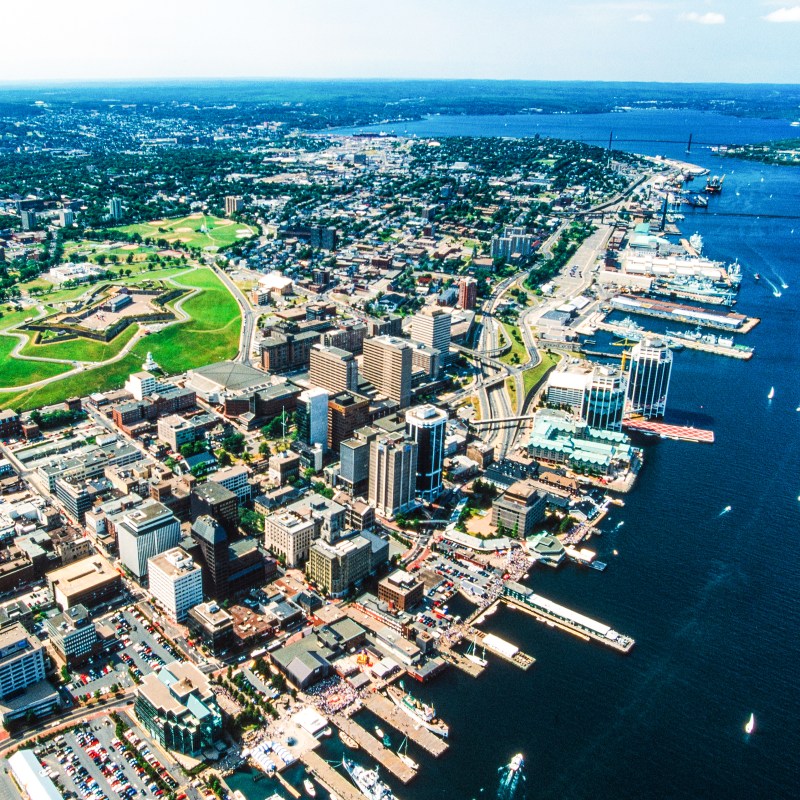 One of the oldest cities in North America and the capital of the Canadian province of Nova Scotia, Halifax has a reputation as a lively, sociable waterfront city that's rich in history, art, culture, music — and workouts. The city is set on a hill and unsuspecting visitors often receive more exercise than anticipated!
To maximize your time and minimize your climb, I suggest you plot out a walking route from this list of my favorite attractions, restaurants, and shops that lets you start out on high ground and slowly make your way downhill. When you hit the water, reward yourself with a pint, amazing views, and some extra rest time for your legs! Here are some of the city's top sights for a short visit.
Reflect At The Africville Museum
After 100 years of settlement, the close-knit community of Africville, set along Halifax's north shores, was destroyed in 1960 to bolster land development and industrial projects. Today, the Africville Museum contains a replica of the Africville church with audio-visual displays and artifacts from the community, including the old town sign, the original church pulpit, and small tokens of everyday life like children's marbles. Adult admission is under $10.
Taste And Tour At Alexander Keith's Brewery
Keith's is one of the most popular beers in Canada, and the brand got its start some 200 years ago in downtown Halifax. Today, you can participate in guided tours of the brewery, which end with tastings in its pub, complete with local musicians playing for your entertainment. The tour commentary is lively, with a strong emphasis on history, folklore, and tall tales. I'm not much of a beer drinker, but I loved the tour. Adult admission is about $30. Note that this is a family-friendly destination with lots of lemonade for kids.
Visit Maud Lewis's House At The Art Gallery Of Nova Scotia
Set in a beautiful building in the heart of downtown Halifax, the Art Gallery of Nova Scotia is a world-class facility that does an admirable job of presenting provincial, national, and international artwork. The collection's most spectacular exhibit is the tiny house that belonged to beloved Nova Scotia folk art master Maud Lewis. Community volunteers fought hard to save Lewis's home, which in itself is a stunning piece of hand-painted art, and now it rests in its entirety within the Gallery. The Gallery is also home to a nice cafe and gift shop. Admission is just over $10.
Trace Your Roots At Pier 21 (The Canadian Museum Of Immigration)
Between 1928 and 1971, downtown Halifax's Pier 21 was the entry point for one in five new Canadians. Now home to the Canadian Museum of Immigration, it hosts exhibits showcasing what life was like for new immigrants, from the perilous sea journey to the tight quarters in railcars heading west. A huge research team does painstaking genealogical work and the museum offers a wealth of information for anyone about to embark on a family history project. Adult admission is under $15.
Pay Tribute To The Titanic
Halifax has a strong connection to the sinking of the Titanic, as the disaster happened just a few hours away from the city's shores. Today, you can visit the Fairview Lawn Cemetery, home to 121 graves of Titanic victims. There's a sobering memorial to an unknown child who died in the disaster, as well as violinist John Law Hume, who famously played as the ship sank. There's also a humble placard honoring one J Dawson — however, it's strictly a coincidence that a similar name was used for the hero of the film Titanic. The grave is the final resting place of a Joseph Dawson who shoveled coal on the ship.
At the Maritime Museum of the Atlantic, you can explore all things related to Halifax's nautical and seafaring history. It has several artifacts related to the Titanic, including an extremely rare intact deck chair. And the popular Five Fishermen Restaurant, a fun place to have dinner, has a ghostly past as a funeral home where the remains of wealthier Titanic victims, including John Jacob Astor, were cared for.
Visit The Halifax Citadel National Historic Site
Since 1749, fortifications have sat on Halifax's Citadel Hill. The city had a critical strategic location overlooking the Atlantic and the British were determined to hold the city at all costs in case of an attack by the French. Thankfully, it was never attacked, but Citadel Hill is seeing a lot of action today as a National Historic Site where visitors can enjoy tours and military reenactments. As part of their demonstrations, a cannon is fired every day at noon. Don't be embarrassed if you jump at the noise — you won't be the only one!
Take A Romantic Stroll Through The Halifax Public Gardens
Established in 1867, the same year as the Canadian confederation, the Halifax Public Gardens is the oldest Victorian-style public garden in North America. It offers 16 acres of gorgeously landscaped formal gardens and massive old trees. On Sunday afternoons in the summer, free concerts are held at the bandstand, and there are lots of special events and tours every week. As it's set in the heart of the city, I highly recommend planning a walking route between two other attractions that allows you to stroll through the garden as you make your way between your must-see destinations.
Tap Along To The Royal Nova Scotia International Tattoo
A spectacular display of music, marching, dancing, acrobatics, and much more, the Royal Nova Scotia International Tattoo is unique in that it's a mix of both military and civilian performers. Since 1979, it's been setting records, from the huge number of international performers who participate to being the first place outside of Scotland to host an official Gathering of the Clans. Note this event only runs in summer.
Take In A Show At Neptune Theatre
One of the most significant theatres in Canada, performances have taken place on the site since 1915. Neptune Theatre's productions include everything from popular musicals to classic works of literature to Canadian productions.
Eating In Halifax
A donair is a simple sandwich of shaved beef, tomatoes, and onion, finished off with sweet and tangy garlic sauce. But in truth, it's so much more. The official food of Halifax, trying a donair should be at the top of every visitor's list. Everyone you meet will have a strong opinion about where you should go for this signature dish, but the default place is Pizza Corner at the intersection of Blowers and Grafton streets. Here, you can find competing shops vying for the title of Halifax's best donair.
Once you've had your donair fix, consider visiting some of these other popular Halifax eateries.
The Bicycle Thief
This hugely popular waterfront restaurant will steal your heart away with its delicious take on Italian classics. Reservations are key!
Little Oak
This cozy restaurant and wine bar is only frequented by those in the know. Join locals for rare wines and tasty small plates.
Agricola Street Brasserie
This unassuming restaurant is leading the charge to revitalize North End Halifax's food scene. Their homemade bread draws raves — as well as the Canadian Prime Minister when he's in town.
Bonehead's BBQ
This South End favorite is so popular, it was featured on the food show You Gotta Eat Here. Come for the award-winning ribs, cornbread, and smoked chicken wings.
Edna
No list of Halifax foodie suggestions would be complete without some recommendations on fresh seafood and shellfish. Edna is one of the best places to go, with oysters, scallops, tuna, and much more.
Le French Fix Patisserie
Nova Scotia is well known for its baked goods, and Le French Fix Patisserie elevates them to a new level, with spectacular croissants and macarons.
Shopping In Halifax
The hills and cobblestone lanes of Halifax are terrific spots to discover little shops and studios. There's a lively maker and creator scene here, and local specialties include pewter, pottery, quilting, hooked rugs, and textiles, plus folk and nautical-themed art.
The Black Market Boutique
The Black Market is a good source for funky, unique handcrafted jewelry from around the world.
Venus Envy
This award-winning bookstore and sex-positive shop offers everything from rare publications and handmade cards to sex toys, health aids, and gift items.
Independent Mercantile Co.
This is a great place to find cozy and colorful home accessories, dishes, and barware.
Compass Distillers
Compass Distillers makes gin, vodka, rum, and whiskey onsite at its North End location. It's worth a visit just to check out the gorgeous art on their bottle labels.
Inkwell Modern Handmade Boutique
An irresistible stop for anyone who loves fine stationery, cards, pretty gifts, and delicate finishings, Inkwell also has a good variety of Nova Scotia-themed souvenirs.
Jennifer's Of Nova Scotia
From jam made with local fruit to amazing works of pottery to patchwork quilt-style potholders for the kitchen, Jennifer's of Nova Scotia is a Halifax institution. It was one of the very first to specialize in local products and local themes.
Vacationing in Atlantic Canada? Check out these nine Nova Scotia spots to visit (that aren't Halifax or Peggy's Cove).