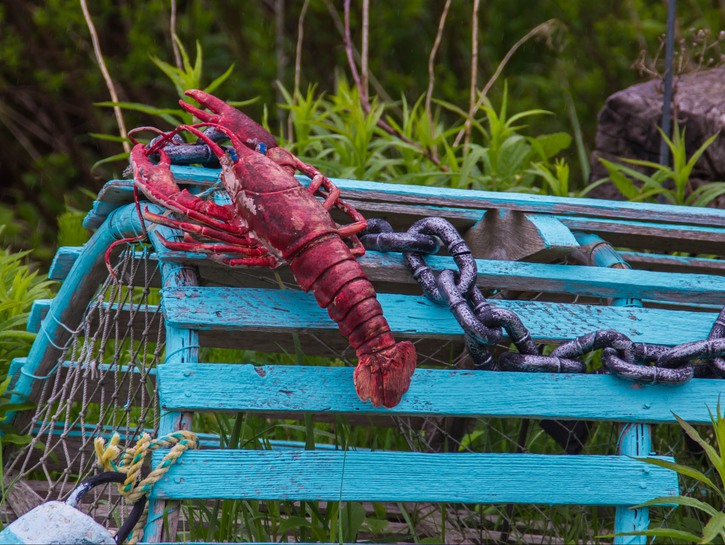 Whether you're an independent road tripper in an RV, a cruise ship passenger stopped at a port of call, or a layover traveler on route to the rest of eastern Canada, chances are that if you're traveling to Nova Scotia, you're going to visit Halifax and add on a short day trip to see the famous Peggy's Cove lighthouse. And that's a great idea.
Halifax is a fantastic city and Peggy's Cove is every bit as picturesque as you would hope. But so few travelers take the opportunity to venture beyond these two classic stops, and an entire province worth of under-explored attractions awaits. Here are some of my personal picks for the perfect Nova Scotia adventure.
1. Tour The Highland Village Museum In Iona
The Highland Village is an outdoor living history museum that tells the story of Gaelic settlement in Nova Scotia. Complete with a working blacksmith shop and heritage farm animals, it takes visitors back in time to the earliest days of settlement on Cape Breton Island. Its hilltop position provides spectacular views of the Bras d'Or Lake.
2. Ponder History And Spice Cake At Fortress Louisbourg
In the 1740s, Louisbourg's size, importance, and operating costs were unmatched in North America. As the second most important French settlement in North America (after Quebec City), Louisbourg was quickly transformed from a small fishing settlement to a massive fortified town on the cusp of the Atlantic Ocean. By 1758, Louisbourg was firmly under British control–but it saw a different kind of war in the 1960s. Architects, historians, archaeologists, and engineers battled a new enemy–damage, decay, ruin, and erosion–as they undertook North America's largest restoration project.
But while history and archeology are all very good, the real star (at least in my opinion) is the phenomenal old fashioned bread pudding that is really more like a spice cake, served at the restoration site's Grandchamps and Hotel de la Marine eateries. Of course, understanding the evolution of French and English political relations is important, but you can only explore on a full stomach and Louisbourg's dessert obliges.
3. Make Turkey Dinner A Religious Experience In Brook Village
In the teeny-tiny community of Brook Village, home to exactly one general store, a church, and a church hall, people come from all around and form deep lines twice a year for the community's turkey dinner. Platters of turkey (or perhaps roast beef, and occasionally baked ham) with all the fixings are commonplace in western Cape Breton.
Turkey dinners serve as popular fundraisers for community centers and church restoration funds, but nobody does them quite like Brook Village. The tremendous selection of homemade pie is likely a key component of their success! Traditionally, there are two dinners a year (one in autumn, the other in spring) and local bed and breakfast staff can give you the inside scoop regarding upcoming dates.
4. Kayak Yarmouth Harbour
It's quite a site to see the massive ferry that brings passengers overnight from Portland, Maine, to Nova Scotia's southern tip, Yarmouth. The humongous boat dwarfs everything around it in the quaint town–including the kayaks serenely gliding by. The Song of the Paddle offers beginner kayaking lessons around the harbor and down the coastline–perfect for anyone disembarking from a long ferry trip with pent up energy or needing refreshment after driving the length of the province.
The nearby hamlet of Cape Forchu is home to a pretty lighthouse and is worth the short detour, too.
5. Step Back In Time (And Eat Cookies) At Pubnico Harbour
The Acadians of Pubnico Harbour are not only descendants of some of Canada's earliest French settlers–they're also descendants of some the earliest European settlers in all of North America, with some of the staff at the Historical Acadian Village being 13th generation residents. The Village is famous for serving up "rappie pie," a traditional meat and potato pie that's a bit of an acquired taste (if I do say so myself!), as well as giant molasses cookies, which are delicious.
6. Feast On Scallops In Digby
People in Digby proudly declare that their scallops are the finest in the world–and they might just be onto something. Digby, on Nova Scotia's western shore, is subject to the dramatic highs and lows of the Bay of Fundy, home to the world's highest tides. As the scallops move with the tides, they grow big and strong (or so the story goes).
The town is also in a protected cove, and the warmer waters allow for a longer fishing season. Whatever the exact reason, Digby is famous for huge, tender, sweet scallops–plus lots of other seafood delights, from lobster to salmon. The seasonal Digby Pines Resort looks over the water and is the place to see and be seen (and to eat scallops!) during the summer months.
7. Browse Crafts In Margaretsville
With a population of just 212 people, tiny Margaretsville is the proverbial sleepy, seaside hamlet with charming arts and crafts for sale by the harbour and, if you're lucky, a few flavors of ice cream for sale at the top of the wharf road.
Meandering along the beach at low tide is a great chance to snap up pieces of sea glass as souvenirs. Another point of interest: the pretty black and white lighthouse which was once featured on a Canadian stamp (or, as the locals might say, "It sure did look like the Margaretsville lighthouse!").
8. Discover Ancient Reptiles And Fish In Joggins
Since the early 1800s, geologists have flocked to Joggins to examine the beautifully preserved fossils of early reptile, fish, plant, and insect life found in the area. A UNESCO World Heritage Site, staff from the visitors' center guide guests along parts of the 9-mile shoreline, pointing out the fossils embedded in the cliffs. Just don't forget your bug spray for this visit–the mosquitoes are definitely not encased in stone!
The nearby community of Parrsboro is another great location for spotting fossils–as well as being home to a lovely shoreline.
9. Enjoy Quiet Seaside Camping At Amherst Shore
The large town of Amherst awaits travelers crossing over from New Brunswick, but the real treat along the nearby rural Sunrise Trail is Amherst Shore Provincial Park. A small, well laid-out, friendly campground, it's the perfect overnight stop for travelers in the middle of an east coast road trip. The nearby tiny community of Tidnish boasts a small roadside general store which houses an ice cream bar in the back–well worth a stop!
Even if you can't stay overnight, driving along the Sunrise Trail is a beautiful experience and a much more scenic means of making your way into the heart of Nova Scotia compared to the more prosaic highway.
Photo Credit: Unsplash / Francis MacDonald