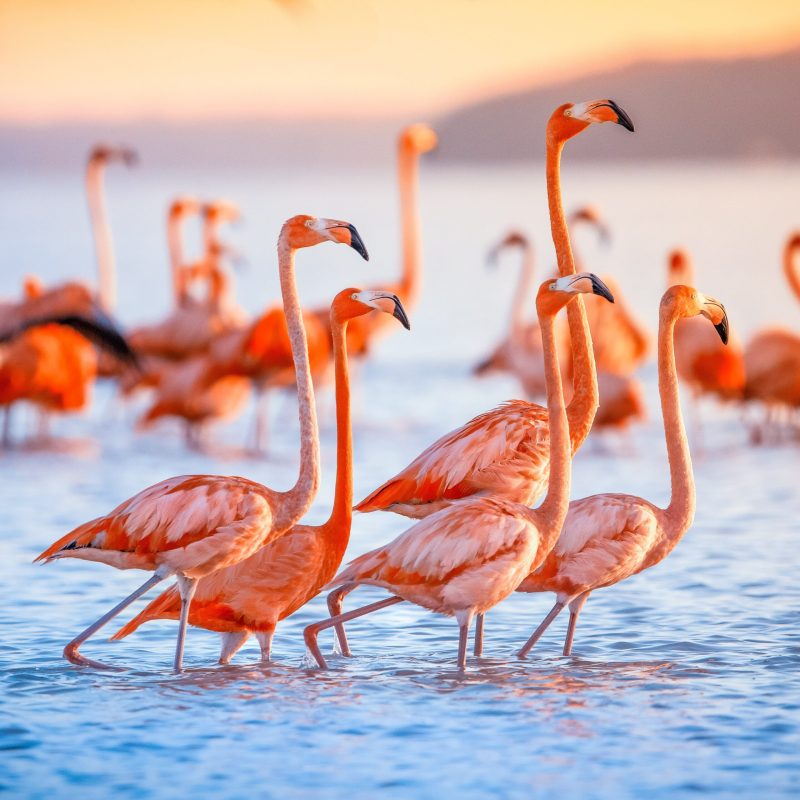 Flamingos, the riotously beautiful rose-tinged birds, have long symbolized the balmy tropics. Surprisingly, these long-legged creatures are not Florida's state bird, but they are celebrated in plastic form on lawns from Tampa to Talkeetna.
As for flamingos themselves, their pretty plumage is actually the result of their shrimp-heavy diets. And you don't need to go to a zoo to witness these elegant birds; they live in the wild all over the world. If you want to check out flamingos in their natural habitats, hop on a plane to one of these bucket-list destinations — and be sure you have your camera in tow.
1. Paracas National Reserve, Peru
Peruvian Paracas is a spectacular natural paradise full of animals, and the Paracas National Reserve is a delightful combination of desert and beaches, making it a fantastic place for flamingos to flock. These bright birds are dotted all over the massive park, and you can see them on a guided tour.
Flamingos are only one of the species you'll spot in Paracas National Reserve. There are over 200 different species of birds, as well as plenty of mammals and fish. Plan to spend the better part of a day exploring the park. The desert is sunny and hot, so it's advisable to use plenty of sunscreen, bring your own water, and carry a light jacket or sweater in case it gets chilly.
2. Renaissance Island, Aruba
When you think of flamingos, you probably envision a sun-drenched paradise full of palm trees and sparkling water. Renaissance Island in Aruba is that dream come to life. A private island, you either need to be a guest of the hotel or purchase a day pass to sunbathe with the flamingos. Passes are limited, so it's best to book early. The island is teeming with flamingos, and one spot, in particular, is known as Flamingo Beach.
The birds are people-friendly and plentiful, making Renaissance Island an ideal place to go for an exclusive and close encounter with these fantastic birds.
3. Lake Bogoria, Kenya
Lake Bogoria's unique makeup, which involves both saline and alkaline waters, plus its shallow depth, makes the perfect environment for flocks of lesser flamingos. Huge flocks congregate at the lake to feast on algae and wade in the water.
Flamingos are the biggest draw to the lake, with plenty of tours taking bird-watchers on the adventure of a lifetime. Flamingos are generally present at Lake Borgoia year-round, but May to August is the best time to visit to avoid wet weather and dust. During this window, both visibility and ground conditions will make the whole experience memorable for all the right reasons.
4. Lake Qarun, Egypt
If you want to get the most bang for your buck in Egypt, visit the iconic pyramids before heading a little over 100 miles south of Cairo to Lake Qarun. This lake is notoriously beautiful and attracts many different varieties of birds, including the greater flamingo.
It's also a protected area, and a surprising natural oasis that is a fun day trip from Cairo. Lake Qarun is very well-known among locals, but it hasn't hit the tourist map yet, so it's an excellent option for those who need a break from the huge crowds at the pyramids.
5. Everglades National Park, Florida
Americans tend to think of flamingos as Florida's native sons, so it may come as some surprise that there is actually debate about whether or not flamingos are originally from the Sunshine State. Fortunately, it seems to be settled: Flamingos are indigenous to Florida, and sightings are becoming more frequent in the Florida Everglades.
Bird enthusiasts are championing the return of the famous creature, and Everglades National Park is the destination for catching a glimpse of flamingos stateside.
6. Sardinia, Italy
The Molentargius-Saline Regional National Park in Sardinia, Italy, is one of the best places in the world to see flamingos with their young. These creatures love the briny constitution of Molentargius pond and find it the exact right location to rear their chicks. Breeding season begins in early August. Since flamingo eggs take about a month to hatch, early fall is a great time to see the brand-new hatchlings. There are plenty of other things to do in Sardinia, so once you've had your fill of baby flamingo sightings, you can spend at least a few more days on the idyllic Italian island. Consider making the most of your time on Sardinia with a guided tour of the park and flamingos.
You'll find flocks, or pats, of flamingos all over the world, almost wherever it's warm and the water is briny, shallow, and full of algae or shrimp. Seeing these unique animals in their natural habitats is a true treat — one you should absolutely put on your bucket list. No matter where you are on the planet, there are probably some fabulously pink-feathered wild flamingos nearby!
Want more beautiful bird encounters? These are the best bird-watching spots in the United States, plus bird-watching in Hawaii: nine tips for spotting the best birds.