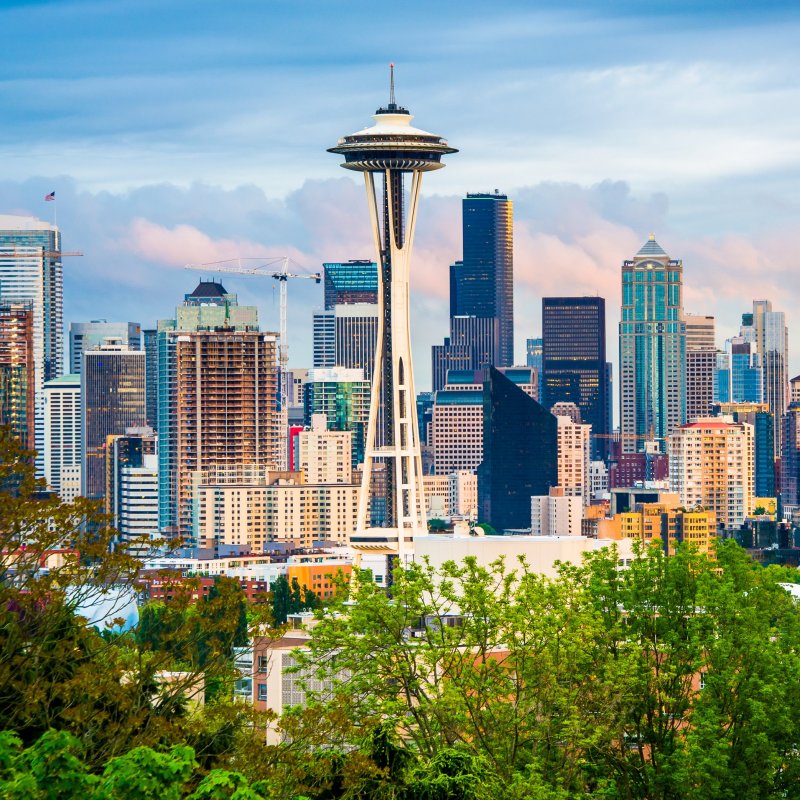 The Pacific Northwest is unlike anywhere else in the U.S. — the misty skies, crisp air, abundance of national parks, and stunning cities will make a visit there unforgettable.
Seattle is a slice of the Pacific Northwest that's well worth a visit. You can probably think of several places you want to see there off the top of your head, but not all of the most popular spots are as splendid as you might think.
We spoke to Seattle locals about their opinions on overrated travel destinations and what they suggest doing instead. Follow along as we take a closer look at four tourist attractions that aren't exactly worth all the hype — and the hidden gems locals appreciate more.
1. Instead Of The Seattle Aquarium, Watch Salmon Migrate East
Ocean lovers, the Seattle Aquarium has some pretty incredible marine life. Think jellyfish, otters, puffins, and a magnificent giant Pacific octopus. Tickets for the Seattle Aquarium certainly are not cheap though, as they range from $20 to $30.
Laura Lahm, a Seattle local and Colorful Cities chief explorer, suggests an alternative that is more outside the box, and definitely a hidden gem you might not have heard about from anyone other than a local!
Hiram M. Chittenden Locks is a free attraction where you can witness marine life out in the open. You can watch massive ships and small boats pass you by, and during their migration season from June to September, you can spy salmon swimming.
"You can see salmon swimming up the grade ladder to lakes and rivers to the east, where there are freshwater lakes. Grab a coffee, because you can easily watch for an hour," she advised.
In addition to the locks being free, there's a visitors center and botanical gardens on site.
2. Instead Of The First-Ever Starbucks, Watch Starbucks Coffee Actually Being Made
On March 31, 1971, Starbucks Coffee was born.
Almost 50 years later, the first Starbucks location is still up and running. Even though the landmark is a cool stop to celebrate your love for Starbucks, two folks who live just north of Seattle prefer another Starbucks-related attraction.
Briana and Kyle of Married With Maps suggest going to Starbucks Reserve Roastery instead.
"The reserve roastery still gets some crowds, but it is such a cool experience. You can see the coffee roasting machinery making the coffee, try alcoholic options at the bar, and try all kinds of different unique and experimental flavors. When you order a coffee, you get a card telling you a little about the origin of that particular coffee."
Briana and Kyle aren't necessarily trying to dissuade tourists from visiting the first Starbucks location, though.
"If you really want to see the first Starbucks, look from the outside while you're in Pike Place, or even go in for a second, but really the only point of it all would be to be able to say you did it."
For real Starbucks fans, it might be good to experience both! If you have the time, why not? The more caffeine, the better.
3. Instead Of Pike Place Market, Experience Seattle's Underground
When you think of Seattle, you probably think about Pike Place Market almost immediately. The winding, bustling market is the perfect place to people watch and experience a medley of cultures in one winding market. Pike Place is known for exquisite bouquets of flowers, freshly caught fish on beds of ice, and street art.
Amy Martin of Two Little Pandas isn't a big believer in visiting the market during your visit to Seattle, though.
"Perhaps it's worth a quick visit if you've never been there, but honestly, it's so crowded all the time, and as a tourist, it won't make sense for you to buy much of anything there, like fresh flowers or delicate art," she explained.
She continued on to say if you do feel the need to see it (which is a-okay!), she suggests a quick run through to avoid racking up a hefty parking fee.
Instead, she recommends the Seattle Underground Tour — a walking tour perfect for history-lovers and adventurous travelers.
If you're interested in some delicious Pacific Northwest seafood, Laura suggests a Pike Place alternative. Instead of snagging seafood at the market, check out Fishermen's Terminal, where she told us "the real, right-off-the boat seafood can be found."
If your reason for going to Pike Place Market is eccentric goods, look no further than the eclectic Fremont neighborhood, which locals affectionately call the center of the universe. You'll find a little of everything, including local flavor, there.
4. Instead Of Gas Works Park, Go To The Park With Even Better Views
For views of the city, Laura said there's a crowded option and a not-so-crowded option. Gas Works Park is crowded, especially on sunny days, but she's a firm believer that "it still offers fabulous views of the city."
If you want to avoid the throngs, though, she recommends Martin Luther King Jr. Civil Rights Memorial Park in the Central District.
"The views are unlike any other viewpoint in the city. [It is] an awesome hidden gem. The terraced park offers space for picnics or a great stair workout," she said.
From a historical perspective, the destination is awesome, too. She told us there are numerous plaques featuring quotes from MLK's famous speeches and calls it "an incredible place to think about his powerful messages."
There's no wrong way to visit Seattle. If you want a traditional visit with stops at the most popular places, do that! If you want a less conventional trip, that's awesome too! Seattle is beautiful regardless.
Want to tour the West Coast? Up for some train travel? Seattle is one of seven stunning Pacific Coast stops to make while riding the Coast Starlight. Also nearby: Snoqualmie and the San Juan Islands, which make wonderful getaway destinations of their own.