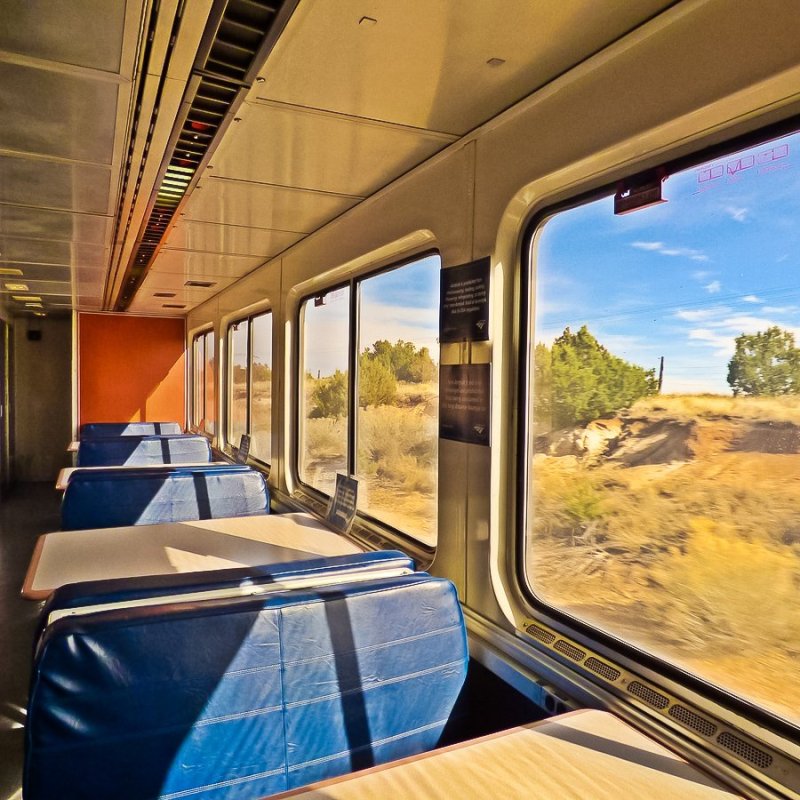 The Southwest Chief runs daily between Chicago and Los Angeles. Rather than riding the whole route at once, consider taking a break at one (or all!) of these great cities along the route. It's your chance to discover the American West at a leisurely pace.
You'll cross the mighty Mississippi, see the farmlands of the Midwest, and wake to see the Colorado mountains in the distance. From there, you'll enter New Mexico and see mountains, deserts, and pueblos, at times winding slowly through curving canyon passages as you head into Arizona, then California. It's an up-close look at life in the American West seen from a vantage not possible with any other mode of travel.
My first trip as a travel writer was on the Southwest Chief, so it holds a certain sentimentality for me. On that maiden journey I traveled to Santa Fe and Albuquerque, then on to Flagstaff before returning home to Kansas City. Since then, I've ridden the route numerous times and enjoy staying in different cities along the route to break up the ride and also to discover the American West. Here are eight great stops to make while riding Amtrak's Southwest Chief.
1. Chicago, Illinois
You'll start your journey in Chicago's Union Station. If you'd like to explore the city before the train departs, read up on nine things to do on a layover at Chicago's Union Station.
The train heads both directions each day, but for simplicity's sake, this article focuses on the route from Chicago to Los Angeles. Check Amtrak timetables if traveling from Los Angeles to Chicago instead.
2. Galesburg, Illinois
Just a two-and-a-half hour train ride from Chicago, you'll arrive in Galesburg. If you're a train enthusiast, plan to detrain for an overnight visit. This is a small, walkable community that serves as a transportation hub with seven main rail lines coming in and out of the city, plus the second largest railroad switching site in the country. The city's pride in its railroad history is evident with several railroad museums as well as the headquarters of the National Railroad Hall of Fame. The depot itself is just a short walk from the business district.
Check out railroading history at the Galesburg Railroad Museum, where you'll see artifacts, retired train cars, historical documents, letters, and other articles related to the history of the local railroad. Discovery Depot is a Galesburg children's museum that offers hands-on learning through exhibitions and programs.
There are plenty of shopping and dining options on Seminary Street, Galesburg's historic business district. At the Packinghouse Dining Company, you can sit down for home-style meat and seafood dishes served in a former meatpacking plant. If you can arrange to be there on a Sunday, don't miss brunch. It's reminiscent of Sunday dinner at Grandma's house with comfort foods and numerous dessert choices.
Or visit Landmark Cafe and Creperie for hearty crepes cooked on an open grill in authentic European style. You can choose a savory crepe, or dine on soups, pastas, salads, or sandwiches, then enjoy a dessert crepe served with gourmet coffee.
3. Kansas City, Missouri
Kansas City's historic Union Station is a destination in its own right. If you detrain in Kansas City, consider staying at The Westin Kansas City at Crown Center. This plush hotel is within walking distance of Union Station. Spend the night, then explore the myriad things to do near Union Station the next day before boarding the train for Santa Fe.
4. Lamy And Santa Fe, New Mexico
Consider a roomette or bedroom sleeper car for the journey to Lamy. You'll board in Kansas City with your bed made up for you to retire. When you wake the next morning, you can enjoy breakfast in the dining car. The train passed through Kansas as you slept and the view is about to get interesting as you'll start to glimpse the Colorado mountains in the distance.
In the afternoon, begin noticing the changes in scenery with canyons and red rock coming into view before you pull into the Lamy station in the afternoon. You'll need to detrain in Lamy to visit Santa Fe, and your ticket price will include a shuttle bus to your lodging in Santa Fe.
You may want to plan an extended stay in Santa Fe. With the downtown Plaza area, Canyon Road art galleries, historic churches, numerous spas and nearby hot springs, award-winning cuisine, plus a short drive to Taos, Santa Fe has a wealth of culture, art, and natural healing places. With 300-plus days of sunshine per year, this high desert city has moderate temps and sits at 7,199 feet above sea level.
I've spent so much time in Santa Fe that it's difficult to recommend only a few activities. If art is your interest, be sure and visit Canyon Road with its more than 100 galleries, boutiques, and restaurants. Also in Santa Fe is the Georgia O'Keeffe Museum, dedicated to the woman and her art. In the Plaza district you'll discover galleries, boutiques, hotels, and restaurants, plus the Santa Fe Indian Market where Native American artists share their works.
When it comes to dining in Santa Fe, I'm not sure if it's the altitude and the proximity to the sun, but the salads I've eaten here are some of the best I've tasted. Or choose from New Mexican cuisine, barbecue, and other local specialties. Read up on Santa Fe's best food: what to try and where to find it.
5. Albuquerque, New Mexico
Once you've had your fill of Santa Fe, you'll board the Southwest Chief for a brief hour-and-a-half ride to Albuquerque. The Albuquerque station is in the heart of this vibrant city. Here you'll encounter diverse cultures, art, world-class museums, hot air ballooning, and more delicious New Mexican cuisine.
Take in the wild side of Albuquerque at the ABQ BioPark with its aquarium, zoo, and botanic garden. Get up close to Albuquerque's blue skies with a hot air balloon ride. Albuquerque is known as the hot air balloon capital of the U.S., and you can experience an unforgettable flight with a tour company. Or ride the Sandia Peak Aerial Tramway 2.7 miles up to the 10,378-foot Sandia Peak for amazing views of the city.
If you're wanting to try more authentic New Mexican cuisine before boarding the train for Flagstaff, dine at Cocina Azul. The restaurant serves fresh, authentic New Mexican cuisine in a small upscale restaurant. They're frequently voted Best in the City on TripAdvisor.
6. Gallup, New Mexico
The Amtrak station in Gallup is located inside the Gallup Cultural Center. It was originally built as the Santa Fe Rail Depot in the Mission Revival Style in 1918. The El Navajo, a historic Fred Harvey Hotel, was built and connected to the depot in 1923, but was later demolished in 1957 after fire damage and a planned expansion of Route 66. The Cultural Center and train station is located along historic Route 66 and now contains an art gallery, events space, Angela's Cafe, the Big Train Music Store, and the Storyteller Museum.
Gallup is the perfect destination for outdoor adventures, culture seekers, and lovers of the arts. The best time to visit is between March and October when you can not only enjoy all the unique businesses and Native American art in the community, but also witness native dance, rodeos, parades, and some of the best hiking trails in the Southwest.
To learn about the area's ancient roots, visit the Red Rock Museum. Archeological sites record the presence of the Anasazi, a farming culture that inhabited the area from 300 to 1200 C.E. From 1700 to the present, Navajo tribe members have lived on the area's sparsely inhabited land. The Red Rock Museum chronicles the lives and culture of the Anasazi as well as present day Zuni, Hopi, and Navajo people through interpretive exhibits and permanent displays of artifacts.
7. Flagstaff, Arizona
One of the benefits of traveling by train is the train stations are frequently located in the heart of the city, making it easy to get around. In Flagstaff, the depot is located directly across the street from Historic Downtown Flagstaff. This historic area is a hub of activities and attractions including self-guided walking tours, restaurants, an ale trail, art galleries, boutiques, and breweries.
The Flagstaff Visitor Center is located at the train station, so stop by and pick up a free self-guided map or download one ahead of time. Visit the Lowell Observatory, a fixture in astronomical research for more than a century. Riordan Mansion State Historic Park boasts the 1904 Arts and Crafts style home of early lumber magnates Timothy and Michael Riordan and their families. The property also features a visitor center, extensive gardens, and original furnishings and is listed on the National Register of Historic Places. The interior of Riordan Mansion can be seen during guided tours only, so reservations are recommended.
If you plan an extended stay, consider taking a tour to visit the Grand Canyon via the Grand Canyon Train or hiking amongst the beautiful red rocks of Sedona.
8. Los Angeles, California
The last stop on the Southwest Chief route is Los Angeles. L.A.'s Union Station is an iconic landmark that is a shining symbol of the downtown area's renaissance. A destination for arts, entertainment, and culture, it's more than just a transportation hub; it's a cultural hub connecting the best the city has to offer.
During your time there, consider these things to do in Los Angeles that don't feel like they're in the city, plus these eight delightful hidden gems and the best art museums in Los Angeles and what to see there.