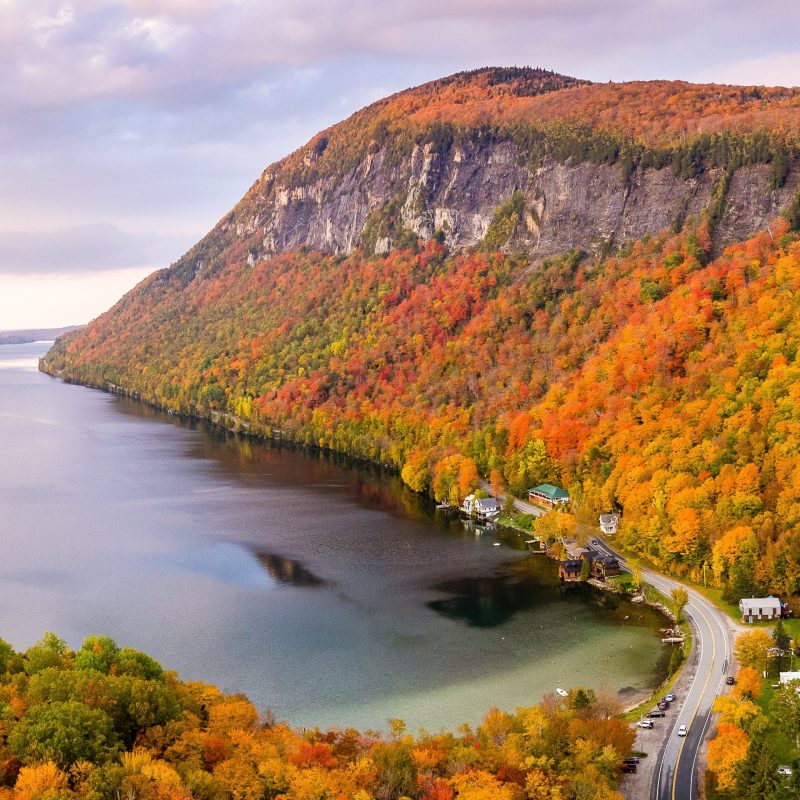 Vermont is the maple-scented preservationist haven of the northeastern United States, a pastoral paradise dotted with covered bridges and epic peaks. One of the oldest states in the nation, Vermont is rich in early colonial history and was the birthplace of both Chester A. Arthur and Calvin Coolidge, the 21st and 30th presidents of the United States, respectively.
Vermont is a small state with a ton of character, and not surprisingly, there are hidden gems and delights around every corner. From Burlington to Bellows Falls, the Green Mountain State will impress and inspire you.
See beautiful Vermont like a local, and put these lesser-known destinations on your bucket list.
Dog Mountain
Stephen Huneck might not be Vermont's native son, technically. Still, the beloved woodcarver, artist, and dog enthusiast made an undeniable mark on the state with his homage to the canine world.
Dog Mountain comprises 150 acres of peaceful mountain utopia for two-legged and four-legged visitors alike. Pups of all ages, breeds, and sizes are welcome to frolic on the many hiking trails and cool themselves off in the dog ponds. The crowning jewel of Dog Mountain is the Dog Chapel, a nondenominational spot that celebrates man's best friend. There's even a winged carving of Sally, Huneck's beloved companion. The Dog Chapel is a must-visit for any animal lover.
Dog Mountain is located in Saint Johnsbury, Vermont, and is open from 10 a.m. to 4 p.m. during the week and from 10 a.m. to 5 p.m. on weekends.
Ben & Jerry's Flavor Graveyard
Ben & Jerry's Vermont factory is known for creating some of the most delectable and innovative ice-cream flavors in the world, but sadly, some flavors don't make the cut. These flavors are retired in the aptly named Flavor Graveyard, a solemn place behind the factory itself.
No visit to Waterbury, Vermont, would be complete without a tour of the famous ice-cream factory, which is open regularly except on major holidays. On your tour, you'll learn all about the magic that goes into making Ben & Jerry's signature flavors. Afterward, swing by the Scoop Shop for amazing milkshakes and generous waffle cones.
Don't forget to set aside a little time to pay your respects to the dearly departed deliciousness at the Flavor Graveyard. You can even vote to resurrect your favorite flavor, and once in a while, the ice-cream gods will smile down upon your wish!
The Backroom
For a fresh and fun dining experience that you won't forget, check out The Backroom, which serves up local favorites on a menu that changes nightly. The owners of The Backroom endeavor to cultivate a family-style atmosphere where the focus is entirely on the food, and the unpretentious establishment is wildly popular with both locals and tourists in the know.
Diners are strongly advised to make reservations several months in advance and let the restaurant know about any dietary restrictions or allergies before arriving. The staff at The Backroom is happy to provide vegan, vegetarian, and gluten-free options.
The Backroom is open on weekends starting at 6 p.m. and during the week for private groups by reservation. This cozy experience is three courses of sheer joy, so don't miss it the next time you're near Pittsfield, Vermont.
Wilmington Antique And Flea Market
There is no shortage of shopping in Vermont, but if you want unique souvenirs with a local flair, head to the Wilmington Antique and Flea Market. Intrepid hunters can spend all day wandering through the stalls and unearthing great finds like antique jewelry, decorations, and beautiful statement glass or china pieces. The market is also known for its rainbow of seasonal vegetables and flowers.
Visit the market on weekends between May 18 and October 20 to experience a slice of Vermont hospitality and take home something wonderful. There's plenty of parking on-site, and admission is free when you purchase food at the market.
The Wilmington Antique and Flea Market is located in the town of Wilmington, Vermont. Comprehensive directions are available on the website.
Museum Of Everyday Life
There are plenty of museums that celebrate the remarkable, but very few dedicated to the minute and mundane things that make life great. The Museum of Everyday Life bucks tradition by holding everyday items in the same esteem as fine art. Its philosophy centers on gratitude and a desire to elevate the ordinary. This is a museum where you can touch and interact with the exhibits; it's a place free from pretension.
In keeping with its ethos, the Museum of Everyday Life is free to the public, although donations are appreciated. You turn on the lights when you enter and switch them off when you leave. The space isn't heated, so be sure to bring a coat with you, especially during the frigid winter months.
You can visit the unassuming barn that houses the museum any day of the week between 8 a.m. and 8 p.m. The museum is located on Dry Pond Road in Glover, Vermont.
Greenbank's Hollow
Greenbank's Hollow, Vermont, founded by Benjamin Greenbank, was once a flourishing mill town, but it was abandoned after a series of misfortunes. Now, it's a historic park where visitors can learn about its interesting past. With a still-standing covered bridge and the remnants of foundations, Greenbank's Hollow is partially frozen in time and an excellent place to experience both history and Vermont's marvelous nature.
Aside from its historic relevance, Greenbank's Hollow is notable for its gorgeous landscape. Visit the ghost town for a brisk walk and take in the fresh air and unspoiled scenery. Spend an hour in Greenbank's Hollow, and then head right down the road to Danville, Vermont, for some small-town charm in the heart of the state. Danville is home to a fantastic farmers market and plenty of wholesome seasonal events that will keep you busy.
If you're craving a taste of authentic Vermont, don't miss Greenbank's Hollow and neighboring Danville.
Lake Willoughby
Lake Willoughby is perfectly wedged into the mountains of northeastern Vermont. The lake's wide, sandy beaches are ringed with mountains, so when you swim in the deep waters, you'll have an incredible view of the peaks above.
Be careful treading water, though, because Lake Willoughby is infamous for its monster, nicknamed Wicked Willy. You can even buy Wicked Willy-themed souvenirs at the lake. If you can avoid Willy, your day at this azure Vermont lake is bound to be spectacular.
It's tough to overestimate how gorgeous Lake Willoughby's natural scenery is. Visit during the summer and enjoy basking in the beautiful waters of this mountain lake. During the fall, Lake Willoughby is a riotous celebration of bright foliage. Even during the winter, the lake is an ideal place for trekking and exploring Vermont's breathtaking beauty.
Lake Willoughby is located near Westmore, Vermont. It's an idyllic spot to avoid the crowds and enjoy the best of both the mountains and the water. On your next trip to Vermont, bypass the more popular beaches and head up north for a relaxing and unique experience on the shores of Lake Willoughby.
Vermont's Public Art
Vermont is known as a fun and funky state, so it should come as no surprise that there is plenty of creative and thought-provoking public art to soak in. Burlington, Vermont, is a spectacular place to see larger-than-life colorful murals. It's worth visiting the city simply to check out these massive works of art. From sprawling tributes to historical figures to inspirational quotes and intricate nature scenes, Burlington's murals perfectly reflect the state's quirks and diversity. The murals also depict the state's role in the formation of the modern United States.
Drive down Route 7 in Leicester, Vermont, and you'll come across a colossal gorilla holding an actual Volkswagen aloft in one of its paws. Affectionately known as Queen Connie, this concrete statue has been keeping watch over the route since 1987. Adventurous passersby can climb into Connie's other hand for a fantastic photo opportunity.
If you want to see a lot of public art in one spot, plus get in a nice nature walk, head to Lemon Fair Sculpture Park in East Shoreham, Vermont. Lemon Fair combines the rustic landscape of rural Vermont with modern sculptures and invites visitors to embark on a self-directed walk through the premises between 9 a.m and 4 p.m. on weekends. Furry friends are welcome, but they must stay on leashes, and climbing the sculptures is strictly forbidden.
On your next trip to Vermont, step off the beaten path and savor some of the weird and wonderful charms that this tiny state has to offer. From fabulous public art to museums that pay homage to everyday life, there is no shortage of surprises in the Green Mountain State.